Vettel shoulders blame for Bottas crash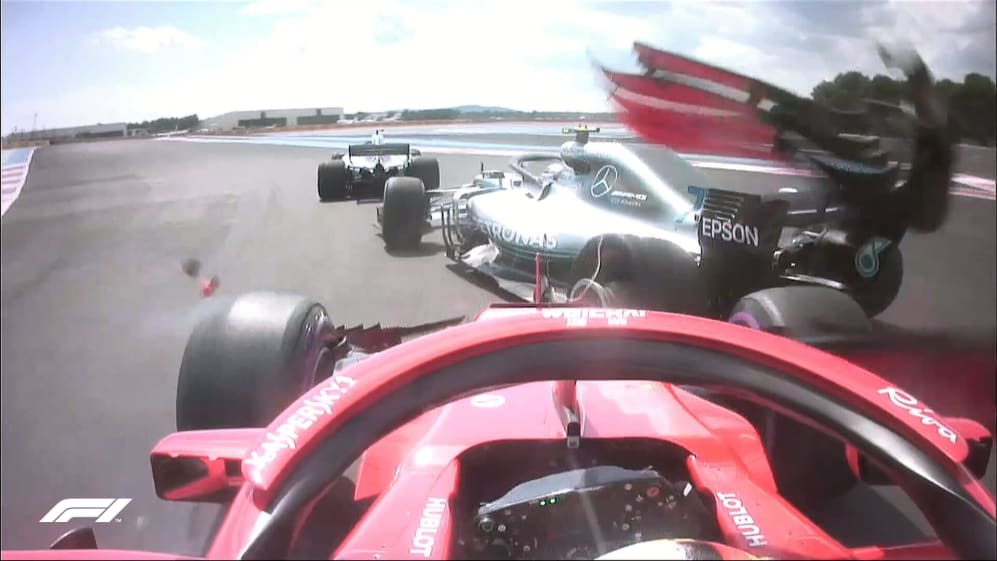 "My start was too good". That was Sebastian Vettel's reasoning for his first-lap contact with Valtteri Bottas at the French Grand Prix, an incident which saw the pair tumble down the order and ultimately denied them both a chance of getting on the podium...
To be fair to Vettel, he did get a lightning start from third on the grid in his Ferrari, but was heard to feather the throttle as he got into the slipstream of Lewis Hamilton's Mercedes while being boxed in by Bottas. As the cars arrived at Turn 1, Bottas braked later than Vettel and turned in ahead of him, only for Vettel to lock up and tag the Finn's rear left tyre, spinning the Mercedes driver around.
Bottas' Pirelli was punctured and his floor damaged, while Vettel was forced to come in for a new front wing and handed a five-second time penalty by the stewards for causing the collision.
Both drivers continued on, with Vettel recovering to fifth while Bottas came home seventh. After the race, Vettel made no attempt to shift the blame onto his rival.
"My mistake," he told the media. "I tried to brake early and get out of it, [but] I had no grip being so close to the cars in front and also next to me. Valtteri tried to get his position back, [which is] fair enough and I had nowhere to go obviously. The turn goes left and I tried to slow down, but with the grip I could only open the radius and that meant unfortunately I had to make contact to Valtteri.
"Obviously for Valtteri it was very bad because it affected his race and he had nothing to do with it, so I went to him after the race. Given the situation, how tight it was, I think we were both lucky in a way to be able to continue."
Asked if there was anything he felt he would do differently if he could relive the moment, Vettel replied: "With hindsight, I would have liked to have a worse start, because then it would have been more straightforward, I wouldn't be in that position.
"In the end, there wasn't that much I could have done different. Just the wrong place. Obviously what you don't see is that I lose a lot of grip… Obviously you don't hit the brakes 200 metres before the corner just because you think it could be a bad spot to be in, you still try to be competitive.
"But was it intentional? Certainly not, because it could as well have been the end of the race for me."
Mercedes Non-Executive Chairman Niki Lauda, however, was not impressed with Vettel nor his penalty, angrily calling it "an enormous mistake… Five seconds is nothing. He really destroyed the whole race for himself and for Bottas".
Race winner Lewis Hamilton echoed Lauda's comments. "For me it's disappointing because for the team we had the chance to get a one-two," he said. "Ultimately, when someone destroys your race through an error and it's only kind-of a tap on the hand really, and just allowed to come back and still finish ahead of that person that they took out, it doesn't weigh up, you know? Ultimately, he shouldn't really be able to finish ahead of him, because he took him out of the race. But, yeah… that's the call they made."
Vettel fightback earns him kudos
Despite his first lap problems, Vettel was still crowned the Driver of the Day in France. That was thanks to a swashbuckling drive through the field after he'd dropped down to 17th following the pit stop to remedy his damaged front wing.
It took just 15 laps for the Ferrari driver to climb back up to the fifth place that he'd eventually finish in, with the German reeling off a string of confident overtakes – although the life that he took out of his soft tyres in doing so meant that Red Bull's Daniel Ricciardo was able to slip by him after his own pit stop to claim fourth place.
Asked about the speed of his ascension up the order, Vettel responded: "I was surprised as well, to be honest.
"I think it was to do with quite a strong headwind we had from the east end of the track going to the west end down the long straight. We had a fair amount of headwind, and I think that was helping a lot because we were gaining a lot in the second part of the straight, which obviously made the tow quite strong. If the wind was the other way around, I think it would have been more difficult."
Vettel's fifth place means that he loses the lead of the championship that he regained at the last race in Canada, and now trails Hamilton by 14 points as the teams head to Austria. But were there positives to take away from the Circuit Paul Ricard?
"I think we were a lot better than in Barcelona," Vettel replied. "I think we had no problems with the tyres, so I think we have made progress, and hopefully we can keep learning and make progress. Obviously today, I would have loved to have a different result but we move on."