Vettel says podium finish was likely 'with a cleaner race'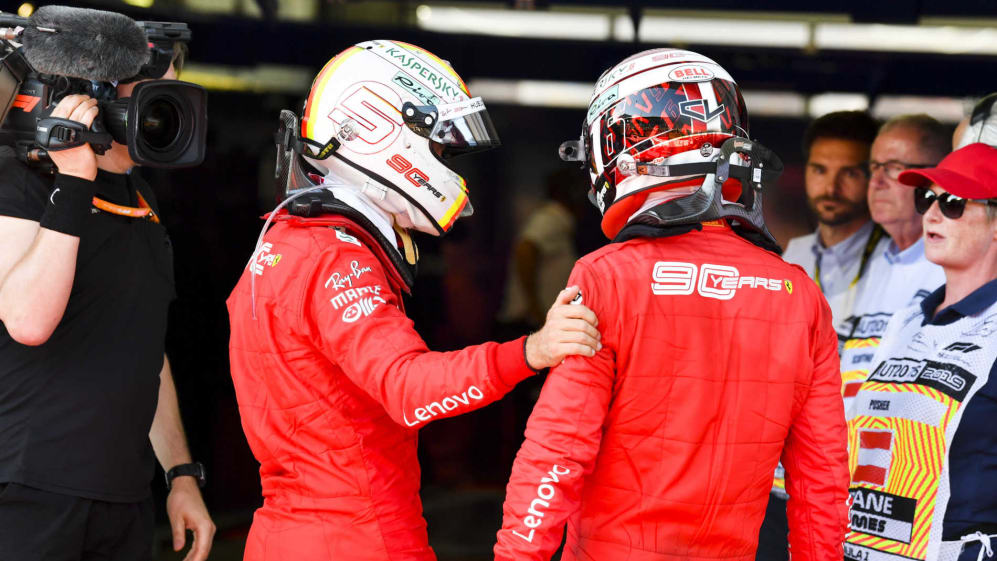 On another day, Sebastian Vettel's Austrian Grand Prix drive would probably have garnered much more attention, the Ferrari driver recovering from his qualifying setback to climb from P9 on the grid to P4 at the flag via a late pass on old adversary Lewis Hamilton. And with a few tweaks here and there to his race, Vettel believes that he could have secured his fifth podium of the season at the Red Bull Ring.
With Ferrari believed to be favourites heading into the weekend, Vettel's qualifying turned nightmarish when an air pressure line issue ruled him out of Q3. After battling brilliantly up to fourth early on in the race, Vettel then pitted along with second-placed Mercedes' Valtteri Bottas on Lap 22 of the race, only to arrive in his box while the mechanics were still scrabbling to get his tyres in place.
READ MORE: Verstappen completes stunning comeback win in Austria
Emerging in eighth place after a 6.1-second stop (with Bottas stationary for 3.5 seconds - you'll see why that's important in a minute), Vettel was then forced to work his way through the field once again. A late-call to two-stop the German (after he'd been passed by eventual winner Verstappen) gave him the pace he needed to overtake Lewis Hamilton for fourth on the penultimate race lap, with Vettel going on to finish in that position, just 0.650s behind Bottas.
So had Vettel enjoyed his overtake-heavy Sunday?
"I did!" he said. "I would have liked to have taken a piece of wood with me from the podium, but it was good fun, I really enjoyed it. It was just chasing people in front and that was quite nice.
"I think it's okay starting ninth," he added, "but here and there, with a cleaner race, we could have got a podium. Even with two stops, I don't think it was so far off for us as a strategy, but overall I think it was a pretty good day."
I'm quite positive that at some point we'll have the car to win
The big story of the Austrian Grand Prix was Vettel's team mate Charles Leclerc losing the lead of the race with two laps to go to Red Bull's Max Verstappen – who'd eased past Vettel on Lap 50, prompting his switch to a two-stop stategy. So, with Ferrari having once again failed to secure victory in 2019, how had Vettel viewed the weekend from a team perspective?
"Not ideal because a bit of a disappointment for Charles to miss the win," he said. "But overall I think we are on the right track. This track maybe came a little bit towards us with layout, but we need to keep the pressure on, we need to improve our car. Everything we can put on our car will help with results, but will also help to set direction for the future.
"We need to keep working," he added, "but I'm quite positive that at some point we'll have the car to win."
Victory and fastest lap for Verstappen saw the Dutchman move ahead of Vettel in the drivers' standings, with Verstappen now on 126 points to Vettel's 100, as Formula 1 now heads to Silverstone – a track where an imperious Vettel romped to victory 12 months ago…