Video
WATCH: Four other times qualifying was moved to Sunday
The F1 drivers will get a day off on Saturday in Suzuka, as Japan braces itself to be hit by Super Typhoon Hagibis. But as they say, there's nothing new under the sun – or wind and rain in this case – so here are four other times that qualifying was moved to a Sunday.
Japan 2004
Typhoon Ma-on was part of a devastating season of storms in the Pacific in 2004, Japan finding itself in the eye once again as October rolled around. With appalling conditions contributing to several gnarly off-track moments in Friday practice, and the 160km/h super storm moving ever closer, the decision was made to close Suzuka on the Saturday. In the end the storm passed by without incident, with Michael Schumacher duly taking pole position, then the win, and the championship with Ferrari. It was also the last time the Schumacher brothers took a one-two, Ralf finishing runner-up from P2 on the grid for Williams.
Japan 2010
Saturday was a washout for the second time in six years at Suzuka in 2010, with qualifying shifted to Sunday morning again. Unlike before, race control waited in vain for a window in the weather on Saturday before eventually cancelling the session, leaving the teams to create their own entertainment by racing makeshift miniature rafts down the flooded pit lane. With Mark Webber aiming to keep his championship lead safe from McLaren's Lewis Hamilton, Red Bull team mate Sebastian Vettel and Ferrari's Fernando Alonso, Japanese fans were in for a treat under clear skies on race (and qualifying) day. Vettel rained on Webber's parade, however, taking pole and then victory, with Webber settling for second. Three races later, Vettel had his first F1 championship.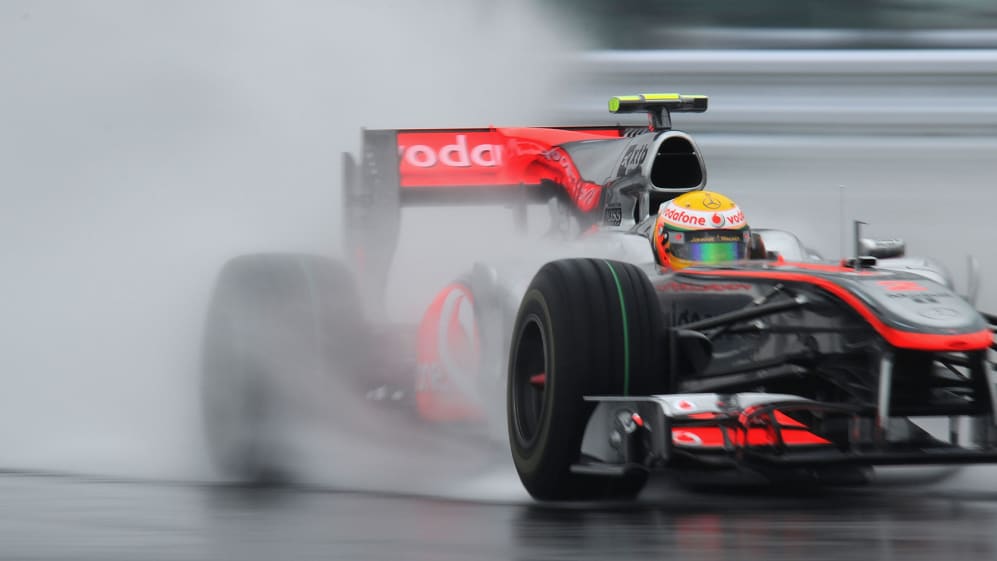 Australia 2013
March 2013 was searingly hot in Melbourne, and bone dry – until qualifying rolled around for the Australian Grand Prix that is. Saturday's soaked session was delayed by downpours and with daylight fading, only Q1 could be completed. Q2 and Q3 were moved to race morning, when, in near perfect conditions, Sebastian Vettel took pole for Red Bull. However, the German wouldn't find things so easy in the race, with Lotus's Kimi Raikkonen making use of a canny tyre strategy to pick up his 20th career win ahead of Ferrari's Fernando Alonso and Vettel.
USA 2015
Four months' worth of rain pelted down at Austin in late October 2015 and qualifying was up in the air on Saturday. Stuck in the garage, pit crews and drivers did their best to keep those idle hands busy. Force India built a bobsled, and Daniil Kvyat waltzed with then-Red Bull team mate Daniel Ricciardo. The session was finally moved to Sunday, but the rain seemed unrelenting. Q3 was ultimately cancelled, so Q2's results were used, putting Nico Rosberg on pole ahead of Mercedes team mate Lewis Hamilton. In slightly better conditions, Hamilton managed to snatch victory away from a frustrated Rosberg hours later, though, on his way to a second consecutive championship.