Video
WATCH: Grosjean's late charge from tenth to sixth
Romain Grosjean hasn't had much to smile about recently, with the Haas driver enduring a stop-start season. But the Frenchman was in an understandably buoyant mood after the German Grand Prix following an epic climb from tenth to sixth in the final ten laps of the race…
Heading to Hockenheim, Grosjean's only top-ten finish of the season was a sensational fourth place in Austria. And given his last result was a retirement at Silverstone – his fourth of 2018 – it was clear he needed to deliver the goods this weekend.
It was by no means easy for the driver who started sixth on the grid, with the rain disrupting the American team's tyre strategy, and the Frenchman dropped down the pack after pitting for a third time.
But Grosjean stepped up when the Safety Car period ended on Lap 58, producing a ten-lap dash on fresh tyres - which included a last-gasp move on Force India's Sergio Perez - to climb up four places and bring home an eight-point haul for Haas.
"That was good fun," said Grosjean. "It was a good end to the race. Obviously, we didn't quite get the right choice putting intermediate tyres on, as the track dried really quickly for some reason.
"It was a bit of luck, a gamble, but we came back on slicks, and I had amazing fun through those last laps. I was just pushing it to the limit and going for it.
"I think we would've been quite happy to be where we were before the rain came, and then, obviously, it rained. The boys deserved a really good drive from me, and I had fun doing it."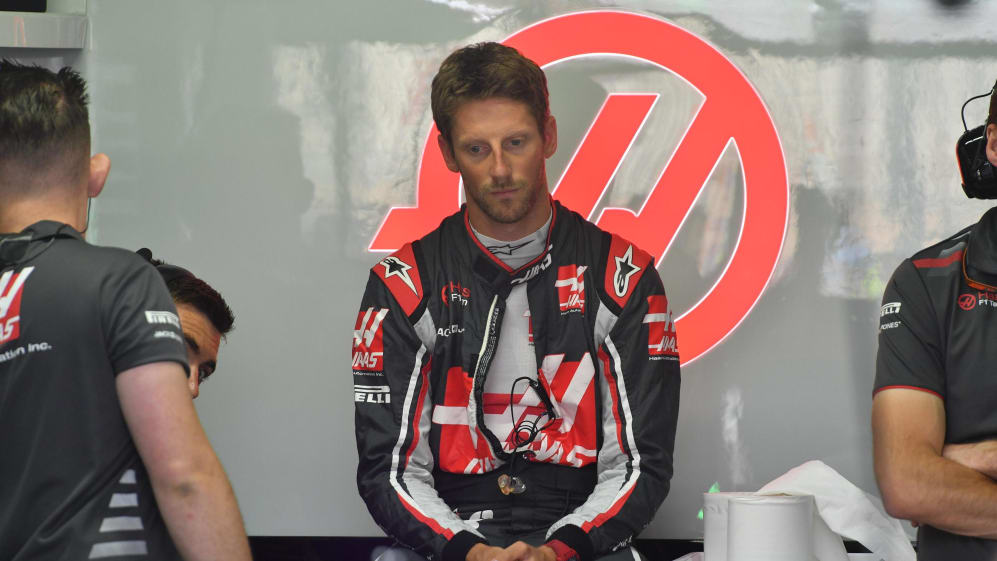 Despite Grosjean's points finish, it was mixed afternoon for Haas, who were one of several teams to switch to intermediate tyres when the rain initially made an appearance in Germany.
The anticipated major downpour didn't transpire, leading to a quick switch back to slick tyres, and 11th-placed Kevin Magnussen was unable to repeat his team mate's exploits.
"Obviously, it wasn't ideal to end up outside of the points after being P6 for the whole race," Magnussen said. "We didn't quite get the best out of the weather situation. We'll just have to learn from that and do better next time."
Team Principal Guenther Steiner added: "I think it was a case of damage limitation today. It was a very eventful race. We still need to analyse exactly what happened, what we could've done different.
"I don't say even better, because we don't know yet. But, we got away with eight points, so I think it was damage limitation. I think the race was an interesting one for everybody."
Grosjean now lies 13th in the drivers' standings while Magnussen remains in ninth place, but now trails seventh-placed Nico Hulkenberg by 13 points.