WATCH: Highlights and best bits as Russell wraps up Virtual GP series with fourth win in a row
George Russell finished off the F1 Esports Virtual Grand Prix series in dominant fashion on Sunday evening when he won his fourth consecutive race in the Virtual Canadian GP at the Circuit Gilles Villeneuve.
The Williams driver has been a revelation in the series taking four victories on the bounce, despite having never previously tried his hand at sim racing.
Watch all the highlights of the race in the video above, and read on for all the key moments you have missed...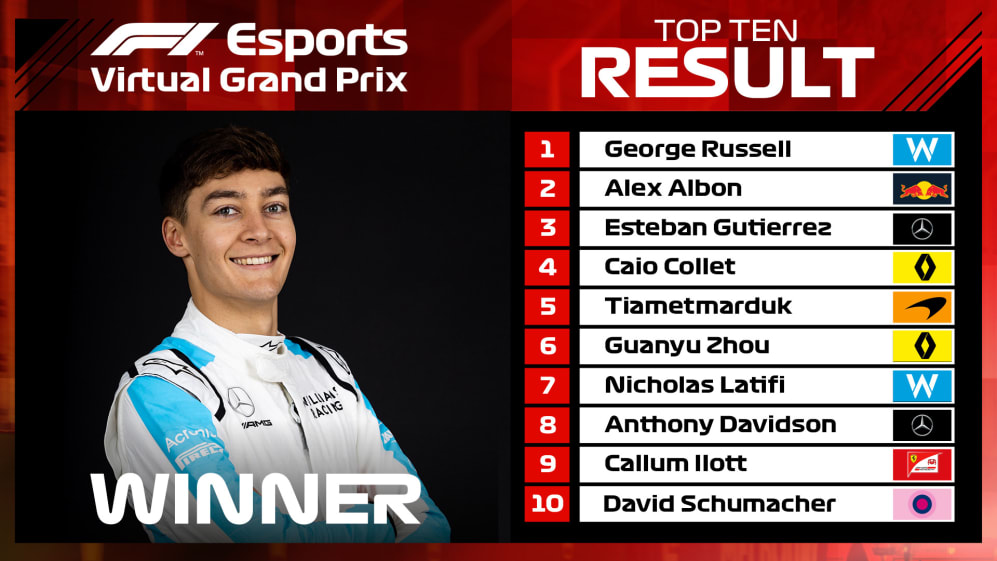 Russell untouchable
The Virtual Spanish Grand Prix, the Virtual Monaco Grand Prix, the Virtual Azerbaijan Grand Prix and now the Virtual Canadian Grand Prix – four races, all of them won by George Russell.
In Sunday's race he swept to pole and the victory without ever looking seriously troubled by his rivals, to cap off a season of virtual racing as the unofficial champion of the series – a series that he says has been crucial for keeping him race sharp for F1's return next month.
"It's been great, it's kept us busy, kept us entertained, that's for sure," he said. "And it's kept the competitive side of us busy and interested. We don't have racing to go out and do at the moment and having this opportunity to race against all of us, our mates, it's been great fun along the way.
"And from my side, I put a lot of hard work and effort in and I'm glad I've got some good results to show for it."
Oops! Error retrieving Twitter post
Albon not impressed with Russell's 'slow down' offer
One of Russell's closest challengers in the series has been his close friend, Red Bull driver Alex Albon, who took victory in the race at the Interlagos circuit last month, before Russell's incredible winning streak began.
READ MORE: Highlights and best bits as Albon and Leclerc stage epic battle for Virtual GP win
Albon was running second to Russell for much of Sunday evening's race, but so great was the Williams driver's advantage, towards the end he offered to slow down so he and Albon could engage in a scrap. But as you can see in the clip below, Albon was having none of it...
Oops! Error retrieving Twitter post
Gasly gets disqualified
Hats off to AlphaTauri's Pierre Gasly who raced in the Le Mans 24 Hours Virtual race overnight, before joining the grid for the Virtual Grand Prix on Sunday evening.
READ MORE: Leclerc says he wants to 'do the real Le Mans' after racing in Le Mans 24 Virtual event
The lack of sleep didn't seem to be affecting him early in the race when he pulled off a great overtaking move on Ferrari's Callum Ilott, who was busy lining up his own move on Nicholas Latifi ahead of him. See that in the clip below.
Sadly for Gasly though, he was getting more and more penalties for corner cutting until eventually, with less than ten laps until the finish, he was disqualified. Perhaps competing in an endurance race and a Grand Prix all in one 24 period is a little too much – even if they are only virtual events.
Oops! Error retrieving Twitter post
The 'wall of champions' claims another victim
The 'wall of champions' after the final chicane at the Circuit Gilles Villeneuve famously collected three F1 champs in one race back in 1999 when Damon Hill, Jacques Villeneuve and Michael Schumacher all saw their races end by slamming into the concrete on the exit of the turn.
But you don't have to be a world champion to come a cropper at the wall, as Williams driver Nicholas Latifi found out in Sunday's race – though the Canadian may claim he was nudged towards it by Esteban Gutierrez in the Mercedes...
Oops! Error retrieving Twitter post
Next up... it's back to real racing
Sunday's race brings a close to the Virtual Grand Prix series which has allowed fans everywhere the chance to see some racing action from members of the F1 grid, despite the season being on hold because of the coronavirus pandemic.
But the good news is the 2020 season is finally set to get underway with the Austrian Grand Prix at the Red Bull Ring on July 3-5, when the drivers will swap their sim racing rigs for their F1 machinery as they get back on track for real.
READ MORE: F1 confirms first 8 races of revised 2020 calendar, starting with Austria double header
Oops! Error retrieving Twitter post