'We completely missed the ball' – Hamilton warns of 'tough discussions' with Mercedes after Monaco struggles
Lewis Hamilton said there would be repercussions within the Mercedes ranks after the seven-time champion took a lowly seventh on the grid for the Monaco Grand Prix – the first time he's started outside the top six since the 2018 German Grand Prix – with Hamilton adding that he was "definitely out of contention for the win" in Monte Carlo.
Although team mate Valtteri Bottas looked a contender for pole throughout Saturday's qualifying in Monaco, Hamilton – also off the pace on Thursday – couldn't finish higher than P7 in any segment of qualifying, ending up 0.749s off Ferrari's Charles Leclerc's pace in Q3 and set to start from seventh on the grid.
READ MORE: Hamilton says car 'felt terrible' as he admits he's hoping for rain to make progress from P7
And two-time Monaco pole-sitter Hamilton warned that there would be some stern words exchanged between him and his Mercedes engineers in the aftermath of Hamilton's worst grid slot since he started 14th at Hockenheim in 2018...
"I'm very upset about it," said Hamilton. "There will be some tough discussions I'll have with my engineers, maybe after the weekend, as there are things that should have been done which haven't been done. We'll learn from it and come together stronger in the next race."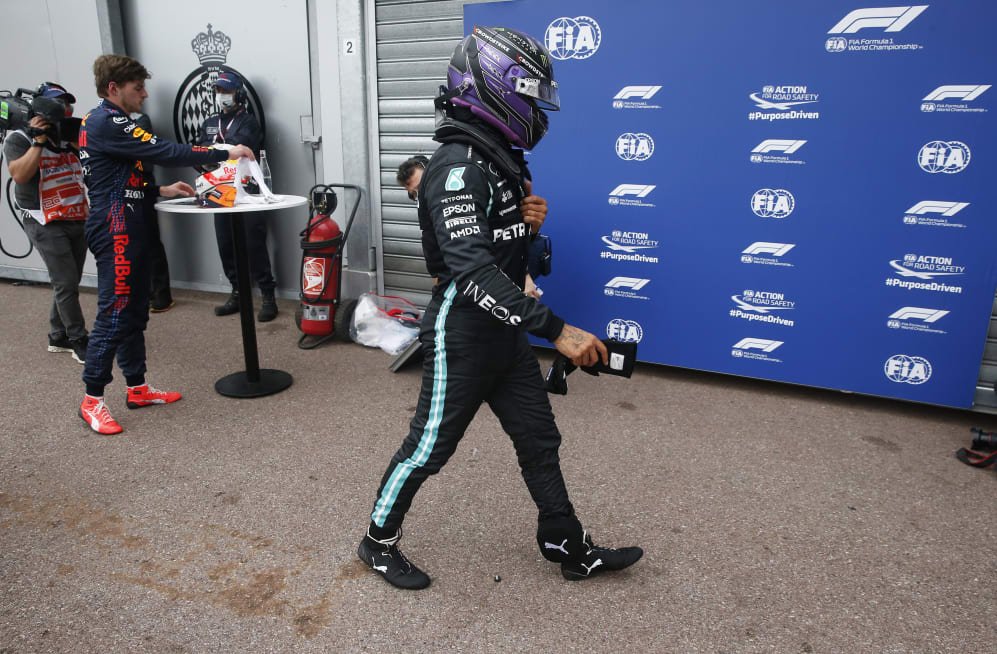 Asked if he could expand on what he meant exactly, Hamilton replied: "I can't really, no. But as I said, from my point of view it's a little frustrating, but it is what it is. I can't really say too much about it. Also I don't want to be critical of team, but behind closed doors, I will be. We've got to work harder."
Hamilton said that Mercedes' main issue around Monaco had been tyre warm-up, which chief strategist James Vowles had warned ahead of the weekend would "catch us out at some events". But although Hamilton said there would be "a lot of analysis" into the problem and the "disaster" that was Mercedes' attempts to remedy it in Monaco, he poured cold water on the idea that he could pull off a miraculous win from his lowly grid slot on Sunday, in the way that had won him that German Grand Prix back in 2018.
READ MORE: 'We had a shot for pole' – Bottas 'gutted' by Q3 red flag but proud of pace turnaround
"It will be a lot of analysis," said Hamilton. "FP3 was a disaster, and that was from the work done over the last day or so. Completely the wrong direction, completely missed the ball. Then we made some changes to try and take steps backwards and move the car into a different place and the car was worse than ever. We really lost our way on Thursday [and] today was a question of tyres, the tyres just not working, sliding around.