'We couldn't match Ferrari at any point' says Perez after salvaging P2 for Red Bull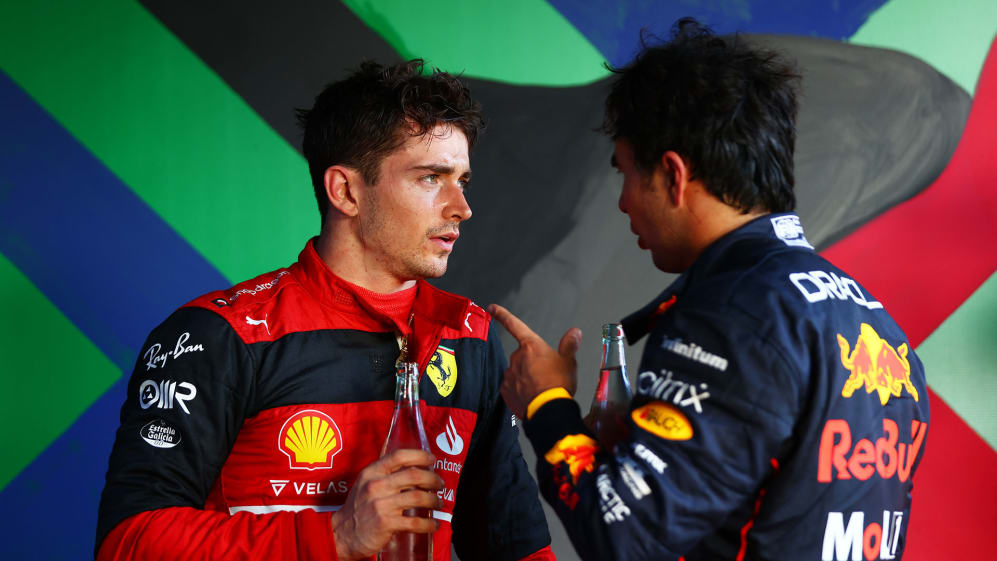 On a Sunday in which Charles Leclerc cruised to victory for Ferrari and team mate Max Verstappen retired from contention, Sergio Perez said he accomplished the 'maximum' possible for Red Bull with P2 at Albert Park – especially given the Scuderia's pace.
Perez started third but soon found himself scrapping with the Mercedes (below) for the final podium spot, eventually finishing five seconds ahead of George Russell – but 20 seconds behind Leclerc when Verstappen retired from P2 on Lap 39.
READ MORE: 'If you want to fight for the title these things can't happen' – Verstappen frustrated by 'unacceptable' Melbourne retirement
Asked if second was the "maximum" he could have achieved, Perez replied: "Certainly. I think Ferrari was super-strong today, we couldn't match them at any point. It's the first weekend that they are a step ahead. I think we've [previously] been really close in qualifying, the race. Even yesterday I felt we were a little bit closer than we showed but I think today they were on another level.
"I think we also were a bit too poor with our balance. We took a bit of a wrong direction with the car so I think there good is analysis to be done. We ran the two cars a bit different so also there's analysis to do [there]. I am sure we will learn a lot from this weekend because we seem to be a bit harder on tyres than Ferrari."
Perez, along with Verstappen, suffered problems in the final sector of the track and the runner-up, who slid off at the penultimate corner late on, added that Albert Park's layout only brought Red Bull's balance issues to the fore.
"I think it's part of our issue, I think Sector 3 is really weak for us. We have to do a lot of compromises for that which really affects us throughout the circuit, so it shows that that corner in particular, we are very sensitive [to it] and it's very easy to get it wrong."
Ultimately, Red Bull's sole finisher – who sits fourth in the standings behind Carlos Sainz (DNF), Russell and Leclerc – was left ruing the loss of a double podium for his team as they remain third in the constructors' championship, behind Mercedes.
READ MORE: Dominant Leclerc beats Perez to Australian GP win as Verstappen retires
"My first stint was pretty poor, in terms of degradation we struggled quite a lot. Then on the hard tyres, with the Safety Car [restart on Lap 27] we were a bit unlucky that we lost two positions that we recovered later.
"Great result, but unfortunately, we lost Max. It would have been great to have a double podium for the team... We've been a bit too unlucky in the first few races."