'We did 50% of the job' – Ocon and Alonso on Alpine's strategy after P8 and P9 finish in Hungary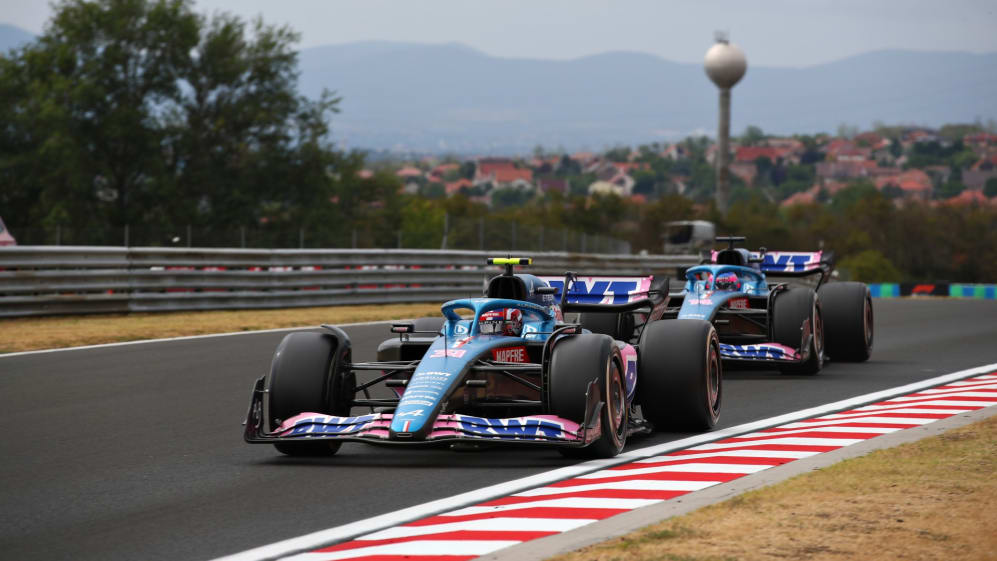 The Hungarian Grand Prix weekend got off to a good start for Alpine after both drivers qualified in the top six for the race. However, after a bold one-stop strategy in the race, Fernando Alonso and Esteban Ocon were forced to settle for eighth and ninth respectively, leaving them to reflect on what could have been.
Ocon and Alonso – starting on the medium tyre – were both jumped at the start by Lewis Hamilton, before losing further places to the charging Red Bulls of Max Verstappen and Sergio Perez, leaving them in eighth and ninth by Lap 9.
And at the first pit stop, Alpine made the bold call to go for the one-stop strategy as they pitted both drivers for the hard tyres. And while they managed to score a double top-10 finish - for the third race in a row - Ocon especially was not pleased, believing his team did not perform at their best level.
READ MORE: Fernando Alonso signs to Aston Martin for 2023 on multi-year contract
"Yeah [it's nice to finish the race with points], but not completely satisfied with that race," said Ocon. "I think we had unfortunately more pace than that and probably the strategy we chose was not necessarily the best one overall in the race. All the calls were not really the perfect ones I would say like we usually do.
"It probably would have been another story but together as a team we learn, we improve and that's going to be a useful one for the future, but it's good to score points with both cars and keep track with McLaren which is the important one but yeah, we didn't manage to get them [on Sunday] so we need to push hard after the summer break."
When asked what his team needed to do make the next step, Ocon said: "Well, we need to do everything perfect. We need to leave nothing on the table, and I feel today we've done that a little bit. Yesterday we maximised the potential, which was really good, so we did 50% of the job."
Ocon's soon to be departing team mate Alonso had a much more optimistic outlook, and while he admitted to having higher expectations ahead of the race, he was able to reflect on a positive few races for Alpine.
READ MORE: How savvy reconnaissance laps, sublime strategy and racecraft paved the way for Verstappen's unlikely Hungary win
"I was just following whatever instructions the team was giving to me and fall a little bit behind [Ocon] and try to breathe with the tyres," said Alonso. "We wanted to make one stop work, we wanted to save the tyre a little bit and at the end we managed. All in all, I think the result, compared to McLaren, that we equal points I think it was a good afternoon.
"But obviously we started fifth and sixth and we had some expectations to have a nice result today, but we were not quick enough during the race. I think the hard tyre, we were struggling to switch on the tyres as well, so it was a tricky balance today in the car.
"I think it was quite a good month for us," continued Alonso. "The last four races we introduced a lot of new parts on the car, that made us a little bit more competitive, and I think we just need to keep on scoring points with both cars like today. Hopefully that is our strength compared to McLaren for the constructors."