'We expect McLaren to be stronger than us here' warn Ferrari pair in Brazil as fight for P3 hots up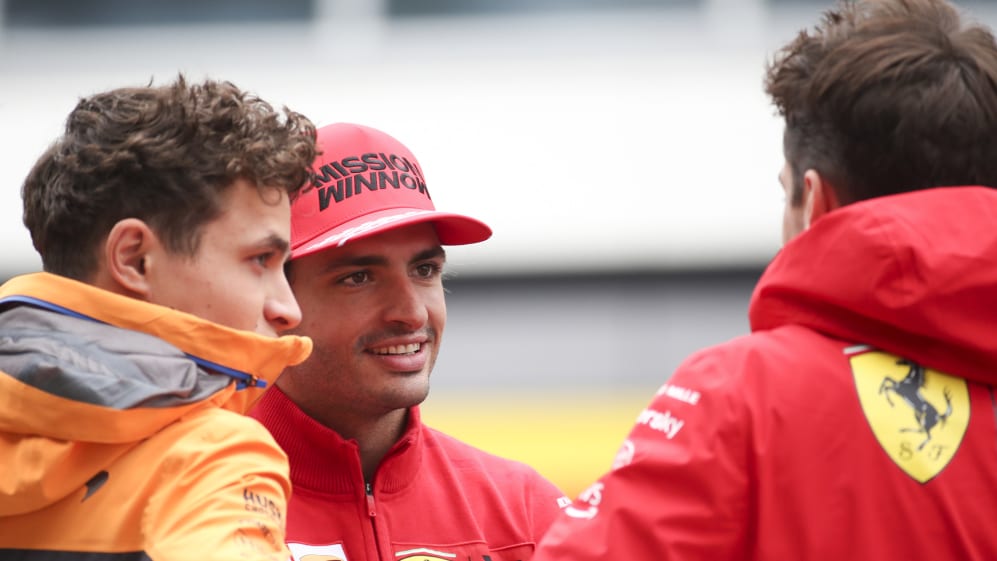 Ferrari have managed to swing the battle for P3 in their favour: having been 17.5 points behind McLaren after the Russian Grand Prix, they're now 13.5 points ahead. Yet Charles Leclerc and Carlos Sainz said they expect McLaren to have a marginal advantage in Brazil.
The Sao Paulo Grand Prix sees Ferrari lead McLaren in the constructors' championship for the first time since the Italian Grand Prix, after which McLaren soared ahead with a one-two finish at Monza. A double-points finish meant the Scuderia outscored their rivals 18-1 in Mexico City and now they aim to consolidate their lead at Interlagos.
READ MORE: 'Absolutely, it's still doable' – Ricciardo and Norris back McLaren to retake P3 in the championship
Asked how confident he was feeling with Ferrari's 13.5-point buffer, Leclerc replied: "Not much really, we still need to do everything perfect, it's still really close. We expect McLaren to be strong, if anything a bit stronger than us here.
"We really have to focus on ourselves, have to do everything perfect until the end of the season, but it's true we are also in a good time for the team. We've progressed quite well in the last five, six races which is good and we [closed] back the distance which there was between McLaren and us so it's looking good…"
As for Sainz, who finished sixth and behind Leclerc in Mexico as the pair trailed behind the AlphaTauri of Pierre Gasly ahead, the Spaniard echoed his team mate's opinion.
"Our numbers say so, that's why Charles I guess mentioned it, because we have our simulations and our expectations from the sims and due to track characteristics and all that we put them something like half a tenth ahead of us - not much more than that.
READ MORE: How Ferrari's Mexico City brake experiment gave us a glimpse of F1's future
"Now… it could be a tenth here or a tenth there, up or down. It should be tight, that's for sure, and I think it makes it more exciting and obviously with the podium of Gasly in 2019 [in Brazil], AlphaTauri should also be in the mix," he explained.
"It's so tight that I think it's going to be a great battle until the end of the year," added Sainz.
Of course, Sainz also achieved his maiden podium in the 2019 Brazilian Grand Prix – for McLaren – but he had to save his celebrations for well after the official ceremonies had been completed, as Lewis Hamilton was later penalised and lost his third place.