'Absolutely, it's still doable' – Ricciardo and Norris back McLaren to retake P3 in the championship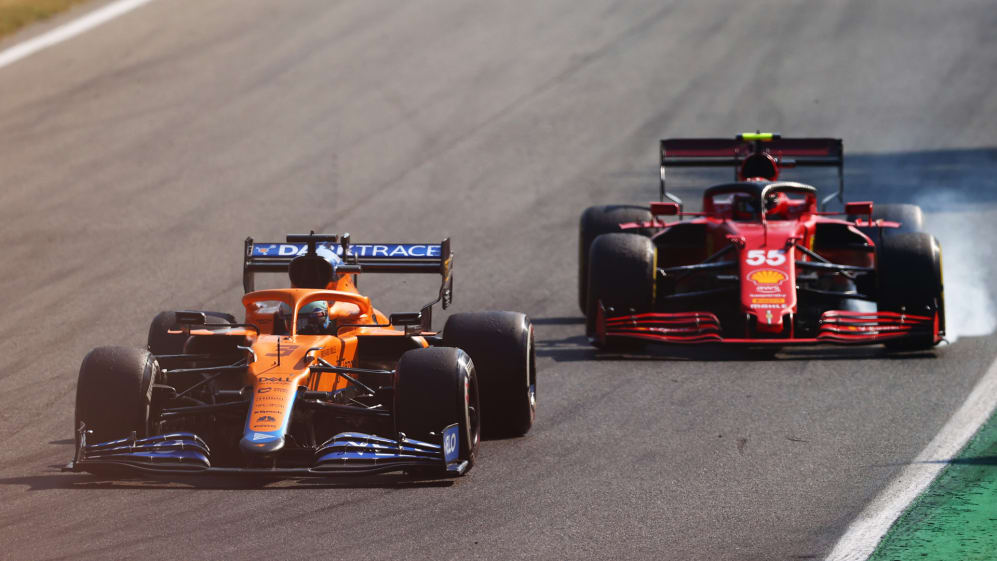 It's not just the fight between Red Bull and Mercedes that's hotting up as the season nears its conclusion, but the battle for P3 between Ferrari and McLaren – the latter team having fallen behind the Scuderia last weekend in Mexico. Ahead of the Sao Paulo Grand Prix, Daniel Ricciardo and Lando Norris gave their take on who will emerge on top this weekend.
Ferrari took 18 points to McLaren's one in Mexico City, leapfrogging the Woking team to third in the constructors' championship as Norris recovered from the back to finish 10th and Ricciardo fell out of the points-paying places after Lap 1-contact with Valtteri Bottas. Here at Interlagos, the Australian insisted it's still possible for his squad to retake P3.
FORM GUIDE: Who's set for success in the Sao Paulo GP?
"Absolutely, absolutely, it's still doable," he said. "We've been, let's say, third [for] most of the season; now they are. Let's see. We'll be the hunters and let's see what happens. I think it's going to go down to the last race.
"I do think we can peg it back and come back in the fight and yes, obviously Mexico wasn't great from a points swing but no concerns, I think we're still very much in it."
As for Norris, he was happy to take a point in Mexico given he started at the back with a new power unit and the associated penalties. Entering Brazil, where the third and final Sprint of the season is set to take place, Norris is on a run of six consecutive points finishes.
"I think from my side we maximised everything," he said looking back to last weekend. "I don't think we could have done a lot more. I think, yes, the car wasn't as competitive as where we have been in previous races, but that's just the way it is, and I think we have to be happy that we maximised what we could – we still got one point and that's better than nothing, it could be crucial come the end of the season – but as a team and with Daniel's incident, putting himself at the back having to do the front wing change, of course that's where we lost out a little bit.
READ MORE: Verstappen says he would sport #1 if he wins the title – but maintains he's 'enjoying the moment' in Brazil
"But Ferrari have been the stronger team lately, they've been the guys who have been consistently ahead in qualifying and the races, so looking at the stats lately, you would put them ahead. But we're working hard, we've done a lot of reviews from Mexico and looking back at two years ago we had a pretty decent car and Carlos was on the podium… so we're hopeful, we're confident we can have a good weekend.
"We've had bad weekends, Ferrari have had bad weekends; we have to make sure we bounce back this weekend with a better one," he added.