'We had to be there to capitalise' – Albon '95% satisfied' with opportunistic podium in Bahrain
Red Bull's Alex Albon knew full well at the end of the Bahrain Grand Prix that he'd been lucky to inherit his second career podium after Sergio Perez's late retirement. But after finishing the race P3, the Thai driver still had plenty of reasons to be satisfied, having been happy to enjoy a more "boring" – in his words – Grand Prix than he's used to.
Albon bounced back well from a huge crash in Free Practice 2 to take fourth on the grid in qualifying, and looked set to finish the Bahrain Grand Prix in that position when Racing Point driver Perez – who'd had sufficient pace to stay ahead of Albon throughout the race – suffered an MGU-K issue three laps from the end, moving Albon up into third.
READ MORE: Hamilton wins Bahrain GP interrupted by huge Grosjean crash, as Perez suffers late heartbreak
And although the element of luck stopped Albon being fully satisfied with his evening's work, he was still pleased that his pace at the Bahrain International Circuit had been sufficient to put him in a position to capitalise on Perez's misfortune.
"It was a good race," said Albon. "Obviously Sergio had a great race too and he had the blow up, so I'm partly, not fully, fully, satisfied but... we had to be there to capitalise on it and on my side, it was a good race.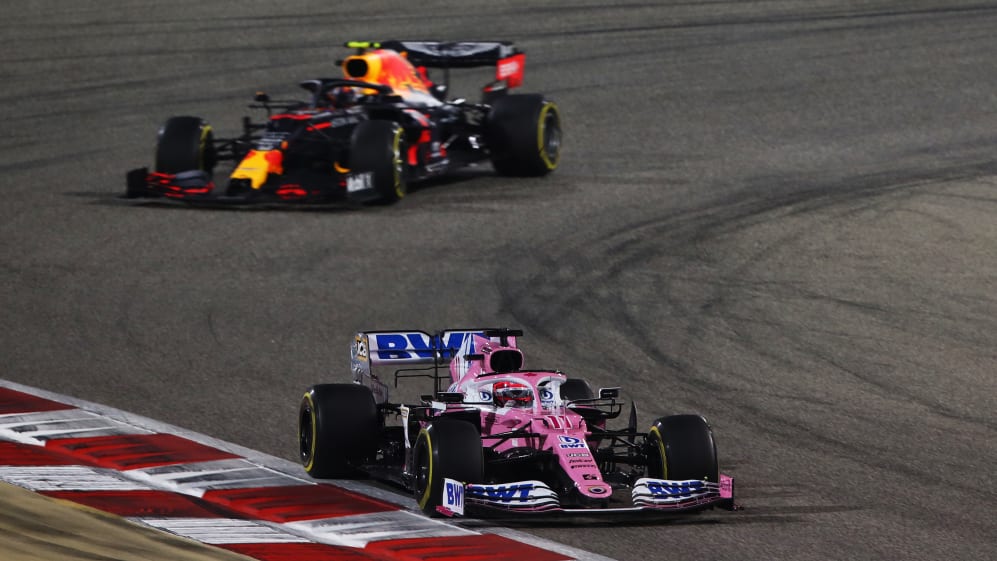 "I wouldn't say I'm not satisfied," he added. "It's not like I'm 50% [satisfied], it's like I'm 95% satisfied. It's still a good race… But saying that, of course I want to be better, I want to be faster, and challenging more often for podiums.
"I didn't quite have the pace to overtake Sergio. But we were just there behind him waiting for something to happen and it did so P3, it was a good result, and especially a double podium for the team – that's good for them as well."
READ MORE: Perez says late failure 'hard to digest', but admits podium irrelevant in context of Grosjean crash
The result marked Red Bull's first double podium since the 2017 Japanese Grand Prix, and their first podium at all in Bahrain since Sebastian Vettel's 2013 victory here.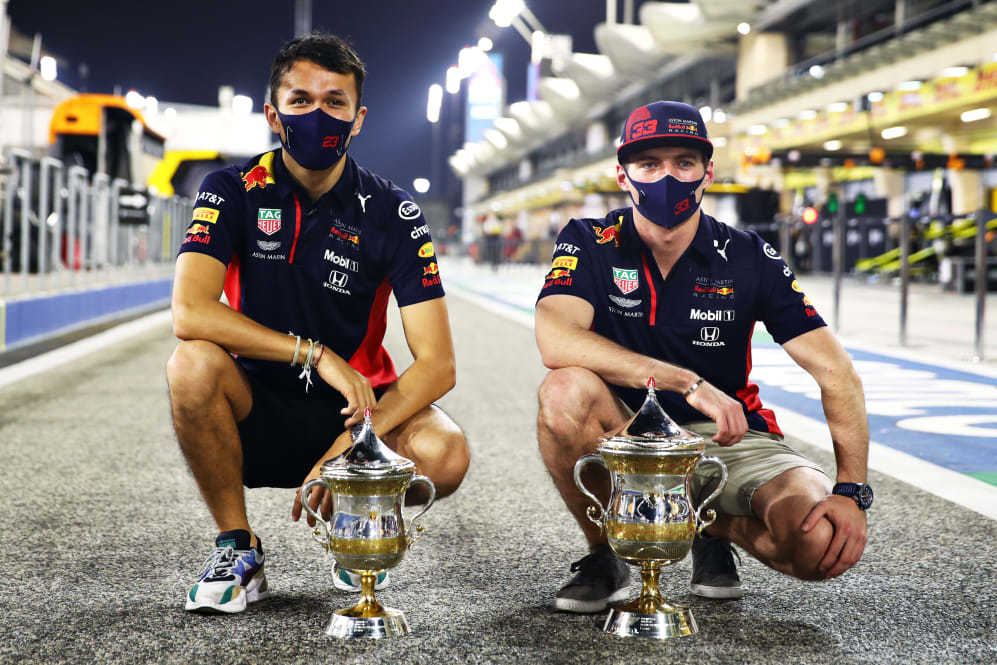 And Albon admitted that, having withstood a volley of questions throughout this season about whether or not he would be continuing with Red Bull into 2021, he'd enjoyed an opportunity to play rear-gunner to Verstappen rather than getting caught up in the midfield battle – exactly the role Red Bull need him playing consistently if they're to take the constructors' fight to Mercedes in 2021.
READ MORE: Runner-up Verstappen says he wanted Red Bull to be 'more aggressive' as he questions Bahrain strategy
"On my side, it feels like I've just got to focus on my job and ignore everything else," said Albon. "Of course, the podium is great, but it just feels like it's been in the making, and all the work that's been done behind the scenes – it's great to show it, and great for my side of the garage.
"We've been working hard all year and the progress is there," he added. "But this... race was actually the one that I wanted: boring, nothing happening, just driving around and it was a nice podium today!"