Perez says late failure 'hard to digest', but admits podium irrelevant in context of Grosjean crash
Sergio Perez has scored nine F1 podiums, but never back to back rostrums. As the Bahrain Grand Prix entered its closing stages it looked like that was about to change, only for engine drama to intervene and rob the Mexican of a third-place finish.
Afterwards, although clearly disappointed, Perez said adding another podium to his second place from Turkey two weeks ago would have felt 'irrelevant' in the bigger picture, with the story of the day in his mind being Romain Grosjean walking away with only minor injuries from a massive crash on lap one.
READ MORE: Steiner thanks rescue crews as Grosjean escapes burning car with what appear to be minor injuries
"A day like today is hard to digest, for me, for my team," he explained. "It's extremely painful in the championship – those points were extremely valuable to us and can make a huge difference come the end of the season.
"But there's nothing we can do. It's just the beauty of the sport. And today it becomes a little irrelevant to me, the podium, the trophy. One more or one less – it's just a trophy. What is important is that Grosjean is good, he's fine and he can be back with his family. It was a big shock you know to see that big crash and then have to go back to the car in 10 minutes. Not a nice day today."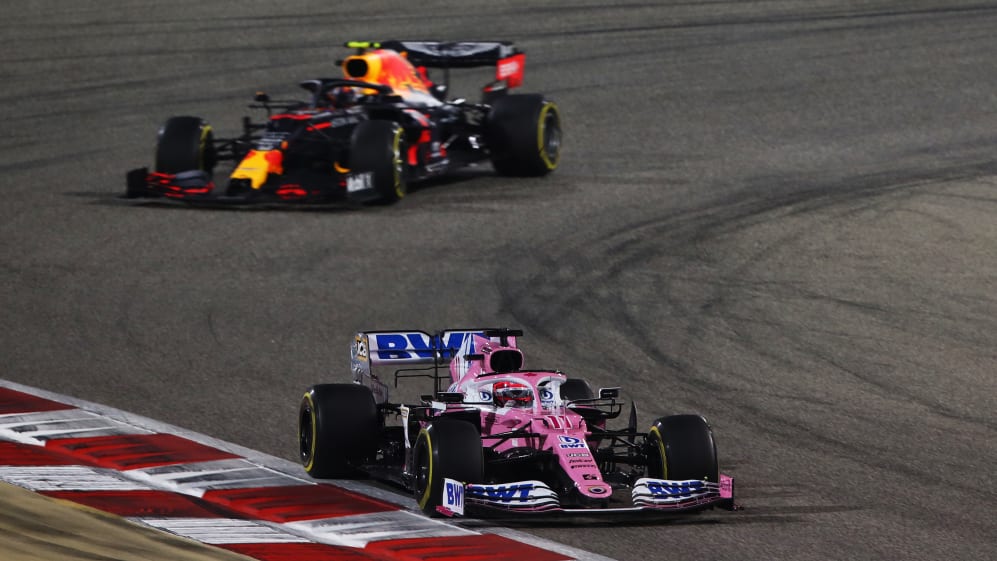 Perez had vaulted into podium contention with a fine getaway at the original start, where he moved from P5 to P3. He held that position throughout the race, keeping Red Bull's Alex Albon at bay, until his Mercedes engine suffered a spectacular failure on lap 54.
That handed the podium to Albon, ironically the man whose seat Perez has been linked to for 2021, as he bids to stay on the grid. And Perez admitted it hadn't been easy to stay focused at the re-start after Grosjean's crash.
"Not easy at all – extremely hard. You are shocked and it takes a bit of time. At the same time you have to be focused you have to be prepared to race, so difficult."
Perez's late exit ended a run of 18 straight points finishes for the Mexican on a day Racing Point will want to forget, with Lance Stroll tipped upside down on the race restart and also failing to score.
The team slipped from third to fourth in the constructors' standings as a result, with McLaren now 17 points ahead and Renault 10 points behind.