'We seem in a good place' – Norris and Ricciardo delighted with McLaren's performance on day one in Budapest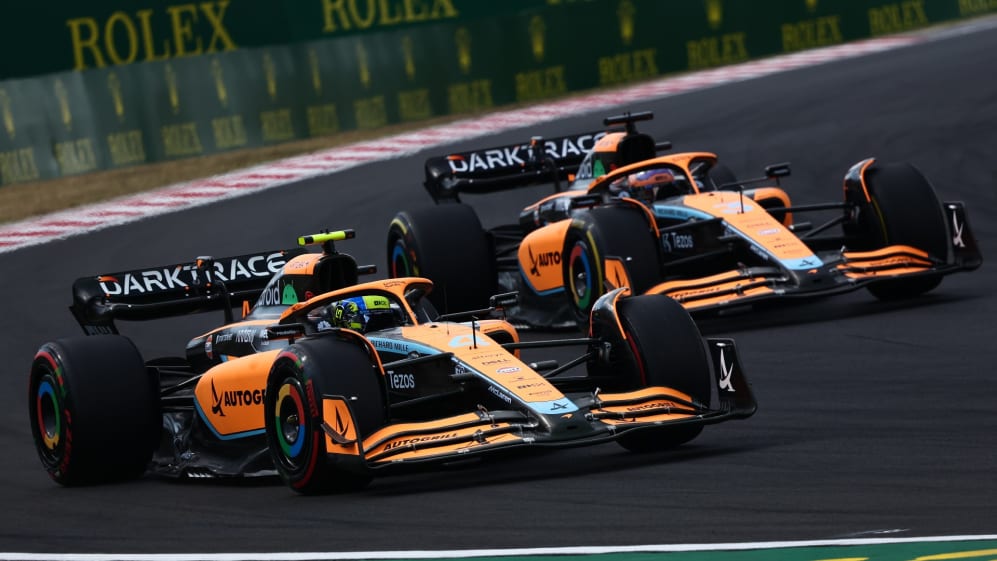 It was a positive first day of running in Budapest for McLaren, with both cars in the top five in the second practice session at the Hungaroring. And while both were happy with the performance of the team, they were quick to temper expectations heading into the weekend.
Norris was fourth in FP1 and was briefly at the top of the timesheets in FP2 after his first qualifying run on the soft tyre, but ended up in P2, with only Charles Leclerc able to better his time. And while he was encouraged by the improved showing from the MCL36, Norris admitted McLaren perhaps showed their hand a bit more than their rivals.
"It is good. I think the car is just performing very well from the off, it's performed well, I've felt comfortable," said Norris. "I think today is a little more of an over-show of our performance just because we've turned up more than what other people have, we are definitely not fighting for Ferrari and Red Bull positions, but we seem in a good place.
READ MORE: 'It's going to be a tough weekend' – Mercedes drivers lament 'difficult Friday' in Hungary after failing to crack top-7 in FP2
"I'm not too sure about the long run positions, I haven't had a look yet, but things are maybe a little bit ahead of where we were in Paul Ricard, which is a good thing. It's still just Friday, the weather is meant to change tomorrow, so we have to wait and see. But things at the minute are a little bit better than what they were, so that's a positive."
Norris was overheard on his team's radio being warned to stay of the kerbs in FP2, and when asked whether that was to protect the new upgrades on his car, he replied: "No new [upgrades], it's just what we had last weekend, it's just better not damage it just in case, with the rain and stuff tomorrow. Just being cautious.
"But, like we said, I think what I said yesterday. Today and this weekend we've just managed to analyse a lot of the stuff from last week, with the new floor and new bits.
ANALYSIS: Why Vettel decided to retire – and who might replace him for 2023
"And also with this track we've managed to place the car in a more optimised position, so it can perform better and sit more where it wants to sit. Basically, it's more that than just being a bit safer with the parts, but yes, it's feeling pretty reasonable."
Team mate Daniel Ricciardo also enjoyed quite a productive Friday. After finishing in eighth in FP1, over half a second behind Norris, he closed the gap in FP2 to just over two-tenths to the Briton. The Australian driver was pleased with his showing, although he was unsure as to where McLaren stand in the hierarchy.
READ MORE: 'He's such a legend of our sport' – Vettel's fellow drivers hail him as 'an inspiration' following his retirement announcement
"I think it was a fairly competitive day, [but] obviously you don't know what the others do in FP2 with the performance runs," said Ricciardo. "But we were also quite competitive in FP1, so I hope that that means we actually are quick this weekend. I think the cars felt alright this weekend, I think of course there is a few corners where we want more, but generally around the lap I feel like we've had a decent car and hit the ground running.
"We will still work tonight, like we will still try and obviously find more out of it, because you have to expect that the others do, but for us I think there is still a bit of fine tuning, but it was certainly a good day."