'We went backwards' – Sainz and Leclerc shocked by lack of pace as Ferrari fail to score in France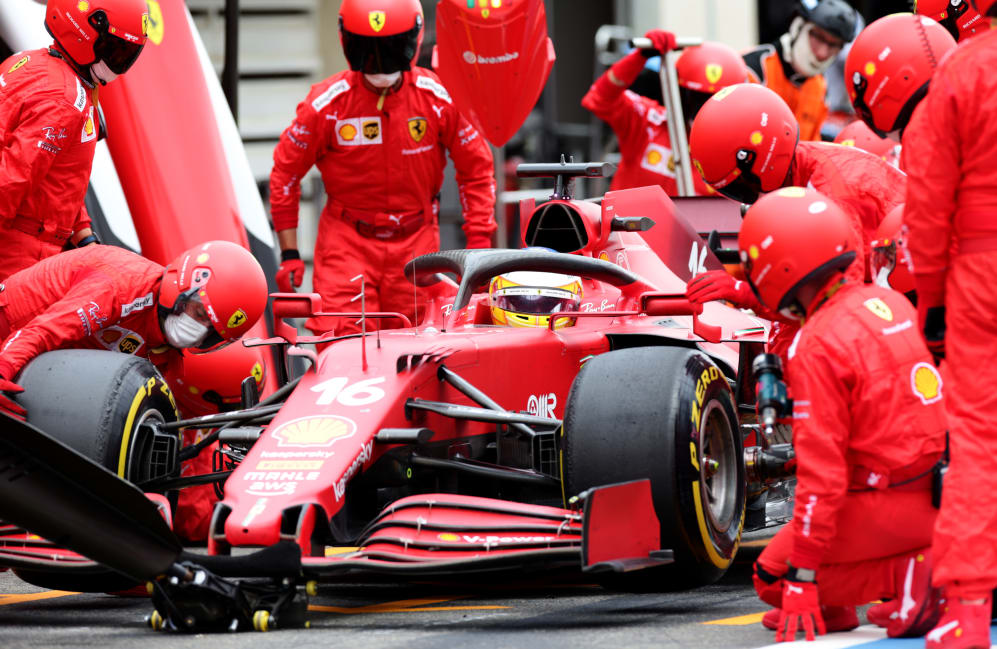 Starting with both cars in the top 10 at Paul Ricard, Ferrari looked assured of a good haul of points and a chance to assert their authority in that midfield battle over McLaren. But it was not to be on what turned into a very disappointing Sunday, as both drivers struggled with tyre wear and tumbled down the order, with Carlos Sainz finishing 11th and Charles Leclerc a lowly 16th.
Starting P7, Leclerc looked to have pulled off a strategic masterclass when he used the powerful undercut to his advantage early on in the race, the first driver in the field to pit.
READ MORE: Verstappen triumphs over Hamilton after late pass in scintillating French Grand Prix
That catapulted him up the order but he wasn't able to stay there for long, as he slipped progressively down the field. Ferrari switched him in vain to a two-stop strategy in a failed attempt to limit the damage, and after trailing home well outside the points Leclerc was left bemused by the team's issues with their Pirelli tyres.
"We really need to understand [what happened], as with both cars we've been struggling massively, dropping massively," said Leclerc. "The pace is there the first two laps on the tyres and then everyone keeps going on this pace and both of our cars are starting to drop. That's where we need to work out at the moment and we really need to understand this issue."
The Monegasque had finished in the points in every race this season he'd started, but wasn't sure why he was unable to extract the same sort of consistent pace from the car – with Leclerc describing Ferrari changing him to a two-stop strategy as a kind of experiment by the Scuderia.
"We tried a second stop at one point just to see if we could understand something more [by] going on the medium again, but there was no way to do anything better managing those tyres. We were just degrading them very, very quickly."
French GP Facts & Stats: Verstappen's first F1 hat-trick, and a special podium for Perez
Sainz, meanwhile, appeared equally unhappy after the race, with the Spaniard having held onto his P5 starting position in the opening stages despite heavy pressure from Pierre Gasly. But after switching to the hard compound tyre, he too dropped back through the field, as other teams were able to extract more from their Pirelli rubber.
"On Friday we looked okay. But clearly the conditions changed and our car, just the way we treat the tyres, we are not very resilient to condition changes," said Sainz. "We are on the limit of graining the front tyres always and as soon as we grain them, basically we go backwards.
We are not treating the tyres very well and we are going backwards.
"Right from the laps to the grid, and honestly, the race pace from Lap 1 wasn't there and we were degrading the tyres massively," Sainz added. "It's something I haven't experienced before and it's something that we really need to understand as it's quite evident that in some of these Sunday conditions, we are not treating the tyres very well and we are going backwards."
Ferrari don't have long to figure out a solution, with only a handful of days before the action gets back under way in Styria. And having lost ground to McLaren in the constructors' championship – with McLaren now heading Ferrari by 16 points, having reclaimed P3 – the Scuderia know they need to find some answers if they are to remain competitive in that fight for third in the standings.
RACE HIGHLIGHTS: See all the best action from the French GP as Verstappen charges to victory