'We were just perfect' in Russia, says jubilant Perez
Sergio Perez has already had a seventh-place finish at Monza and a pair of sixths in Spa and Baku, but he rates his drive to seventh in Russia as one of his finest of the season so far.
Racing Point's form has been impressive since the summer break, with Perez picking up 20 points across the four races from Belgium onwards. While it wasn't his highest finish of the season, it was the manner of his drive from 11th on the grid to finish seventh in Sochi that left him feeling so satisfied on Sunday evening.
"I'm very pleased with how we maximised the result," Perez said. "I think it has been one of my best races. Great start, great management throughout the stint - knowing when to fight and when not – we were just perfect.
READ MORE: 'The trust is unchanged' says Leclerc of Vettel
"I just doubt that we could have done any better. We were very unlucky with the Safety Car out there but still we managed to get a great result and a lot of points."
If there was one small error he could pick out, Perez says a fight with former team mate Nico Hulkenberg surprised him but he was able to rectify that moment as he finished ahead of the Renault.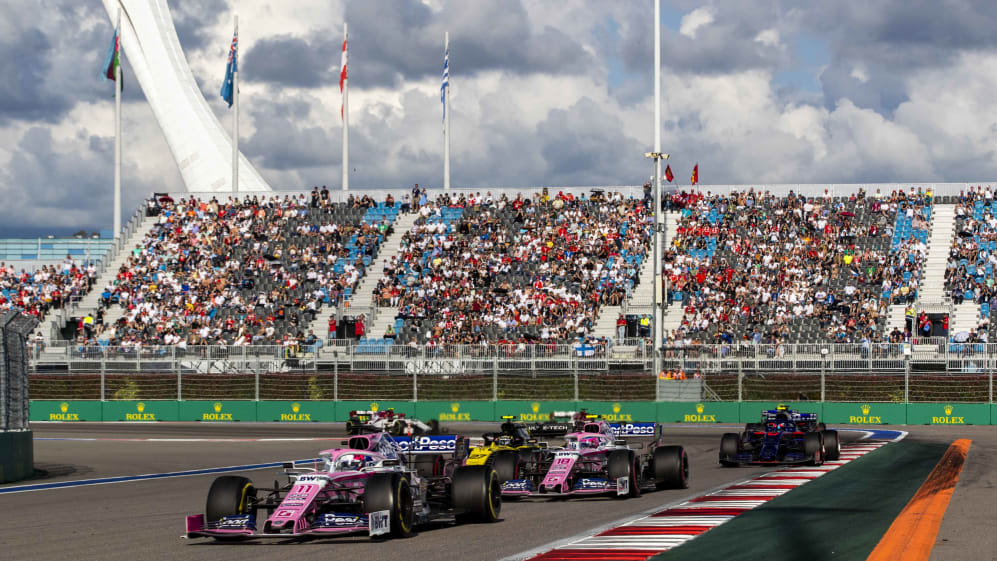 "I got caught out by Hulkenberg, he overtook me. I had a deployment issue. I wasn't expecting him to be there and when I looked in my mirrors he was there so it was too late to block him, but still I think we managed to do a fantastic race."
While Perez reflects on a job well done from his side of the garage, Team Principl Otmar Szafnauer admits his own reaction is a little bit tempered by the fact team mate Lance Stroll missed out on scoring points by less than a second.
"We raced well, making the most of the race circumstances, and splitting the tyre strategies across the cars," Szafnauer said. "Strong opening laps from Sergio and Lance [Stroll] helped our cause, but the mid-race Safety Car kept the pack close together and allowed some of our competitors to make a second stop for fresher tyres – Hulkenberg, for example. The timing was not ideal for either car, especially Lance.
"We showed good pace over the final 20 laps with Sergio overtaking Magnussen for seventh place and Lance battling with Norris and Hulkenberg over the final points. It's a shame to miss out on getting both cars in the points, but given how the race unfolded, we welcome the additional six championship points."
Perez moved up to 13th in the drivers' championship with his result in Sochi, and is now just two points behind Lando Norris in ninth place. Racing Point, meanwhile, are now just three points behind sixth-placed Toro Rosso.
2019
Drivers' standings after Russia
POSITION
POINTS

9

Lando

Norris

McLaren

35

10

Daniel

Ricciardo

Renault

34

11

Nico

Hulkenberg

Renault

34

12

Daniil

Kvyat

Toro Rosso

33

13

Sergio

Perez

Racing Point

33