'The trust is unchanged' says Leclerc of Vettel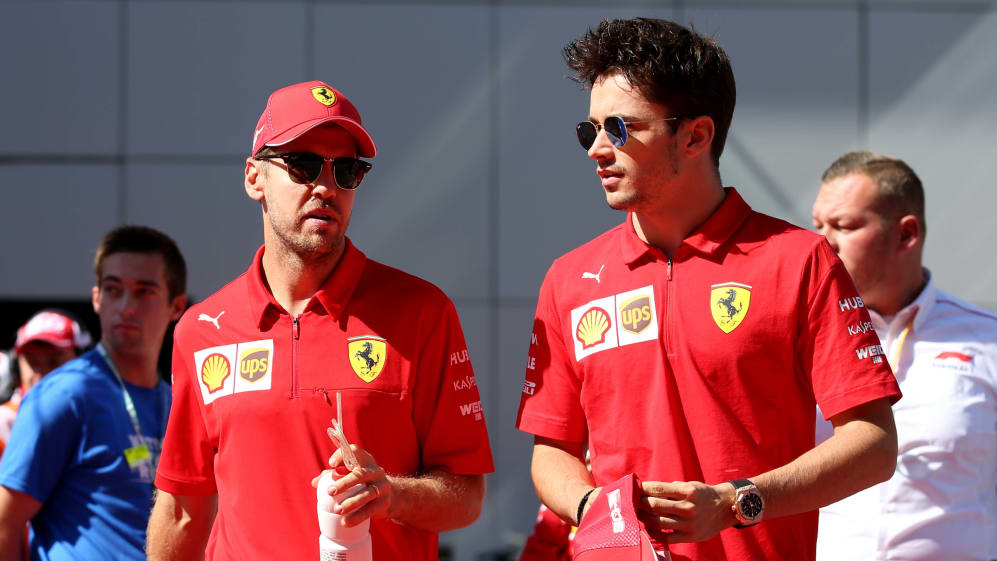 It was a Russian Grand Prix in which team orders bubbled to the surface once more at Ferrari, with Sebastian Vettel seemingly unwilling to follow a pre-race agreement to swap positions with team mate Charles Leclerc. But the Monogasque has poured cold water on talk of a potential rift opening, saying his trust in his team mate is wholly intact.
Vettel, starting third, had a superior start to Leclerc, using a tow to race ahead of both Lewis Hamilton and his fellow Ferrari driver. The German was soon asked to give back the place to Leclerc, hinting at a pre-arranged agreement between the pair - later confirmed - that Leclerc would stay left at the start to tow Vettel past Hamilton, and in exchange would be given the lead back should he lose it.
But instead of switching places, Vettel pulled clear, leaving Leclerc unhappy and Ferrari to placate the 22-year-old with talk of a later swap. In the event, Leclerc ultimately passed Vettel in the pit sequence, and after the race Leclerc was quick to point out the trust between the two is still intact.
READ MORE: Vettel not keen to discuss details of pre-Russian GP agreement with Leclerc
"Yeah I think the trust is unchanged and we need to trust each other because it's usually important for the benefit of the team in some situations to know that you can count on each other in the car and vice versa, both ways," he explained.
As for the plan, Leclerc denied that anything untoward had happened.
"Well I think everything was respected. At the start I went to the left to give Seb the slipstream, I knew he would overtake, he knew that, then we just had to do the swap back and we did it at the pit stop later on in the race.
READ MORE: 'Deliciously ironic' that Vettel failure inspired Hamilton victory – Mercedes
"And then our race went downwards as soon as Seb had the issue, the Safety Car didn't come at a great time for us and yeah, everything was more complicated from then on."
With Vettel retiring as his MGU-K failed and the insulation on his hybrid power unit was damaged, making his car unsafe to drive, a Virtual Safety Car was triggered. Mercedes pounced into the pits and emerged with their lead – inherited as Ferrari pitted earlier – intact. Could Ferrari have won the race had Vettel not retired?
Hamilton says Russia win 'feels like the first' after ending Ferrari run
"Not if the Safety Car would have been at the same time," said Leclerc.
"That was our main thing that went wrong today. This is nothing we could have done, it's a shame for the team because I believe we had the potential to do very good today and with the Safety Car at that time of the race was not good for us, so yeah that's it."
Ferrari's Russian Grand Prix showed just how fragile and fleeting an advantage can be in Formula 1, and with five races left, it was another blow in their efforts to catch Mercedes.