'We were more passive than aggressive' – Bottas not happy with Mercedes' strategy call in Bahrain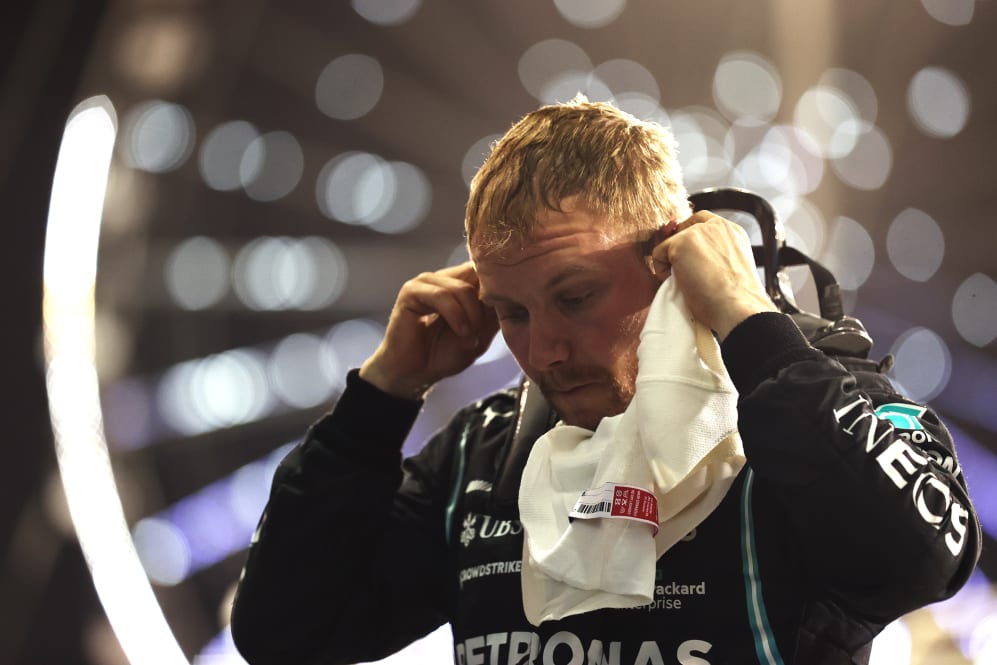 Valtteri Bottas wasn't overly pleased with his third-place finish in the season-opening Bahrain Grand Prix, after a slow pit stop and what he called a "passive" strategy prevented him from joining the fight for victory between Max Verstappen and eventual winner Lewis Hamilton.
While the Bahrain GP was a scintillating contest up front, Bottas drove a lonely race to P3 as he was passed by Charles Leclerc at the start and pitted a lap before Max Verstappen, with a subsequent Lap 30 stop taking up 10 valuable seconds thanks to a slow right-front tyre fitting.
WATCH: Mazepin crashes out in action-packed Bahrain Grand Prix start
After the race, Bottas dissected Mercedes' choice to pit him just after Hamilton on two occasions, rather than have him stay out long – as he was told was the plan over the radio – on his second stint to challenge pole-sitter Max Verstappen at the end of the race.
"I actually wanted to go long in the second stint, to have more fresh tyres in the last stint," he said. "We're going to review it. My feeling was that we were more passive than aggressive today, for me, which is the opposite that we should have been but we'll have a look at what we should have done better.
"We managed to have two cars [at the front] and that way we also had different tyre choice, so we could really play with the strategy, but I still think from my side there should have been more to get today," he added.
The Finn also rued the time he lost on the second pit-stop as he spent 10 seconds stationary, the Mercedes pit crew having had to jack his car up twice to get the right-front tyre fitted correctly. However, he stopped again late on for a successful shot at clinching Fastest Lap with fresh rubber.
HIGHLIGHTS: Watch all the action from the Bahrain GP as the fight for victory went down to the last lap
"I mean, of course, on the first lap I lost one position to the Ferrari with the soft tyres," he began. "So that was a bit of a time loss, and a bigger time loss on the slow stop. And if you suddenly lose 10 seconds, racing against Max and Lewis you're not going to get that back driving-wise.
"So you know, unfortunate, but we got the fastest lap at the end so that is an extra point, and more points than Red Bull," he added.
Bottas took 16 points by finishing third (with a bonus point for Fastest Lap) and thus sits third in the championship behind Verstappen on 17 points, as April's race at Imola beckons.