'We're just slow' – Hamilton and Bottas 'scratching their heads' over Mercedes pace deficit in Baku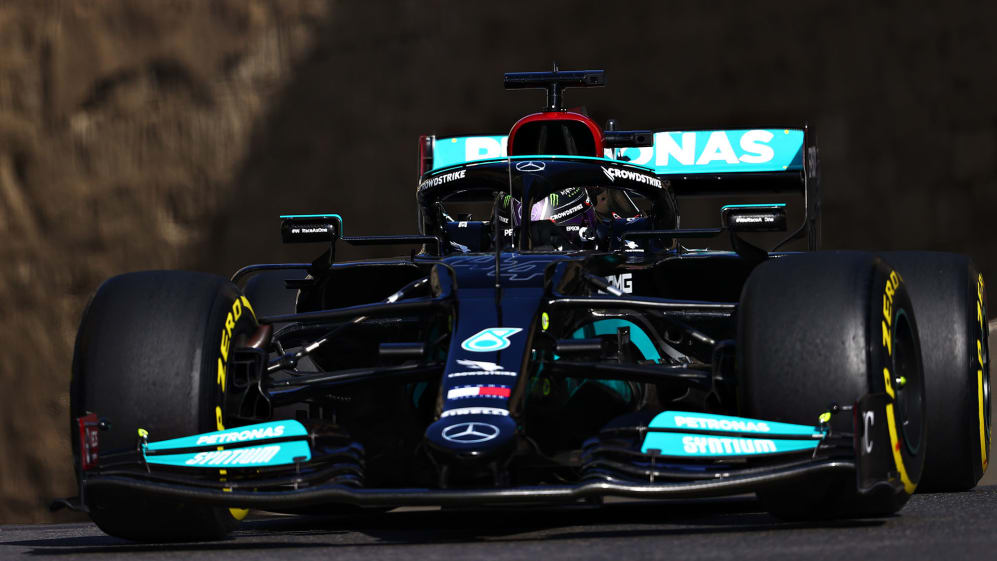 1.041s – that was the gap between Red Bull's Sergio Perez and Mercedes' Lewis Hamilton in Free Practice 2 for the Azerbaijan Grand Prix, as Hamilton finished the session 11th, outpaced by cars from Alfa Romeo, AlphaTauri and Alpine – while team mate Valtteri Bottas finished even lower in P16, with both drivers at a loss to explain their pace deficit.
Hamilton looked to be building up in FP1 when he finished the session in P7 to Bottas' P10. But once the qualifying simulations were complete in FP2, Mercedes found themselves an apparently genuine one second off the pace, in what was by far their worst practice performance in recent times.
FP2: Perez heads Red Bull 1-2 in second practice with Hamilton only 11th quickest in Baku
"Honestly I generally had a really good day; it was clean, I got all the laps that we needed, there were not really any mistakes… but just slow," said Hamilton. "There's just no more time in it. We're definitely quite a chunk down, and I think everyone will be scratching their heads and looking into the data to see how we can improve.
"I was pushing and on the limit, but… the car is limited," added Hamilton. "There's areas where I should just be quicker, but there's no more grip. But we'll work at it. It's not easy to be out of the top 10 when we've had pace in other places, but I don't really know why we're where we are."
Asked if there had at least been learnings that Mercedes had taken from the slow-speed Monaco two weeks ago – where Hamilton finished the race a disgruntled seventh – Hamilton replied: "Pace-wise, we've not gone anywhere forwards – if anything it looks like today we've gone backwards."
Bottas had an even tougher day than his team mate, the Finn a full 2.069s off the pace in FP2, with Bottas suggesting that Mercedes – whose team boss Toto Wolff cancelled his post-session media duties in order to speak to his engineers – had a "fundamental issue" on their hands.
WATCH: Leclerc wipes off his front wing on Baku barriers in practice shunt
"It was very tricky for us today, clearly lacking pace," said Bottas. "It feels like it's just overall grip. The balance is not that far off. Okay, the car is maybe a bit unpredictable, but it just feels like its lacking grip and sliding around. I think it's going to be a long night tonight.
"It was slightly better maybe on the long run, but still we're lacking pace, that's for sure, so I think there's something fundamentally wrong, and we need to figure out what.
"Monaco wasn't easy," added Bottas. "But at least we were more or less there by the time of qualifying. But now we seem quite a bit off so it's been definitely a more challenging day than we'd anticipated and we need to find out exactly why."
READ MORE: 'I finally understand how to drive the car' says Perez after topping FP2 in Azerbaijan
Adding to Mercedes' pain was the fact that title rivals Red Bull – who took the lead of the constructors' championship for the first time since 2013 after Monaco – secured a one-two in FP2, Perez heading Max Verstappen by a tenth, with Ferrari seemingly the second-quickest team on one-lap pace currently as Carlos Sainz and Charles Leclerc took third and fourth.