Feature
We're streaming the 1994 Japanese GP – here's why you should watch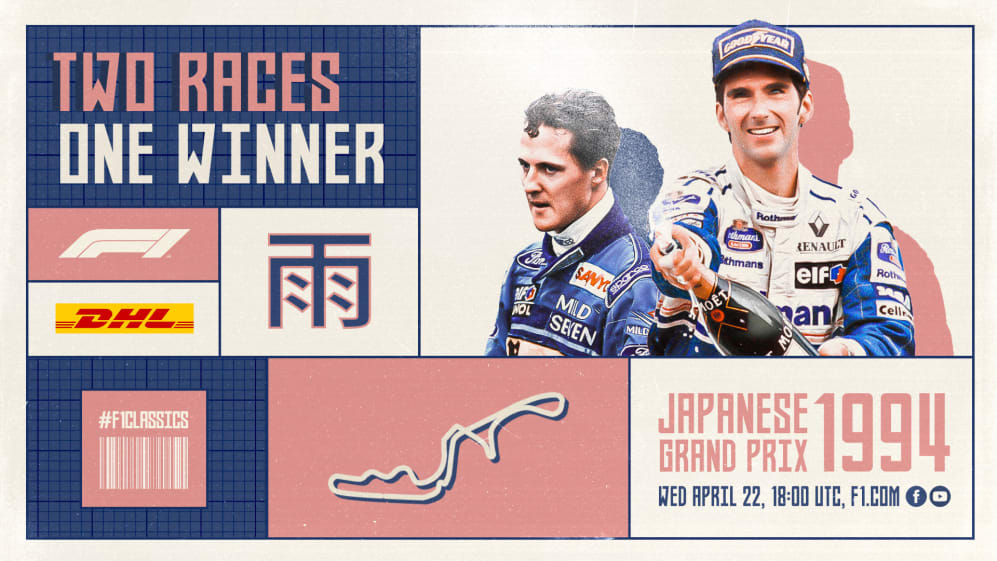 Horrendous conditions, a two-part race, a stunning wet weather drive and even some other-worldly intervention – the 1994 Japanese Grand Prix was a humdinger. We'll be streaming this classic race on Wednesday, April 22 at 1800 UTC – here's why you should watch.
Damon Hill's mission for the 1994 Japanese Grand Prix was simple: beat Benetton's Michael Schumacher, or that year's title fight was all but over.
Both the weather and the racing gods appeared to have deserted the Williams driver's corner ahead of the race, with grimly grey clouds omnipresent on both Saturday and Sunday in Suzuka – and with the advantage seemingly placed firmly into the hands of Schumacher, the sport's preeminent Regenmeister (or 'rain master' for us anglophones) at the time.
Could the 34-year-old Hill, thrust into the role of team leader at Williams following the death of Ayrton Senna earlier in the year, really do the impossible?
LISTEN: Damon Hill on his father's legacy, Imola 94 and world title glory
How they stood before the race
Notwithstanding his two-race ban for ignoring black flags at the British Grand Prix, plus a further two disqualifications, Schumacher still headed the standings going into Japan, with eight victories to Hill's five.
And with 10 points for a win in those days (six for second, four for third etc. with points only handed to the top six) victory for Schumi in Japan with Hill second would mean he only needed one point at the following round in Australia to claim his first title.
And as you can see from the table below... everyone else was miles off!
Standings before the 1994 Japanese Grand Prix
| Position | Driver | Team | Points |
| --- | --- | --- | --- |
| 1 | Michael Schumacher | Benetton | 86 |
| 2 | Damon Hill | Williams | 81 |
| 3 | Gerhard Berger | Ferrari | 35 |
| 4 | Mika Hakkinen | McLaren | 26 |
| 5 | Jean Alesi | Ferrari | 19 |
| 6 | Rubens Barrichello | Jordan | 16 |
The background
As if the fight wasn't poised enough, the wet qualifying session saw Schumacher and Hill lock out the front row – although Schumacher had shown his brilliance by lapping Suzuka nearly half a second quicker than Hill.
Heinz-Harald Frentzen did a fine job to put himself P3 for Sauber, while the returning Nigel Mansell, in his third outing for Williams that season, was fourth.
F1 REWIND: Watch our full-race stream as Ricciardo charges to victory in the 2018 Chinese GP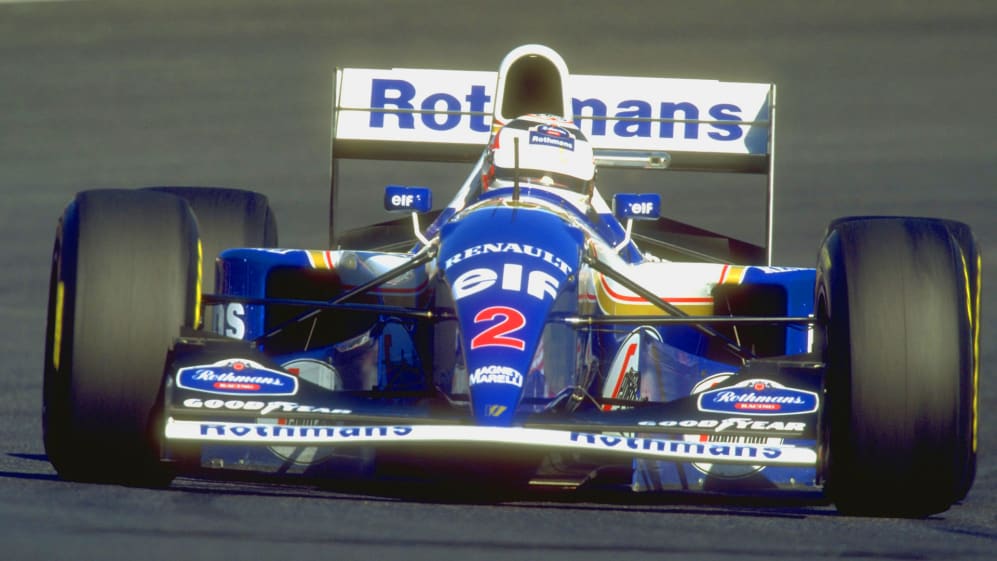 Four key moments
1. The start of the race – In foul conditions, Schumacher led off the line, but just four laps of 50 had gone by before a Safety Car was brought out to clear up a string of crashes – with Taki Inoue's Simtek having narrowly avoided smashing into Ukyo Katayama's stricken Tyrrell on the pit straight.
2. Brundle hits a marshal – Green flag racing resumed on Lap 10, but not for long, with a series of further crashes ensuing, most seriously when McLaren's Martin Brundle went off and broke a marshal's leg. The race was stopped and restarted behind the Safety Car. It would now be a two-parter, with the result calculated by the aggregate times over the race's two sections – with Schumacher 6.863s ahead of Hill when the race was stopped on Lap 14.
F1 CLASSICS: Watch Schumacher's first Ferrari win, the 1996 Spanish GP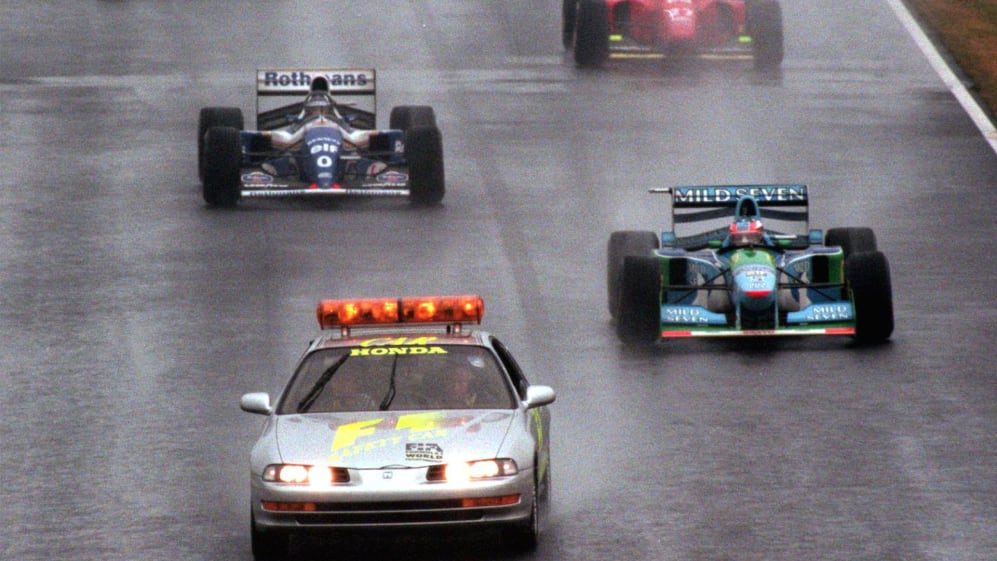 3. Schumacher opts for a two-stopper – With 10 laps to go, and with a 3.7s aggregate lead over Hill, Schumacher and Benetton were forced into stopping again, allowing Hill to take the aggregate lead. It would now be 10-lap sprint to the finish – with Hill knowing that if he fell off now and failed to score, a win or even a second place for Schumacher would be enough to give the Benetton driver the title there and then.
4. Hill holds on for his greatest ever win – Despite Schumacher reeling Hill in after that second stop, pitting again had cost Benetton dear, and as the pair crossed the line the aggregate time told its tale. "3.36 seconds!" BBC commentator Murray Walker yelled into his microphone. Against the odds, Hill had done it, thanks to an inspired final few laps.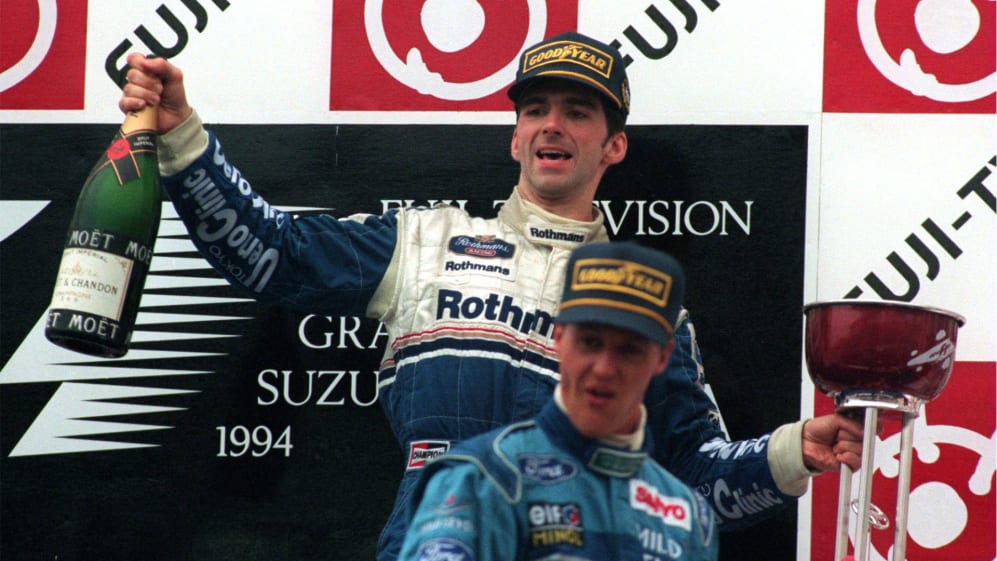 The headlines
Hill inspired by Senna – Hill would claim in his autobiography that he'd been moved to ask Senna for help going into the final lap – and believed his call had been answered. "All I can say is that, from the moment I exited Turn 1, I did not drive the car in any normal sense until I reached the hairpin, halfway around the lap," Hill wrote. "I was possessed… It was quite unbelievable."
Schumacher left disappointed – Schumacher was left to rue Benetton's strategy of a second stop that had kept the title fight in the balance. "Obviously it would have been nice if I had settled the championship here, but it didn't work out," said Schumacher. "I think that under normal circumstances, we would have won. But these were far from normal circumstances."
The championship goes down to the wire – Hill's win in Japan put him on 91 points to Schumacher's 92, meaning the championship would be decided at the following round in Adelaide – a race that would see the two title protagonists getting far too close for comfort…
How to watch
Witness arguably Damon Hill's finest hour (and 55 minutes) by tuning into our stream of the 1994 Japanese Grand Prix at 1800 UTC (1900 BST) on Wednesday, April 22, on F1.com, Facebook and YouTube.