Feature
We're streaming the 2012 European Grand Prix – here's why you should watch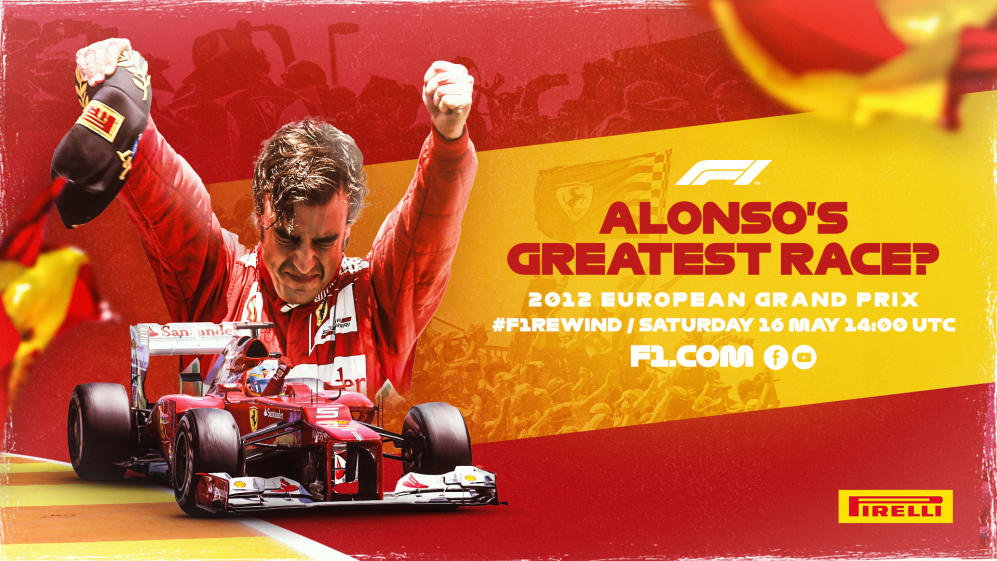 Valencia is our next destination for a classic F1 stream, as we revisit Fernando Alonso's swashbucklingly unlikely victory at the 2012 European Grand Prix. We'll be showing the race in full on Saturday, May 16 at 1400 UTC (1500 BST) – here's why it should be appointment viewing for your weekend.
Fernando Alonso currently sits sixth on the all-time winners' list in Formula 1, with 32 victories to his name. His favourite of those 32 wins – and by extension, the favourite of the 311 Grands Prix he started? That would the 2012 European Grand Prix.
Why? Let's find out.
READ MORE: 'If we repeated it 100 times, 99 of them we wouldn't win' – Alonso on the 2012 European Grand Prix
How they stood before the race
Alonso was right in the title hunt when Formula 1 arrived in Valencia for round eight of 20 of the 2012 season, not least because the previous seven races had seen seven different winners, including Pastor Maldonado taking Williams' first victory since 2004 in Spain, and Nico Rosberg claiming the first of the 93 (and counting) wins Mercedes would score in the modern era in China.
All this meant that Alonso trailed McLaren's Lewis Hamilton by just two points ahead of the European Grand Prix on the Valencia street circuit, with Hamilton having won the previous race in Canada.
Standings before the 2012 European Grand Prix
| Position | Driver | Team | Points |
| --- | --- | --- | --- |
| 1 | Lewis Hamilton | McLaren | 88 |
| 2 | Fernando Alonso | Ferrari | 86 |
| 3 | Sebastian Vettel | Red Bull | 85 |
| 4 | Mark Webber | Red Bull | 79 |
| 5 | Nico Rosberg | Mercedes | 67 |
| 6 | Kimi Raikkonen | Lotus | 55 |
The background
It's almost hard now to imagine now, in a world where Sebastian Vettel has just left Ferrari after being usurped in the Scuderia pecking order by Charles Leclerc, but when we look back to 2012, we're slap-bang in the middle of the Vettel/Red Bull dominance era – and so it proved on qualifying day in Valencia, with Vettel taking pole by a comfortable 0.324s from Hamilton, with a once-again impressive Maldonado in third.
Alonso? Less good, with the Spaniard failing to make it out of Q2 on home turf, and starting the race 11th, ahead of the Mercedes of Michael Schumacher and his own team mate Felipe Massa in 13th.
ANALYSIS: Why Vettel and Ferrari broke up – and what happens next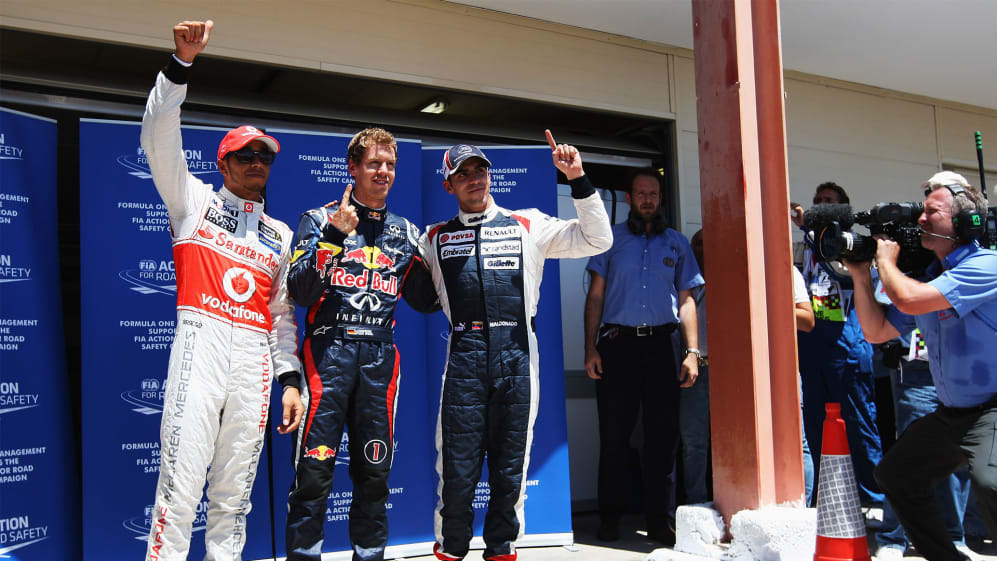 Four key moments
1. The start – Remember that old trick Vettel liked to do of getting pole and then romping off into the distance and demoralising his opposition? Well, he well and truly did it here, sitting over 10 seconds to the good over Lewis Hamilton by Lap 9, while Alonso had enjoyed a fast start too, picking off three cars to sit eighth by the end of Lap 1.
2. Grosjean shows his class as Alonso climbs – Keyboard warriors who like to denigrate Romain Grosjean should check out the Frenchman's inch-perfect overtake on Lewis Hamilton on Lap 9 of the race in Valencia. The beautifully executed move gave the Lotus driver second place, while behind, Alonso was cranking out laps fast enough to put him up into a net P4 once his rivals had taken their first round of pit stops.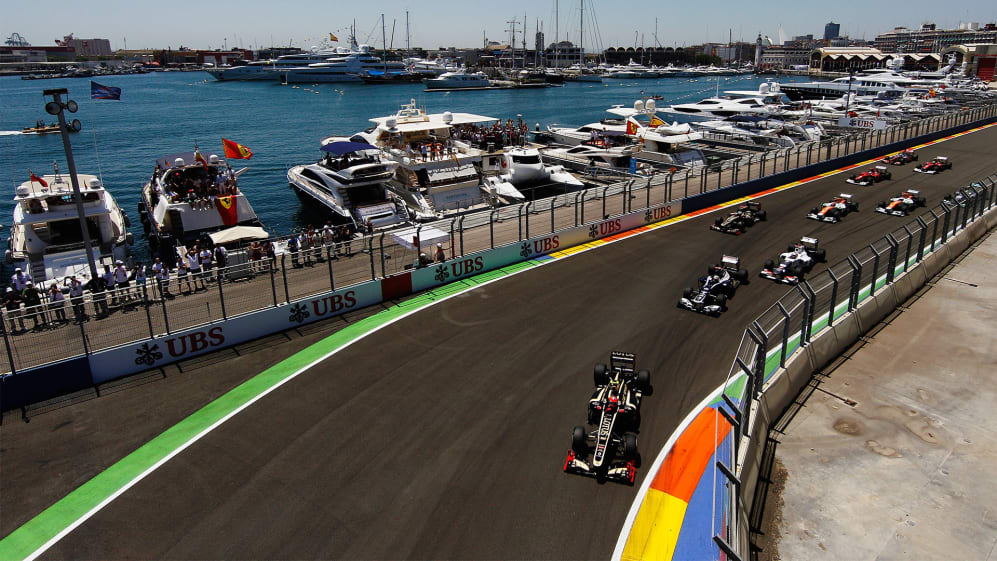 3. Safety Car puts paid to Vettel's charge – Brought out after a clash between Caterham's Heikki Kovalainen and Toro Rosso's Jean-Eric Vergne, the Safety Car on Lap 30 of 57 saw Vettel's 35-second lead over Grosjean eroded to nothing. And beneath a sweltering Spanish sun, the interruption didn't appear to do either driver's car much good, with Vettel retiring with alternator failure on Lap 33 (remember him slamming his gloves into the catch fence?), while the similarly-powered Grosjean suffered the same fate on Lap 40.
4. Alonso checks out for victory – Having fought his way up to third when the Safety Car was pulled, Alonso had then passed Grosjean at the restart, before taking the lead (with a little whoop of delight) when Vettel slowed on the back straight. From there, Alonso was able to control the pace over first Hamilton and then Lotus' Kimi Raikkonen to take a momentous win, which he celebrated by stopping out on track and standing triumphantly on his Ferrari F2012.
Maldonado had obligingly added to Alonso's joy by wiping championship leader Hamilton out of the race with two laps to go as they battled for the final podium position, meaning that place was handed to Michael Schumacher, who claimed his first rostrum since returning to the sport in 2010. Two years on from his high-flying Valencia crash, meanwhile, Mark Webber surged up the order in the final few laps to claim P4, having started 19th.
READ MORE: Check out the full classification from the 2012 European Grand Prix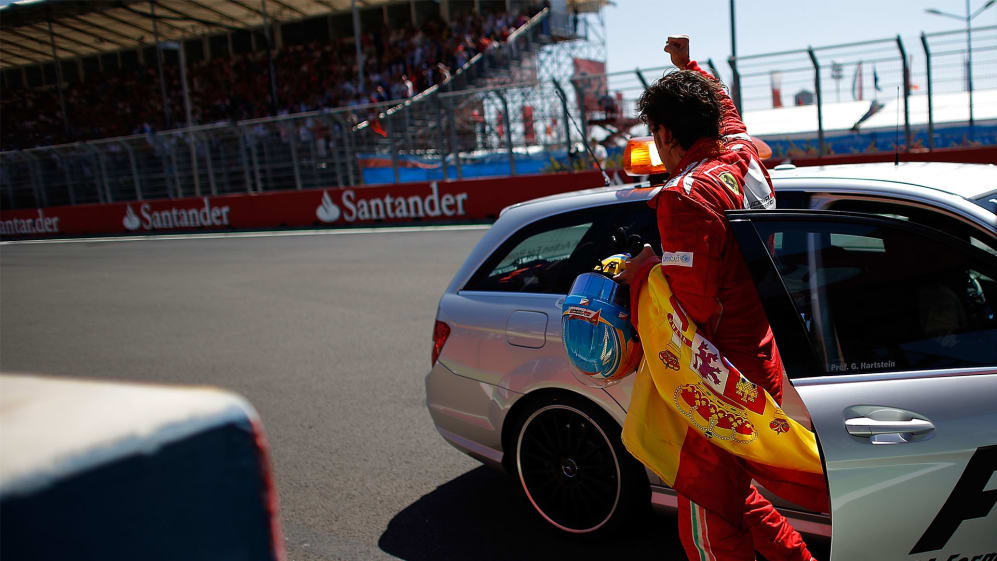 The headlines
Y Viva Espana! – Alonso's victory was part of a glut of incredible Spanish sporting achievements at the time, with the national team en route to that year's European Championship in football, while two weeks before, Rafael Nadal had beaten Novak Djokovic to win the French Open in Paris.
In the context of a troubled economic period for the country, Alonso reflected on the significance of his home win. "We are going through such a difficult time at the moment in Spain," he said. "It's nice that sport – and I'm thinking of the wins for the national football team and Nadal – might be able to give people something to smile about."
Maldonado under attack – The Williams garage looked nervous as Pastor Maldonado reeled in the struggling Hamilton to try and claim third in the final laps – and they had reason to be, with Maldonado undoing all his hard work with a clumsy half attempt at an overtake that sent Hamilton skating into the wall and out of the race.
Maldonado was handed a 20-second penalty for the crash, dropping him to P12 – while Hamilton was diplomatic in the aftermath. "I don't really know what happened if I'm honest," he said. "I went in the corner and I didn't come out." That pretty much summed it up.
LISTEN: Pastor Maldonado on reputations, racing hard and that win in Spain
Schumacher back on the podium – Michael Schumacher's first podium since the 2006 Chinese Grand Prix only added to the legendary status of the 2012 European Grand Prix – and the seven-time champ couldn't hide his delight at getting back on the rostrum.
"Wow," said Schumacher afterwards. "I did not even think of getting on the podium for any second in the race today, so what a wonderful result. Finally it happened… I think that was the best answer to give to everybody who started doubting our work."
READ MORE: 10 moments of Michael Schumacher brilliance
How to watch
Appetite whetted? Then tune in to watch our stream of the 2012 European Grand Prix at 1400 UTC (1500 BST) on May 16 on F1.com, Facebook and YouTube.