Feature
REVEALED: The Top 10 races of the decade – as chosen by you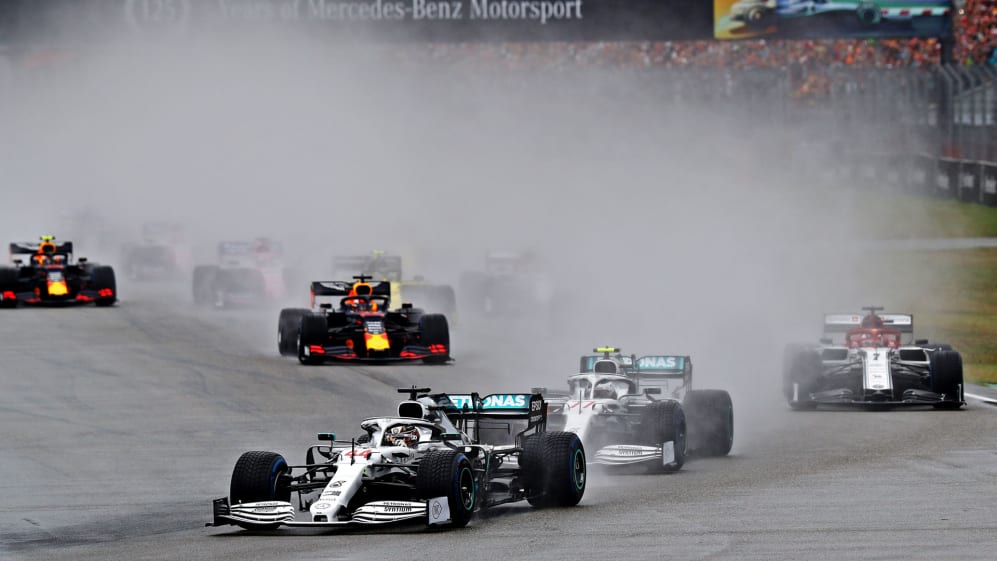 Here's how fans voted for their favourite Grand Prix of the decade, from our top 10 shortlist. Scroll down to watch highlights from each one and see which race won...
10. Hungarian Grand Prix 2014
On a Hungaroring surface transitioning from wet to dry, this race had everything from team order controversy to spectacular crashes – but, most importantly, a hard-charging Daniel Ricciardo at his best, who said "better late than never" to secure his second career win.
READ MORE: Verstappen was in a 'class of his own' in Hockenheim – Horner
9. Bahrain Grand Prix 2014
Three races into Formula 1's new turbo-hybrid era, and F1 fans were treated to an absolute classic, as Mercedes pair Lewis Hamilton and Nico Rosberg – by then surely aware that one of them would be world champion in 2014 – knocked seven bells out of each other around the Bahrain International Circuit, with Hamilton eventually coming out on top of the fabled 'Duel in the Desert'.
8. Australian Grand Prix 2010
Jenson Button silenced his critics by winning his second race for McLaren in changeable conditions at Albert Park, overcoming carnage that saw rivals Mark Webber, Fernando Alonso, Lewis Hamilton and Sebastian Vettel all suffering problems.
7. German Grand Prix 2018
Two Ferraris at the front with 25 laps remaining hinted at one of F1's more straightforward Grands Prix. But somebody at Hockenheim must have prayed incredibly hard for rain, which came and briefly caused chaos – and a wholly unexpected ending…
6. Azerbaijan Grand Prix 2017
The battle of Baku: Valtteri Bottas and Kimi Raikkonen's early tangle set a precedent in the second Grand Prix hosted in Azerbaijan, where the leaders clashed under the Safety Car and debris peppered a track that treated us to nail-biting close-quarters racing and a stunning finish.
5. European Grand Prix 2012
A fine home display from Fernando Alonso in front of a partisan crowd in Valencia, with the Ferrari driver making some incisive overtakes – having started a lowly 11th – before benefitting from Sebastian Vettel's alternator failure to take his "best victory", in his own words.
READ MORE: 'If we repeated it 100 times, 99 of them we wouldn't win' – Alonso singles out Valencia 2012 as his favourite F1 race
4. Brazilian Grand Prix 2012
Sebastian Vettel spinning on Lap 1 and dropping to last place before romping back to a title-clinching P6 was the main news story in Interlagos. But there was also Michael Schumacher's swansong, Kimi Raikkonen's infamous escape road excursion, Force India's Nico Hulkenberg scuppering a genuine shot at victory and taking Lewis Hamilton out of his final race for McLaren in the process – not to mention post-race controversy that could have handed the title back to Fernando Alonso. Phew.
2. Canadian Grand Prix 2011
Formula 1's longest-ever race was also one of its most dramatic, as McLaren's Jenson Button overcame a crash with his team mate, a clash with Fernando Alonso, a puncture, a stop-go penalty for speeding under the Safety Car and a two-hour race stoppage to win, snatching victory on the last lap from Sebastian Vettel – having been dead last at one point during the Grand Prix.
READ MORE: David Tremayne on Button's against-the-odds Canadian comeback
1. German Grand Prix 2019
Where do you start with this one? The weather couldn't make its mind up, which cued confusion over tyres and drivers who were wrestling their machines across the glassiest surface in Germany. But although chaos threatened to reign, it was Max Verstappen who kept his cool throughout to win a modern classic – and your choice for the greatest race of the 2010s.
Thanks to everyone who voted! And why not head over to F1 TV, where subscribers can watch full highlights of all of the races listed above...