Feature
What testing tells us about the season ahead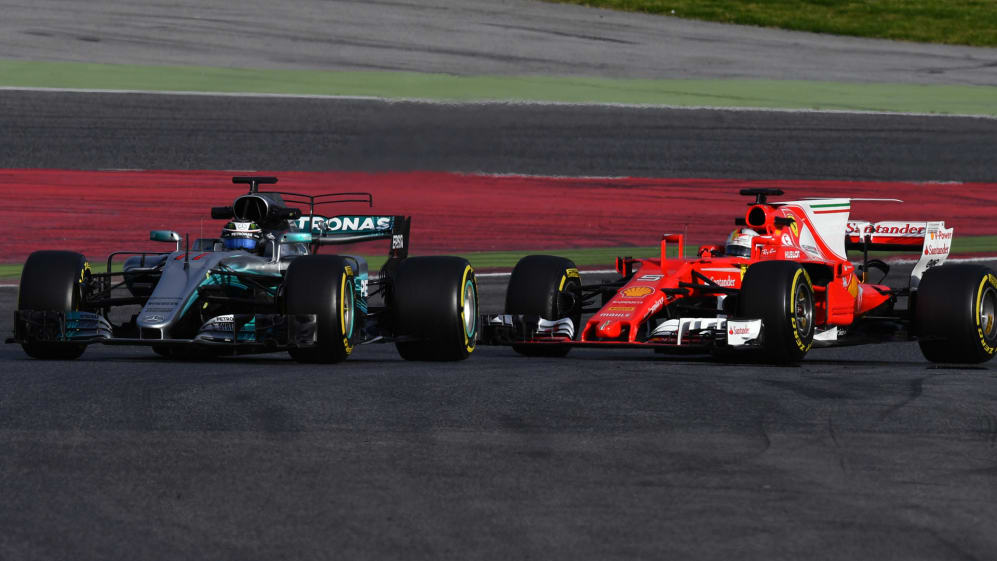 Over the past two weeks the 10 Formula One teams have had eight days of track time in which to get to know their 2017 cars. Those eight days have seen hundreds of laps and thousands of kilometres completed, but what have they taught us, and what can we expect when the drivers arrive in Melbourne for the 2017 Formula 1 Rolex Australian Grand Prix?
It will be tight at the top…
Everyone expected the Mercedes to be super fast and super reliable straight out of the box - it's a pattern that has become familiar over recent seasons. What far fewer predicted was that Ferrari would appear to have the measure of the world champions - a feat many thought Red Bull more likely to achieve.
In fact, with their highly innovative SF70H machine the Scuderia ended up first and second on the overall timesheet - and with Kimi Raikkonen's benchmark notably set on Pirelli's supersoft tyre, rather than the sticker ultrasoft.
Of course, Ferrari were quick in testing last year and then failed to win a single race, but this year their form has been such that Lewis Hamilton went as far as to suggest they could well be favourites come Melbourne - especially as he believes they have pace in hand. It was a view countered by Sebastian Vettel, who insisted the Silver Arrows are still the team to beat.
And what of Red Bull? As usual the Austrian-owned team were keeping their cards close to their chest, though Daniel Ricciardo echoed the opinion of many who watched trackside when he conceded that they aren't quite yet on the level of Mercedes and Ferrari.
…with little to separate the midfield
If you thought there was little to choose between the three teams that are expected to be at the front, just wait until you try splitting the chasing pack. After a troubled start Williams surprised everyone with their pace (more on that below), while Force India - who recorded their best championship finish to date last year (fourth) - looked as ultra reliable as ever.
Renault, finally with a car designed and built around their own power unit, couldn't match Force India's reliability, but were rapidly gathering pace towards the end of testing and there is an air of growing confidence surrounding the French squad.
Toro Rosso, also Renault powered, were another to have a stop-start test programme, but then came on strong pace-wise in the latter stages with their striking STR13 machine.
Less than seven-tenths of a second covered the best laps of these four teams, with Haas just less than four tenths further back.
It all points to an extremely close midfield fight, which is not always what you expect in a year of massive regulation changes, but welcomed nonetheless.
Williams are an unknown quantity
As intimated above, could Williams be the real dark horses of 2017? Felipe Massa was fifth in the overall lap times, putting them ahead of everyone bar Ferrari and Mercedes - also the only teams to complete more laps than the Grove squad, whose FW40 machine shouted 'hidden potential' to many seasoned observers.
The big question is whether their testing pace was for real, and if so, will it put them at the head of the midfield pack or make them true podium contenders? Only Melbourne will tell.
It will be fast and furious
Teams may have worked hard to keep their true pace a closely-guarded secret in Barcelona, but one message emerged very clearly: lap records are going to tumble in 2017.
As our onboard comparison between the 2016 pole and Kimi Raikkonen's 2017 testing benchmark shows, the new generation of F1 cars are immediately much faster. Despite not pushing to the maximum - and missing several apexes - pacesetter Kimi Raikkonen was 3.366s up on last year's pole during testing. Put another way, Lewis Hamilton's pole time from last year would have left him 20th overall in testing… and speeds are only going to increase as teams begin fine tuning set-ups and introducing performance updates.
There's another factor at play, too: tyres. A move away from the high-degradation tyres of previous seasons looks set to allow drivers to push harder for longer during Grands Prix - bringing a whole new element to the racing, but also making lap records far more likely.
Australia might just be a step too far: Michael Schumacher's lap record from 2004 was nearly 5s quicker than last year's fastest lap. But when teams really unleash their full potential on Melbourne, we'll see just how close they can come - and get an insight into just how many records will fall during the course of the season.
Fitness could decide races
Don't be fooled by the enormous stints some drivers were doing behind the wheel in testing - 2017's faster F1 machines are much more physically demanding than their predecessors.
But does that mean we'll see races being decided by drivers reaching their physical limits, as world champion Nico Rosberg predicted when he made a flying visit to Barcelona to check out the 'monstrous' new cars in the flesh?
Certainly, the drivers are fitter than they ever have been, but then in terms of intensity testing is one thing and racing quite another. Then there are other factors to consider:
"Different tracks can be much more demanding physically," said Valtteri Bottas. "In hotter conditions and at high-speed tracks it can be quite tough, but it's difficult to say if that's going to affect racing results.
"We'll see. But definitely the sport is now at the next level in terms of physically demanding it is. I think that's good for the sport."
But it's not just in the pressure-cooker environment of races where fitness could be a factor, as Carlos Sainz explains. "When we go 3-4s [per lap] quicker, our heart rates, instead of being at 150/160bpm, in quali it'll be 180/190. So it all means you are working out a lot more - and enjoying it a lot more because the car allows you to push more."
Drivers pushing themselves and their cars to the very limits - it's what F1 is all about, and we should see much more of it in 2017.
Renault's reliability is under the spotlight
Renault made bold changes for 2017, with a power unit 95 percent different to 2016's, and they admitted they had seen potential problems before they or customer teams Red Bull and Toro Rosso had even turned a wheel in Barcelona. But when they did get running, the real-life experience only magnified the teething troubles.
That forced Renault to run in more conservative modes to protect their system, which in turn impacted upon all three teams' programmes. The three Renault-engined cars completed just 1,865 laps over eight days at Barcelona - by comparison Ferrari's trio achieved 2,459 laps, and Mercedes' 2,681.
If that was the bad news, there was at least some light at the end of the tunnel. Having understood the problems quickly, Renault say fixes are already on the way, and will be in place before Australia.
Max Verstappen also offered a degree of encouragement with a 1m 19.438s on the final day - 0.8s off Ferrari's ultimate benchmark. But with so much expected of Red Bull - and Daniel Ricciardo the centre of attention for his home race - the spotlight will be firmly fixed on Renault and their updates when the cars hit the track in Melbourne.
Bottas is well prepared for Hamilton battle
"It's not going to be easy…" - that's how Nico Rosberg rather succinctly summed up the challenge facing his Mercedes replacement, Valtteri Bottas, in 2017. And if anyone should know, it's Rosberg.
The task facing Bottas this pre-season was already immense given the short notice of his appointment, but throw in the fact that his every move would be measured against Lewis Hamilton - that most formidable of team mates - and it was even more daunting.
But in Barcelona the Finn did everything that could have been asked of him and more, perfectly assimilating himself into the world championship-winning team whilst simultaneously clocking both the highest tally of laps of any driver and the second-quickest lap time - and all of this while adapting to a car that was, compared to his Williams, still alien in terms of handling and layout.
"For me personally it's been very good," Bottas said. "I've got good mileage, different types of runs - longer runs, shorter runs, plenty of set-up testing, getting to know how the car reacts to everything..."
But how did he compare to Hamilton?
"To be honest we've been running quite different programmes. Definitely on some occasions, yes, there's been some good data to be comparing to which has been very valuable. It's obviously been very interesting.
"So far it looks pretty close, but it's only testing. I'm not sure either of us has been doing 'quali 3'-type of laps here or actually being in a race situation. So far what I've seen I've made good progress. I just need to keep working like this and making sure progress continues."
McLaren are facing the unknown
One of the main aims of testing is to highlight weaknesses in a team's package so that they can be remedied. However, when your problems are such that you can barely string 10 laps together, the chances of further issues going undetected are huge.
That is the situation facing McLaren after a highly troubled eight days in Spain, most of those troubles stemming from Honda's redesigned power unit. They meant a lap tally of just 425, the fewest of any team.
Compounding the problem is the fact that Honda only supply one team. Renault also had their fair share of reliability woes, but with three teams using their power unit - and hence sharing the workload - it meant they accrued over four times as many laps.
Fernando Alonso gave a blunt assessment of McLaren's plight when he told reporters they have 'no power and no reliability'. As he also pointed out, however, a disastrous pre-season can be turned around, citing the example of Red Bull in 2014.
That however may be wishful thinking.
The rookies are ready
Three drivers on the 2017 grid are starting their first full season in F1. Force India's Esteban Ocon raced nine times with Manor last year, while Stoffel Vandoorne made a one-off outing for McLaren, standing in for Fernando Alonso.
That leaves Williams' Lance Stroll as the only true rookie. A couple of unfortunate offs for the Canadian teenager grabbed the early headlines in Barcelona, but thereafter he put in some serious mileage to add to the extensive programme he conducted with the team last year. In fact, with 386, Stroll completed more laps in Spain than either of the other two 'newcomers'.
Ocon managed 365, but it was Vandoorne whose rookie year got off to the toughest start as McLaren's well-documented problems limited the Belgian to just 235. He nevertheless insisted afterwards that he is "100 percent ready" for Australia.