Feature
What the teams said – Friday in Abu Dhabi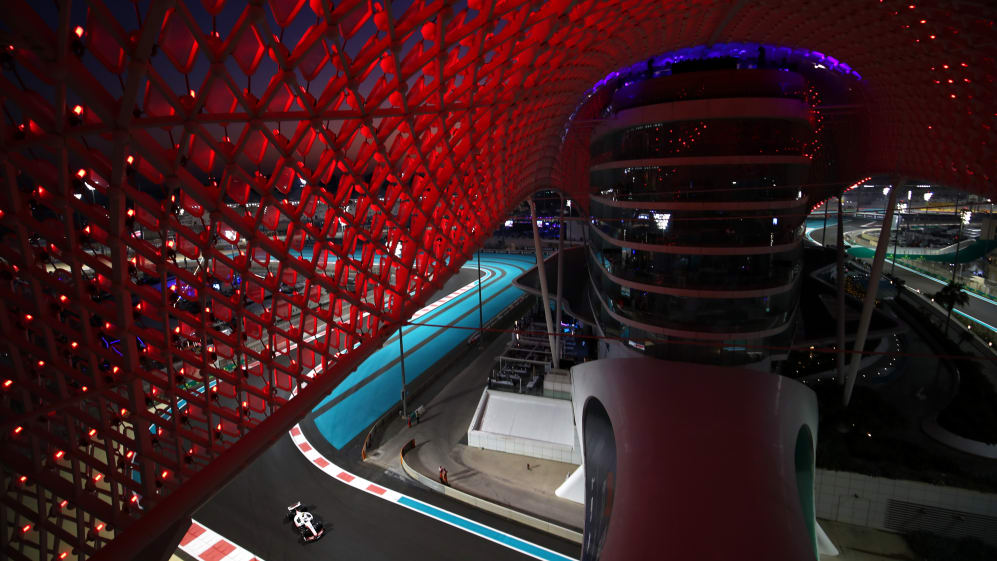 Red Bull
Liam Lawson – filling in for Max Verstappen – put in a composed performance that saw him finish in the top five in FP1 – just over two-tenths further back of Sergio Perez. The returning Verstappen was however in fine form in FP2, setting the fastest lap of the day despite complaining of brake issues, with the rest of the field left playing catch-up to the two-time world champion.
Max Verstappen – FP2: 1:24.146, P1
"I'm really happy with how that session went, I think the car came together well. Liam did a really good job in FP1, he was calm and steady which is exactly what we needed. In FP2 we tried a few things and in the long runs the car was working quite well, so I'm pretty happy with that. Weather wise, the temperature in FP2 was more representative of what it will be like during qualifying. Of course, we'll always try to refine a few things overnight, but we should be competitive in quali and the race."
READ MORE: Verstappen says RB18 'in a good window' on Friday in Abu Dhabi as he goes in search of 15th win in 2022
Liam Lawson – FP1: 1:27.201, P5
"It was a really cool experience today, it's the first time I've tested for Oracle Red Bull Racing during a Formula One weekend. I was a little bit nervous before the session, but the car is really good so I felt comfortable straight away.
"We managed to get quite a lot of laps in on both the hards and the softs, at the moment there's a big jump between the two tyre types. It was great to get the opportunity to try out the softs. I drove the AlphaTauri in Mexico but it's difficult to compare the two as Mexico is a completely different track and at a much higher altitude. Today was a great day and I'm thankful for the opportunity."
Sergio Perez – FP1: 1:26.967, P4; FP2: 1:25.852, P5
"The car was good today. It was a very interesting two sessions, very different in the morning to the afternoon. This morning was a bit tricky with the temperatures, which means the afternoon session is the one we really have to pay attention to, because it will be the most representative for the weekend.
"We are just exploring the balance around the car but generally, we feel we have plenty of information for tomorrow and more importantly, for Sunday. We are competitive in the long-runs but we have a bit of time to find in the short runs. There are a few bits to analyse to see where we can do better, it is very important here to have great race pace here."
Mercedes
It was a Silver Arrows one-two to start the day, with Lewis Hamilton leading the way ahead of George Russell in FP1. Russell held the same position in FP2, but Hamilton endured a rather scruffy session, making a mistake at Turn 9 that cost him performance on his flying lap. With Russell over three-tenths behind Verstappen in FP2, expect Mercedes to be hard at work tonight as they look to close the gap.
READ MORE: Russell thinks Red Bull 'have the legs' on Mercedes at Yas Marina as Hamilton plots overnight changes to recover FP1 form
Lewis Hamilton – FP1: 1:26.633, P1; FP2: 1:25.761, P4
"FP1 felt good today, which is a positive outlook for next year. In FP2, the car balance was a bit off, following some set-up changes between the sessions, so we will need to make some updates overnight but otherwise, we're relatively competitive. Tyre management for qualifying tomorrow will be tough, in FP1 you could do a slow run to get the tyres working and in FP2 it took much longer to get them in the right window, so it's a little bit like rolling a dice.
"We hope we can be competitive with our race pace this weekend, but still need to understand better where we are compared to the other teams. We will work hard overnight and hopefully we can be in the fight for the front. A big thank you to everyone in the factory and here at the track who have put in so much dedication and hard work to throughout the year."
George Russell – FP1: 1:26.853, P2; FP2: 1:25.487, P2
"We had a very strong day in terms of what we've learned, given this is one of the last opportunities to gain learnings for the next season. With the test items that we ran during FP1, especially on my side of the garage, I'm looking forward to 2023 with what we've learned today. For FP2, the track changed completely with the temperature drop.
"The car felt fast, but I think Red Bull are ahead of us in terms of single lap pace and maybe even more so in the long runs. So, we have some work to do overnight, but compared to Ferrari our performance from what we can tell so far looks reasonable for this weekend. I'd like to think we'll be able to fight for the top 3 in qualifying tomorrow and see where that can take us on Sunday. We will keep our heads down and put in the work overnight."
Andrew Shovlin, Trackside Engineering Director
"It's been a busy day. We had quite a few test items squeezed into the first session, which meant we didn't have quite the normal focus on race preparation. That work shifted to the afternoon session and whilst we had a straightforward time in terms of reliability, we're lacking a little pace both single lap and long run. Unusually, the degradation looked higher than for our competitors, so we'll dig into that to work out what is causing it; that's our biggest concern right now. Clearly a bit to do, but the gaps don't look massive so hopefully we can put ourselves in contention if we can find a few small steps in the right direction."
Ferrari
Charles Leclerc finished in the top three in both sessions after running with some flow-viz paint on his rear wing in FP1. Robert Shwartzman – sitting in for Carlos Sainz – joined Leclerc in FP1, producing a strong performance that saw him finish in the top 10. The returning Sainz completed 31 laps – the most in FP2 – but he and his team are somewhat off the pace of both Red Bull and Mercedes.
Charles Leclerc – FP1: 1:26.888, P3; FP2: 1:25.761, P3
"Overall, our sessions were ok. We struggled a bit with the race pace due to tyre degradation, which was expected. Our qualifying pace was a little better, but our competitors seem to be a step ahead.
"We will use tomorrow's practice to make further progress and give it our all for the last qualifying of the year."
Robert Shwartzman – FP1: 1:27.429, P7
"Today's practice was good and I'm happy with the progress that I made. Ending the session in P7 felt good, I felt comfortable in the car and we ran through the planned programme without any issues.
"We started the practice with some development testing and the team was satisfied with the data we collected. I look forward to being back in the car on Tuesday for a full day of testing, where my target is to make further improvements and gain more valuable experience in this generation of car. Thank you to Scuderia Ferrari for this great opportunity."
Carlos Sainz – FP2: 1:25.932, P6
"It was a very busy FP2 for me after missing the first session, so it was all about catching up and getting into the rhythm as soon as possible. The feeling on track wasn't too bad but I know we've got plenty of margin to improve tomorrow. I'm looking forward to the last qualifying of the year."
Alpine
Jack Doohan got his second FP1 outing of the season with the team, going behind the wheel in place of Fernando Alonso. He did have to go to the garage with an engine issue but that didn't seem to hamper his running too much as he completed 25 laps. FP2 was much more productive for the Enstone team, however, with both Esteban Ocon and Fernando Alonso leading the way in the midfield battle.
Esteban Ocon - FP1: 1:27.891, P12; FP2: 1.26.038, P7
"It's always a pleasure to drive under the lights in Abu Dhabi, and the last Friday of the season was a solid one for us. There were some good overall improvements from FP1 to FP2, and we gained a good understanding of the Soft and Medium tyres in both sessions. It was a positive day overall but it's only Practice and we'll need to be at our best tomorrow to have a good result in Qualifying. It's not the easiest track on the calendar for overtaking so we'll need to work hard tonight to ensure we're in a good position ahead of the last Qualifying session of the year."
Fernando Alonso - FP2: 1:26.043, P8
"It's the last Friday of the year and there was obviously a little less Practice time for me today than normal, after Jack [Doohan] took over in Free Practice 1. I was more or less up to speed straight away and adapted to the car in the evening session and we completed our programme smoothly. However, the balance still needs a little bit of work so that we can have a comfortable car for tomorrow in Qualifying. Every day feels like a last day, so I'm trying to enjoy every moment with the team."
Matt Harman, Chassis Technical Director
"Overall, it's been a relatively smooth day for us on-track in the final Friday Practice of the year. It was great to have Jack back in the car for the first session. He did a great job on two sets of Soft tyres and we look forward to seeing him behind the wheel again on Tuesday. For FP2, we ran a fairly conventional session in preparation for the rest of the weekend. We still have more work ahead of us, but I'd like to extend a message of thanks to all the engineering teams at Viry and Enstone for their hard work this season in developing a completely new car. I've been proud of everyone's efforts and look forward to seeing what we can achieve on car development in 2023!"
McLaren
It was not an easy day for McLaren with first Pato O'Ward – replacing Lando Norris for FP1 – suffering from a loss of power on his first lap, while Daniel Ricciardo suffered an oil leak that reportedly saw smoke coming from his car and hampered his running in FP2. Th Australian did finish in the top 10 in both sessions, while the returning Norris had a productive FP2, despite finishing behind his team mate.
Daniel Ricciardo - FP1: 1:27.619, P8; FP2: 1:26.124, P9
"That was good fun. We had a little bit of a limit on running due to managing an oil leak but still had a pretty good day, we were fairly competitive. Just a few more things to find for tomorrow, but I think we're in a good spot."
Patricio O'Ward - FP1: 1:28.350, P18
"It was a really enjoyable experience today. We got a few curveballs thrown at us, which made things a little bit more challenging and obviously a lot of information that isn't part of driving the car that I had to digest – but all-in-all I felt it was a successful first FP1. I got a lot of tests done for the team and hope those will be a good help for them for this weekend. For me, every lap I get in the car I think I make progress. so hopefully I get another shot next year and just keep improving."
Lando Norris - FP2: 1:26.377, P11
"A reasonable day. Having swapped out for Pato in FP1 I was playing a bit of catch-up and I'm still a little bit behind, but I think we made a decent start to the weekend. We'll make some tweaks overnight and try to take a step forward tomorrow."
Andrea Stella, Executive Director, Racing
"We have had a productive day at the Yas Marina Circuit. There were a couple of glitches that affected our programme but we are happy with the data we gathered. We learnt about the car, some aerodynamic development items we were testing, and gathered good information on tyres. We've also had Pato at the wheel for his first FP1 session and first run in the MCL36. He showed excellent control and gave us exactly what we asked for, so well done Pato! Our job now is to use the data we've gathered today and prepare as well as possible for tomorrow's qualifying session and Sunday's Abu Dhabi Grand Prix. We want to finish the 2022 season on a high."
Alfa Romeo
Robert Kubica returned to the cockpit for his fourth Grand Prix weekend appearance of this season (after practising in Spain, France and Hungary) and the Polish driver went 14th in FP1 before Zhou Guanyu returned to finish 13th in the second session. Moustache-laden Finn Valtteri Bottas managed to stay in the top-10 over Friday's brace of sessions in a reliable showing for the sixth-place constructors.
Valtteri Bottas - FP1: 1:27.655, P9; FP2: 1:26.300, P10
"We had a good start of the weekend: a smooth day without issues, in which we could do all the laps and all the tests we had planned. The car balance felt good from the start, so we didn't have to do big changes: we just focused on fine-tuning the car, especially in the second session as conditions were a lot closer to what we'll have in qualifying tomorrow. I finished both sessions in the top ten, which is definitely a promising start: on the back of the last couple of races, where we were quite strong, it's a good sign and hopefully we can keep this momentum going."
Zhou Guanyu - FP2: 1:26.479, P13
"I am quite pleased with the day: FP2 was my first time on track here with the C42, and the car felt good right away, so it didn't take me more than a couple of laps to find the rhythm on track. I felt quite comfortable in the short runs, and we also did a few long runs to identify any areas to tweak ahead of tomorrow. I am confident about our qualifying pace, and I don't see any reason why we shouldn't get the best out of the car and place ourselves in a good position on the grid. The upgrades we have introduced in the last few rounds keep making our car better, so I'm looking forward to tomorrow."
__Robert Kubica - FP1: 1:28.064, P14
"It's always nice to drive this car and I'm very pleased about my performance, especially as the last time I was in the C42 was back in Hungary. I was driving LMP2 cars last week and there's always some getting used to with a different car, but it all went surprisingly well, especially with the hard tyres. In the end, in an FP1 you only have a single lap to nail it, that's the challenge of this session. I had a good feeling with the car, and we figured out quickly where to improve. It was a productive day and it gives us confidence for the rest of the weekend."
Aston Martin
Sebastian Vettel completed his last two Friday practice sessions in Abu Dhabi, with Aston Martin running all sorts of tributes to the four-time champion including a "Danke Seb" decal on the garage entrance and car halo. Sixth in FP1, Seb showed that he's still got it – falling to 12th in the second session. Team mate Lance Stroll sat out FP1 and finished 14th in FP2 while his stand-in – Aston Martin junior and F2 champion Felipe Drugovich – finished last in FP1.
READ MORE: Vettel says tributes 'took me straight back to 1995' as he completes final Friday of F1 career
Sebastian Vettel – FP1: 1:27.268, P6; FP2: 1:26.395, P12
"It has been like many other Fridays, to be honest! Once you drive out of the garage, you get into the rhythm and try and get in the groove with the car which did not take long this afternoon. It was the same again this evening with how the track changes here when the sun sets. It does feel a bit funny that it is the last Friday, however. All in all, a productive day with plenty of laps. We will see what we can do overnight and how we can improve ahead of tomorrow."
Lance Stroll - FP2: 1:26.547, P14
"We completed some good laps in FP2 this evening after making way for Felipe earlier in the day. He did a really good job in FP1. We have some ideas that we want to think about overnight based on the data we have gathered today. It looks like it will be tight against our competitors again here, just as it has been all season. To beat them, we will need to maximise everything we can across the rest of the weekend."
Felipe Drugovich - FP1: 1:28.672, P20
"It was a really good FP1 session today. We kept to the run plan: we wanted to try a few things with the car early on and it felt pretty good out there. After that, I also had a Soft tyre run which was nice. It was my first laps with the AMR22 and my first proper dry laps in a Formula One car and I really enjoyed it. Now, I look forward to working with the team again in the post-season test on Tuesday."
AlphaTauri
Pierre Gasly's two sessions were contrasting, as he finished 11th in FP1 before dropping to 19th in FP2. Yuki Tsunoda had a similar day with 13th in the hotter FP1 session before he dropped to 13th in FP2.
Pierre Gasly - FP1: 1:27.845, P11; FP2: 1:27.036, P19
"It was tough out there today, but we will make the necessary changes to be able to give our best tomorrow in Quali. The top 10 are quite impressive in terms of speed here and I'd say we were still quite far off this pace. However, anything can happen, and we will push until the very end."
Yuki Tsunoda - FP1: 1:27.991, P13; FP2: 1:26.680, P15
"I struggled a lot with the balance in FP1. It was a bit of an unusual session, as there were a lot of young drivers on track, and whilst P13 doesn't look that great on paper, it was further up the time sheet than we would've been in a normal session. Heading into FP2, I felt that the balance had improved, and I was more comfortable in the car, but we're still missing a lot of performance. We've got quite a bit of work to do tonight to be able to score points this weekend, but we've still got another practice session to go. We'll try to fine-tune things ahead of Qualifying, and then our long-run pace looked ok today, so hopefully we'll be stronger during the race."
Jonathan Eddolls, Chief Race Engineer
"Due to the change in track temperature between FP1 and FP2, the majority of balance tuning and tyre understanding takes place in P2, so that the conditions are as closely matched to Quali and the race as possible. Therefore, FP1 is more about getting the drivers into the rhythm, forming a broad understanding of where the balance of the car is and checking stabilised temperatures. We also took the opportunity to complete some aero tests, to help the development of next year's car. Both cars had different balance issues in FP1. Pierre was more rear limited and Yuki struggled with the front, so we migrated towards a middle ground with the two cars for FP2. Yuki had a clear session, although the balance on the Softs was still not perfect, but Pierre got heavy traffic on both his soft compound laps, so failed to improve over his Medium tyre lap time. Even without traffic, he wasn't happy with the general grip, so we have some work to do overnight. The long run pace we showed was ok, however we had quite high degradation, despite the track cooling track temperature, so we will need to review the results from this session to form the optimum strategy for Sunday."
Haas
Pietro Fittipaldi stood in for out-going Haas racer Mick Schumacher in FP1, with the Brazilian – who raced here in place of Romain Grosjean in 2020 – going 17th overall. In fact, he was under a tenth away from Kevin Magnussen in the first session. In FP2, Schumacher returned to go 17th and a tenth ahead of Magnussen, who didn't seem too comfortable over Friday.
Mick Schumacher - FP2: 1:26.839, P17
"I didn't do FP1, I only drove in FP2 so it was good to get to know this car on this track – it felt interesting. I think we were a bit slower than what we would've hoped for but we have some time now to look at it and analyze what we need to change to be a bit more competitive tomorrow. Hopefully we'll be able to get out of Q1 and be competing in Q2."
Kevin Magnussen – FP1: 1:28.142, P16; FP2: 1:26.915 P18
"I don't think we had the pace today that we did last weekend, but you know it's only Friday, we can still find it in the car and hopefully be better tomorrow. It's all about the long run anyway, we want to qualify well but the important fight is on Sunday, so the focus is getting the car in the right window for that. You might always see surprises but we're trying to prepare as well as we can for qualifying and the race and we'll see what happens."
Pietro Fittipaldi – FP1: 1:28.204, P17
"I always adapt super quick with this Formula 1 car. I think the style of driving with this Formula 1 car is kind of my strong point because I always brake late, I'm very confident and really aggressive. We had a great run where we completed all the laps and were quick as well. The most important thing is to execute all the things I need to with the team, learn as much as I can, but then as well show performance and that's what I want to do - show the team what I can do."
Guenther Steiner, Team Principal
"It wasn't the easiest day today with damage in both sessions to the floor of Kevin's car. Pietro did a good job this morning because the last FP1 he did he didn't get many laps in, only nine of them. This morning was a lot more productive and I think it's good for him to be in the car to be ready for the test on Tuesday. Mick got back in for the afternoon, and he just needed a few laps to get used to the track and then he came back with a good performance. Kevin's fast lap was compromised by floor damage and traffic but I think we can do better than we did today and we look forward to tomorrow."
Williams
Logan Sargeant stepped in for Nicholas Latifi in FP1, with the American driver gaining an extra point on his Super Licence as he completed more than 100km in the opening session as he looks to replace Latifi in 2023. A mid-session Turn 1 spin was the only blot on his copybook, and actually the only notable off of the day. Outgoing driver Latifi took over to finish 20th in FP2. As for Albon, he was 10th in the heat of FP1 before dropping to 16th in FP2.
Nicholas Latifi – FP2: 1:27.262, P20
"Back on track for FP2 which was a fairly standard session after sitting out of FP1. The grip felt higher than expected but there's still some time to find from my side. Hopefully we can make a good step forward tomorrow as I get more up to speed and dialled in."
Logan Sargeant - FP1: 1:28.098, P15
"I'm really happy to complete my fourth and final Free Practice session with Williams this season. I feel a lot more comfortable and confident in the car since my very first lap in Austin. A massive thanks to everyone in the team for the support they've given me. I look forward to being back behind the wheel of the FW44 for the Young Driver Test in a few days. My full focus is on finishing the final Sprint and Feature races of my F2 season on a high note."
Alex Albon - FP1: 1:27.840, P10; FP2: 1:26.750, P16
"I feel like we have a competitive car this weekend compared to the last few races. The car is responding well to these kinds of track temperatures, and we always seem to do better in the dark than in the day. The long runs are not looking bad either, so overall a pretty decent Friday."
Dave Robson, Head of Vehicle Performance
"We had a solid day preparing for the key sessions tomorrow and on Sunday. As always here, the track conditions change significantly between FP1 and FP2, but we dealt with this reasonably well. There is a bit more work to do to improve the tyre conditions in the cooler conditions, but we will work on this tonight and will be in a good position by qualifying.
"Despite a spin when braking on the kerbs, Logan completed another good Free Practice session and showed some strong pace on both compounds. He will drive the FW44 again on Tuesday as part of the post-season test day. Nicholas had a good FP2 and was quickly up to speed despite missing FP1. Alex was strong in both sessions and was able to complete some useful setup work, which we will analyse in detail tonight.
"FP3 will be another tricky session due to the high track temperature but we'll still be able to use that session to finalise our preparation for qualifying and the race."
Pirelli
Simone Berra, Chief Engineer
"Today's sessions were characterised by high track evolution, which allowed for faster lap times as the evening descended and track temperatures fell significantly. We have noticed more degradation across all the compounds than in previous years, which opens up new scenarios with regards to race strategy. In fact, the Abu Dhabi Grand Prix has almost always suited a one-stop strategy; this year, we could see teams adopting a two-stop approach. The tyre with the highest wear rate at Yas Marina is the front right, due to the anti-clockwise layout and circuit characteristics. The front axle was the most limiting factor in terms of degradation; to manage the graining encountered today on the softer compounds, the teams could decide to use a combination of C3 (hard) and C4 (medium) compounds on Sunday."