Feature
What the teams said - Friday in Austria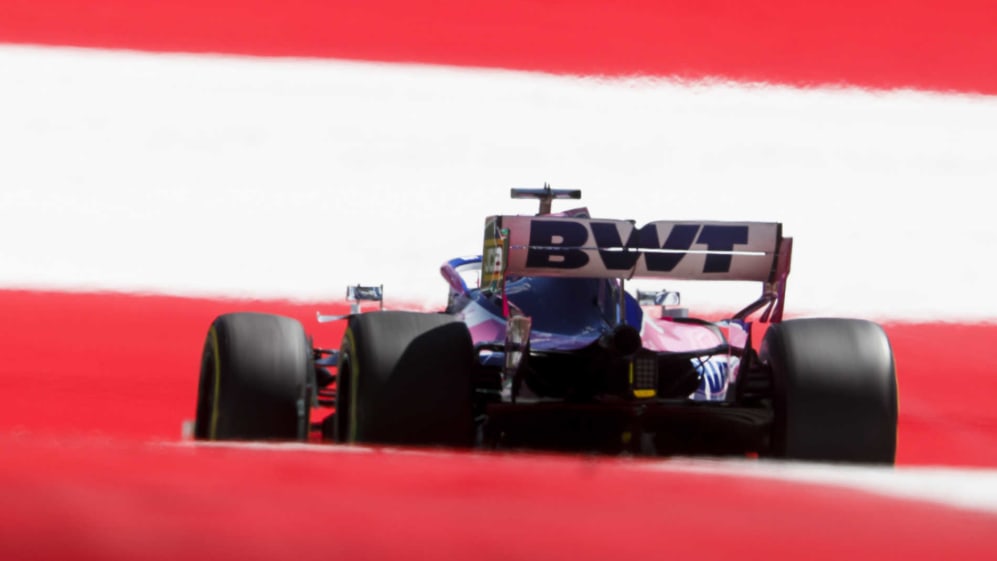 Mercedes
Mercedes got their weekend off on the wrong foot, an oil leak leading to a change to an older power unit for Bottas prior to FP1. Once on track they looked quick, albeit ragged with both drivers running wide on occasion. Hamilton even damaged his front wing running over the sausage kerbs but worse was to come in second practice, as Bottas lost control through Turn 6 and ploughed into the barriers. The Finn was given the all-clear by the medical team, but his car wasn't so fortunate, and will require quite the rebuild over night.
Lewis Hamilton - FP1: 1:04.838, P1; FP2: 1:05.529, P4
"It was a clean day for me with no major issues, although I broke a couple of front wings on the kerbs like a lot of other drivers. We are flat out for a large portion of the lap this year – even corners like Turns 6 and 7, Turn 9 and the last corner are seriously quick in these cars – and we have been tickling the set-up all day to improve it. Ferrari and Red Bull look quick, particularly Ferrari, and it will be interesting to see how it pans out tomorrow. This is one of those circuits where the times are always very, very close and small margins make the difference; that' s a positive because it means we will have our work cut out. But that's okay: we will keep fighting and this is a circuit where you can follow other cars, so hopefully the tyres will be durable as well."
Valtteri Bottas - FP1: 1:04.999, P3; FP2: 1:05.417, P2
"It was pretty big hit for me in second practice but I'm all okay with no pain. There were some gusts out there this afternoon and I think I managed to find one of them – the corners here are very tricky and very penalising if you make even a small error. But I must say I prefer this kind of circuit which penalises mistakes – it's how I like it and it makes it even more exciting. Before the shunt, I had an issue with the engine this morning which meant we swapped to the old one for FP1. That compromised me a little bit but we found a clear direction on car set-up. We made some pretty big changes for FP2 and it felt a lot better until the accident. So overall, a good feeling on the car performance but other teams are quick as well. It's going to be very hot this weekend, especially on Sunday, and will put the cars to the limit in terms of cooling the brakes and the engine. I think it's going to be very close on the time sheets and it should be fun in qualifying."
Andrew Shovlin, Trackside Engineering Director
"It hasn't been an easy day. Valtteri's crew were into a power unit change before running after we found an oil leak. We fitted his spare power unit for the morning and, while the session was running, the issue was fixed so the race power unit went back in for the afternoon. The balance wasn't great in the first session, we were struggling to balance the low and high speed together, but we made good progress over the break and both drivers were happier with the car in the afternoon. Valtteri's session unfortunately ended early after his crash which meant he couldn't run the medium tyre on the long run. Lewis's session was more straightforward. He was working on the Soft and Hard tyres and managed to complete the planned programme. We don't seem to be as competitive here as in France but that's not a big surprise; we'r e missing the kind of cornering sequences that the car likes, so it' s hard to pull back all the time that they are finding on the straights. We're expecting the weather to get even hotter, which isn't easy for the car or the tyres but hopefully it will make for an interesting race for the fans."
Ferrari
Ferrari looked solid in FP1, gathering plenty of data as they completed their scheduled runs unscathed. Come second practice and Vettel got a little over confident into the final corner, losing the rear and sliding through the gravel. He was fortunate to keep his car out of the barriers, but did destroy a set of tyres in the process. Leclerc managed to squeeze in one flying lap in between the flurry of red and yellow flags to grab the top spot of a slightly unrepresentative leader board.
Sebastian Vettel - FP1: 1:04.982, P2; FP2: 1:05.871, P8
"My off-track excursion didn't have a big effect on our programme, other than that we couldn't do the long run on the softs. I was able to stop in time and did not damage the car. We are still trying a lot of things and getting closer. Hopefully tomorrow we can do better than today. It was a bit tricky in the afternoon with the windy conditions. We didn't actually try new updates, we ran the same parts as last weekend to be able to learn more about them and I think it was successful. Now we need time to understand what to address next. Our balance in the corners is not bad, we can still improve the car and we tried a few things in the afternoon. Maybe the track layout helps us a bit, but this remains a tricky track where it is crucial to have a good feeling in the car and that's what we have to work on now."
Charles Leclerc - FP1: 1:05.141, P4; FP2: 1:05.086, P1
"Overall, we had quite a productive day and completed a lot of tests around the set-up. The feeling in the car was good. It was a bit tricky with the wind changing direction, especially in FP2, which made it more challenging to predict what would happen in the corners. Although we have been fast today, we will work hard to take another step forward. On my side, as I did in France, I also have to focus on setting up the car in the best way to follow the track evolution in qualifying. I think we made the best out of it and I look forward to seeing where we stand tomorrow."
Red Bull
Both Bulls ran over the sausage kerbs in FP1, requiring front wing changes, with Verstappen also complaining of a lack of speed on the straights. Needing a clean session to get up to pace, the Dutchman decided to put his foot down and lost control through Turn 10, sliding through the gravel and crashing heavily into the barriers. That left Gasly as the workhorse of the team, with the Frenchman completing plenty of laps to gather as much data as possible at the team's home race.
Max Verstappen - FP1: 1:05.260, P5; FP2: 1:05.879, P9
"My feeling in the car was good and we looked quite competitive. Of course, you always want to do better but my laps were looking quite good before the crash. I had traffic on my fastest lap so we would be a lot closer than my lap time shows. The car was working well, we still need to find a bit of a compromise between the corners and the straightline speed but we will look at that tonight. It was very gusty and the wind wasn't consistent which caught me out in the middle of the last corner. I lost the rear and hit the barrier pretty hard. Luckily, everything is fixable and it's Friday so we're not running all the race material yet. It's just a shame for the Team as they have a lot on tonight now. It's hard to say where we are in terms of overall performance as Mercedes didn't do their performance laps, so I am of course a bit cautious, but from my feeling the whole car was working well today which is a positive."
Pierre Gasly - FP1: 1:05.378, P6; FP2: 1:05.487, P3
"From this morning in FP1, I felt good with the car and I was able to push, so today was positive. I felt a lot more comfortable than in France and I think we have a good direction. There was quite a lot happening in FP2 but we still managed to complete all the tests we wanted to. The conditions are really hot and it's quite windy which makes things tricky, and I think the rising temperatures are the main thing we need to keep on top of looking ahead to Sunday. The kerbs are also proving quite expensive as they're breaking a lot of the cars! We look quite good on the timesheet with third, but we're still four tenths off Ferrari so we need to stay focused and try to find some more pace from our package for tomorrow. Looking at our long runs, they were a bit messy and not that clean, so we will look at that a bit more closely and decide what is the best strategy for Sunday."
McLaren
McLaren were comfortably the fourth fastest team last weekend in France, and have carried that form into this weekend. Both drivers looked solid top 10 contenders, with Sainz shading his team mate in both sessions, although he did blot his copybook by running through the gravel at Turn 6. Given the disruption though to FP2, it will be interesting to see if they choose to concentrate on single lap runs or race pace in final practice - especially with Sainz set for a grid drop following an engine change.
Carlos Sainz - FP1: 1:05.502, P7; FP2: 1:05.545, P5
"Another good Friday. It's always good news to finish again in the top 10 – today top seven – cars, even though it is only practice. My run plan has been more race-biased than normal today, as obviously we're trying to prepare for the race knowing that I'm going to take a penalty for Sunday.
"Even so, the only short run I did looked competitive, which I guess today only makes the penalty feel a bit more painful. However, it is what it is, and there's no point losing energy on that. My focus is on the race and our long runs also looked decent, so I prefer to look on the bright side and keep preparing for Sunday."
Lando Norris - FP1: 1:06.125, P10; FP2: 1:05.952, P10
"On the whole, a reasonable Friday. It could've been a little better, and it wasn't the cleanest of days with a few red flags here and there which changed everything around a bit. But we got a good understanding of the car: where it's weak, where it's strong, areas we need to improve. Overall, that's the main thing.
"I focused a bit more on long running today, something I didn't really do at Paul Ricard, and that helped me to get an understanding of the race balance for Sunday. We're going to have look over things tonight and see how to improve the car for tomorrow."
Andrea Stella, Performance Director
"We had a busy couple of sessions, at what is a very interesting and challenging track, with a mix of aerodynamic set-ups and tyre tests to go through. Despite some delays during the sessions, we completed our programme. Ambient temperatures are quite extreme this weekend, causing a hot track and an intense and gusty wind, which made driving quite challenging as we saw today with yellow and red flags.
"Carlos' run plan was oriented towards race preparation, as we have to start from the back of the grid for the PU penalty. Lando's run plan was more normal. Hot conditions are likely to continue and we will review what we've learnt today, optimise the package and finalise our preparation for qualifying and the race. We expect another very tight midfield fight."
Renault
Both Renault cars looked to have oscillating rear wings with DRS open, which caused a few raised eyebrows in the pit lane but didn't seem to affect their lap times. Hulkenberg did have a big moment in FP1, catching the edge of his front wing on the kerbs, ripping half of it off in the process. That led to a busy lunchtime for his crew, who had to replace the front wing, nose, floor and barge board as a result.
Nico Hulkenberg - FP1: 1:06.383, P14; FP2: 1:06.249, P16
"It's been a tricky day overall. The car lacked pace and there's a bit of a question mark as to why. While we're slow on the timesheets, I didn't feel totally comfortable at the wheel. We need to investigate what's gone on as it seems a bit odd today. Conditions were tough, especially in the afternoon with high track temperatures and wind in places. A difficult day for us, but we'll work hard tonight to find some solutions for tomorrow."
Daniel Ricciardo - FP1: 1:05.846, P8; FP2: 1:06.418, P17
"It was difficult for us out there today, especially with our pace where we struggled to match others around us. As the track improved, we couldn't seem to improve with it. We have a bit of homework to do tonight. Both cars were off the pace, so we'll try and figure it out and find a solution together. The wind did seem to affect a lot of people today. It certainly affected the car and it was tricky out there. We'll look into everything and see what we can improve."
Nick Chester, Chassis Technical Director
"We lacked pace in FP2 today and there's some investigating to do tonight to find out why and find areas we can improve. We'll work with the drivers and find a direction ahead of tomorrow."
Haas
Grosjean had a few moments on a blustery day, including a big lock up that prematurely ended his running in second practice. Other than that, it was a cleaner day for Haas who are looking to bounce back after two poor races. They sit P9 in the championship and could do with a strong result this weekend to make up ground on their rivals.
Romain Grosjean - FP1: 1:06.135, P11; FP2: 1:05.701, P6
"It's been a good day. I think overall, we're happy with the car. We've made some progress and are working in a good direction – so that's a positive. It's super tight here, very few corners. It's quite exciting to fight with the boys. There are a few spots here where you can make up some lap time. We kept the car out of trouble, but we got a bit unlucky in FP2 with our first set of medium tyres. There was a massive cut on them, we couldn't run them again in the session on the long run. That wasn't ideal, as I guess it's a tyre you want to have some information on. Anyway, it is what it is, and I'm looking forward to tomorrow."
Kevin Magnussen - FP1: 1:05.876, P9; FP2: 1:05.960, P11
"I think it was a productive day. We got through everything, while a lot of people made mistakes – went off, we didn't, we stayed on track and learned the things we should. I think it'll be an interesting evening to go through everything and see what can be done for tomorrow. The temperatures were very high, it's looking like it's a little easier to manage for all the teams, not only us, than it was in Paul Ricard. The grip is a bit more consistent here, you don't have the patches of poor grip like we had in France. We have to get the maximum out of what we have, and that's what we're going to work on tonight."
Guenther Steiner, Team Principal
"It wasn't a bad day today, all things considered. But, that doesn't mean anything at the moment. It could all be completely different tomorrow with the ups and downs we have getting the tyres to work or not. Today we are somewhat happy, certainly happier than we were in France. Let's wait until tomorrow and Sunday before we are really happy – hopefully."
Alfa Romeo
Giovinazzi damaged his front wing on the sausage kerbs, while Raikkonen managed to keep his Alfa in one piece. The Finn did show a decent turn of pace in FP2 but with the timing sheet being slightly misleading, it is hard to tell where Alfa are in the pecking order.
Kimi Raikkonen - FP1: 1:06.729, P17; FP2: 1:05.728, P7
"It was a bit of a stop-start day, especially in the afternoon with the red flags, but it goes like this sometimes. It's the same for everyone and we have to make the best of it, whatever the situation. The car felt better in FP2 but let's not get carried away. It is way too early to say where we stand compared to our rivals, that is something we will only find out tomorrow and in the race. For sure, we have work to do to improve things ahead of qualifying."
Antonio Giovinazzi - FP1: 1:06.708, P16; FP2: 1:06.119, P14
"I was quite happy with the balance of the car, even though it was difficult to put everything together this afternoon. The two red flags came when we put the soft tyres on and I feel we couldn't use them to their fullest. However, tomorrow is when it matters. We have to focus on improving ahead of qualifying and do the best possible job in the rest of the weekend, but I hope we can reach Q3 again."
Racing Point
Stroll was one of a number of drivers to run wide over the sausage kerbs and damage his front wing - but the Canadian couldn't nail the racing line and duly did exactly the same in second practice. Perez had a quieter time of it, despite tangling with Gasly in the closing moments of FP2. Once again Racing Point look short of the top 10 on pace, but they have time to turn it around tomorrow.
Sergio Perez - FP1: 1:06.457, P15; FP2: 1:05.964, P12
"I'm feeling positive. The hot conditions today are similar to those we expect for the race and we've done some important homework and collected lots of information. I think everybody will try and do a one-stop race on Sunday, but the high track temperatures will make this quite challenging. With such a short circuit here in Austria, the priority tomorrow is putting together a clean and tidy lap because if you lose a tenth here, it's more costly than some other tracks."
Lance Stroll - FP1: 1:06.756, P18; FP2: 1:06.829, P18
"It's not been the easiest of Fridays: track temperatures were incredibly high and it was quite windy out there, too. Unfortunately, the red flags came at just the wrong time for me, when I was doing my performance runs on the soft tyre – but at least those were simulations and not qualifying for real. I lost a bit of time going wide on the kerb in second practice, but the team did a great job and got me back out quickly. We have a lot of things to work on tonight to find some extra pace and we will come back fighting tomorrow."
Otmar Szafnauer, Team Principal & CEO
"A solid day of set-up work, data collection, and race preparation. It was a pretty typical Friday, apart from the red flags, which disrupted the afternoon session and made it difficult to find a rhythm in the first half of practice. We always expect a very close grid here – with so few corners making up the lap – and have worked hard on our one lap pace today. The hot track conditions add another factor into the mix, especially in terms of tyre management and brake cooling, but I'm confident we've learned enough this afternoon to guide our decision-making in the lead up to qualifying."
Toro Rosso
Albon has taken Honda's latest spec power unit this weekend and thus will likely start at the back of the field due to grid penalties. As such, he focused on longer runs while Kvyat completed a more mixed programme, altering his set up to try and find some extra pace.
Daniil Kvyat - FP1: 1:06.272, P12; FP2: 1:06.148, P15
"The car was a bit difficult today, so we want to find some improvements for tomorrow. We need to work well overnight to find some good steps for the car. We were trying a few different set up directions today with my engineers - some worked, and some didn't, so we'll try to implement everything we learned for tomorrow."
Alex Albon - FP1: 1:06.285, P13; FP2: 1:06.064, P13
"Obviously, we had a different mindset coming into this weekend as we knew we're starting from the back. We're still testing options to understand which direction we need to take after Paul Ricard – we made some improvements, but we still feel we're lacking a bit. On the other hand, our long-run pace, which is what I need to focus on, was very strong. So, I have some mixed feelings from today, we're quite happy with the car for the race but we still want to understand the car and unlock its potential in the short run pace."
Jonathan Eddolls, Chief Race Engineer
"After our weekend in France, where the pace wasn't quite where we expected, across the whole team we've put a lot of effort in analysing all the data in the tight turnaround between the two races to understand the weaknesses of the car at the last event. So, we came up with a large test plan across both cars in FP1 and FP2 which covered all aspects of the car: mechanical, aero and tyres. This track, a bit like France, has very hot track temperatures expected throughout the weekend, and the same tyre compounds. The C4 isn't really suited to these temperatures as they're a low working range compound, so our focus was to understand how to get that tyre to work over the short run. This was important mainly for Dany as he'll take part in Qualifying, while for Alex the focus was a bit more on understanding the car balance over the long run to optimise it for the race, given that we've tactically taken a new PU for him. The car's balance was tricky in FP1, similar in some ways to France, lacking rear stability in low speed with understeer in the high-speed sections, so we made a few changes for FP2 to try and address that. I think we've improved both the balance and the competitiveness throughout the corners for FP2, but we're still not where we want to be. We'll continue all of the analysis tonight to try and see what other tools we've got to tune the balance throughout the lap. On the positive side, Alex showed quite good long run pace on the Base tyre. We just need to work a bit more on the short run balance to help Dany for tomorrow."
Toyoharu Tanabe, Honda F1 Technical Director
"This weekend we are running all four of our cars with the Spec 3 PU, as Albon joins the other three drivers in using it. Apart from Max's accident, the day went smoothly, as we progressed with our usual work of tuning the PU settings to suit this track, for short and long runs."
Williams
On a day when others fell off the track, Russell and Kubica completed plenty of fact-finding laps and will hope to put the data gathered to good use tomorrow.
Robert Kubica - FP1: 1:07.665, P20; FP2: 1:08.508, P20
"Conditions were difficult. FP2 was much windier so this creates another challenge. We were a bit affected by yellow and red flags and it was definitely a difficult session."
George Russell - FP1: 1:06.805, P19; FP2: 1:07.217, P19
"Friday was as expected, I had a good lap in FP1 and was surprisingly close to the rest of the field. I think we probably had a better time on track and the others didn't optimise it as much as we did. It's a short lap and we need to be ready to take advantage of anybody else's mistakes. I'm feeling good, but the true pace is no different to the rest of the season."
Dave Robson, Senior Race Engineer
"This morning was a relatively quiet session with only one red flag disrupting the very end of the session. Both drivers enjoyed a good session and made progress with their setup in the warm conditions here in Zeltweg.
"FP2 was a more difficult session with a series of yellow and red flags making it difficult for a lot of drivers to get their second low fuel runs done. The red flags were caused by some big crashes and this shows how difficult this circuit can be, especially when the track is hot, and the wind becomes gusty. Although our runs were a little disrupted, the cars remain in one piece and both drivers were able to collect some important long run data in preparation for what is likely to be a very hot and demanding race on Sunday."
Pirelli
Mario Isola, Head of F1 and Car Racing
"Today we had some of the hottest track temperatures we've experienced in Formula 1, peaking at 55 degrees centigrade, with similar weather expected for the remainder of the weekend. Despite these very punishing conditions, the tyres experienced no issues. It was a tricky day driving-wise with changing winds in FP2, and both FP1 and FP2 being interrupted by red flags. This underlines the usual difficulty of this circuit, enhanced by the closeness of the competition here, making every small advantage in terms of set-up and strategy crucial. The teams will be looking to make up for lost time during FP3 tomorrow, before heading into what is likely to be an extremely close qualifying session in the afternoon."