Feature
What the teams said – Friday in Canada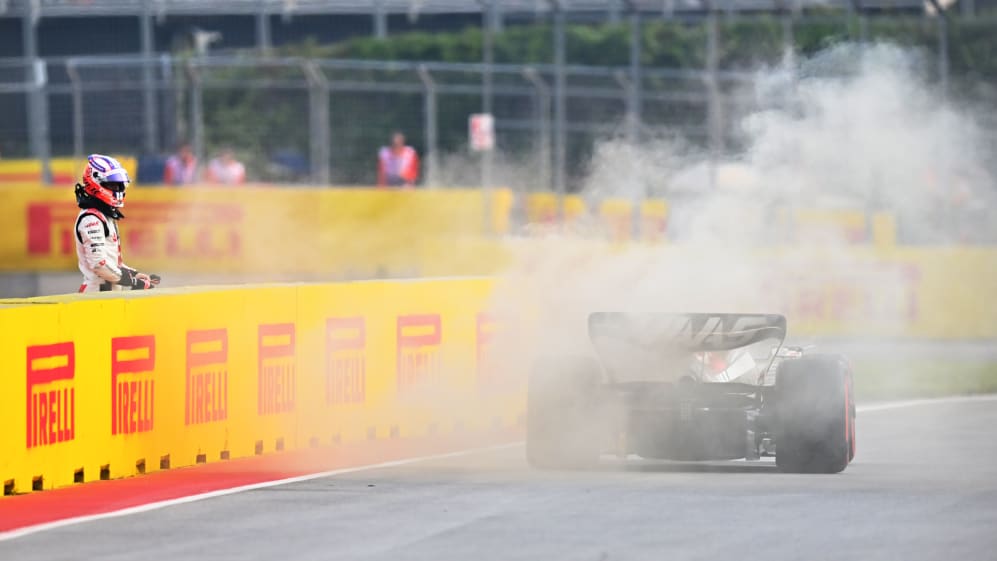 Mercedes
Mercedes didn't even make it out on track during FP1 before the red flags came, but managed plenty of laps in the elongated FP2 session. Opting to go for their hot laps a little later than the rest, they were able to take advantage of a more rubbered-in track. That combined with some solid driving from both team mates saw Hamilton top the session at a track he normally goes well at, with Russell barely a hair's breadth behind.
READ MORE: Hamilton and Russell say Mercedes have 'work to do' despite topping the timesheets during FP2 in Montreal
Lewis Hamilton – FP1: No time set; FP2: 1:13.718, P1
"It was a strange day with the issues in FP1. I felt really bad for all the fans out there; we've had a great crowd out here since yesterday and the city's been pumping. I'm glad that we got out there eventually though and it was good to have a 90-minute session. We haven't had one of them in a long time! I love driving this track, it's mega! From the moment you leave the pitlane you just think 'yeah, this is wicked!' It is probably the bumpiest circuit that we've been on for a long time, however. I think everyone is struggling with the bumps though. Overall, the car didn't feel bad, but we've definitely got some work to do. We've just got to improve our ride control and balance through corner, and I think we will be alright. The car overall is a step forward from earlier in the season and I do think I'm feeling the improvements that we saw in Monaco and Barcelona. I love the rain so let's try and have some fun tomorrow!"
George Russell - FP1: No time set; FP2: 1:13.745, P2
"It's been quite a strange day given what happened in FP1 and then the extension of FP2. It was a reasonably productive session, but I don't think we can read too much into the timings. We did our low fuel qualifying preparation towards the end of the session when the track was quicker. Barcelona and here are two totally different circuits, so it's hard to compare how the car is performing from one to another. Barcelona is a super smooth, high-speed track whilst here it is incredibly bumpy. I do think the upgrades we've brought have helped the limitations of the car though. Pace-wise, I think we're going to be on the tail end of Ferrari and Aston Martin in qualifying. We know it comes to us on a Sunday though and that's when it matters. It also looks like it's going to be wet tomorrow so let's see what that brings."
Andrew Shovlin, Trackside Engineering Director
"After the non-running in FP1, we decided to start our FP2 programme with high fuel work before moving on to low fuel running. That was to ensure we completed our long runs before the expected rain fell. We were an outlier in that respect and our low fuel work therefore benefited from more track evolution than the rest of the field. That was the predominant reason as to why we finished at the top of the time sheets. Overall, the car and tyres seemed to be in a decent window during the session. There are areas of improvement we will focus on overnight, including trying to find more rear end for both the single lap and long runs. We are also looking to see if we can improve the ride around this notoriously bumpy track, as that will help us carry more speed through the chicanes. There's also a good chance of rain tomorrow; that could change the picture significantly but hopefully we'll get the chance to do some wet running in FP3."
Ferrari
Ferrari spent the early part of FP2 working on single lap pace, and on that metric they looked competitive – although the proof will be tomorrow. After that, they settled down with medium tyre runs and both drivers did manage some exploratory laps in the wet before the rain intensified and left them sliding their way back to the pits.
READ MORE: Leclerc says Friday in Canada 'up there' with his best of the season as Sainz promises more to come from Ferrari
Charles Leclerc - FP1: 1:26.809, P11; FP2: 1:14.094, P5
"It's only Friday and there is still a long way to go, but overall, it has been a positive day. The feeling I had in the car was very good. We are bit further down the order as we couldn't do a second run on the softs because of the red flag. Our race pace felt good as well and we will keep working in the current direction."
Carlos Sainz - FP1: 1:25.991, P10; FP2: 1:113.844, P3
"With hardly any track time in FP1, it meant that FP2 was particularly busy but we managed to try all three dry weather compounds, as well as various set-ups on the car to improve performance. We made good progress over the course of the day. The result is quite positive, even if we still need to find a bit of pace and performance going into tomorrow."
Red Bull
Red Bull had a quiet opening day in Montreal. They worked through their own programme and were seemingly unconcerned with what others were up to. Both drivers set their quick runs in FP2 relatively early before the track had fully evolved, before concentrating on longer run pace. The only hiccup was Perez having a messy lap where he nearly clobbered the wall and had to ran across a chicane, but luckily he brought the car home in one piece.
READ MORE: Verstappen expects 'a few surprises' during qualifying in Canada as he reflects on 'tricky' first day for Red Bull
Max Verstappen - FP1: 1:20.231, P5; FP2: 1:14.142, P6
"It wasn't a straightforward day with basically no running in FP1, it was the same for everyone though. At least we could get in a decent amount of running in FP2. I think we still have quite a bit of work to do as the car isn't fantastic at the moment over the bumps and kerbs. I mean it's still not too bad, but we definitely need to fine tune a few things. I think it might be raining tomorrow which will throw a few surprises out there in qualifying, then perhaps dry on Sunday so that will also affect things. It was a tricky session but sometimes we have those days."
Sergio Perez - FP1: 1:20.154, P4; FP2: 1:14.250, P8
"It was a real shame that we ended up losing FP1, we really needed it because the conditions weren't ideal in FP2 towards the end. I think we've got good pace and just need to make sure we play a bit with the car now to get it in the right window because today has all been a bit of a hurry. There is plenty for us to understand tonight, we need to improve our ride and the other teams look strong too, so we will see tomorrow where everybody is. I think it should be an interesting weekend, it gets really dark here in this weather, the visibility becomes poor and the conditions become undriveable pretty quickly - if the rain comes for qualifying hopefully it's not much."
Aston Martin
Aston Martin spent much of their Friday testing out their upgrades, running flow vis paint on the cars at various points. Alonso looked to be in the mix, and Stroll also finished in the top 10 on what was a decent opening day. They both headed out in the heavy rain late on too, but after Stroll ran wide the team wisely called them back to the pits.
Fernando Alonso – FP1: 1:19.807, P3; FP2: 1:14.044, P4
"It's good to see all of the support here and be back racing in front of the Canadian fans. But it was a shame that we weren't able to run in FP1 due to the technical issues. We didn't have a lot of time to fully understand the new upgrades on the car, so we will have to analyse everything overnight and learn more tomorrow. We will keep an eye on the weather radar again for tomorrow, as it could be another mixed day."
Lance Stroll - FP1: 1:19.175, P2; FP2: 1:14.419, P9
"Today's running was fairly disrupted, but it's the same situation for all teams and we made the most of the extended FP2 session this afternoon. When you're running new upgrades, the practice sessions become about learning how they impact the feel of the car and about ensuring that they're operating in the expected way. I was happy with the car and thought it was feeling good, but we'll take the time to look through the data tonight and ensure we're ready to put in a strong performance in qualifying tomorrow. It was great to see plenty of Canadian flags in the grandstands – you can really feel the home support."
Alpine
Gasly suffered mechanical woes on his out lap in FP1, driveshaft issues stopping him out on the track. That led to the initial red flag, with no more running possible after that due to an issue with the circuit's CCTV cameras. He did get out in FP2, but Alpine again caused red flags, this time after Ocon was told to stop the car with a suspected water pressure issue. They will be in need of track time tomorrow as they play catch up to the rest.
READ MORE: Alpine duo 'very much on the backfoot' after reliability-hampered Friday in Montreal
Esteban Ocon - FP1: No time set; FP2: 1:15.092, P18
"It's been a difficult day today. We started with a disrupted Free Practice 1 with a power outage issue and malfunctioning CCTV systems around the track, which meant all teams had little to no running. Free Practice 2 was also interrupted on our side due to a suspected loss of water pressure in the car. Obviously, it's been a far from straightforward day for us, so we'll have to get on top of the issues so we can ensure tomorrow, when it counts, is better. We'll debrief and analyse the data we managed to get today and keep our heads down to make sure we make the most of Free Practice 3 tomorrow to be ready for qualifying."
Pierre Gasly - FP1: No time set; FP2: 1:14.477, P10
"That was a very different Friday practice but, in the end, on my side, we managed to have a productive day. It did not start so well with an issue with the spare steering wheel on my first run in Free Practice 1. Fortunately, we did not miss out on any running due to the red flag for the circuit systems. Free Practice 2 was much better and we were able to progress our programme for almost the full one-and-a-half-hour session before the rain at the end. I had an interesting moment at Turn 4 with the rear sliding but managed to keep it away from the wall. I think we're in a good place ahead of the rest of the weekend and hopefully tomorrow's Practice can be better to set ourselves up for qualifying."
Otmar Szafnauer, Team Principal
"It's not been a normal day of practice today in Montreal with some interruptions causing disruption to all teams' programmes. In Free Practice 1, we had a problem on Pierre's car due to an electrical fault on the spare steering wheel, which caused him to stop on track. This was replaced to his normal wheel for the second session with no issues and he was able to have a productive afternoon. Unfortunately, Esteban's session stopped early in Free Practice 2 as a result of losing water pressure on his car; we will take the time to investigate the cause of this issue. It means our running today was limited and we must target a much smoother Free Practice 3 tomorrow to put ourselves in the best possible position ahead of qualifying. The weather looks mixed with a high chance of rain throughout the day, so we'll remain ready for all possibilities."
Alfa Romeo
Bottas topped the opening session, albeit after only a handful of drivers set a timed lap before the red flags arrived. But he showed he does have decent pace here with a top 10 slot in FP2 for good measure, before remarking that the weather was more suitable for ducks than F1 cars after sliding off onto the grass in the heavy rain. Zhou also had a good day, keeping his head down and getting plenty of laps under his belt.
Valtteri Bottas - FP1: 1:18.728, P1; FP2: 1:14.220, P7
"It's been a bit of an unusual Friday for everyone; we only managed to set one timed lap in FP1, before the session got red flagged and subsequently stopped. On the other hand, we got to do an extended FP2, getting a decent number of laps in, with only the final minutes of the session being slightly compromised by the rain. Overall, it's been a positive day: the car felt good in dry conditions, and our performance was within the top ten the whole time, which is encouraging for the rest of the weekend ahead. The weather forecast remains mixed, so our focus will be on finding a good compromise to be at our best both in dry and wet conditions. Based on today, our car has the potential to make it into Q3, so that will be what we'll be working towards."
Zhou Guanyu - FP1: 1:24.961, P9; FP2: 1:14.811, P14
"Overall, it's been a solid day: we managed to go through our whole programme for the day during FP2, which offset having spent most of FP1 under a red flag. It looks like tomorrow's weather will be very similar to what we had today towards the end of the second practice session, with heavy rain, which can be tricky; we'll work on it tonight, to make sure we can make a proper step forward tomorrow. It will be important to find a good compromise between set-ups, as Sunday may as well be mostly cloudy instead. Our main aim is to get into Q3; the minimum would be achieving a decent position in Q2, similar to what we had in Barcelona, to allow us to drive into the points in the race. I am confident we can achieve this; the wet conditions always add a variable to the equation, but we will make sure to come prepared."
McLaren
Piastri nearly came a cropper, the Aussie the only man out on track when the heavy rain first arrived. He was on the soft compound tyre too, and did well to slither back to the pits. Norris loves the wet stuff and he wasted no time heading out on the inters for a play, twice going out to explore the conditions in preparation for what could be a wet qualifying tomorrow.
Lando Norris - FP1: No time set; FP2: 1:14.617, P13
"It's nice to be back here in Canada, at a track I enjoy. We had an OK day, it was actually good to get out in mixed conditions. We've been working hard trying to find a good set-up. A good balance with the car to feel comfortable is the most important thing, and we were making steps forward. We'll continue to do that into tomorrow and work hard for a good result in quali."
Oscar Piastri - FP1: 1:21.496, P6; FP2: 1:14.533, P11
"We had a decent session this afternoon and seemed to be pretty solid out of the box, the pace seemed to be reasonable. It's a fun track, very bumpy, but I enjoyed getting some time out on-track. The weather came in pretty suddenly at the end, which gave us a taste of wet weather running. We'll see what the rest of the weekend throws at us but I'd say a reasonably encouraging start."
Andrea Stella, Team Principal
"An unconventional Friday at the Circuit Gilles Villeneuve. After FP1 was effectively cancelled due to technical issues, we had the compensation of an extended FP2 and extra sets of tyres, which allowed us to run through a large part of our programme. We couldn't do everything that we wanted but despite that, I think we've gained a good understanding of performance potential, set-up direction and the behaviour of the tyres. The rain at the end also allowed us to check the Intermediate tyres, so taken all together we've gathered quite a lot of information from practice today. We'll study it overnight and try to be ready for whatever we face in qualifying and the race."
AlphaTauri
De Vries twice found himself released from his pit box into the path of other cars, but other than that had an uneventful day. Tsunoda ran wide at Turn 1 and had to bounce across the grass during the second session, and wasn't able to set a fully clean lap on the softs. As such, AlphaTauri's place in the pecking order is a slight mystery.
Nyck de Vries - FP1: 1:32.274, P12; FP2: 1:15.002, P16
"I think it was a challenging day for everyone. Obviously, FP1 was interrupted so we had to change our run plan for the afternoon but nonetheless, I think we completed enough laps to be able to get up to speed with the track. Tomorrow will see different conditions again with rain forecasted, so there is lots of work ahead of us. As the track is quite different compared to Barcelona, more bumpy, narrow, and with less grip, I will have to get used to it and make the necessary changes. We didn't do any laps in the rain today, but the grip seems low in dry conditions already, so we will have to see how it goes in the wet."
Yuki Tsunoda - FP1: No time set; FP2: 1:14.941, P15
"Although FP1 was interrupted, we still had two hours of running on track, which was enough. Our balance isn't too bad, but it seems we are struggling to find pace during our performance runs. It looks like it will be raining tomorrow so we will be focusing on wet conditions for one-lap runs, with multiple tyre sets left to use. We did some long runs in the dry, and the pace doesn't seem bad, but first, let's see how tomorrow goes. I hope we can achieve Q2 or Q3 tomorrow."
Jonathan Eddolls, Chief Race Engineer
"It's been a very different Friday to usual here in Canada. In FP1 we managed to get our planned aero rake running completed before the red flag, and then it was a case of waiting in the garage while the circuit resolved the CCTV issues. These were not fixed in time, but the plan to extend FP2 and start the session 30 minutes earlier was a very good decision, because we knew the chances of rain later in the afternoon were high. We were able to carry FP1 tyres into FP2, which was now 90 minutes long, so we had three brand new sets and one nearly new set of tyres to use. The plan focused on giving the drivers as many laps as possible, with short runs and pitstops on the four sets of tyres, before turning our attention to the long runs. We were tracking the rain and could see it coming towards the end of the session, so the run plans were geared around this and we managed to cover all the planned work. The track was declared wet, so to get our "free" intermediate tyres for tomorrow, we had to complete one lap on it. This was done in the dry because we didn't want to risk a red flag and miss the opportunity. Overall, we were expecting a bit more pace than we showed, but given the dense programme, we didn't focus on setup changes. I think we can make a step forward tomorrow with changes to the car overnight."
Haas
Hulkenberg had to hop out of his car in swift fashion when he spotted smoke billowing from the back of his VF-23. His smouldering Haas was recovered to the pits, and it looks like his mechanics will be in for a late night repairing all the damage. Magnussen at least had a decent day, winding up on the fringes of the top 10 at a track that the team hope will suit their car slightly more than Barcelona did.
FP2: Session red flagged as Hulkenberg's smoking Haas stops on track
Nico Hulkenberg - FP1: 1:24.336, P8; FP2: 1:16.369, P20
"It was a very disruptive day, obviously for everyone in FP1 with just one lap and then the technical problems we faced, we got compromised there. Then FP2 also didn't last very long, I got one run in and then starting the second one the ICU failed. It's not ideal obviously heading into the rest of the weekend but it is what it is now, we'll see what the other car did, try to learn from that and come up with the best possible package we can tomorrow."
Kevin Magnussen – FP1: 1:24.045, P7; FP2: 1:14.544, P12
"Today was interrupted by different things, obviously in FP1 and then also in FP2 with both the weather and Nico's car, but we still got most of the stuff done. We got some low-fuel and high-fuel running on both compounds so although disrupted, we got everything we wanted, and it looked okay. We have more running tomorrow, although it looks to be wet, so it's going to be an exciting qualifying."
Guenther Steiner, Team Principal
"It was a very disruptive day today, starting off with some of FP1's lost run time being merged with FP2 which was very disruptive for us. FP2 wasn't ideal because Nico's ICU expired, shortening his session, and we only had one car to gather data and we had a lot of stuff we wanted to test. We didn't get any definitive answers. Kevin did a good job, but we would've liked to have done more work with two cars across two sessions."
Williams
Albon is running the upgraded package here in Montreal, and the Thai driver was sporting plenty of flow vis paint as the team get to grips with those new parts. They only have one set, so Sargeant is going to have to wait until Silverstone to get his hands on them. It will be interesting to see what they are worth when those two set representative lap times tomorrow.
Logan Sargeant - FP1: No time set; FP2: 1:15.426, P19
"It was an interrupted first day in Montreal, but we made the most of it in FP2 and got a lot of laps in. The car felt pretty good for the most part. There's more to come from my side taking a bit of margin in my first session. We're in a good place heading into tomorrow however it should be pretty wet so we're going to have to wait and see what the conditions are actually like."
Alex Albon - FP1: No time set; FP2: 1:15.003, P17
"The disrupted day hasn't hurt us too much. We did a lot of simulator practice and it's kind of what I expected so there haven't been any nasty surprises with the car, which is a good thing. We didn't really complete a proper FP2, so we didn't put on a proper set of tyres, but otherwise we're not in a bad place."
Dave Robson, Head of Vehicle Performance
"It was a slightly odd day with FP1 effectively cancelled and FP2 affected by rain. We got most of the work done as we had intended, but stopped the low fuel running early in FP2 to concentrate on the high fuel work.
"The upgrades ran well on Alex's car and will remain fitted for the rest of the weekend. We'll go through the data tonight and confirm that the performance is matching the wind tunnel data and we will look to refine the setup to maximise the overall pace.
"The weather looks mixed for the rest of the weekend with more heavy rain expected tonight and into tomorrow morning. There could be further heavy showers during qualifying, which will keep things interesting."
Pirelli
Simone Berra, Chief Engineer
"The teams, drivers and even our own staff all had a demanding time of it on this first day of the Canadian Grand Prix. After an initial analysis of the data acquired, we can confirm our predictions prior to the event, regarding the behaviour of the two softer compounds, with the C5 proving ideal in terms of performance over a single lap and the C4 looking a better option for the race. Although today, on a track that was still very dirty, we did see signs of a bit of graining, especially on the rear tyres. In terms of degradation there were no particular surprises. As for the rest of the weekend, uncertainty over the weather is an important element to consider, with rain expected tomorrow, while Sunday should see a dry race. If this was the case, even the track conditions could produce some surprises."