Feature
What the teams said – Friday in France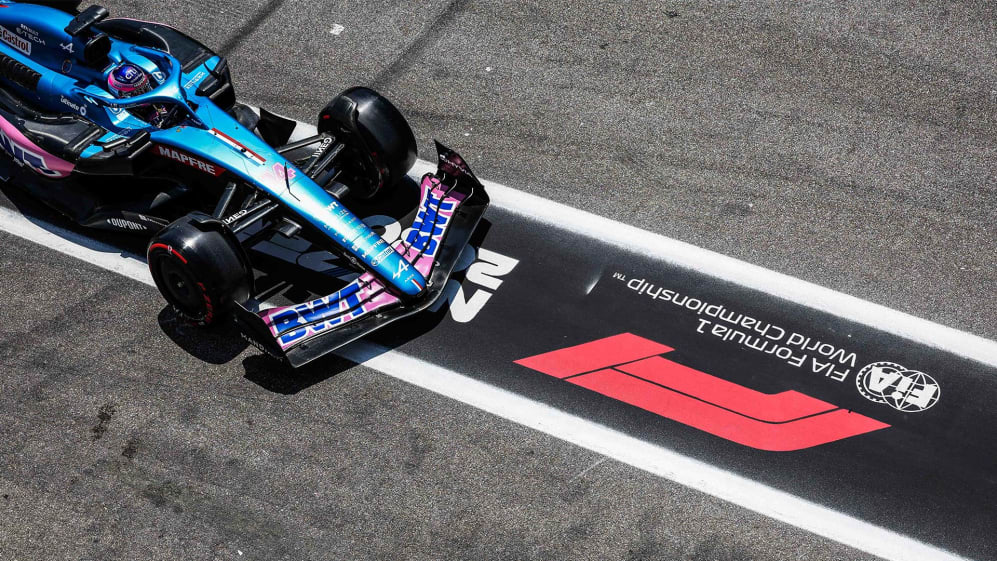 Ferrari
It was a solid opening salvo from the Scuderia, with their drivers each topping a session. But while Leclerc can use this platform to build from, for Sainz, his weekend is set to be disrupted by grid penalties. He already has a 10-place drop for taking on a new control electronics unit, and it remains to be seen if he will take on any more PU components which will trigger a back-of-the-field start.
Charles Leclerc - FP1: 1:33.930, P1; FP2: 1:32.628, P2
"The sessions went quite well today. Our qualifying pace was pretty good, so our focus now will be on our race pace.
"Tyre management will be key, as the temperatures are so high this weekend. I am confident that we will be all set by the time Sunday comes as we know where we need to improve."
Carlos Sainz - FP1: 1:34.268, P3; FP2: 1:32.527, P1
"It has been a positive day. The updates seem to work well and the car felt good, especially on the flying laps. The long runs were a bit more challenging due to the graining. For sure, today's high temperatures were an important factor to consider, but we need to look carefully into how we can protect the tyres as much as possible.
"Given I'll take a penalty on Sunday, we now need to focus on preparing the car for the race. There is room for improvement, so we'll keep digging!"
Red Bull
Verstappen suffered from understeer in both sessions on his quick laps, sounding slightly frustrated on the radio. He did at least manage a good haul of laps, unlike his team mate. Perez managed a spin in FP1 which fortunately only cost him a set of tyres, and then missed some running in FP2 due to a small issue with his car. As such he only had one flying lap on the softs and needs a cleaner session tomorrow if he's to catch up to his team mate come qualifying.
READ MORE: Verstappen says Friday French GP practice sessions were 'very difficult' as Perez reveals issue that cost him in FP2
Max Verstappen - FP1: 1:34.021, P2; FP2: 1:33.077, P3
"I think FP2 was a little bit more difficult for us than FP1 as we didn't get the balance that we had hoped for. We were also trying different things with the car. We'll have a look at it all overnight and of course try to be quicker tomorrow. I think the long run is better but the tyres are running really hot so it's difficult to judge where you really are. Overall, this track is tough on tyres, I think we all needed a few more laps to have a more accurate look at the long runs."
Sergio Perez - FP1: 1:35.174, P6; FP2: 1:34.060, P10
"We had a delay in this session due to a bit of an issue with one of the roll bars but it was nothing major. I am not overly comfortable with the car at the moment, I think there is some good work and understanding to be done overnight. We also only had a short stint on the soft tyre but hopefully tomorrow we are able to pull it all together and be in the fight for qualifying and the race on Sunday."
Mercedes
De Vries was in Hamilton's cockpit for FP1 and the youngster gave a good account of himself. Bar one moment where he ran wide and took too much kerb, it was a decent session and he certainly will have had a few team bosses watching his progress. Once Hamilton returned to driving duties, he didn't look quite as comfortable as his team mate but they do at least look to be the third best team out there. Whether they can find a few tenths in order to take the fight to Ferrari and Red Bull remains to be seen.
READ MORE: 'It's not spectacular' – Mercedes say they're 'further off the pace than we hoped' after Friday in France
Lewis Hamilton – FP2: 1:33.517, P5
"Nyck did a strong job this morning, he was great out there and I'm grateful for the work he did. We made some changes from FP1 to FP2 which is crazy considering I haven't even driven the car yet. We still have a lot of work to do, we're not spectacular here and I don't know why, so hopefully overnight, we can make a little bit of a step forward as we're further behind than what we anticipated for this weekend. We need to dig deep into the data, but it looks like were lacking downforce today. It wasn't the best session for me, mostly because I missed the first one. I tried to get up to speed, but it was very hot here and there are a lot of slow laps so overall, I think I did alright."
Nyck de Vries – FP1: 1:35.426, P9
"I'm very grateful for the opportunity, it was a great experience. Obviously, it was very cool to be back in such a fast car and a bit of a reset of what I'm used to. All in all, a great session and great opportunity. We went through all test items and managed to do quite a bit of work for the team. It was a good session, it felt quickly on the pace and I felt comfortable with the car. The team was very supportive, and we got the information that we needed. Lewis was amazing and also very supportive. I also had Angela by my side as well which was really sweet. So overall a very productive session."
George Russell - FP1: 1:34.881, P4; FP2: 1:33.291, P4
"It was quite enjoyable to be back out there at this track as it's quite a fun one in certain aspects. Some teams struggled more than others with the high temperatures. We only did five consecutive laps but we're also probably a bit further off the pace than what we had hoped for. We have work to do tonight here at the track and back at the factories. There's a lot to go over and we need to make sure we can optimise our pace for tomorrow. From the running today, it looks like we're finding time but all the other teams keep bringing updates too, and the whole grid moves forward. So, although we're finding time, our competitors do as well. And we need to look at the data to see if our upgrades are working as sometimes it's not as simple as just seeing it on the lap charts."
Andrew Shovlin, Trackside Engineering Director
"Firstly, Nyck did a great job for us in the morning session. Considering how little time he's had in the car, it was impressive how quick and consistent he was. We used the session to get through a test programme varying the car specification each run and we've acquired some useful learning on the back of it. George was evaluating some update parts through the first session and wasn't particularly happy with the balance of the car but managed to get it closer to his liking in the afternoon. This is the first time that one of the race drivers has had to sit out an FP1 session and Lewis had his work cut out trying to recover the lost time - he wasn't particularly happy with where the car was and we need to work on that overnight, but we've got a pretty good idea of where we want to go on setup. For one reason and another, we didn't get as much work done on high fuel as we'd have liked so we don't really know how we compare to RedBull and Ferrari but we do at least look closer to them than to the midfield. We're not expecting to be on their pace tomorrow, both those teams looks like they are very strong on a single lap, especially Ferrari but hopefully we can get a bit closer in the race on Sunday."
McLaren
With plenty of upgrades on the car, it was all eyes on McLaren in Le Castellet and they didn't disappoint. Norris was there or thereabouts in that best of the rest slot while Ricciardo made it two sessions in the top 10. Can they kick on and reassert themselves at the front of the midfield? That will be the aim, although Alpine will have a thing or two to say about that one.
READ MORE: Norris says he's 'playing catch-up' to Ricciardo after McLaren test new upgrades in French GP practice
Daniel Ricciardo - FP1: 1:35.660, P10; FP2: 1:33.984, P9
"We were trying quite a bit today with some updates to the car and I'd say we are still trying to figure out the best way to set the car up with it, so still learning. I think looking at the positions, both cars in the top 10 is obviously not too bad – but I do think there's still quite a lot to come from that. I think we've still certainly got some more in it. We'll just try to fine-tune it and understand a bit more tonight. I think we feel ok about today but there's quite a bit more to get out of it so we will get out there tomorrow and have a bit more fun."
Lando Norris - FP1: 1:35.232, P7; FP2: 1:33.607, P6
"A reasonable day. It's been a day of trying the new parts on the car and trying to understand them and figure them out for tomorrow. I think we've done that. The pace of the car and the handling's in a reasonable position – but also a bit different between the old package and the new package. There's still some adapting to do with my driving and so on, so a bit more potential to move forward tomorrow. We'll have a look this evening, figure it out and see what we can improve on for Saturday."
James Key, Executive Director, Technical
"It's been a reasonably productive day. During FP1 Daniel ran our new development package that we have brought for this event, working on gathering track data and dialling the mechanical set-up in to compliment the updated aero spec. Lando stayed on the previous spec of car to give us a useful reference point and worked on general set-up and tyres during FP1, moving to the new bodywork spec for FP2 to give a rough back-to-back. There is still much to analyse and learn from all the data we have acquired today, but initial driver feedback has been positive and informative which is a good start point. We will continue to work on understanding the influence of the aero updates run today and hope to further optimise our cars for tomorrow's running."
AlphaTauri
Gasly had the upgraded package on his car in both sessions and made good use of it, despite running wide and nearly damaging his floor. He also complained of an engine issue in FP1 but that proved to only need a swift fix. Tsunoda couldn't match his team mate in FP1 before himself getting the upgrades in the second session. But he took time to get used to the newer feel to the car, and will hope to make progress come FP3.
Pierre Gasly - FP1: 1:34.979, P5; FP2: 1:33.906, P7
"Clearly, in terms of performance, we were back in the Top 10 with 5th this morning and 7th this afternoon. The feeling in the way the car behaved showed a lot of positive signs with the new parts we brought this weekend. It is great to have this package for my home race and to see all the people around the track. Now we need to work to understand what we tested today and go through all the data to be able to put it together for Quali tomorrow. The way the front reacts is sharper and more reactive, especially in these longer corners where we used to wash out and overheat the tyres badly. The tyres are still overheating, which we will have to work on for the race, but it should be a fun one."
Yuki Tsunoda - FP1: 1:36.127, P18; FP2: 1:34.540, P14
"We had a good comparison to Pierre this morning, which gives us enough data for tomorrow. There was a clear difference with the new package this afternoon straight away from the first push lap, so I'm happy about that. It will be challenging, but based on the performance we had today, we can be positive. There are things we still need to adjust, but hopefully we can finetune them in FP3 to be able to make it into Q3 in Qualifying. I didn't feel crazy degradation, so that's positive, but the race will be hotter so we will have to see."
Jonathan Eddolls, Chief Race Engineer
"We brought some aerodynamic updates to this event and ran those with Pierre all day, keeping Yuki on the old car in FP1 to allow an across car comparison. Based on the data gathered in FP1, the updates were working as expected and delivering a good step in terms of performance. We therefore migrated Yuki's car to this configuration for FP2 and continued the optimization of the setup around the new package. Short run performance has clearly taken a step forward and we look forward to being able to fight again within the midfield - something we had been struggling to do at the last couple of events. With the very high track temperatures, and some long heavily loaded corners, it made it hard on the tyres - especially the front left. We evaluated the tyres over the long run, so we have all of the data now to help define the best strategy for Sunday. We are happy with today, but will continue our analysis of the car tonight to see if we can extract a little more performance out of it for tomorrow."
Haas
It was a mixed bag for Haas, who are still waiting for their sweeping raft of upgrades. Schumacher locked up and ran wide in FP2, ruining his medium tyres and compromising his programme. Magnussen also had a moment, understeering through Turn 1 which sent him over the kerbs through Turn 2, but he was able to continue. His P8 in the later session certainly indicated they could be a force to be reckoned with this weekend if they can stay on track.
Mick Schumacher – FP1: 1:36.022, P16; FP2: 1:35.195, P19
"Sometimes you want to try and go to the limit and that's what I did and carrying a lot of speed into that corner is helpful in terms of lap time and in that sense maybe it was a bit too much. It's a bit unfortunate as that meant we were on the short side for tyres on the long run but on the other hand you've got to try. The car felt good this morning, a bit worse this afternoon, so we'll be analysing why and trying to figure out how we can make it better but I don't see a reason why we can't get it back into the window tomorrow."
Kevin Magnussen – FP1: 1:36.104, P17; FP2: 1:33.928, P8
"I don't think it was a bad day. We made a decent jump from FP1 to FP2 – it didn't look so good in FP1 – but then we made some changes and found some pace. Hopefully that carries into tomorrow and we have a good FP3, going into qualifying. It's very impressive how the team is finding pace in the car despite no upgrades so I'm very happy about that and I'm excited to see what the car will be like when we do get upgrades."
Guenther Steiner, Team Principal
"It was a solid day today. In FP1 we did some testing, aero testing mainly. In FP2, we made changes to the car from FP1 and it went quite well for Kevin. Mick never had a clean or full lap so he's a little bit behind at the moment but I really think tomorrow we can get back to where we want to be."
Alpine
Ocon had a lacklustre day at his home race, finishing outside the top 10 in both sessions, with no technical faults blamed for his P18 in FP2. Alonso didn't fare much better, as he too seemed to lack some pace around Paul Ricard. The team may have been sandbagging and certainly have shown a decent turn of pace at the last few races, so expect them to move forward tomorrow.
Esteban Ocon - FP1: 1:35.828, P13; FP2: 1:34.660, P18
"First of all, it's great to be driving in France again in front of the home crowd. There's nothing that beats racing at home and it's just a great feeling to drive around Circuit Paul Ricard as a French driver and already seeing so many fans on a Friday. In terms of the sessions today, we tried different things on both cars, and it was all about gathering a vast amount of data. We tried Soft and Medium compound tyres plus high and low fuel and we have a good read on information to make the right adjustments on the car for tomorrow. There's definitely more to come."
Fernando Alonso - FP1: 1:35.875, P15; FP2: 1:34.259, P11
"It was a challenging Friday for us especially driving in these extremely hot conditions in France. We tried to adapt the car as best as we could to deal with these high temperatures and focused on tyre management and cooling down during the two practice sessions. On reflection, we are not totally happy with the balance of the car so far and we need to look at some potential changes overnight. I'm confident we can improve things and be in good shape for Qualifying tomorrow in front of our home crowd."
Pat Fry, Chief Technical Officer
"It's been a trouble-free Practice for us today for the team's home Grand Prix. Conditions have been extremely hot, probably the warmest Friday of the season so far in terms of ambient temperature, which has certainly brought along a few challenges. We must get on top of these in order to improve our performance. We've brought some upgrades to this race with both drivers running those across both sessions today. They've worked as expected and, as ever, we'll assess the data ahead of the rest of the weekend. We have a further update to put on the car tomorrow as well, which should bring some additional performance. Both drivers are facing similar challenges on car balance here and, clearly, we're not where we want to be relative to our competitors. That said, with both drivers offering similar feedback, it gives us a clear, collective direction to make the right improvements for Qualifying where I'm confident the timesheets will better reflect our performance."
Alfa Romeo
Kubica once again ran in FP1, this time in place of Bottas. The Pole completed a good haul of laps with plenty of data fed back to the team. Bottas was swift to head out in FP2 to make up for lost time, and was seen running flow-vis on his front wing end-plates. He wound up flirting with the top 10, while Zhou was a little way off on Friday.
Valtteri Bottas - FP2: 1:34.264, P12
"Stepping into the car at the beginning of FP2, it took me a few laps to get into the rhythm but I had a good feeling with the car straight away. The midfield seems even closer than usual, and I have a feeling there's a lot more to come, both from the car and myself. I am looking forward to qualifying: I think we have a good chance of doing well."
Robert Kubica – FP1: 1:36.332, P19
"It's been a busy session on my side of the garage: we had quite a lot of boxes to tick in these 60 minutes, from rake runs for data at the beginning of the session to a tight schedule of runs later in the hour. It was definitely warm out there and not the easiest conditions: still, it is always nice to drive a Formula One car and help the team with learning the set-up for the track. The feeling with the car was quite different from my previous outings, perhaps because of the heat: it will be interesting to go through the data with the engineers and understand better what we encountered, to make the car better for tomorrow and the rest of the weekend."
Zhou Guanyu - FP1: 1:35.676, P11; FP2: 1:34.654, P17
"It has been quite a smooth day for me; we went through the whole programme we had set out to achieve without issues. It was very hot out there, very tricky in terms of managing the tyres, but it's the same for everyone and the key will be to find the best way to set the car up. FP1 has been very good and I was very comfortable, while in FP2, where we tried something different on the two cars, I personally struggled a little bit: however, I reckon the direction we need to take for tomorrow is clear, so I am looking forward to qualifying. Looking at our performances today, I think we look stronger than in Austria, so it's a good step up, but then again it is once again super tight in the midfield battle, and tyres will make the difference: it will be all about getting laps together in qualifying and trying to avoid getting into traffic. Tomorrow will be a challenge and Sunday will be too, given the heat and the temperature, but I can't wait to put myself in the game."
Aston Martin
Aston Martin didn't quite have the pace to make the top 10 on Friday, with Vettel concentrating on hard tyre running in FP1. Both drivers managed to complete their full programmes, but they will have a long night of it working out where they can extract some more pace in order to move forwards and compete for a place in Q3 tomorrow.
READ MORE: Sebastian Vettel pilots a 100-year-old slice of Aston Martin history around the Circuit Paul Ricard
Sebastian Vettel – FP1: 1:35.851, P14; FP2: 1:34.420, P13
"I went a little faster than I did yesterday in the 100-year-old car! We ran with two different specs on the cars today. It was good to compare but now we have to pick and choose what works best for FP3 and qualifying tomorrow. The key for us will be to try and make it into Q2 tomorrow so we have a good starting point for the race. The midfield is really tight so I hope we can be a bit more in the mix. Our race pace always seems to be slightly better, so hopefully we can find more of an edge for Sunday. Whatever happens, it is going to be hot."
Lance Stroll - FP1: 1:35.810, P12; FP2: 1:34.595, P15
"It was a good day today. The car felt okay – particularly on the long runs we did in FP2 – but it was definitely hot out there for everyone this afternoon. We will look at the data tonight and what we can work on for tomorrow. It is a tight midfield so it is tough to predict where exactly we will be in qualifying."
Williams
Latifi has finally got his hands on the upgraded FW44 which his team mate has been running, but it looked like it was taking the Canadian quite some time to get to grips with the very different package. Albon has already been through that learning process and put his knowledge to good use with a top 10 slot in FP1, although he fell backwards in the second session.
Nicholas Latifi – FP1: 1:37.043, P20; FP2: 1:35.412, P20
"Overall it was a tricky day straight from FP1 - I just didn't get the best feeling with the car which is something we'll have to investigate to see if there was something not quite right. "I don't feel there was anything upgrade related which is a good sign, so we'll just have to see. "It's a positive that we have some good cross-car data and are now running both cars on the new aero package, which means double data for the team. Let's see what we can do overnight and tomorrow."
Alex Albon - FP1: 1:35.414, P8; FP2: 1:34.653, P16
"It was a good day for us as the car was feeling really good around this circuit, so I'm feeling positive. Hopefully we can use this and do a bit more and come out even stronger for tomorrow. All in all, I'm really happy with today."
Dave Robson, Head of Vehicle Performance
"Today went smoothly and we were able to run through some tests without issue. "We steadily improved the car during the day but there is still more to come tomorrow, especially for Nicholas.
"It has obviously been hot today – and this will continue for the rest of the weekend – but the track has been in good condition and the tyres have behaved well.
"We have some work to do before Sunday to understand the best way to approach the Grand Prix in terms of tyre degradation and strategy, but we have made a decent start today and we have a solid platform that we can build on."
Pirelli
Mario Isola, Motorsport Director
"We had track temperatures that peaked at 56 degrees today – which is still a few degrees off our all-time record from Malaysia in 2016 – but despite these high temperatures, all the compounds performed well. It's clear that the soft is going to be a compound used just for qualifying, and it was interesting to see that a second fast lap was possible after cooling down the tyres, thanks to a good level of grip and performance recovery. This potentially enables drivers to use fewer soft tyres in qualifying tomorrow, which could help them to save medium and hard sets for the race."