Feature
What the teams said - practice in Singapore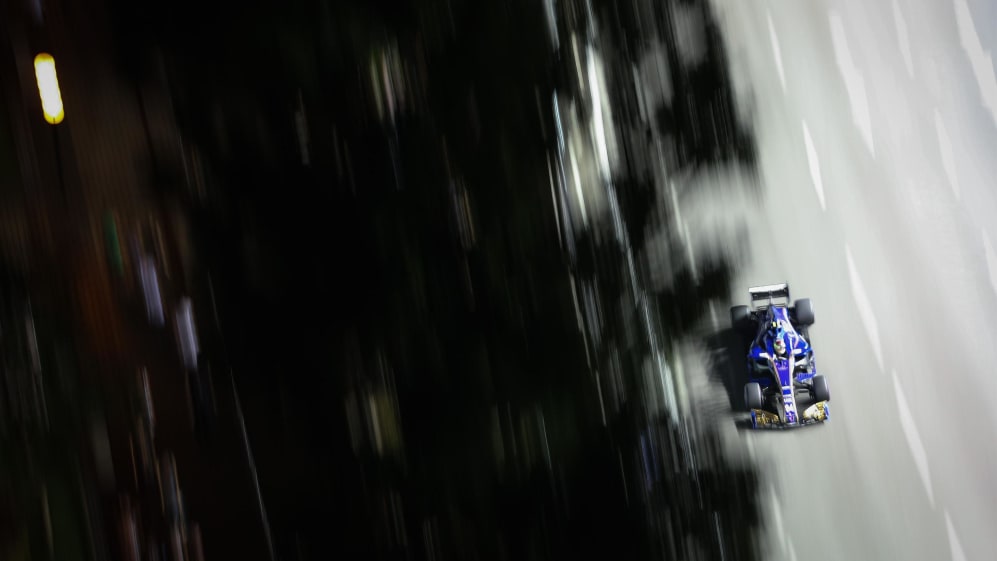 A round-up of the opening day's events from the 2017 Formula 1 Singapore Airlines Singapore Grand Prix...
Red Bull
Red Bull had a tremendous day, with both drivers feeling bullish and happy with their cars. Ricciardo suggested his was behaving exactly as he had expected it would here, said that he made good steps with the set-up all day, and that he believes he can stay on top for the rest of the weekend. Verstappen scraped a wall in FP2, but was otherwise as pleased as his team mate. Both know qualifying will be a problem when Mercedes and Ferrari can turn up their engines, but still hope to be right in the fight for the win.
Daniel Ricciardo - FP1: 1:42.489, P1; FP2: 1:40.852, P1
"It was a good day out there today, but I expected this, to be honest, and am not really surprised with our performance. I knew we would come here with a good car. We made some progress from the morning and even though we were the quickest in FP1, I still wanted to get more out of the car and the set up in the afternoon. We took another step forward throughout the day, which was good and we now hope there is still more room to improve for tomorrow. I'm after a dominant weekend and so far this has been a good start. It's important that we obviously keep that for tomorrow but I have faith that we can perform on this level all weekend. I know the challenge in Qualifying will be a potentially stronger Ferrari and Mercedes but I'm confident we can stay up there and fight with them at the top."
Max Verstappen - FP1: 1:42.610, P3; FP2: 1:41.408, P2
"Finishing first and second in the last session means it has been a positive Friday. The car in general performed well so we are happy with that side, the balance can always be improved and we are a bit down on top speed but nothing major to work on. After such a good day we have to believe that a very good result in Qualifying is possible, so we will go for it. Compared to our competitors we look very strong, we didn't expect to be this competitive so of course this is very pleasing for us. We still have to be cautious and work on all aspects because we know that in Q3 tomorrow they will have improved and be closer; for now we look in a good position. Qualifying will be tight but I'm confident that our race pace offers us the chance of a good result. We know this should be one of our best tracks so we will do our best to capitalise on that."
Mercedes
Hamilton said he had a strong, positive day with things moving in the right direction, and that nothing was out of reach. Bottas was much less happy with his set-up and struggled, prompting James Allison to say that the whole team needed to raise their game overnight to compete with the Red Bulls in qualifying.
Lewis Hamilton - FP1: 1:42.904, P4; FP2: 1:41.555, P3
"We had a clean day and got through our sessions without problems. It was pretty hot out there, the conditions are pretty awesome to cope with, but the grip on the track is fairly good. We were obviously close with the field today and we have still got some improvements to make with the car. Red Bull seem like they're very strong and they're thereabouts with Ferrari, so we've got some work to do. But nothing is out of reach."
Valtteri Bottas - FP1: 1:43.434, P6; FP2: 1:42.104, P4
"This was a difficult day for us, I think we are missing some pace. We were making big setup changes between the first and the second session, but still didn't quite find the right setting. There is plenty of work to do from what we learned today. I was struggling with the overall grip and the balance of the car. The car felt quite nervous, so it's not so easy to trust the car when you push. That's the main thing we need to work on so that I can build up my level of confidence."
James Allison, technical director
"In terms of the programme, it was a clean and straightforward day, but performance-wise a bit more of a mixed bag. Lewis is showing some encouraging pace on the Soft tyre, but we've got a bit more to do on the Qualifying tyre. Valtteri on the other hand had a tough day and we've got some work to do with him to get him up to Lewis' pace. The whole team needs to raise its game a bit overnight to be able to compete on even terms with the Red Bulls."
Ferrari
Ferrari had a strangely subdued day. Vettel was second fastest in FP1, but compromised himself when he brushed a wall in FP2. That prevented him from doing a meaningful run on the ultrasoft tyre. Raikkonen did so on FP2, without looking threatening. There will surely be a lot more to come tomorrow from the pre-race favourite.
Sebastian Vettel - FP1: 1:42.598, P2; FP2: 1:43.104, P11
"Today was a mixed day and obviously not an ideal one. I lost a little bit of balance and confidence. Today we tried a couple of things and I am not sure they were the right things to do. Now we'll see what we can do for tomorrow. We need to improve, but I think we have enough time to find the solution. Today we were here to practice and, being Friday, everything we did was for free. Clearly, we are not where we want to be so there's still a lot of work ahead of us."
Kimi Raikkonen - FP1: 1:43.734, P7; FP2: 1:42.835, P9
"Overall it was just a difficult day. It was far from ideal and for sure we were expecting an easier start, but it's only Friday and tomorrow is another day. We tried some things and not everything made sense in the end, so now we have a lot of work to do. Here is no different from any other race; it is true that the tires are a key point, but first of all you have to make sure you have everything you want and a good set-up. And I'm sure we can improve for tomorrow."
McLaren
McLaren expected to go well here, and have not been too disappointed thus far. Both drivers acknowledge that the Ferraris were compromised, so aren't getting over-excited, but the fact that each ran troublefree was satisfying and they hope to be able to translate today's performance into Q3 positions tomorrow.
Fernando Alonso - FP1: 1:43.759, P8; FP2: 1:42.788, P7
"Our performance today was good; basically in line with what we were expecting around here. We knew that, at this track, we were going to be more competitive than we were at Spa and Monza.
"We got both cars into the top 10 today, and I hope we can achieve that tomorrow in qualifying and then again in Sunday's race.
"We need those points: we're ninth in the constructors' championship, so every opportunity we get to score points, we need to grab with both hands."
Stoffel Vandoorne - FP1: 1:44.340, P11; FP2: 1:42.501, P6
"For me, it's been a very positive Friday, finishing sixth in FP2 despite having never driven around here before.
"I was discovering this track for the first time during FP1, and I got to grips with it quite quickly today.
"On paper, it looks like it's been a particularly good day, but the two Ferraris didn't appear to have an ideal session and ended FP2 behind us. They probably have something more in hand for tomorrow., but hopefully, we can still translate today's pace into qualifying tomorrow."
Eric Boullier, Racing Director
"Watching Formula 1 cars around the darkened streets of Singapore is always spectacular, and it was especially pleasing to finish this evening's FP2 session with both cars comfortably inside the top 10.
"Both drivers were relatively satisfied with the balance of their cars, and we have a solid basis for making progress overnight ahead of tomorrow's critical qualifying session. A good grid position will be essential ahead of this long and difficult race on Sunday.
"Of particular note is Stoffel's performance: he drove exceptionally well today. He's never driven at this track before, was immediately on the pace, didn't make any mistakes, and ended the day an impressive sixth fastest today. That's extremely impressive."
Yusuke Hasegawa, Honda R&D Co. Ltd Head of F1 Project & Executive Chief Engineer
"The Singapore Grand Prix weekend started under a typical tropical climate. Despite the hot and humid conditions, all the members of the team did a good job, completing the practice programme as scheduled.
"It is still Friday, so I know it is too early to talk about our position. However, we were satisfied with good laps which both of our drivers showed today. We also think we have some more room to improve the set-up of the car for tomorrow's FP3.
"This is a circuit where our car can show its strengths. And also considering we have two talented drivers with us, we are hoping to have a positive result in tomorrow's qualifying."
Force India
Perez said he had probably his best FP1 of the year and was very happy with is car and its new aero kit. Ocon said FP1 was a bit tougher for him, but that he was making progress by FP2. They hope to qualify well, and if so expect to score more strong points.
Sergio Perez - FP1: 1:43.423, P5; FP2: 1:42.826, P8
"I feel very happy with how things have gone today. We had some new parts on the car and everything appears to be working well. It was probably our best Friday of the year in terms of what we learned and the improvement we made with the car. Qualifying is very important here so we need to make the most of tomorrow. There is still room to improve and I think we can be strong in qualifying. I'm enjoying things so far and it's great fun driving these cars around this circuit."
Esteban Ocon - FP1: 1:45.053, P13; FP2: 1:43.054, P10
"It was a busy day on my side of the garage with lots of different parts to test. The first session was not so easy, but we found a good direction in the evening session so I'm feeling positive overall. The car has improved a lot during the day and we have done lots of homework in preparation for tomorrow."
Robert Fernley, Deputy Team Principal
"It was a very hot and humid day, but one in which we managed to achieve all our objectives. We had quite a comprehensive test programme which we split between the two cars. The aim was understanding the new aerodynamic updates and the mechanical test items on the car: from this perspective, both cars ran reliably and we got all the data we needed. Sergio was happy with the car throughout the day, while Esteban was much happier with the changes we made in FP2. There's a lot of track evolution and that is something we will need to keep in mind when looking at the data tonight. There is still a lot of work to do, but we're confident we can find some more performance ahead of qualifying tomorrow."
Renault
Renault had a good day, especially with Hulkenberg saying he was happy with the balance and harmony of his R.S.17 and taking his best FP2 placing of the year. Palmer wasn't unhappy with his car, but said he brushed a wall in FP2 which cost him some speed later on.
Nico Hulkenberg - FP1: 1:44.101, P9; FP2: 1:42.448, P5
"We had a standard yet positive Friday here in Singapore, the performance in FP2 was quite good. I was feeling happy with the car all day and that's what is most important to me right now. I definitely had some good balance and harmony, there is always room for improvement but definitely a good start to the weekend."
Jolyon Palmer - FP1: 1:44.961, P12; FP2: 1:43.795, P14
"Overall it was a good session, I'm quite happy and the car is in a good place. I touched the wall in the evening session so we have a bit of minor fine tuning to do overnight. We are in a good place for tomorrow."
Bob Bell, Chief Technical Officer
"We had a reasonably good day, we were able to go through the programme as planned, particularly the tyre information to prepare our race strategy. Overall a very straightforward Friday and we are confident for tomorrow. After a disappointing weekend in Monza, we are back in a good place and our goal in Singapore is to continue to build on our momentum."
Toro Rosso
Renault-bound Sainz had to give up his car to newboy Sean Gelael for FP1, but got on it in FP2 - although he also twice went off at Turn 18 and said that he was unhappy with the set-up. Kvyat was quick in the morning but said there was still work to be done on the balance. Gelael wasn't particularly quick, but did what was asked for him by being consistent as he and Kvyat worked through a test programme in the first session.
Daniil Kvyat - FP1: 1:44.220, P10; FP2: 1:43.608, P13
"A decent Friday, we did a good job today. Of course, we still have some work to do regarding the car balance and hopefully we will fix this for tomorrow in order to improve our pace a little bit more. A part from that, we can be happy with our start to the weekend, we managed to complete plenty of laps and we now have enough information to make a step forward tomorrow."
Carlos Sainz - FP2: 1:43.236, P12
"After sitting out in this afternoon's FP1, I obviously had to take my time to get used to driving here in FP2 – I had to do some extra laps at the beginning to make sure I recovered the lost time. I think we still haven't recovered it fully but we have until tomorrow before qualifying to be ready and I'm confident we will get there. For the rest, I'm happy with my performance in today's session. We still need to understand a few things we've introduced on the car for this race a bit better because at the moment we're not 100% sure, but we will work hard overnight to solve this. Bring on tomorrow!"
Sean Gelael - FP1: 1:47.570, P18
"What a great experience to drive in an FP1 session and be so close to home! It's an amazing feeling. Singapore is one of the toughest tracks on the calendar and at the start it was still a bit damp as well, so it wasn't the most ideal to my F1 career, but in the end we managed well. I enjoyed it a lot out there and we were able to complete the programme, which is positive. Obviously, I'd like to be closer to Daniil, but that will be more of a target further on in the season. I'm happy with my performance today and I'd like to thank the team and everyone supporting me for this opportunity. I now look forward to my next FP1 outing in Malaysia in two weeks' time!"
Jody Egginton (Head of Vehicle Performance)
"In today's FP1 we had Sean Gelael in the car, together with Daniil. We had some big test items to get through and both drivers completed their programmes. Sean did a really good job, followed a consistent approach to his driving, gave us some good feedback and we managed to get useful data on a couple of test items. With Daniil, we did a bit more set-up work and we ended the session reasonably happy with the baseline set-up on both cars, even though it was clear that we still had some more work to do to make the next step into FP2. For the evening session we had Carlos back in the car, so he was playing catch-up. He conducted some longer runs just to get familiar with the car and the circuit again, which he completed without any fuss. Daniil was focusing on some of the changes we'd made over the break and I think it's fair to say that with both drivers we didn't really get the best out of the car and the set-up wasn't quite right for the short run. We then moved to the long runs and again we're not entirely happy with where we are today but we've got a good idea of what we're going to do tonight. We're confident we'll make a step forward tomorrow and try and get the car a bit more solidly into the top ten, which we believe it has the potential to do here."
Williams
Williams had a tough day. Massa said that it was very hard to find a competitive lap time in the car, while Stroll lost valuable circuit-learning time when a development part in his gearbox broke halfway through FP1, then had a virtual safety car during his best run in FP2.
Felipe Massa - FP1: 1:45.084, P14; FP2: 1:43.836, P15
"Today was very difficult. We know that this isn't really the best track for our car, so it was a very difficult Friday. Balance is not a big problem, the problem is just laptime. We're a little bit too slow compared to the others. For sure, this is a problem I expected. To be honest, I'm sure qualifying is the main issue because we don't have the right laptime to fight, but I hope that maybe in the race many things can happen to help us here, so we will try everything we can. If we can get points on Sunday, it will be a very good job."
Lance Stroll - FP1: 1:47.190, P17; FP2: 1:44.301, P16
"It wasn't the best day for the team. It was a tough Friday, especially for me with the gearbox problem in FP1 at a track I have never been to before, so that was not ideal. Then, in FP2 I had a virtual safety car on my best run, so that didn't help either. Not the luckiest day and for sure we need to improve the car and try to make it better for tomorrow. However, I really enjoyed the track here. It is a lot of fun to drive, a bit bumpy but also very challenging. I knew the track was going to be tight and twisty so I was prepared for that, but it is one of the toughest tracks mentally and physically, and also because of the heat."
Paddy Lowe, Chief Technical Officer
"Generally, we had a good day. We did most of the running we wanted to do apart from that Lance had a gearbox failure in FP1 which meant he only got running in the first forty minutes. It was a failure of a development part so no effect for the race, but unfortunately it lost him the track time which was a double blow because the focus for him today was to learn the circuit. It's a track he's not raced at and one that takes a lot of experience to understand how to optimise, simply from a driving point-of-view. On both sides of the garage we conducted some aerodynamic and systems tests, as well as our basic homework on tyres and different fuel levels. Our pace still needs some work, but we will do a lot of analysis overnight. I think we can extract more from the car. It's going to be very tight in the midfield as usual, but I think if we can find two or three tenths, we can make a big difference."
Haas
Grosjean had a troubled day, with offs and a spin in both sessions. He was unhappy with the front tyre performance and also said he had some problems with the gearbox in FP2. Giovinazzi did a decent job in FP1 by keeping out of trouble, while Magnussen quickly got into the swing in FP2, though he brushed a wall towards the end.
Romain Grosjean - FP1: 1:46.456, P15; FP2: 1:44.928, P18
"It was a tough day. Singapore is a challenge on its own – for the mechanics, the drivers and the cars – with all the heat and humidity. We've been struggling all day to get the best out of it. I think we've made some progress on the rear end of the car, but we still need to get the front end to work. That's something we've been struggling with at street circuits like Monaco, but we eventually found it in qualifying there. Not much feeling with the front end – I'm struggling to get the best out of it. I think tonight we're going to try a few things for tomorrow and hopefully get the right answer."
Kevin Magnussen - FP2: 1:44.417, P17
"Obviously, the pace wasn't great. We need to work on that and see if we can find some more pace. Otherwise, it's going to be difficult for us this weekend. I think we have some stuff to work with, it's just whether it will be enough, but we'll see. It was good fun to drive here, but our main priority is to be competitive."
Antonio Giovinazzi - FP1: 1:46.782, P16
"First of all, thanks to Haas and Ferrari for this opportunity. It was an important session for me. The last time I drove the car was the beginning of August, so to come back in the car and at a difficult track like Singapore – it was a difficult experience but I really enjoyed the track. It was amazing. I'm really happy. I did the best job for the team. We did all the laps we could do, so I'm really happy with the session. Of course, missing Monza was disappointing because it was in front of my fans, but in the end, I'm really happy to swap Monza with this track as I got to learn a new track and gain a new experience."
Guenther Steiner, Team Principal
"Not an easy day today. We're still trying to find a setup that the drivers like while getting the tyres into the window where they work here. We'll keep on working at that and try to find something for tomorrow. Other than a bit of damage where Kevin hit a wheel in FP2, we got through the sessions with both cars intact. Antonio did a good job this morning. I think we've got enough data to look at. Hopefully, we can find something for tomorrow."
Sauber
Sauber had a troublefree day as Ericsson focused on mechanical work and Wehrlein looked after the aero data gathering.
Marcus Ericsson - FP1: 1:47.699, P19; FP2: 1:45.721, P20
"It was a trouble-free day for us today. We were able to go through our planned programme, and run a good amount of laps. However, there is a clear gap to our direct competition, and we have to keep doing our best to maximize the performance of the car. In terms of the atmosphere around the track here in Singapore, it is as great as always, and I am really enjoying driving here under the flood lights."
Pascal Wehrlein - FP1: 1:47.886, P20; FP2: 1:45.673, P19
"The weekend has been quite alright so far. The car felt better in the second free practice session than it did in the first. We were also able to run through the planned programme swiftly, which is positive. I tested all three tyre compounds, which was a good comparison. The data that was collected today will help us prepare for tomorrow's qualifying session and the race on Sunday."
Pirelli
Mario Isola, Head of Car Racing
"We've seen a very big increase in speed compared to last year, with the lap record already broken in FP1 and the fastest FP2 time more than three seconds quicker than last year's equivalent. In many ways, this isn't much of a surprise as the 2017 tyres and regulations enhance cornering speeds specifically, and at 23 corners Marina Bay has more corners than any other track. There's a gap of around a second between the supersoft and ultrasoft so far; it's a bit harder to assess the soft as there was less running on it today. However, if its pace is close enough to the supersoft, it could certainly come into play as a potential race tyre on Sunday."