Feature
What the teams said – Qualifying in Austria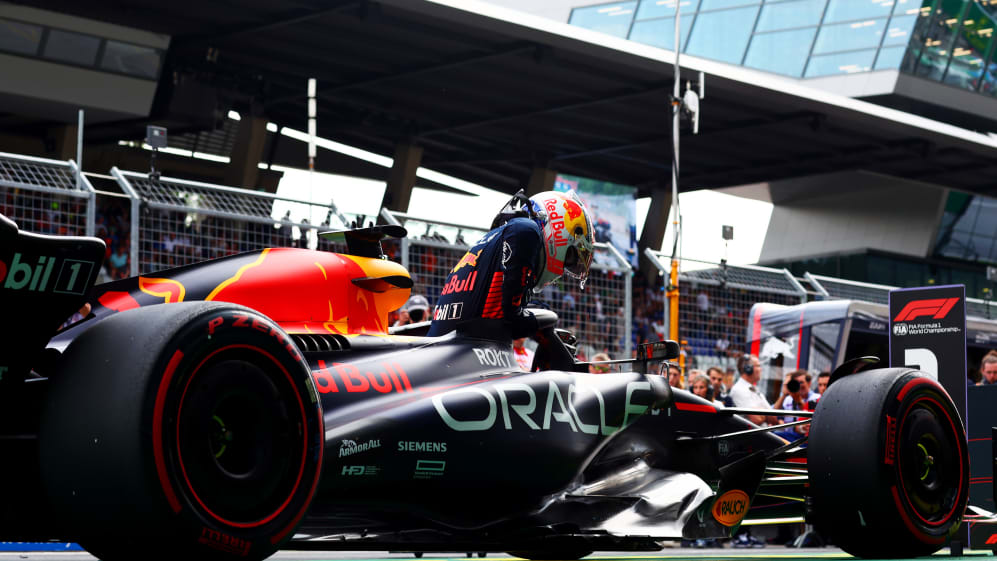 Red Bull
Max Verstappen took his fourth pole position of the season, after also leading the way in FP1. However, it was not good news for Sergio Perez, who again failed to make it into Q3, after having his lap time deleted three times for exceeding track limits in Q2.
Max Verstappen, 1st, 1:04.391
"It's great to be on pole here at the Red Bull Ring, it feels good. It wasn't a straightforward qualifying because of all the track limits. It's very hard to judge the white line here, a lot of us got caught out so at least it wasn't just us. Today was all about surviving, we just needed to bank the laps as we weren't able to push hard. It's such a short lap here so we are all pretty close together. We've got a long weekend ahead so a lot can happen, tomorrow will be a completely different story. Today, the car was quick and we were ahead, that's the most important thing."
Sergio Perez, 15th, 2:06.668
"I think we most definitely had the pace today and you could see that as qualifying progressed. I'm disappointed, especially with my final lap. It is always fine margins at this circuit and the first two laps that I had deleted for track limits the rules were clear and I accept those decisions from the stewards. On my final run in Q2 I tried to push as best as I could within those limits and was on a good lap but was in traffic and that was trickier to keep clean. It is what it is, we look forward to tomorrow, it is a new opportunity. The most positive thing is that we have the pace and then we will try and recover on Sunday afternoon for the race. I am feeling a little better but still not one hundred percent, my whole focus is on being prepared for tomorrow's Sprint and then racing well on Sunday."
Christian Horner, Team Principal
"It was a difficult session today, it's very hard to see the white lines as we can see from the number of infringements, but a superb job from Max to get that pole despite needing to be a little more conservative due to track limits. For Checo it was more frustrating, he had the pace and was putting in similar lap times to Max but unfortunately he had three deleted lap times. He'll be incredibly frustrated, but he's got the full support of the Team and we all know what he's capable of, he'll turn the page and race hard for the rest of the weekend. This track is one you can overtake on, you can see the Ferraris had great pace and Charles was just half a tenth off at the end, so the weekend offers some tough but exciting racing."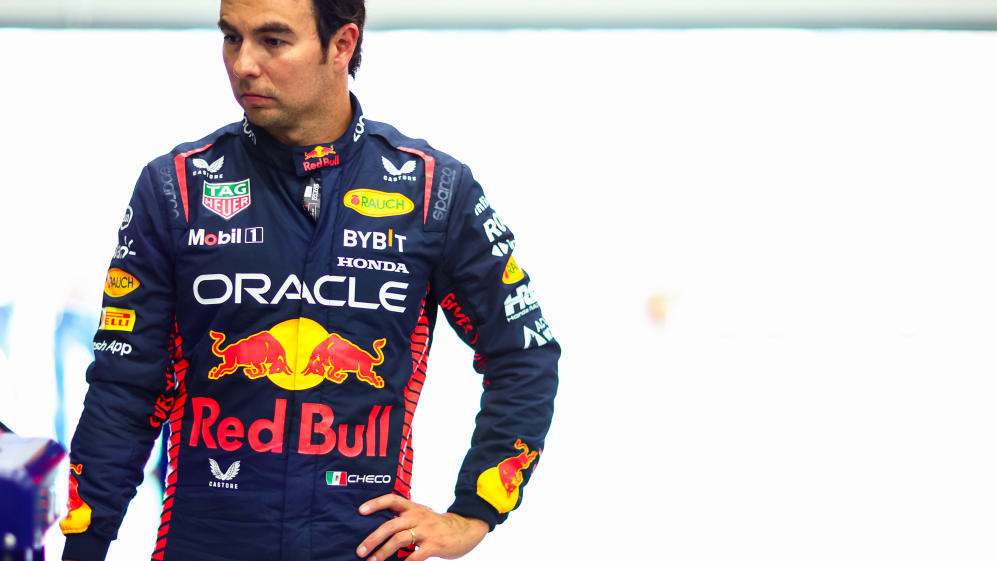 Mercedes
It was contrasting fortunes down at Mercedes as, while Lewis Hamilton looked quite comfortable all day and qualified fifth, his team mate George Russell did not look as confident behind the wheel of the W14. The Briton was knocked out in Q2 and will start Sunday's race from 11th on the grid.
Lewis Hamilton, 5th, 1:04.819
"It was a tough session today, but thankfully we got through it. This track has always been a challenge for our car in the past and it showed again today, so I'll take P5. It's a good, strong position to start the race from on Sunday. I'm not quite sure yet, where exactly we stand with our race pace, possibly we're third or fourth quickest. We're trying to focus on us and to get around as quick as we can, so we will work hard overnight and try to do better in sprint qualifying tomorrow, depending on weather conditions and temperatures."
George Russell, 11th, 1:05.428
"We weren't quick enough today and from the first laps in the practice session I didn't have the best feel of the car. Obviously, it's challenging going into a sprint race weekend like this, as you just don't have the time to make necessary changes. We'll see what we can do overnight going into tomorrow and how we can improve ahead of the sprint qualifying. P11 is clearly not the best starting position for Sunday, but we've had some good results starting from further down the field this year so I'm hopeful we can fight our way back during the race."
Andrew Shovlin, Trackside Engineering Director
"We've struggled for high speed grip today and ultimately that's where we were losing out in qualifying. George had a tough session; he's lacked the confidence in the rear to really push and ultimately if we can't give him that in qualifying he'll be on the back foot from the start. Lewis had a better session, but the car isn't fast enough and P5 for him is all we could expect. We're hoping the long run will be better than the single lap but we've got tomorrow morning's qualifying to get through first and there's a decent chance that it will be a wet session. We've got tonight to have a look into the single lap performance and hopefully we can find a bit more, although we're limited in what we can tune as we are now in parc fermé."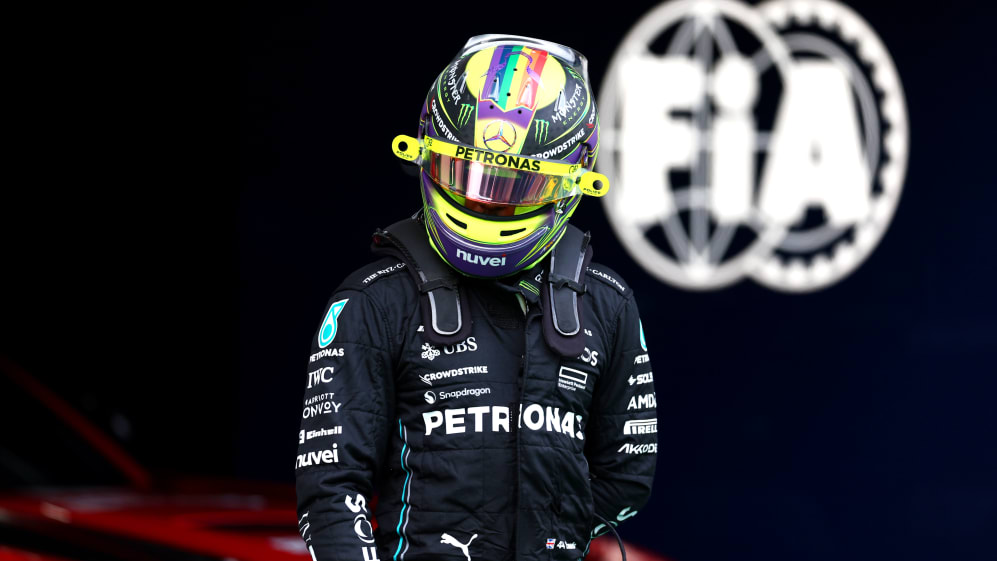 Aston Martin
Lance Stroll out-qualified Fernando Alonso for just the second time this season, with the Canadian claiming sixth for Aston Martin. Alonso had a quiet opening day at the Red Bull Ring qualifying down in seventh, leaving him with plenty of work to do in Sunday's race.
Fernando Alonso, 7th, 1:04.911
"I feel good after that qualifying session. It's always intense qualifying here where the lap times are so close. If you look at the timing board throughout the three sessions, there are two or three tenths between a number of cars. Track limits were tight, and I had a couple of laps deleted as I was trying to really commit to those fast corners, but it was the same for everyone and something we're used to around this circuit. We had one lap time deleted in Q2, which forced us to put an extra set of tyres on the car to progress. It then meant we only had one chance on new tyres in Q3, which wasn't ideal. Sixth and seventh are strong starting positions for us. I think it'll be interesting and exciting with the weather as there is a chance of rain tomorrow and maybe dry conditions on Sunday. The car feels good, so I'm optimistic heading into the rest of the weekend."
Lance Stroll, 6th, 1:04.893
"I was happy with how the AMR23 was feeling today and pleased with my final lap; I think we got everything we could have out of that qualifying session. Track limits were tight, and I had a couple of laps deleted as I was trying to really commit to those fast corners, but it was the same for everyone and something we're used to around this circuit. It looks like we could be in for some slightly challenging weather conditions for the Sprint events tomorrow, so it's good to have a solid starting position on the board as we look ahead to Sunday's race."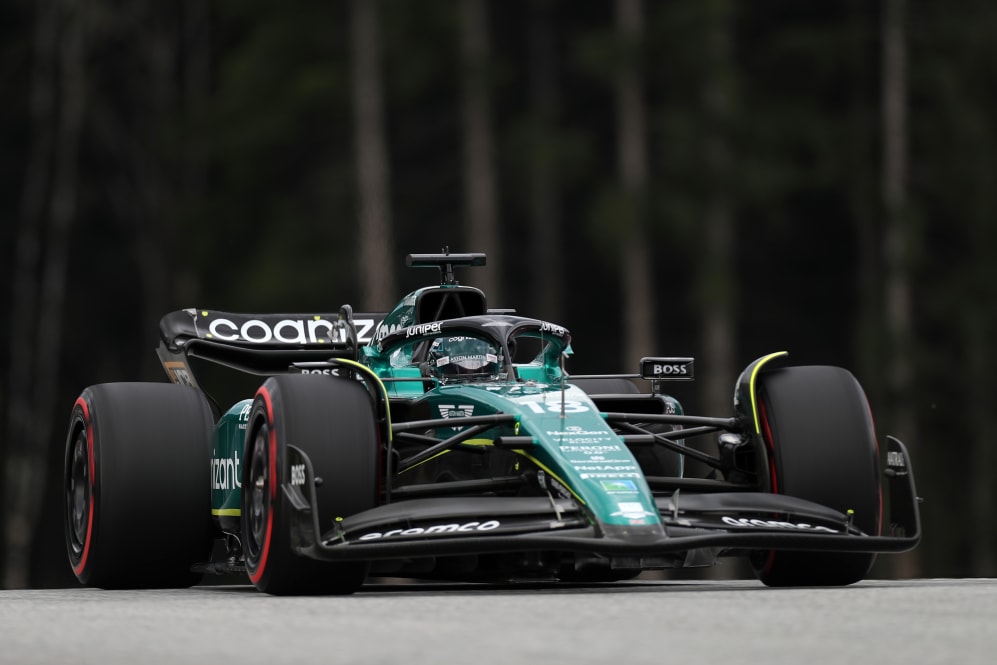 Ferrari
It was a strong day for Ferrari at the Red Bull Ring, one that saw them narrowly miss out on pole position. Charles Leclerc would have had his eyes set on a P1 start when he went fastest in the middle sector, but he will line up second, alongside Verstappen on the front row. Carlos Sainz, was a little further back of his team mate, but qualified third. With one Red Bull against Ferrari, they will hope to put Verstappen under pressure on Sunday.
Charles Leclerc, 2nd, 1:04.439
"It feels good to finally have a clean qualifying again and to be back on the front row. The feeling from the car has been a bit better in the last three races and then in Q1 and Q2, it was all about building up to that lap in Q3 and I managed to put everything into that last lap and got very close to Max. We hadn't expected to be that close to the Red Bull so it's a good step forward and I would like to thank everyone back at the factory for all the work they have done in the last few weeks in order to bring an update package at Spielberg, earlier than planned. It's really impressive and helped us to perform well today. Now we need to confirm that in the races, tomorrow and Sunday. Starting from the Sprint we need to focus on consistency and we will see on Sunday if we have the same race pace as in Montreal."
Carlos Sainz, 3rd, 1:04.581
"Overall it was a positive day for me and the team as we will start second and third for the GP on Sunday. The car was good all day and I was fast from the start, which is always a good sign. We don't have many indications on our race pace compared to our rivals but we look forward to tomorrow's and Saturday's races with confidence."
Frédéric Vasseur, Team Principal
"As we expected, we had a hectic qualifying here in Austria. I have to congratulate both Charles and Carlos because they didn't make any mistakes, always staying within the limits of the track and were competitive from start to finish. Of course, the 48 thousandths of a second off pole burn a bit, but we have to look at the positives, and there are quite a few.
"In Montreal in the race we made a good step forward and here we want to confirm it. Of course, the Sprint weekend is much tighter since there is only one free practice session and we also had some updates to check on track: both Charles and Carlos benefited from it and for this I want to thank everyone who worked day and night in Maranello to allow us to assemble the new components already starting this weekend.
"Tomorrow we have a special day ahead of us, with qualifying and a Sprint race that will allow us to work also in function of Sunday's Grand Prix. We have to stay focused, the weekend is still long but we started it in the right way."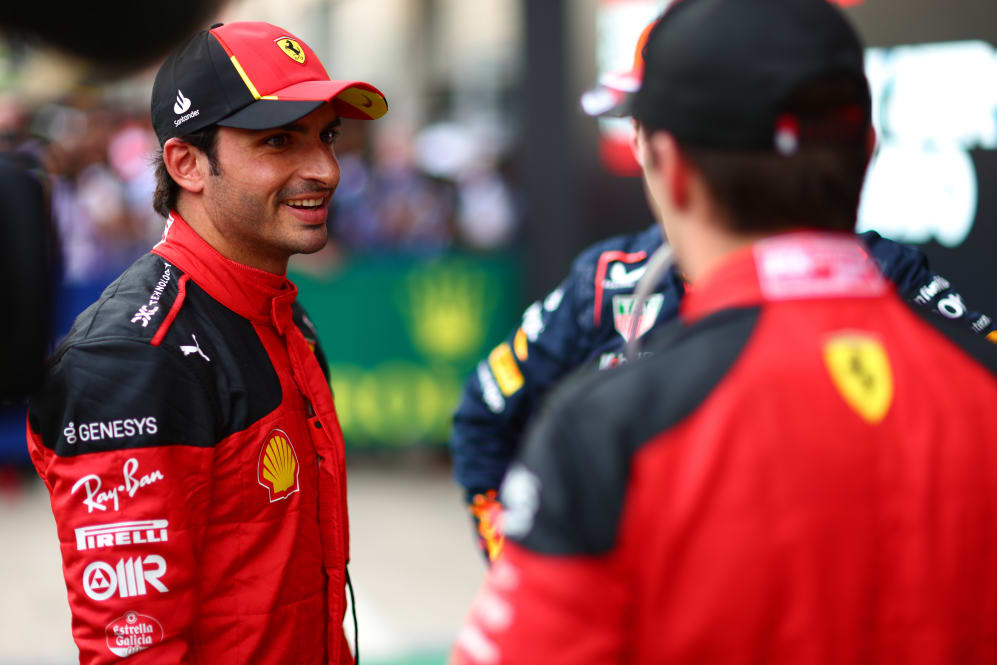 Alpine
Pierre Gasly showed a good turn of pace all day and qualified in eighth for Alpine, but it was frustration on the other side of the Alpine garage. Esteban Ocon narrowly missed out on a place in Q3 and will have to settle for starting Sunday's race from 12th on the grid.
Esteban Ocon, 12th, 1:05.438
"It's not been an easy day for us as we didn't reach Q3, which is the minimum aim for each qualifying session. We were in the top ten in Q2, but our lap was deleted for track limits, which we saw many times this afternoon up and down the grid. The margins are very small here, and we really have to push the limits especially at the final two corners as that's where time is to gain. It is disappointing, but I am confident we can recover some places in Sunday's race from twelfth on the grid. We will review today but now our focus turns to the Sprint Day tomorrow with another Qualifying session before the Sprint Race. There is an opportunity to score points tomorrow and that is our target."
Pierre Gasly, 9th, 1:05.170
"It was a tricky session for everyone with all the track limits incidents, so it was all about pushing everything to the maximum, trying to extract as much lap time as possible but also staying within the limits, especially at the final two corners. I targeted having a trouble-free session, especially after the last two races, so I'm pleased that was the case today. We definitely have a car capable of being in the top ten and there's another good opportunity tomorrow in the Sprint. It might rain and I'm confident we can score points from the two remaining days in Austria."
Otmar Szafnauer, Team Principal
"It's always a little disappointing not to have both cars in Q3 in Qualifying but today was largely defined by extremely fine margins for all teams and drivers. Esteban was very close to being in Q3 but for his lap being deleted for track limits; something we saw for most drivers today. As a team, we certainly had the speed to have both cars inside the top ten, so that must be the target for tomorrow where we have the Sprint Shootout to define the grid for the afternoon's Sprint Race.
"Pierre did a good job today to get into Q3. It was important for his side of the garage to have a smooth afternoon without any issues or incidents, especially after what happened in Spain and Canada, and he's put himself in a decent position on the grid for Sunday's race. There is a long way to go this weekend, where will continue to give maximum effort, and I'm confident scoring strong points with both cars across these next two days is achievable."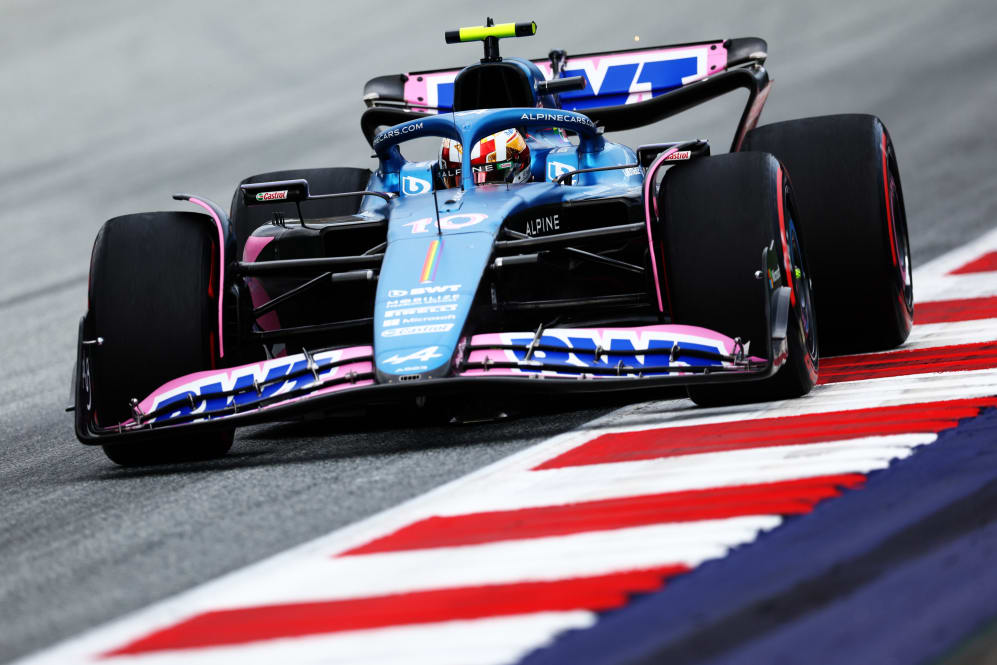 McLaren
It was a strong day for McLaren, as Lando Norris put the new upgrades to use by qualifying in fourth place. However, Oscar Piastri was knocked out in Q2, after having his time deleted for exceeding track limits, and he will start from 13th on the grid.
Lando Norris, 4th, 1:04.658
"I'm super happy with P4. It was one of the best qualifying sessions of the season. The car was feeling good today, I had a lot of confidence and was chipping away through qualifying so I'm happy. The team did an awesome job on getting the upgrades ready for this race and they did a great job today to get us there. I think I could've had a little bit more as I made a small mistake in the last corner, which likely cost me P3, so I am a little bit frustrated, but at the same time, I'm taking a P4 every day. So, I'm happy, we're in a good position for Sunday and we'll try to do the same again tomorrow."
Oscar Piastri, 13th, 1:05.605
"So, P13 in qualifying. It's a bit of a shame as I would have been in Q3 without the lap deletion. The pace was very encouraging for both myself and Lando. The new upgrade is looking good, so a huge thank you to the team for all of their work. We'll try again tomorrow to get into the top 10 and then, of course, for Sunday, we'll try to make our way into the points if we can."
Andrea Stella, Team Principal
"Today feels a little bittersweet. From a car performance point of view, we should have had two cars in Q3 but unfortunately, Oscar had a lap-time deleted. This was a situation that many endured today, and we know it is a factor in Austria. On the other side of the garage, Lando's performance with the upgraded car was encouraging, as he was consistently near the top of each session, but we will learn more over the weekend, especially in terms of race pace. I would like to thank the team at the factory and trackside for the efforts that led to delivering the upgrades and for the hard work ongoing at McLaren, as we attempt to gain competitiveness."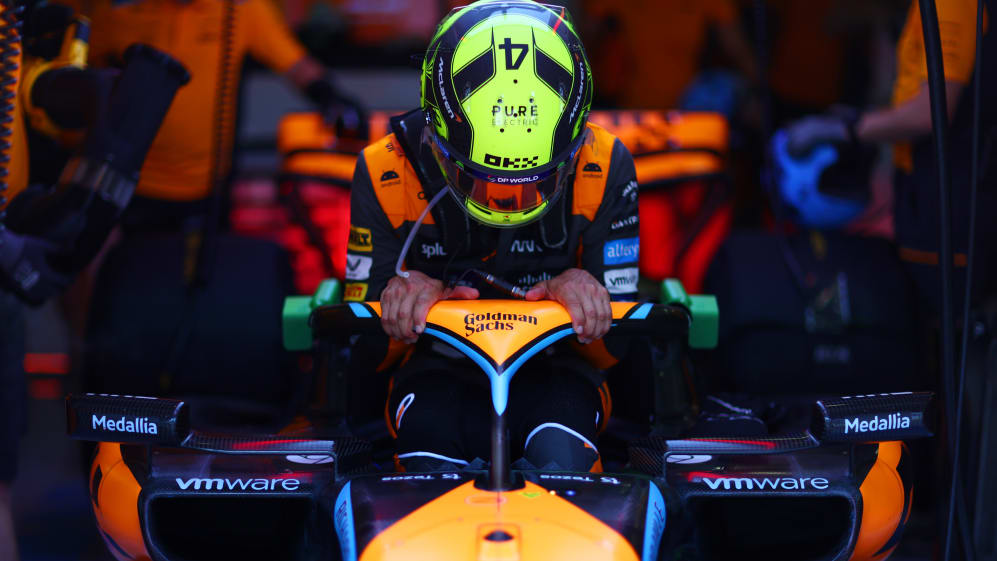 Alfa Romeo
Valtteri Bottas endured a turbulent afternoon that started with him bringing out the red flags in the early stages of Q1. He managed to recover and made it into Q2, but also had his fastest time deleted for exceeding track limits and will start 14th. Zhou Guanyu is slightly further behind after being knocked out in Q1, meaning he will start the race from 17th.
Valtteri Bottas, 14th, 1:05.680
"Of course, we were targeting something more than Q2, but on the positive, we have seen how margins are very small once again. Overall, it's been a relatively normal qualifying session, although I spun at the start of Q1: I got too close to a Red Bull who didn't see me, and I lost the back end. It wasn't ideal, but I thankfully managed to get back underway with the session. We are still lacking a bit of performance on the single lap, and this is what we'll be putting our focus on overnight. Tomorrow is a new day, and Sunday as well: there are still lots of opportunities for us to improve. Our target, as always, is to get into the points, and that's what we'll be working towards."
Zhou Guanyu, Xth, 1:05.818
"I feel like where we are today doesn't really reflect our performances: I reckon we had the pace for more. Towards the end of Q1, I found myself at the back of the pack and stood still for over 10 seconds, losing a lot in sector one due to the tyres not being warm enough. I still managed to slightly recover in sector three, but that didn't end up making enough of a difference. Nevertheless, I feel like the potential was definitely there today, so I cannot say I am completely satisfied with this session. Now, our focus will be on tomorrow, especially on the Shootout: hopefully, we'll be in the fight for some points. As for the the car, we have been able to find a reasonably decent balance, it overall felt okay. I still think we have the potential to be moving forward tomorrow, and on Sunday as well: I am confident we have a chance to climb up the field, and get into the points."
Alessandro Alunni Bravi, Team Representative
"I think we extracted the maximum we could get from our package today, even though I reckon Zhou had the potential to get into Q2 as well – unfortunately, traffic didn't help him. Today, we once again got confirmation that we need to work to further improve our qualifying pace, as well as getting the most out of soft tyres; our places on Sunday's starting grid are not ideal, but we have shown in previous races how we are able to recover positions throughout the race thanks to our long run pace, the work done on the pitwall, and the effort put in by our drivers. Our work will go on analysing this session, as there is always something to be learned. Tomorrow is a new day, and it will be somewhat of a standalone day: still, we'll need to execute a perfect Saturday, and place ourselves in the hunt for points."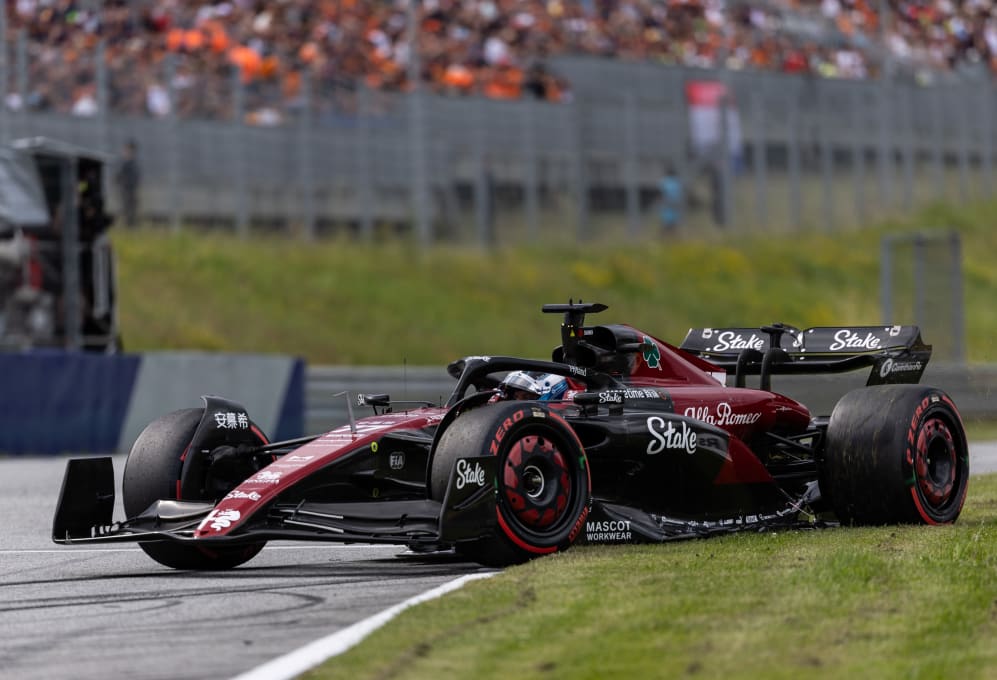 Haas
A day of contrasting fortunes at Haas as, while Nico Hulkenberg made it into the top-10 once again to qualify in eighth, it was not great reading for his team mate. Kevin Magnussen was knocked out in Q1 and will start Sunday's Grand Prix from 19th on the grid.
Nico Hulkenberg, 8th, 1:05.090
"Q3 is always good news. We know though the difficulty is in the race for us, but I'm happy to have another smooth qualifying. I extracted everything from the car, and it was a clean execution from myself and the team, which is a positive, and very good for today. One session of one hour is very little time to do things and you also have to prepare a little bit for qualifying. Tomorrow we'll get a first read and a first answer on how it's going to go."
Kevin Magnussen, 19th, 1:05.971
"It's all so tight at the moment. I had traffic with Verstappen at Turn 1 on the first lap of my final run, but that lap was deleted for track limits, it wouldn't have counted anyway. Then on my second attempt I had a downshift fault, it wouldn't downshift, so it cost me a little bit of time at Turn 3 as I was in the wrong gear. When it's this tight, in fact it's unbelievably tight – a little issue like that is very costly. Normally you can get away with something like this, but we were just on the wrong end of it today."
Guenther Steiner, Team Principal
"Let's start with the good news, Nico made it into Q3 and ended up P8, which is a good result for us to be in the top 10 again. Obviously, Kevin's lap didn't go so well on his second run. His first run was very good on his first set of tires and he had a solid time and had no risk at all. On the second run on the first lap, after Turn 1 he found Verstappen parked on the outside and obviously lost some time and concentration and he couldn't better his second fast lap, and that was it for him. One is good and one is not so good. It's a busy day tomorrow with Sprint qualifying and the Sprint so we'll just try to get them into the top 10 again."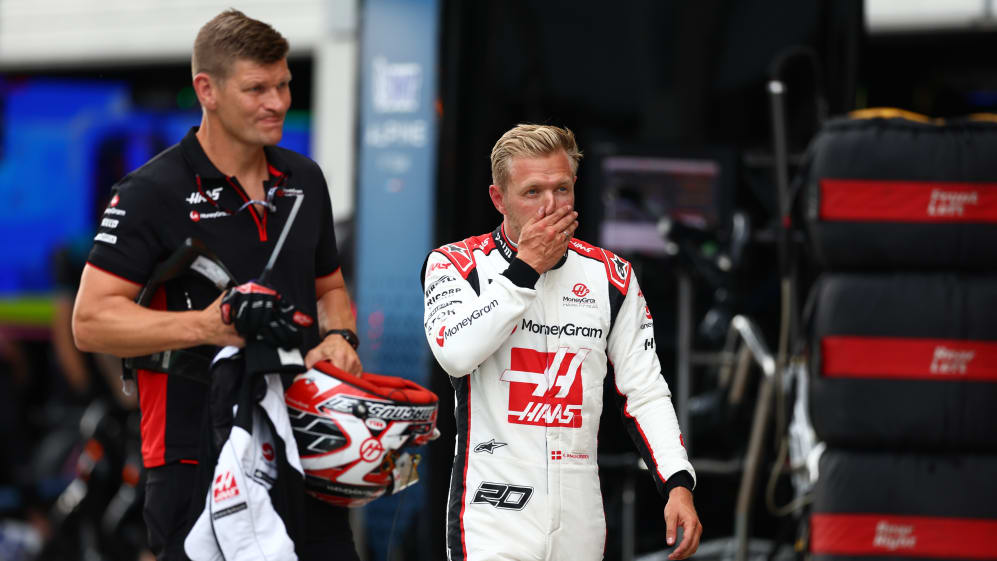 Williams
Alex Albon made it into Q3 yet again, but had his fastest time deleted in the session. However, he still qualifies 10th, while Logan Sargeant will start from 18th on the grid after the American made a costly mistake in the last sector of his final lap in Q1.
Logan Sargeant, Xth, 1:05.948
"I've got mixed feelings after that session. I'm genuinely pretty happy with my lap. I was missing a bit this morning in Free Practice and knew I had a good bit to find but I felt like it was coming. I found most of it through Sectors 1 and 2. I struggled a little bit to judge the last two corners with track limits. Obviously not wanting to lose my lap, I maybe left a little bit too much on the table. Tomorrow is another good day to keep learning. It looks wet so some more time in those conditions would be good for me and a nice change. The grid is brutally close, and I just need to be that bit better."
Alex Albon, Xth, 1:05.823
"I'm feeling comfortable about the result we delivered today in qualifying, as despite the track limits, we would've finished P10 regardless. We got through to Q3 because of a few other drivers suffering from track limits, so P10 was definitely the best we could do. The upgrades are working but I think we had a bit more raw pace in Canada than we do here. We have some quick cars in front and behind us on Sunday, so let's see how we go."
Dave Robson, Head of Vehicle Performance
"Qualifying at the Red Bull Ring is always tricky due to the track being short and fast and the drivers pushing the track limits very hard. We weren't perfect but when it counted, we did a good job, kept the laps clean, and got a decent grid position as a result. Logan was unfortunate that he couldn't quite find the time he needed to escape a very tight Q1 session. His improvement over FP1 was extremely good and it would've been good for him to have another couple of goes in Q2.
"Alex was very good today, kept it clean when he needed to and then pushed things to the limit in Q3 when he had little to lose. It's a shame he got his final lap time deleted, but it was only good enough for P10 today anyway. Nonetheless, he has put himself in a good position for the Grand Prix on Sunday.
"The midfield is incredibly tight with multiple drivers capable of setting the same lap time. We will repeat the qualifying again tomorrow, albeit in a slightly different format. Like the other teams, we will be looking to see how we can do things better despite the cars being in Parc Ferme. Additionally, the weather may play a part tomorrow, which might be the opportunity we need to have a good result in a Saturday Sprint."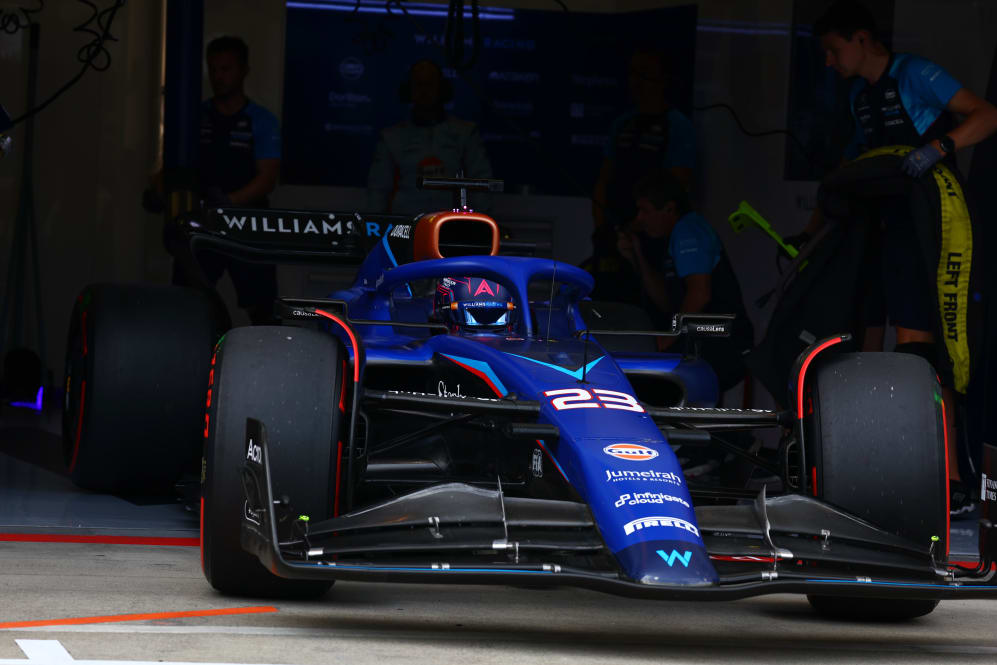 AlphaTauri
Both AlphaTauri drivers failed to make it out of Q1, with Yuki Tsunoda narrowly missing out on Q2, as he qualified down in 16th. Nyck de Vries will start from the back of the grid, after his final lap left him down in 20th.
Nyck de Vries, 20th, 1:05.974
"I think we weren't quite strong enough today. Especially as the session evolved, I felt as if we were losing performance. In my last run, I made a mistake in Turn 1 and lost two tenths, which would've put us slightly more in the mix. Nevertheless, I don't think we were strong enough to proceed to Q2. Tomorrow is another day with new opportunities and different weather conditions, so we'll get another shot at maximising our performance."
Yuki Tsunoda, 16th, 1:05.784
"I'm very frustrated because I couldn't maximise our performance today due to traffic. The second push was really good, Q2 was possible today, and obviously, the pack is still tight, so it's a shame, but it is what it is. Tomorrow seems different compared to today, with potential rain forecasted, so we have to be prepared, and I will put my full effort into Sprint qualifying."
Jonathan Eddolls, Chief Race Engineer
"As is typical with this year's Sprint format, it's been a busy day on track and made to feel more intense with the short lap here. Both drivers ran a Medium and a Soft compound tyre in FP1, completing many laps with little breathing space between each, with the focus on quali preparation over short runs, followed by some sustainable running in preparation for the race.
"The hot track in FP1 gave the tyres a hard time so we were suffering from general overheating, which affected the balance. Apart from that, there were no massive limitations to work on. With the short lap, the gaps between drivers are typically small, so we thought we would have a fighting chance to make it into Q2 by running three tyre sets in Q1.
"We ran the three new soft tyres with both drivers in Q1 and made progress on each, but we didn't have quite enough pace to make it through to Q2. This wasn't helped by the usual challenge of traffic at the end of the out lap, so the tyres were not ideal to start the flying lap. Yuki missed out on a spot in Q2 by two thousandths of a second, so it was super close.
"Clearly, the starting positions will make Sunday more of a challenge, but it's a long race here. It's hard on the car, so we will do all we can with strategy to progress further up the grid. The focus and preparations now turn to tomorrow's Sprint Shootout and Race, particularly because of any impact the weather might have, due to the high chance of rain."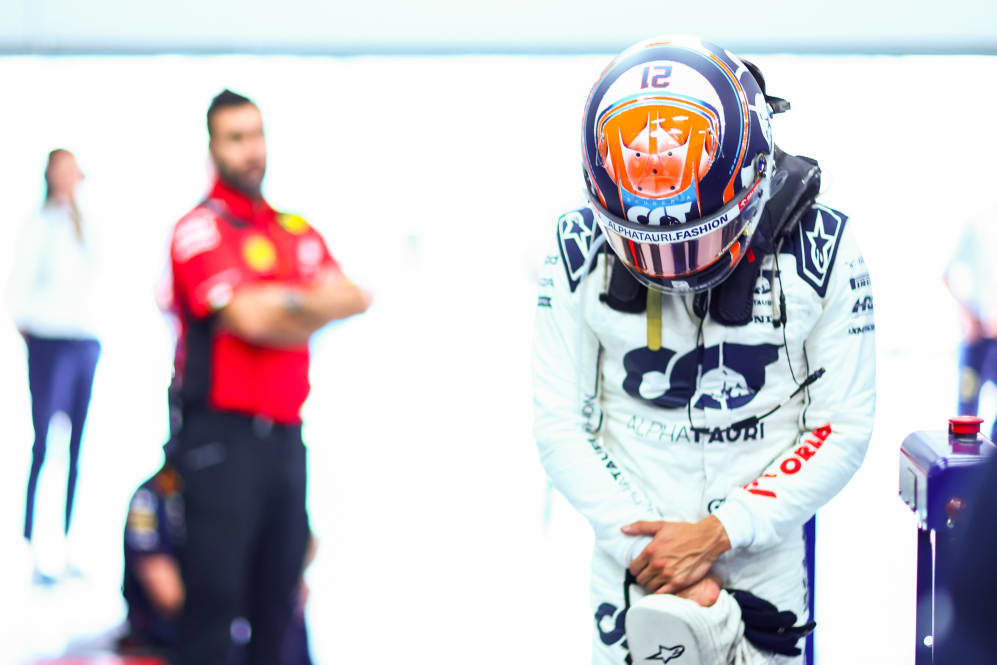 Pirelli
Mario Isola, Motorsport Director
"The second Sprint Race weekend of the season got underway with a very busy day and all the drivers very evenly matched, if you consider that in Q1, the times of all 20 drivers were covered by less than nine tenths of a second. As far as the behaviour of the tyres is concerned, there were no particular surprises, with the pole time pretty close to what was predicted, while the gaps between the compounds matched our simulations: half a second between Hard and Medium, four tenths between Medium and Soft.
"The track turned out to be pretty well rubbered-in already thanks to the F2 and F3 series running on track prior to the only F1 free practice session, run in quite high temperatures. The 60 minutes saw a lot of action on track, with several interesting long runs on the Hard, a compound that performed well. Temperatures were very different in qualifying, significantly cooler, with the track going from 52 to 38 °C, so that track evolution was not linear. As for the weather, we have to take into consideration that there's a good chance of rain, especially during the Sprint Shootout, although maybe not as significantly as had been previously expected."