Feature
What the teams said – Qualifying in France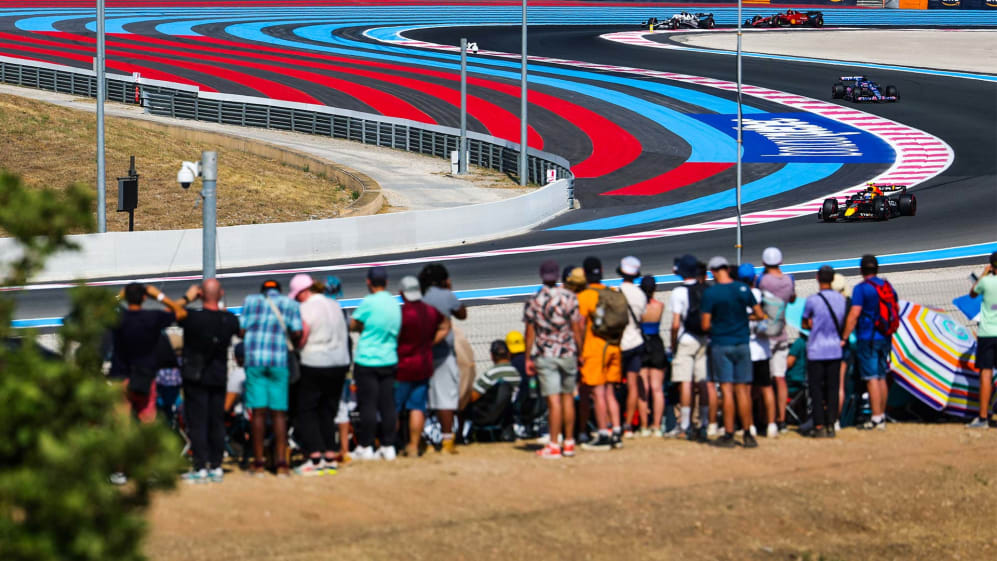 Ferrari
Leclerc had a big spin in final practice but he didn't let that knock his confidence. His team mate gave him a tow on his final two flying laps in Q3 and it made a big difference as he sealed pole by a whopping three tenths of a second. The only shame was not seeing what Sainz was capable of today, the Spaniard having arguably been the quicker of the two drivers here. Thanks to grid penalties, he'll start tomorrow from the back of the field.
READ MORE: Pole-sitter Leclerc hails 'amazing' Ferrari teamwork as fired-up Sainz eyes recovery from the back in France
Charles Leclerc, 1st, 1:30.872
"Leading up to this afternoon, it had been quite a difficult weekend for me. I struggled with the balance and knew that in this kind of heat, you pay the price for the smallest mistake because your tyres overheat. Today, I felt good building up to that last lap in Q3. Carlos gave me a nice tow, which helped me to have a bigger margin and seal pole position. It was a good qualifying with great teamwork behind it. Our competitors are extremely strong here. It seems that they have an advantage in terms of race pace, but I'm confident we can turn it around and hopefully we will keep that first place tomorrow."
Carlos Sainz, 9th, No time set in Q3
"Given I'll serve the penalty tomorrow, today was all about helping the team maximise the result and we executed a strong Qualifying. The plan was to go through Q1 and Q2 with only one attempt and then use Q3 to give a tow to Charles, which we did perfectly as a team. I'm happy because of that and because I've been fast and comfortable on track the entire weekend. In Q2 I pushed a bit more to test the limits and the time was very competitive. I would have obviously liked to do a normal session, but I prefer to take the positives as we keep taking steps in the right direction. We know that tomorrow won't be an easy race but I'm looking forward to it. We will have to manage the tyres carefully while trying to move up the order, but I'm ready for it!"
Laurent Mekies, Racing Director
"This pole feels special, because it's the result of a perfectly executed piece of teamwork. Congratulations to Charles who made a lot of progress over the course of the weekend, confirming once again how fantastic he is on a flying lap. And really well done to Carlos who has consistently had a great pace. With a penalty for the power unit change, he then put himself at the service of the team, towing Charles on both his Q3 runs, thus contributing to the final result. Now comes the hardest test, the Grand Prix itself on a track that, in the past, has proved to be particularly complicated for us. After last season's race here, we have worked on track and in Maranello to find a solution to the limitations we experienced on these types of circuit. So now we are keen to see how much progress we have made and how much more we still need to do in order to improve. We will now analyse all the data to prepare for the 53 lap race, down to the smallest detail, in order to convert today's result with Charles, even though our rivals have demonstrated excellent pace. It will be a case of two against one, which means it will be even more important to do everything to the best of our ability. Of course, we are also expecting to see Carlos work his way through the field and help us bring home a lot of points for both championships."
Red Bull
Verstappen finished comfortably ahead of the field in final practice and looked the favourite for pole. But Ferrari were able to step things up in qualifying and the Dutchman just couldn't respond. On yesterday's simulations though, the Bulls look the quicker of the two on race pace so all is not yet lost. Add in Perez's form, with the Mexican sealing third on the grid out of seemingly nowhere, having been well off the pace in practice, and it was actually a positive session for the team.
READ MORE: Perez pleased to take P3 grid spot after 'worst weekend' as Verstappen assesses 'tricky' French qualifying
Max Verstappen, 2nd, 1:31.176
"Overall we were lacking a bit in qualifying with grip and general pace. We pushed hard but there were a few areas on the track that I couldn't improve on, especially in my final lap. We have a good race car but looking after the tyres is key, it's much warmer tomorrow and that will have an impact so we'll have to see what we can do strategy wise. For the Ferrari's to be on pole again shows that they have a great car and I expect them to be very quick again. It's good to have Checo alongside though and we are quick on the straights so let's see what we can do."
Sergio Perez, 3rd, 1:31.335
"To put in a decent lap in Q3 after a difficult start to this weekend is really good and I am pleased to be back in contention tomorrow. We did some setup changes and managed to get in the rhythm of understanding the tyres which worked out well and hopefully puts us in a position to fight hard in the race. I think patience, a strong start and a good tyre strategy in the heat will be key to getting a good result. It's also very important we work together to get the best outcome for the Team."
Christian Horner, Team Principal
"Ferrari had the advantage on us today but in the context of attacking the racetrack this weekend they are running a little bit more downforce and we are a bit more trimmed out. It is all about tomorrow though and we have both cars up there, it's two versus one, which is always a beneficial strategic dynamic and strategy can play a decisive role around this track. The deciding factor will be how the front tyres survive tomorrow, through some of these long turns, like 11 and 12, and the first sector. We did some good work overnight on the sim and the factory worked very hard overnight, burning the midnight oil, to bring us improvements today. Ultimately, we have the second and third drivers on the grid and I believe we can do something from there in the race. It is going to be hot and a little windy tomorrow so it will be a fascinating battle out there. If it plays out and we are close to Charles with that overspeed then an overtake is on."
Mercedes
After struggling throughout practice, two top-six grid slots were a fairly decent return for the Silver Arrows. But they were nonetheless quite far off time-wise, with Russell being pipped to fifth by Norris to boot. They've showed much better race pace than qualifying speed at the last two races, which bodes well for tomorrow, as Hamilton seeks a fourth straight podium finish on start #300.
READ MORE: Hamilton thrilled with 'beautiful lap' for P4 as he and Russell aim to battle Perez on Sunday
Lewis Hamilton, 4th, 1:31.765
"I was quite happy with my lap and my performance at the end of Q3, it was a nice lap. But for whatever reason, we seem to be a lot further off this weekend, and so is the whole chasing pack. The two top teams are just in their own league performance-wise. I'm not sure why that gap has got bigger between these two races. Considering I missed FP1, which definitely puts you on the back foot, I'm really happy with the progress that I made and everyone back at the factories was working very hard with us. We took a step backwards today in final practice, but we managed to turn it around. We're still there and everyone behind me is struggling, too, so we just keep fighting."
George Russell, 6th, 1:32.131
"As a team I feel we're a bit further away than we would have hoped or expected, especially after yesterday. Personally, I had a good start to Q3, I was in P4 and just made a mistake on my last lap. At the end of the day, I think the time gap to the front is more concerning than the position. We need to understand it, as we're the only team on the grid that closes the gap to the front on a Sunday compared to a Saturday. All the other gaps extend, and we manage to reduce it. Hopefully, Lewis can take the fight to Checo tomorrow, but I think Charles and Max are probably too quick for us at the moment."
Toto Wolff, Head of Mercedes-Benz Motorsport
"Lewis has done an immense job so far. He's probably extracted more than the car has at the moment. We are on the back foot, not meeting our expectations that we had for this weekend. Overall, our package is just not quick enough and you can see that. So, we have been experimenting with rear wing levels and tyre temperatures. Once we got the new tyres on in Q3 we knew we were going to be the third quickest, as we have been all season and it's just not good enough for us. Nevertheless, we'll work hard overnight and try to be in a better position tomorrow in the race."
Andrew Shovlin, Trackside Engineering Director
"Not an easy qualifying today. We've struggled for single lap pace all day and both drivers did a good job to get the cars into the top six, given that it was no easy task to get through to the final session. We were trying a range of approaches to the out lap, looking to put the tyres in a different window but it wasn't really giving us any better overall pace. We don't really have an answer as to why the gaps were so large but at least we are not too far down the order. We're hoping that the race pace is stronger, which has been a general trend of our car although we didn't do enough laps on Friday to get a good read on this. The race is going to be tough on the tyres though, the degradation we have seen up and down the field is higher than we expected and the forecast is for track temps over 50°C. That may create some opportunity but it's hard to set our expectations without knowing where the long run pace will fall out. Hopefully we'll be stronger than today and looking forwards not backwards but regardless, we're learning more and more each time we run the car and it's all an important part of us getting back to where we want to."
McLaren
Ricciardo couldn't replicate his pace from yesterday and found himself just knocked out in Q2, but once Magnussen and Sainz's penalties are applied, will start a fairly decent ninth. He couldn't match his team mate today though, Norris managing to split the two Mercedes cars and even sounding disappointed not to be higher up when told of his position on the radio as he crossed the line. He's in a great position to score big points tomorrow as the team look to resume their rivalry with Alpine.
Lando Norris, 5th, 1:32.032
"I'm very happy. P5 is a great result for us today. The car has been working very well, especially in the low fuel conditions. I feel like we did a very good job, extracted everything we could out of the car and I'm very happy with that. Thank you to the team both at track and the factory for their work to bring the upgrade package to the car and making sure everything was there for us to put together a great final lap. There's a long and difficult job to do tomorrow but we're in the best place we can be to secure some good points. Let's see what we can do."
Daniel Ricciardo, 11th, 1:32.922
"Well obviously, I don't want to be out in Q2. It was close but there are several corners where I'm offline and not really able to get it doing what I want it to do. So, for sure, frustrated, especially when we're close. We have been working hard to get the most out the new parts this weekend, and thanks to everyone who has worked to get them to track. I think we've been hanging around the top ten all weekend, so it showed we're on the brink of it. We'll gain a few spots tomorrow with some engine penalties, so that will move us up the grid. Then we just need to make a good start and hopefully we can show some good race pace and tyre management. I think that'll be key for tomorrow."
Andrea Stella, Racing Director
"Overall, this was a positive qualifying session for us with Lando in P5, and Daniel P11, which will become P9 on the grid when other cars take their penalties. Conditions on track at Circuit Paul Ricard were extreme with the heat, and the competition was fierce with the midfield very tightly compressed this weekend. With this in mind, we're happy to be at the front of the group.
"The upgrade we have this weekend appears to be working, and is what allowed Lando to split the Mercedes today. It's been a huge team effort at the factory and here in the garage to get the new parts onto both cars, and everyone involved has my thanks. Now, our focus shifts onto the race. We can learn a little more this evening about our car for what will likely be a very tough French Grand Prix. The aim is to consolidate our grid positions and bring home some good points tomorrow."
Alpine
Alpine continued to look a tad off the pace in FP3, but Alonso managed to make Q3 and once there grabbed a very handy P7 on the grid. Ocon missed out but starts 10th once grid penalties are applied, but both are behind their McLaren rivals and will need to make some moves stick out on track if they are to prevent the papaya cars nipping ahead in the championship.
Esteban Ocon, 12th, 1:33.048
"It's not been a great day for us today and we didn't quite find that sweet spot with the car. There are a few areas we need to focus on ahead of the race tomorrow, so we'll be looking at that closely tonight. Due to a couple of penalties, we do start in tenth place and I will be fighting hard to progress further into the points. I'll be using the home crowd as extra motivation! It's always special to race at home and I'm going to go out and give it my all, as always."
Fernando Alonso, 7th, 1:32.552
"It has been a challenging weekend so far but seventh is a strong position for us to start in tomorrow. We were not totally happy in practice with the car balance and so we've been working hard all weekend to improve that. Yesterday the long runs seemed quite strong for us, so let's see whether we can make some gains tomorrow. Tyre management is going to be a big factor as they are overheating and graining, so it'll be a real challenge in the heat. The pit lane time loss is also one of the highest of the championship, so a one-stop strategy will be ideal tomorrow, but whether that is possible we'll have to wait and see. The atmosphere has been great, and we've really felt the love from the home fans."
Otmar Szafnauer, Team Principal
"Today's Qualifying result means we're in the mix to score well with both cars for tomorrow's race on home turf. Fernando has done a great job this weekend in tricky conditions and he lines up seventh tomorrow with his focus very much fixed on putting pressure on Lando [Norris] and George [Russell] ahead. Esteban, who has not been totally happy on car balance, looked like he might reach Q3, but unfortunately, he fell just short of that by a couple of tenths. Still, it's all very much to play for tomorrow when points are given out. Our race pace during Friday Practice was promising and we're in a good position with both drivers to score points. That's our objective tomorrow and I'm sure with a good start and a well-executed race strategy with both cars, that will be achievable."
AlphaTauri
Gasly had looked the pick of the two drivers all the way through practice, so it was a big surprise when he exited in Q1 at his home race. Tsunoda at least saved the team's blushes by making Q3 and equalling his best qualifying of the season. He's finally gotten his hands on the new upgraded package and after a slow start, seems to be finding plenty of pace from it.
Pierre Gasly, 16th, 1:33.439
"I'm extremely disappointed to miss out on Q2 by a couple of hundredths at my home race. Yesterday we were extremely comfortable with the car in the Top 10, with some margin to be even faster and since FP3 I haven't been able to deliver the same performance and I struggled a lot, so we need a bit more time to analyse. I wasn't really competitive in Quali, we just weren't fast enough, and at the moment I don't know why. I was doing clean laps, but the car was sliding a lot in all the slow-speed corners. Tomorrow is a new day, so we will come up with a different strategy. Race day brings a lot of opportunities and we have nothing to lose, so we will try everything to recover. It will be tough and long for everyone, but I hope we can deliver a good race. It is an amazing feeling to race at your home Grand Prix and I want to put the best performance together for them."
Yuki Tsunoda, 8th, 1:32.780
"It is good to be back in Q3 after getting the updates, so great job to the team with ending up in a good position. We were able to get back to the position we want to fight at, so I am quite happy, and now we just have to put it all together tomorrow. We expected to struggle to adapt to the new car, so FP1 and FP2 were a challenge, but together with the engineers, mechanics, and the team we were able to come back. We changed our approach to the balance and that worked well straight away, which was the turning point for our result today. Everyone in the factory did a great job about the medium-speed corners, which is what we were aiming for and we achieved that target. Based on our long-run pace, I am sure we can bring good performance with the new updates, as they help with the tyres, so we are aiming for points tomorrow. Strategy will be important between a one-stop or two, but I am confident in the team we will make the right decision."
Guillaume Dezoteux, Head of Vehicle Performance
"After a positive Friday, which confirmed the progress made with the new developments, we were looking for a third practice session dedicated to Qualifying preparation. While for Yuki there was clear progress from yesterday, it was a difficult session for Pierre, who couldn't really extract the potential from the car and got knocked out in Q1. His last lap was looking good, he was improving a lot compared to his previous attempt, when he lost the car in Turn 6. We need to understand with Pierre and the engineers what happened there, because all the car parameters looked normal up to that point. Yuki did a good job bringing the car to the last Quali session and securing the 8th place on the grid. He showed consistent driving for the entire session. Now we need to analyse how our strengths have evolved and where we need to improve with the updates we have brought here, but we can be happy to have closed the gap to McLaren and Alpine in the midfield. Tonight, we will simulate different race scenarios for both drivers with the target of bringing home good points tomorrow."
Haas
Magnussen's grid penalties for taking on new PU components were a shame, as he seemed really quick here and made Q3 relatively comfortably. He was taking part in qualifying despite those penalties in order to offer his team mate a tow, but Schumacher exited in Q1. The German initially looked to have done enough to make Q2, but his quickest flying lap time was deleted for exceeding track limits.
Kevin Magnussen, 10th, No time set in Q3
"The pace was really good in the car. The plan was to go out and help Mick with the tow but then he didn't get through to Q2. We had already planned to go out, so we went out even though there was no point, it was just kind of fun anyway with a fast car. We're starting last tomorrow but hopefully the car is good again in the race and we can progress."
Mick Schumacher, 19th, 1:33.701
"It's a rule, it's there for everybody and unfortunately I exceeded it, but it's definitely something that we should talk about. Conditions are quite tough out there, it's warm, but on the other hand that might bring about opportunities as people might make mistakes. It's just a matter of being clean and looking after the tires as much as possible. I think we have the potential to go forwards in the race and that's what we're aiming for."
Guenther Steiner, Team Principal
"A good but frustrating day for us today – our speed is there but we're now in difficult positions. Kevin, with the engine change will start at the back of the grid, and Mick's time was deleted in Q1 and so he didn't get out because he was over the track limits. Anyway, I think the car has got enough speed tomorrow that at least we can move forward, let's see how far we can get forward, and if it's forward enough to score some points."
Alfa Romeo
Alfa Romeo have slipped down the pecking order and couldn't get either car into the top 10 in France. Bottas came the closest but made a mistake on his final flying run in Q2, while Zhou made an even bigger error on his run in Q1, running wide and wrecking any chance of making it through. Their car is often better on race day though, so with a contrary strategy, they could still sneak into the points.
Valtteri Bottas, 13th, 1:33.052
"It was a good session and starting in P11 tomorrow gives some good opportunities. It was a shame that we had to use two new sets of tires in Q1, and one in Q2, it seems like we are just missing a couple of tenths to be in the top ten in qualifying but otherwise it was a good performance. I hope we can make a step forward with the race pace tomorrow, in the worst case it will only be a bit better than in qualifying. It is hard to predict how the tyres will drop off with these temperatures. In general, I'm happy from my side: my laps were good, just missing a bit of pace. We tend to make progress in the race, with the penalties to Sainz and Magnussen we start from P11 which still should allow us to get into the points."
Zhou Guanyu, 18th, 1:33.674
"Given how we prepared for qualifying, I was definitely expecting more. In the end, I struggled with balance the whole session: Q1 was not ideal, the lack of grip was a big surprise, and that prevented me from having a clean lap at all. On top of it, I made a few mistakes in sector two during my first run and nearly lost the car in Turn Six on the second one. The lack of rear end was a bit frustrating, and we will have to investigate on that. I think where we are is not where we should be today; tyre management will be tough tomorrow, but I reckon there will be plenty of opportunities for us, especially from P16. The main goal, as always, is to bring both cars in the points, and everything is to play for."
Frédéric Vasseur, Team Principal
"We'll start tomorrow's French Grand Prix in P11 and P16, positions that will give us a good chance to fight for the points. Today's results are not what we hoped to achieve at the start of the day, but it's not the end of our weekend and there's still plenty to fight for. We expected the whole field, particularly the middle, to be incredibly close and this has proven to be the case: the margins were very small and we weren't able to be at the sharper end of the battle. Still, there's a long day ahead of us tomorrow: we will be making up a couple of places with the various penalties, and we know there can be overtakes here. We will prepare our race to be able to fight our way back into the points and I am confident we can still give a good account of ourselves."
Aston Martin
Not to be for Aston Martin, who at least managed to get one car out of Q1 thanks to a storming late lap from Vettel. That was despite the German not getting a soft tyre run in during final practice thanks to some floor damage. But he couldn't go any further, exiting in P14 as the congested midfield continues to prove tricky to negotiate.
Sebastian Vettel, 14th, 1:33.276
"On the one hand, I am pleased because I got the maximum out of the car today. On the other hand, we are not yet where we want to be. We are still lacking grip, but it is what it is. I think the small improvements we made this weekend have played their part. It is going to be a difficult afternoon tomorrow, but I am positive that we will be able to manage the tyres in the race. I think they will be the biggest issue for everyone – including ourselves – but I think we can look after them. It would be nice to bring some points home on Sunday."
Lance Stroll, 17th, 1:33.439
"It was a shame to hit traffic in the final sector on my last run. That definitely cost me a spot in Q2 today. My out-lap was also slightly compromised, so there was more on the table in the first sector too. Still, our long-run pace looked promising on Friday and it is possible to overtake here, so there are still opportunities we can take tomorrow. We will have a look at things overnight to see what we can do in the race."
Mike Krack, Team Principal
"In Q1, Lance encountered traffic in sector three and was unfortunately therefore unable to get a clear lap. Despite losing most of his FP3, Sebastian got through into Q2 but we did not have enough pace to progress to Q3. Since [Carlos] Sainz and [Kevin] Magnussen will both start from the back of the grid, owing to having both used up their fourth power units, Sebastian will start tomorrow's race from 12th and Lance from 15th. We had good long-run performance yesterday so our target is to score points tomorrow."
Williams
Williams showed a decent turn of pace in FP3 to see both drivers finish in the top 10. But they couldn't replicate that in qualifying. Latifi propped up the field in P20 and while Albon made Q2, it was only because he profited from Schumacher's lap time being deleted. He also managed a late spin in the first segment of qualifying, briefly bringing out the yellows and wrecking the laps of those behind him.
Nicholas Latifi, 20th, 1:33.794
"From the first practices there were positive signs, as well as an adjustment to the driving to get used to the new package, but it's felt like a relative step forward in performance. We should have safely been through to Q2, but the wind picked up for my final lap and I lost a lot of time. I was progressively chipping away, so I should have been around eight tenths quicker than the time I did, but it all went away from the chicane onwards; I lost all the grip. The pace was there in the car and there are clear signs of improvement with the upgrade. We'll check the car overnight and hope that the wind calms down for the race tomorrow."
Alex Albon, 15th, 1:33.307
"I think I got a lot out of the car today and was happy with it – the wind did pick up and I struggled a bit with this. I think we've been slightly fortunate throughout the weekend so far with the low wind, but it picked up in qualifying and was getting stronger and just went the wrong way for us. The team are doing a good job and have come up with a really different package, so we really are fighting towards Q2 which is exactly where we want to be. Starting P13 puts us in a good place for tomorrow so let's see what we can do from there."
Dave Robson, Head of Vehicle Performance
"Conditions got a step trickier during Q1 as the wind picked up and this seemed to harm our competitiveness. FP3 went well and we did a good job with the tyres, but we expected that our position in the timesheets was a bit flattering for the real pace of the car. Q1 was going well until the wind picked up for the final run. This upset quite a few drivers, including both Alex and Nicholas. Alex had to abort his final attempt and Nicky, who was on a good lap at the time, lost a lot of the gain at T8 and was unable to improve. Fortunately, as other drivers also struggled, Alex's time from his first run was good enough to qualify for Q2. Conditions remained tricky and Alex wasn't quite sure how the car would react and so his pace wasn't as good as it had been earlier in the weekend. However, due to some PU penalties, we will now start from 13th and 18th tomorrow. If the wind is favourable, then we can have a good race from there and look to score some points."
Pirelli
Mario Isola, Motorsport Director
"On paper, a one-stopper from medium to hard is actually theoretically fastest, but I still think that most teams will be aiming for a two stopper, most likely using the medium and the hard tyres. It's interesting to note that of the frontrunners, Leclerc is the only one to have one set of hards and two sets of medium tyres left for the race: his direct rivals mostly have two sets of hards and just one set of mediums. So it's likely that we will see some different strategies, in conditions that are going to be perhaps hotter than today."
HIGHLIGHTS: Watch the action from a dramatic qualifying session at the French Grand Prix