Perez pleased to take P3 grid spot after 'worst weekend' as Verstappen assesses 'tricky' French qualifying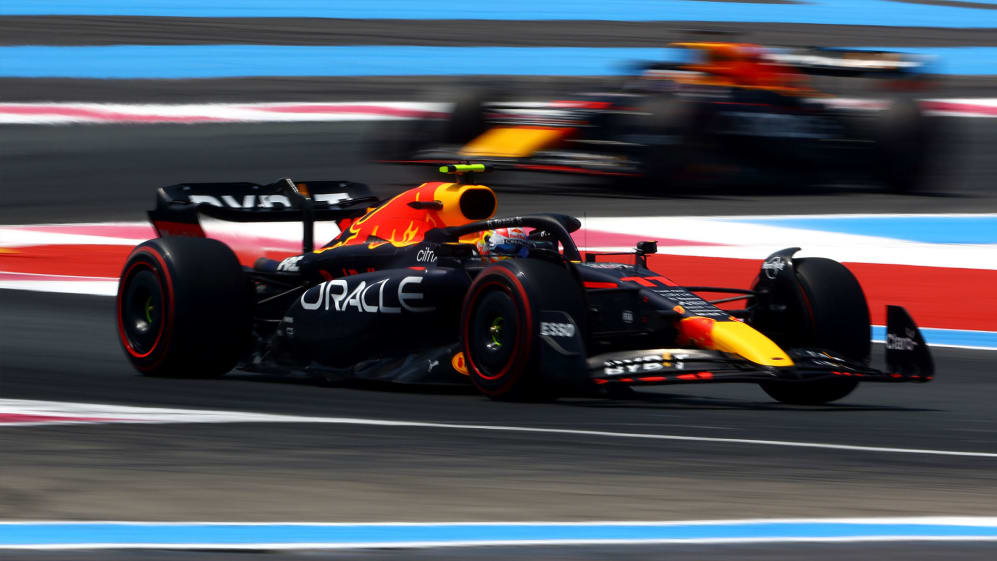 Red Bull were forced to play second fiddle to Ferrari in qualifying for the 2022 French Grand Prix, as Carlos Sainz helped tow Charles Leclerc to pole and Max Verstappen and Sergio Perez completed the top three spots. But both Red Bull drivers were looking ahead to Sunday, when Leclerc will lack the protection of his Spanish team mate…
With Sainz set to start from the back of the grid after taking on a raft of new power unit components, Ferrari had the luxury of using the Spaniard to twice tow Leclerc into Signes corner in Q3, the Monegasque ending up on pole by 0.304s from Verstappen in front of his near-home crowd.
READ MORE: Sainz tows Leclerc to first French Grand Prix pole as Verstappen qualifies second
And with Verstappen having comfortably headed FP3 from Leclerc earlier today, the Dutchman was asked where his pace advantage had gone to.
"Well, FP3 is not qualifying, clearly! But overall, I think we were just lacking a bit in qualifying, just general grip. So, it was a bit more tricky than I think I would have hoped. But overall, we still have a decent race car and hopefully of course tomorrow will come to our favour. We are quick on the straights, hopefully we can use that tomorrow.
"We have to be quick also tomorrow, and it's going to be probably even warmer than today, so it will be even harder on the tyres and to keep them alive is going to be key. I mean, you can have good start pace but it's also about keeping [the tyres] alive."
Asked if he felt the tow from Sainz had been all that had made the difference between him and Leclerc in qualifying, meanwhile, Verstappen replied: "Well, I don't think it's 0.3 [seconds]. Of course, it's quite a bit though. Maybe Charles can tell you more exactly how much it is!
"Overall I just look at myself of course – what could we have done better, and I think overall, that final lap was first of all not a clean lap, just by being on the limit, or trying to find that limit – I just had two moments which cost me lap time. Those things we have to figure out why they happen and how can we make it more predictable, let's say it like that. But I mean, we still have two cars in the top three, so that's good."
READ MORE: Pole-sitter Leclerc hails 'amazing' Ferrari teamwork as fired-up Sainz eyes recovery from the back in France
Perez might have been P3 and a tenth and a half off his team mate – but the Mexican was happy with his performance, having confessed to have been "nowhere" at points on what he termed his "worst weekend" in F1 up until qualifying.
"It's been a good recovery," said Perez. "I've been nowhere the whole weekend to be honest. I've been struggling a lot; I think probably it's been my worst weekend up to qualifying and finally we managed to recover well in quali.
"I managed to improve a few tenths on my final lap. I think the whole weekend has been very difficult for me; I've been struggling a lot with the balance throughout the weekend so I was certainly making good progress through qualifying. I think my Q3 lap, there was a bit in it still, but not much more, so pretty pleased to be P3. Hopefully our race pace will be stronger for tomorrow and we can be in the fight for the victory."
FACTS AND STATS: Leclerc moves ahead of Massa into third on Ferrari's list of pole-sitters
Despite Ferrari having won the last two races in Britain and Austria, Red Bull head their Italian rivals by 58 points heading into the French Grand Prix, which kicks off at 1500 local time on Sunday at the Circuit Paul Ricard.