Feature
What the teams said - qualifying in Hungary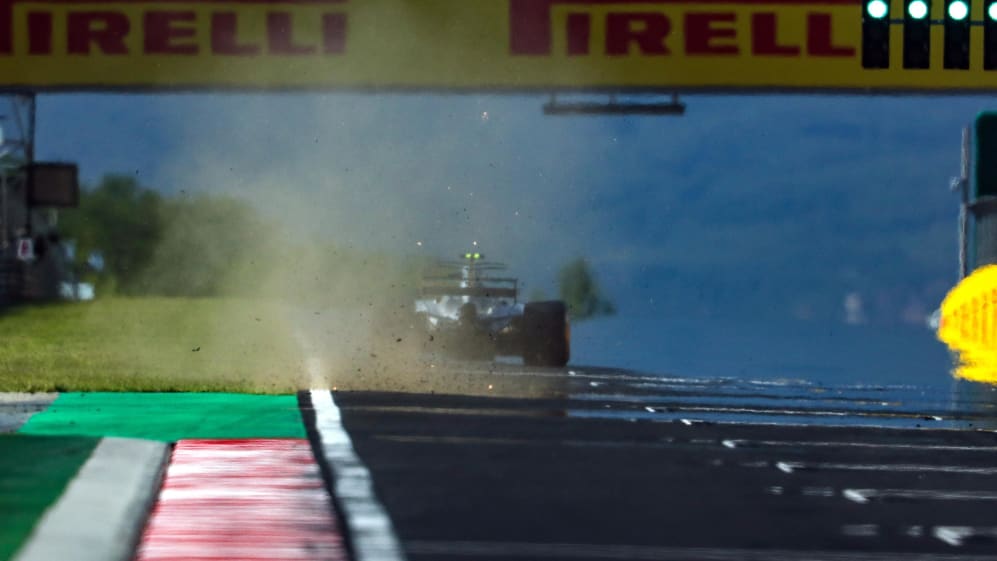 A round-up of all the action from qualifying for the the Formula 1 Pirelli Magyar Nagydij 2017 in Budapest...
Williams
Williams were the talk of the paddock after a late driver change meant reserve driver Di Resta jumping into Massa's car ahead of qualifying, due to the Brazilian being unwell. Despite next to no notice, Di Resta impressed in qualifying, grabbing P19 at the expense of Ericsson. Stroll flirted with the run off areas and didn't have the pace to make Q2.
Lance Stroll, 17th, 1:19.102
"It was not the best qualifying in terms of position, but we knew it would be difficult for us, and in the end we just have to be more competitive. We were only a tenth or so off Q2, and it is frustrating as I think there were a couple of things on my lap where I could have made up a tenth, but you can always say that afterwards. It is just simply tough for us this weekend, we are not as quick as we want to be and, although there are a couple of other things, it is pretty much down to sheer lack of downforce. We need to keep pushing to see what happens for tomorrow's race."
Paul di Resta, 19th, 1:19.868
"It's been a busy 18 hours, getting prepared to drive in case it did happen but unsure if it was going to. I was nervous and anxious. You're unsure of how your ability is going to be when you get out there. I was ironing my shirt at 11 o'clock this morning preparing to be presenting on TV. But honestly, I quickly felt quite comfortable in the car. There was nothing that took me by surprise, it's just the more laps you can do, the better it is. Getting thrown straight into qualifying is the deepest of the deep ends. To do it in four laps is a big ask, but honestly I didn't expect to be so close straight away. I've carried on everything Felipe has done up until this session like the brake settings, the set-up and the steering wheel switches are all his, so of course it could be more optimised. But there is more ability to progress in me, gaining the speed and confidence in the car. These cars are the most special thing you'll ever drive. It's a tough ask to go straight into qualifying, but that's what it's about and you take these opportunities. Thank you to Williams for the opportunity, thank you to Claire and Sir Frank. To get the opportunity to get in the car and do it, with the team having the faith in my ability, I will hopefully be able to repay that. The team have been great. I've been here a year and a half waiting for this, so it's a good job I've been attending all the meetings and paying attention! Today has been very special. I felt back at home in a Formula One car, and the team prepared me as best they could. We go into tomorrow with a long and difficult day ahead, but at the same time one that I'm very much looking forward to challenge and to see how it goes."
Paddy Lowe, Chief Technical Officer
"It wasn't a very regular day for us. In fact, it was the first time in my experience having to swap a driver out during a race weekend. First of all, I'm very sorry for Felipe that he's not well enough to compete. He made a great effort to come through it, and did what he felt he needed to as a member of the team. But it's absolutely the right thing to pull out, and we hope he can make a rapid recovery and that we'll see him back in the car in Belgium. Paul has been our Reserve Driver for a year and a half, and he probably realistically never expected to get called up. However, he was ready to go the moment we took the decision and it was very brave of him to go out for his first time in the 2017 generation of F1 cars, along with the new tyres and aero package, to be thrown straight into a competitive session. He's got to be my driver of the day to achieve what he did today. He only got to do four timed laps, so that's a terrific job when unfortunately the car is not as competitive around this track as it really ought to be. So we look forward to seeing what he can do in the race. Lance, meanwhile, had a pretty good qualifying session, and only narrowly missed getting into Q2. It's just the car is not where it should be, and we've got a lot of work to do to come back and compete as we should at these high downforce circuits. We'll see what we can do tomorrow from these positions on the grid."
Mercedes
After Ferrari topped FP3, Mercedes knew they had a battle on their hands come qualifying. And so it proved, with neither Bottas nor Hamilton able to keep pace with the Scuderia. Hamilton was uncharacteristically scrappy - repeatedly running wide after complaining of vibrations in his tyres as he trailed his team mate by two tenths. A second row lock-out wasn't the plan but makes the start an enticing prospect come race day.
Valtteri Bottas, 3rd, 1:16.530
"I had to give it everything today. In my first run, the lap was already quite good. Then on the second run in Q3, I was fast in sector one and two but then the tyres overheated and I lost time in sector three. Overall I don't think there was much more in it for us today. I was surprised by the pace of Ferrari. Yesterday we were hoping that it going to be a really tight fight for the pole. It was but they had the advantage. Now we need to focus on tomorrow. It will be really close on race pace between the top three teams. Starting from third is not too bad. I need a good start and hopefully we can nail the strategy tomorrow."
Lewis Hamilton, 4th, 1:16.707
"This hasn't been the easiest weekend for us. The car didn't feel completely underneath me during practice but we made some changes into qualifying and the feeling started to improve. We knew Ferrari would be quick after seeing their pace this morning, so considering that fact I think we did pretty well to lock out row two. My laps in qualifying were generally good but I made a mistake in Turn 4 on the first run in Q3, so after that it was all about getting in a banker lap to make sure I set a time. Looking to the race, maybe strategy or the tyres will come into play in a bigger way. Ferrari seems to have the upper hand this weekend and this race is usually a procession on a circuit where it is hard to follow, so there aren't many opportunities to gain positions. But we will be giving it everything we can."
Toto Wolff, Team Principal
"The biggest positive point we can take from today was the step forward we made with the car between FP3 and qualifying. After a difficult morning, this put us back in the hunt for pole, but in the end we didn't have enough at this circuit against Ferrari. Valtteri only missed out on a place on the front row by a small fraction of a second - but this also means he will start from the clean side of the grid. For Lewis, the car has been on a bit of a knife edge all weekend and, after he ran wide on his first lap in Q3, that put him on the back foot for the final run. When you only have one lap that counts, it's hard to pull everything out of the car - and we knew we needed to squeeze every last drop of performance today if we were to get close to pole. Of course, starting behind two red cars doesn't make life any easier but it's a long run to turn one - and this is a circuit where the unexpected can happen. The strategy options look pretty straightforward, so we will need to do our racing out on track not in the pits. It will be an exciting but tough afternoon tomorrow."
James Allison, Technical Director
"We made some good steps forward with the car after third practice but they were not sufficient to beat a fast pair of Ferraris today. We can be happy that we are now extracting consistent performance from the SuperSoft compound, which was a concern for us earlier in the weekend, but now all our focus shifts to the Grand Prix - and we had pretty solid pace during the runs in race trim on Friday."
Ferrari
Ferrari found a turn of pace in qualifying that was lacking in Silverstone, to once again take the fight to their championship rivals. Vettel put down a marker in FP3, and continued that form in qualifying to grab pole by 0.168s from his team mate - and also deliver the fastest ever lap of the Hungaroring. Raikkonen was left ruing a mistake in the chicane in his flying lap in Q3 that he felt cost him pole.
Sebastian Vettel, 1st, 1:16.276
"Today has been a great day. The car and the whole session were fantastic! I am really happy. We brought some new parts here and we tested them yesterday. Then obviously, we talked about it a lot and I think we got the car in better shape this morning. We are working very hard to get everything right. The guys have worked so hard and they love what they do. So, it is good to get back into the car and do our job. We love racing and this weekend has been very good so far. We know we have a strong car, no matter where we go, and that's the great thing about this year. Now we have to move forward and focus. Qualifying is done, so we now concentrate on the race. There's a lot of hard work to do and we need to take it one step at a time. Now, we'll see what happens tomorrow. Thank you all!"
Kimi Raikkonen, 2nd, 1:16.444
"First and second position is a very good result for team. We kind of expected that this circuit would fit us better for certain reasons, but of course you cannot ever take it for granted. Today I really felt I had the speed, but I made a rather stupid mistake at the chicane, I put the left wheels on the kerb under braking, got sideways and lost time. I'm a bit disappointed with what I did, because I had the chance to be one place up, but I 'm happy because I still managed to take second place. It's been quite close between three teams so far, so tomorrow it all will depend on what happens in the first ten laps; it's not going to be an easy race for anyone. There's no way to plan things for the first two corners. The one who makes the best start has the better chances. Tomorrow we'll have a long way to go to replicate today's result!"
Red Bull
Ricciardo suffered a change in fortunes after his superb form from Friday's practice sessions. A hydraulic issue forced him to park on track in FP3, and he never looked to be on the pace of Ferrari and Mercedes ahead. Verstappen by contrast changed the set up of his RB13 and enjoyed qualifying a bit more, jousting with Vettel in Q2 before slipping back behind the Silver Arrows in Q3.
Max Verstappen, 5th, 1:16.797
"For me it was actually a very positive Qualifying. The whole weekend I have been struggling a lot with the car and I just couldn't really get the balance right but we managed to turn it around and the car was feeling good in Qualifying when it matters. Q1 and Q2 were actually very good but in Q3 it's always harder for us to step up by four or five tenths like Ferrari and Mercedes as we don't have that extra engine mode. I think fourth was definitely possible but I changed the front wing on my final run and it seems that I got too much oversteer from that, but we can still be pleased. We have made a good step forward and we are heading in the right direction for sure. It is difficult to say how tomorrow will go and it's always hard to overtake here but with a good start and maybe an undercut there are many possibilities. It will be an interesting race and I'm actually quite confident for tomorrow."
Daniel Ricciardo, 6th, 1:16.818
"When you miss out on track time in any session it has a knock-on effect and the time we lost this morning in FP3 definitely cost us in Qualifying. We had to guess what the track would be like this afternoon and make set-up changes based on that. In Q1we had quite a different car to yesterday but even so we thought higher than sixth was possible. We are in the top three teams so to qualify sixth is basically last for us. My quick lap wasn't as clean as I would have liked so it's partially the car and partially me but come tomorrow I think we can still get stuck in and challenge the other guys. A podium is possible in my mind. I am surprised by the pace of the Ferraris, we knew they would be stronger today but we also thought we would be closer. With the updates we have had here I'm looking forward to tomorrow, the car is in good shape to race so I think it will be fun and we can move forward."
Christian Horner, Team Principal
"Qualifying fifth and sixth today seem to be our de facto grid position for this season, however both drivers got very close to out-qualifying Lewis on the final run. The third row of the grid offers some opportunity tomorrow, and it's going to be very interesting strategic race. The Hungaroring has one of the longest runs down to Turn 1 of the season which almost guarantees plenty of action so it should be a fascinating grand prix."
Haas
A mixed day for Haas - Grosjean extracted more pace from his VF-17 than he managed yesterday and sneaked into Q2, but not before running wide and spinning in FP3. Magnussen did well considering his curtailed running on Friday, and despite setting an identical time to Perez in Q1, he exited at the hands of the Mexican due to having set his lap time later in the session.
Romain Grosjean, 15th, 1:18.771
"I guess it's the best we could do. We both had to overdrive the car in Q1 and I managed to get through to Q2 where I tried really, really hard on the last lap. I couldn't quite get better than 15th. When we lose all of Friday with one car – actually we can say we lost all of Friday with my car as well – we just had too many problems. Things were going up and down and we couldn't really get anything, so it's very, very difficult. We need to improve as a team and get the car better from the first lap in FP1. If we're getting decent lap times there we can move forward. Here, we've just been struggling. I crashed on the first lap in FP1, so we've been in a very difficult position. I thought this would be the same as Austria and we'd be generating temperature in the tyres. It's all related to tyres and we're just not working them properly. What is the key? I don't know, but it's something that's not quite working."
Kevin Magnussen, 16th, 1:19.095
"We haven't been competitive this weekend, for some reason. We were expecting to be okay here. We knew it wasn't going to be the best because of the slow corners, but at least it's a short, twisty track without big straights. We shouldn't be too bad in theory, but we haven't had the pace. On top of that, it's been a difficult weekend not doing Friday. Well, I did four laps on Friday and a few more this morning. It's not good preparation to go into qualifying. I made the most of it. I was only one hundredth of a second from Romain and I had the same lap time as Perez who was P15, so Q2 was right there. So with that little running, I'm quite happy with that."
Guenther Steiner, Team Principal
"Not ideal starting positions. I think after yesterday we've turned a little bit around. We couldn't get the full lost day from yesterday back, but everybody regrouped. We're 15th and 16th. We'd liked to have been further up, but we rescued what we could rescue over a short period of time. Tomorrow we'll try to move forward. I think this was one of our worst race weekends of last year and it looks like we're repeating it this season. Nevertheless, everybody is trying to get points."
Force India
A double points finish in Silverstone might prove hard to replicate after both Force Indias exited in Q2. Ocon does move up a place due to Hulkenberg's grid penalty though and with free tyre choice he is in the better position of the two to bring home points. Perez starts two places behind his team mate.
Esteban Ocon, 12th, 1:18.495
"We were hoping to be higher up today, but it's not our strongest track and we were just missing the pace to make the top ten. I still have a good feeling in the car and our race pace will be more competitive. It looks as though I will gain a place because of the grid penalty for Nico [Hulkenberg] and I still believe a strong points finish is achievable tomorrow."
Sergio Perez, 14th, 1:18.639
"It was my most difficult qualifying session of the year. I haven't yet managed to feel comfortable with the front end of the car: we made a lot of changes from yesterday, even between third practice and qualifying, but we couldn't solve the issues. In Q2, my first lap was pretty poor and that threw my reference points for the second attempt. In the end, I couldn't put together a good enough lap and we didn't' maximise our potential. We are starting 14th and it's not ideal on a track where overtaking is really tough, but I hope tomorrow we can be strong. The strategy options are quite limited, but if we can make a good start, we can fight for points."
Robert Fernley, Deputy Team Principal
"We've been on the fringes of the top ten, but ultimately Q3 was just out of reach today. It's not a track that plays to our strengths so we've just got to make the most of the race tomorrow and take the opportunities that arise. The speed of the car has looked more competitive during the long runs so we remain optimistic that we can be in the fight for some points. It's a difficult track for overtaking and strategy options are fairly limited so a strong opening lap is going to be especially important tomorrow."
McLaren
Getting both cars into Q3 for just the second time this season capped a positive day for the McLaren team. The news gets better as both drivers will be bumped up a slot due to Hulkenberg's five-place grid penalty. After being out-qualified by his team mate for the first time this season last time out, Alonso reclaimed bragging rights by three tenths of a second. Vandoorne meanwhile will be hoping for his first points finish of the season.
Fernando Alonso, 8th, 1:17.549
"It's been a positive weekend so far for us as a team. We knew the top three teams would effectively be out of reach, so fighting for seventh and eighth was the maximum target we could aim for today. And, indeed, that's where we'll start tomorrow.
"There are no points to gain on Saturday, so hopefully we can convert those positions in the race and score some good points. They're very much needed by the team at the moment.
"In terms of race pace we should be okay. This is a circuit where it's difficult to overtake; the tyres are very stable and have low degradation so I think that, if we have a good start, we should have a good chance to maintain our positions – that's the target for tomorrow."
Stoffel Vandoorne, 9th, 1:17.894
"We pretty much got everything out of the car today. We'd been looking strong all weekend, so it was good to get both cars in Q3 and to carry our pace through into qualifying.
"My car felt quite strong – it felt pretty good in the corners. I think we maximised the package we had today.
"But the race tomorrow is the most important thing: I hope we can get both cars into the points. Our pace has been inside the top 10 all the time so we're looking strong."
Eric Boullier, McLaren Honda Racing Director
"We always knew that this was likely to be a strong track for us, so to line up seventh and eighth – effectively the 'best of the rest' underlines the inherent pace of our package.
"But I think what's more satisfying is that we've shown such consistent pace throughout the whole weekend. That gives us the confidence to believe that we can convert these starting positions into equally strong points-scoring places tomorrow.
"Both drivers have been extremely closely matched in every session, and there's a feeling that we're really pulling together as a cohesive team now. It's safe to say that we're all looking forward to an intense, fun and productive grand prix tomorrow."
Yusuke Hasegawa, Honda R&D Co. Ltd Head of F1 Project & Executive Chief Engineer
"Today marked the best qualifying for McLaren Honda this season, with both cars into Q3, starting tomorrow's race just behind the top three teams. Although we knew this circuit would suit our car, it's still a positive step forward for us, and the team did a good job with our qualifying strategy.
"Fernando and Stoffel had a good impression of the car yesterday and the team utilised this morning's practice session by further working on the set-up ahead of qualifying. They both then drove incredibly well this afternoon to close up to the front-runners.
"Today's result is down to the drivers, improvements to our PU, and also the aero upgrades the team has brought here. Hopefully this will give everyone a boost before the summer break and before the second half of the season begins.
"We know there is still a performance gap, but we also think we're quite competitive here. Hopefully we'll have a chance to improve our positions in the race if we have a good start as overtaking is difficult here. We hope to get our best race of the season here in Hungary tomorrow."
Sauber
A quiet day for Sauber, who always looked to be propping up the field. Ericsson appeared to have the beating of his team mate but Wehrlein produced a quick lap when it mattered to qualify one tenth and two places ahead of the Swede. On a track where overtaking is notoriously difficult, Sauber will be hoping for fireworks ahead if they are to make much of an impression on race day in Budapest.
Marcus Ericsson, 20th, 1:19.972
"First of all, I want to thank my car crew for changing the power unit in between FP3 and qualifying. They did a great job to send me out on time. Then, qualifying was a bit unfortunate, as I got yellow flags on my final lap in Q1. Of course, a disappointing ending of Q1 as I think there was a bit more to be had by the end."
Pascal Wehrlein, 18th, 1:19.839
"I am satisfied with today's result because I was able to get back into the car in good shape after yesterday's crash. The mechanics did a great job overnight fixing the car, and I am grateful for the hard work they put in."
Toro Rosso
Kvyat had an eventful day - complaining of a 'knocking' sound in his engine before spinning at Turn 4 in Q1. Worse was to come for the Russian, when the stewards declared that he impeded Stroll after returning to the track, and handed him a three-place grid drop for the race. Sainz made Q3, rounding out the top-ten in another eye-catching performance.
Carlos Sainz, 10th, 1:18.912
"We can be extremely happy with today's result. It's been a very tough weekend up until now, especially after this morning's FP3, where we saw that we were lacking a bit of pace compared to our direct competitors. So qualifying was looking like a difficult session for us, but I got into a good rhythm, managed to put a very good lap together and got into Q3 – something I wasn't expecting this morning! We can be proud about it; it wasn't easy at all! Hopefully tomorrow we can do a good job, hold on to this position and fight for points!"
Daniil Kvyat, 13th, 1:18.538
"Unfortunately, I've been penalised with a three position grid penalty for tomorrow's race, so I will now be starting from P16. There was a bit of a miss-communication, so I didn't know that anyone was coming behind and we've now got a penalty for blocking another car… It's a shame, because today had been quite a good day: our overall performance and my feeling with the car was okay, even if the balance changed a bit throughout the qualifying session. I just missed out on Q3 by a couple of tenths but we ended up more or less where we expected to be. My feeling with the car is quite good and now all I can hope for is a different type of race, an eventful one, otherwise it will be difficult to overtake here. We will obviously try and do our best, make our tyres last and see where we end up."
James Key, Technical Director
"Our qualifying result is probably what we deserved today. In this morning's FP3 we made another little step in the right direction from yesterday, but we've lacked a bit of pace in the middle sector this weekend and we tried to work on that as best we could without solving the issues completely. Both McLaren and Renault have been quicker than us today, but it was good to get one of the cars into the top ten – Carlos did a great job to squeeze in; it was extremely tight with the other cars around! Running on one set in Q3 is always a bit risky because you lose your references a little bit and we didn't quite get the lap together in Q3, but I don't think it would've made much difference to the result. Daniil was just two tenths away from Carlos in the end, but there's such a tightly-packed group of cars, that he ended up a few places behind. We've extracted as much as we can out of the car this weekend, even though we still have a little bit more work to do. We we're quite encouraged by our long-run pace yesterday, so hopefully that can help us in tomorrow's race, as always we will give it our best."
Renault
Hulkenberg looked to be on top form all day, grabbing seventh in practice and matching that in qualifying. He does drop five places due to an unscheduled gearbox change, but nonetheless will be hoping for points. Palmer had a quieter day after his various incidents on Friday and was unlucky to just miss out on Q3 by one tenth. With free tyre choice and starting tenth, he will also be hunting points in a bid to open his 2017 account...
__Nico Hülkenberg, 7th, 1:17.468 __
"I'm very happy about the performance of the car today, in fact it's been really good all weekend long. We've found a very good harmony and balance and it was a pleasure to exploit this in qualifying. Of course, the gearbox penalty is far from ideal, but it happens sometimes; there was no option other than changing it. The long runs looked quite promising yesterday so there's good potential for the race, we have a strong car so we should recover well."
Jolyon Palmer, 11th, 1:18.415
"The car's been working well. I'm a bit disappointed not to be in Q3, but I will start from P10 on the grid tomorrow, which is a decent position to score some points from. I was in the top ten yesterday in FP1 and today in Q1, so we've seen there's good potential from the car. We've got some new tyres available, so we have options; all we need is a good rhythm in the race."
Alan Permane, Sporting Director
"The team had a fairly simple and stress free session. Nico only needed one set of tyres to get through Q1 and another set to go through Q2. We are happy to be P7 or the 'best of the rest'. The gearbox penalty is unfortunate, especially on a circuit like this, without it we would have been looking forward to a nice simple race – as it is we have some work to do to get Nico up into the points, but we have decent pace over the cars in front. If Jo had a better day on Friday, I'm sure he could have made in into Q3 and this is key for him. If he can have calmer Fridays, there is no reason he won't be a regular Q3 visitor. Our goal is to have a very strong race and getting both cars in the points."