Feature
What the teams said – qualifying in Italy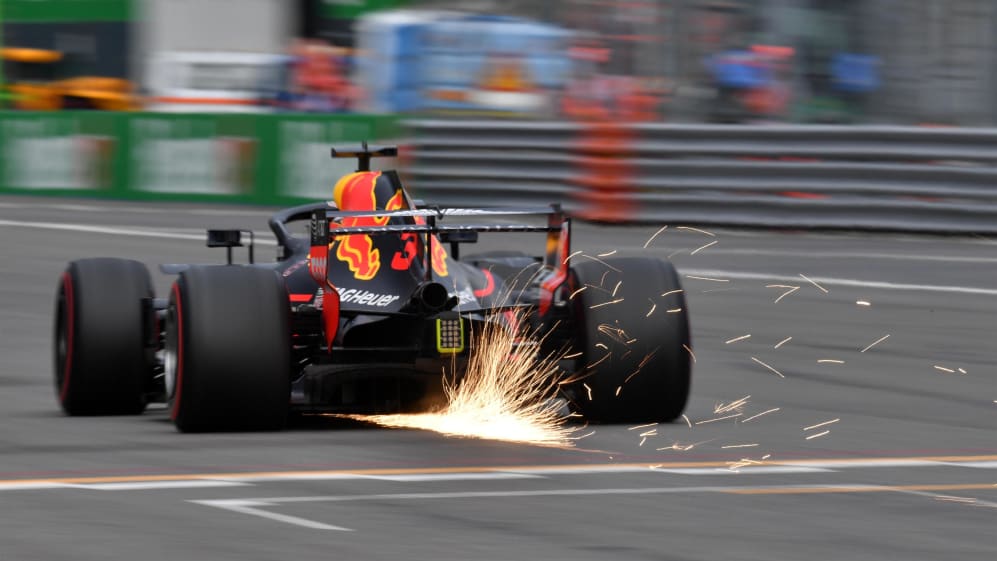 A round-up of all the action from final practice and qualifying at the Formula 1 Gran Premio Heineken d'Italia 2018 at the Autodromo Nazionale Monza...
Ferrari
Raikkonen has been threatening all season to upset the apple cart and beat his team mate to pole, only to be thwarted by small mistakes time and time again on the final run. But today, in front of the adoring Tifosi, the Finn grabbed his first P1 of the season on merit. Vettel was left ruing Ferrari's decision to send him out first, but starting on the front row he still has every chance of victory.
Sebastian Vettel, 2nd, 1:19.280
"I'm a bit disappointed as I couldn't get pole today and made some mistakes, so that my lap was not that tidy, but locking out the front row with both cars is a great result for the whole team. For tomorrow I think we will have the right speed to race and hopefully we can have a good start, which is always important, especially here. The race is long, so that anything can happen, but we'll work hard and do our best. The car is strong, so we should be fine. I am happy for the result, as much for our tifosi and hope to get the same result tomorrow."
Kimi Raikkonen, 1st, 1:19.119
"The car has been good all weekend and we knew it would have been a close battle. All three sectors were obviously crucial; so far the difference between the top three had been very small, so it was a question of who would get it right and today it was me! It's great to be on pole in our home Grand Prix in front of our tifosi. When we are driving we cannot hear them, but we could see them cheering and they gave us a lot of support. As a team we did a very good job, we couldn't have done any better today. I'm very happy for this result but unfortunately this doesn't guarantee anything for tomorrow. Half of the job has been done, but tomorrow is the most important day. For sure we have a good car and the best possible starting place. The race is long and many things can happen; we need to do a perfect job and hopefully tomorrow will be another good day."
Mercedes
Bottas has been off the pace of his team mate all weekend and looked in a battle with Verstappen for P4, but ultimately had too much speed for the Red Bull man. Hamilton, meanwhile, was right in the hunt for pole, and was the fastest of the three contenders on the first runs. But the two Ferraris pulled something special out of the bag to leave the Englishman P3 on the final flying laps and he now has his work cut out to prevent his championship lead being further eroded come race day.
Lewis Hamilton, 3rd, 1:19.294
"That was an exciting qualifying session! We've improved the car overnight and I'm really happy with where we were today. I'm really proud of my guys for pushing this hard - we've squeezed absolutely everything out of the car today. Going into the second run of Q3, I kind of knew that the Ferraris might just be able to pull out some extra bit of time, but I think second place might have been possible today. I lost maybe half a tenth in the last corner and that's the difference between third and second. We've got to fight hard tomorrow. The long run pace of the Ferraris looked quicker than ours, so it's not going to be easy, that's for sure. The start will hopefully create an opportunity for us. I've got to study hard tonight to figure out a way how I can get in front of at least one of the Ferraris on the first lap. It's great that Valtteri is right behind me, so we can really apply the pressure on the red cars."
Valtteri Bottas, 4th, 1:19.656
"The entire day was pretty difficult for me. We made some set-up changes for FP3; the car was better in the corners afterwards, but we lost performance under braking and it just became very easy to lock up the wheels. Obviously, on this high-speed track you need to be able to trust your brakes; unfortunately, I was never really able to do that. Compared to FP3, the car felt a bit better in qualifying, but still not quite there. I made a mistake going into Turn 1 on the first lap in Q3 and after that it was difficult to really get the corner right in the second run. But this was only qualifying - this weekend is not over, the race is tomorrow and we will try everything to put the Ferraris under pressure and challenge them. We'll see what we can do strategy-wise and I think the first lap is going to be interesting as we might be able to get a bit of a tow-effect into Turn 1."
Toto Wolff, Head of Mercedes-Benz Motorsport
"That was a really close qualifying session - but we came out just on the wrong side of things in the final run, after taking provisional pole early in Q3. Congratulations to Ferrari: they have done a very good job to improve their package and they had a little bit more than us today when we laid the cards on the table at the end of Q3. It was a tense session, looking for the right kind of tow to get the benefit down the straights, and there was a bit of gamesmanship as well to spice things up, which is normal when things are so close and the slipstream brings an advantage. Lewis put in two strong laps in Q3, right on the limit and even improving on his final run, but just missing out on the front row by a few hundredths. For Valtteri, it has been a trickier weekend and he has not felt as comfortable with the car, which is reflected in his position today. For tomorrow, perhaps starting P3 and P4 is not the worst thing in the world, with the powerful slipstream at this track. It's clear that we need to attack flat out - and that's what we intend to do."
Andrew Shovlin, Trackside Engineering Director
"We felt that Ferrari had a slight advantage going into qualifying but we were determined that we wouldn't make it easy for them and Lewis put together some really strong laps and came very close to beating Vettel's time. It's disappointing not to have a car on the front row, but we don't quite have the pace on a single lap here and need to accept that we just weren't quick enough. Valtteri hasn't been as comfortable as Lewis with the car in braking and this is a track where you need to trust the car on the big stops however, he's made good progress through the sessions today and still starts in a position where we can attack and pressure the Ferraris ahead. It's normally an exciting race here and if we are not under pressure from behind, it opens up some interesting opportunities on strategy so we'll be working through the various options tonight to understand what will give us the best chance of winning tomorrow."
Red Bull
Ricciardo was always starting at the back thanks to grid penalties and thus did just one run in Q1 - although that was enough for P4, to show just what sort of pace he has in his pocket. It was left to Verstappen to carry the team torch, but he didn't have any answers to the pace of Mercedes or Ferrari ahead and wound up fifth.
Daniel Ricciardo, 15th, No time set in Q2
"We will be starting on the back or second to back row tomorrow, so we decided that putting more miles on the new engine wasn't worth risking. If we thought we had the chance of setting a pole time, even with the penalties, then maybe we would have risked finishing qualifying but the Ferraris and Mercs are too quick. I did one lap to get through Q1 and the new engine seemed to be running pretty well. One lap was fun, I would have loved more but this was always the plan. This morning we weren't that quick but we made some changes which seemed to work for this afternoon. The lap I did was encouraging and having done that lap I have more confidence going into the race tomorrow, we have a better set-up and it should be fun. The car is as slippery as we can make it for the race, unless we took the rear wing off completely, which I guess is illegal, we couldn't do anymore! We're as fast in a straight line as we can be at the moment which should serve me well in the race. It's amazing to see how grippy the circuit is right now. I think because there isn't much wind and it's quite cool, even with no downforce on our car, the corner speeds are pretty high which is why the times are so quick. The conditions are really nice to drive in too. I don't think it matters which tyre we start on tomorrow because the compounds are very similar. We will come through the field, brake late and hopefully finish up with some good points."
Max Verstappen, 5th, 1:20.615
"Monza is the most difficult track for us, so fifth was what we expected already before the weekend. It's quite normal where we are, so it's not a disappointment, we just tried to do the best qualifying we could. We can't really do much more, it's quite painful how much we lose on the straight, but it is what it is. I noticed a difference with the new engine today, maybe one and a half tenths, it's a little improvement and at least I'm happy with that but for sure we need much bigger steps to be really competitive. We tried to maximise the result but I am quite far from the guys ahead. I didn't have a tow in Q3 and even though that wouldn't have changed the final position, at least it would be a little bit closer. I think the gap to Mercedes and Ferrari is too big to do much tomorrow, but we'll see what happens. You never know what happens in front of you, you just need to be there. We will have a one-stop strategy, I guess like everyone. I don't think it really matters what we do, if we stay out long or short, I think we just try to have a clean start and take it from there."
Christian Horner, Team Principal
"Unfortunately it was a short-lived qualifying for Daniel, who only did one lap in Q1 which would have been good enough to have put him P9 on the grid. In suffering penalties with his engine change it made no sense to continue with qualifying after that. Max progressed through to Q3 comfortably but unfortunately we didn't have the ultimate pace to challenge Ferrari and Mercedes today. With Max on the third row of the grid we hope we can have a positive start and a good race tomorrow afternoon."
Force India
Force India opted to leave Perez - lying 12th - in the garage at the end of Q1. An evolving track and improving times dropped the Mexican down the order and out of Q1, after he had looked a top 10 contender all weekend. Ocon did at least make Q3 to save the teams blushes, but couldn't match Grosjean or Sainz and wound up a slightly disappointing P8.
Sergio Perez, 16th, 1:21.888
"I am very disappointed to go out in Q1. It's frustrating because we had so much potential to be right behind the top three teams this weekend and instead we are out after just one run. It's very hard to digest: we thought we were safe but we underestimated how much the track would evolve in just a few minutes. We were only two tenths behind Esteban in P7, but with such a close field the margins are very small and we lost out by just one thousandth of a second. We have to admit we made a mistake as a team: the call not to go out was wrong, but I also should have done a better lap during my first run. I lost some time and that left us vulnerable. The plan for tomorrow is to minimise the damage we've done today. We're still going to try to make it back into the top ten and bring home some points. Our car has pace, just like last week, but it's going to be hard work to get through the field."
Esteban Ocon, 8th, 1:21.099
"It was a very close session and I was actually hoping for a bit more than P8 because I think P6 was achievable today. Unfortunately I didn't maximise the slipstream at the right moment on my final run and that cost me some top speed. Hopefully we can make up those positions tomorrow because our car pace is strong and there should be some overtaking opportunities."
Otmar Szafnauer, Team Principal
"We didn't maximise our performance today. In Q1 we underestimated the track evolution and power of the slipstream, and simply got caught out with Checo. We thought we had done enough to progress to Q2, but missed out in the very final moments. Esteban was able to better demonstrate the speed of the car and progressed comfortably through to Q3. We have a quick car and showed good pace over the long runs yesterday so I think we can be strong in the race and bring home some good points."
McLaren
Alonso knew he had done enough to make Q2, so tried to tow his team mate but to no avail and Vandoorne exited in Q1 for the seventh race in a row. Come Q2 and the Spaniard was laughing on the radio, after his flying lap was ruined by a tangle with Magnussen. The Dane would argue it was the other way around, with replays showing neither willing to cede in a battle for the same piece of track. The stewards chose to take no further action...
Fernando Alonso, 13th, 1:22.568
"After yesterday's poor performance we were expecting a tough Q1, but the team made a lot of changes overnight and the car was faster today. Starting tomorrow in P13 is a good surprise, and unthinkable a couple of hours ago.
"I'm a bit worried tomorrow we might come back to reality and struggle in the race, but let's see how it goes. We start in a position close to the points, so with a good start and a good strategy anything could happen.
"At the end of Q2, we had a strange situation. We were a few cars together on the out-lap, trying to find the gap between each other and trying to prepare the tyres. At the very last moment, on the inside of the Parabolica, Kevin [Magnussen] decided to overtake me and fill the gap between my car and the car in front of me. In Parabolica you normally launch the out-lap and start accelerating, but we arrived together into Turn One and we both lost the lap.
"It doesn't change much for me, because I think the position I am in is what I deserve, but definitely for him it's a shame because he could be in Q3, looking at his team-mate's position."
Stoffel Vandoorne, 20th, 1:22.085
"It was extremely close in Q1 today and we saw 10 cars within almost two tenths. We maybe didn't extract the maximum out of the slipstream we were trying to play. The possibility was there to progress to Q2, so it's a shame to miss out by a few hundredths. On the other hand, we looked very far away from even thinking about that yesterday. We were on the back foot and quite far away even from the nearest competitor, so today was a step forward.
"We made some drastic changes compared to yesterday and they definitely look like they've gone in the right direction. The feeling in the car is still more or less the same, but we gained a little bit of straight-line performance. We've definitely progressed a little bit today.
"We'll see what we can do tomorrow. There's still a lot of work ahead of us and we're not where we need to be, so we're expecting a tough race. Overtaking around here has never been that easy. The race is going to be long and there's not really much we can do with strategy as it's an easy one-stop race.
"There are a couple of guys who have penalties and are out of position, and to score points we always know we need to be a little bit lucky or for something to happen, so I hope the race will be full of action."
Gil de Ferran, Sporting Director
"Overall it was a positive day for us and we feel that overnight we improved our competitiveness. Obviously, the ultimate lap-time was highly dependent on track position, and in the end it was a shame that we didn't get a clean run in Q2 with Fernando.
"Regardless, we're starting in a decent place that hopefully will put us in a position to fight hard for some points tomorrow.
"Even though this is qualifying day and more excitement is still to come, the atmosphere here in Monza is absolutely electric and I can't wait until tomorrow."
Haas
Mixed fortunes for Haas - Grosjean scraped through Q1 by 0.001s at the expense of Perez, but made the most of his second life to qualify best of the rest in sixth and set himself up perfectly for the race. Magnussen battled hard with Alonso on their flying laps at the end of Q2, as they nearly pushed each other off track - which resulted in both missing out on the top 10. Who was to blame? You could flip a coin really...
Romain Grosjean, 6th, 1:20.936
"It was good. It was a bit on the limit in Q1. It didn't quite work – the margin to get through wasn't as big as we wanted, but then Q2 was pretty good. Q3 was nice, everyone improved, but I knew it was going to be super tight. I thought we'd have a bit more margin at the end. I was surprised to see the Renault so fast, and I expected the Force India to be up there. I'm very happy to be starting P6 and, of course, there's some work to be done for tomorrow, but I think we've got a good race pace, as well. There's a super tight midfield battle going on and we love it."
Kevin Magnussen, 11th, 1:21.669
"We absolutely should've been in Q3 today. We clearly had the pace in the car. It's Monza, and everything's about slipstreaming and track position. I did my best lap in Q2 with absolutely no slipstream. I was the first car to get on track, therefore I was all by myself, and the lap I had was one hundredth of a second from getting me into Q3. So, if that was on my first attempt, I'm sure there was more in it. Unfortunately, on my last run in Q2 I was overtaken by Alonso, and I couldn't then get a lap on that second set of tyres, which was crucial. It's disappointing, but we'll still have a good race and aim to score points again."
Guenther Steiner, Team Principal
"It was probably our most intense qualifying session of the year. We almost missed out to get into Q2. Just one thousandths made it happen. Then we had the incident in Q2 between Kevin and Alonso. There was a little bit of emotion from everybody because there was no need for it. It was an unnecessary situation that Kevin got dropped out by two thousandths. It was a few thousandths up and down and then he was out, but it all came good again when Romain qualified sixth and did most of it in the last sector. So, we start sixth and 11th, which is not perfect, because I think we could've been sixth and seventh. Anyway, we'll look to get as many points as we can tomorrow and close the gap to Renault."
Renault
With Hulkenberg starting at the back due to various grid drops, he escaped Q1 with the simple aim of helping his team mate out with a tow. As it was Renault probably had enough pace to make Q3 regardless, and once there Sainz was left to his own devises. The birthday boy wound up an impressive seventh and will be hunting down points tomorrow in the team's close battle for fourth in the constructors' championship.
Nico Hulkenberg, 14th, No time set in Q2
"We knew that the penalties were coming so we didn't do much running in Q2. The starting position gives some flexibility for tyre choice and how you run the compounds, but we need to be realistic – it's not going to be easy. The midfield was extremely tight today and overtaking, while not impossible here, is also not straightforward. I just want to have a clean race tomorrow and try to make up as many places as we can."
Carlos Sainz, 7th, 1:21.041
"That's a more than good enough birthday present! I'm very happy with that. We changed the rear wing before qualifying so we went into the session a little bit in the unknown. We had good pace straight away, playing a bit with the slipstream to get the most from the higher downforce rear wing. I felt much more comfortable in the car today and the strategy in Q3 was perfect. We've turned it upside down since Spa to find more performance, so today is a pleasing end result. The team have worked really hard and we're in a good position to fight for points tomorrow."
Alan Permane, Sporting Director
"We're very happy with the result today. It is particularly satisfying here, which we didn't feel would be one of our strongest tracks. We actually had a very, very strong qualifying, with both cars comfortably through Q1. We obviously had it in mind that Nico would take penalties, so it was not necessary to run much in Q2, but he helped us on Carlos's side of the garage by giving a tow down the main straight. He did a great job to play the team game. Honestly, however, Carlos had the pace today. Both cars are working well and we are optimistic of a good day tomorrow. It will be a tough race for Nico with his starting position, but the car is performing and you never know; we will try everything we can to move him up. For Carlos there's every chance he can get a very decent haul of points so we are looking forward to the race."
Williams
Williams took advantage of the misfortune of others to get both cars into Q2 for the first time since Baku back in April. Indeed the news got even better as Stroll nailed his one run in Q2 to make the top 10 shootout. Once again he went for just the one run, keen to save tyres for the race and didn't quite have the pace to challenge the others. But tenth and 12th is certainly a welcome result for Williams after a poor run of form.
Sergey Sirotkin, 12th, 1:21.732
"It wasn't the best session for me personally. The performance we had yesterday was a lot more promising than today. It's been all about slipstreams and how you get them, which car you're behind and how much of a gap you leave to them in front. I think when you concentrate so much on this it can affect the car balance and how it's performing at different parts of the track. I think we lost a bit of the base performance and honestly, I think we lost a lot more time. In my last run, the slipstream I got wasn't optimal. It was a pure time loss in some areas and I was getting a different corner balance, so the car was here, there and everywhere. It was a tough session and I'm not too happy."
Lance Stroll, 10th, 1:21.627
"To digest a good result like that, tonight will feel really good. I will go and give my guys a hug. I was giggling inside my helmet. I don't think it is just the circuit, as on any track it depends on day to day. Sometimes you get in a rhythm and it just comes all together, and today that is how it went. We were in good shape from Q1 onward and I just built up to it, put in a good lap in Q2 to get into Q3 and then I did what I could and tenth was my maximum. Tomorrow is going to be a challenging day no doubt, as we are suffering from straight line speed and some of our competitors will be on us tomorrow, but my mindset is always the same and I am going to go for it and give it my all and whatever happens, happens."
Paddy Lowe, Chief Technical Officer
"It has been a good day. It's the first qualifying this year that we've got into Q3 so congratulations to the whole team for getting the car into good shape for this particular circuit, and especially to Lance. A terrific lap in Q2 got him into Q3. Both drivers did a fantastic job overall. This is one of the trickier sessions in the year for qualifying because track position is so important for the slipstream and there's a lot of games going on out on track to optimise that. Both drivers did a superb job and drove great laps to get the times when they needed to. We're now in good positions for the race with tenth and 12th and we look forward to seeing what we can do with that tomorrow."
Sauber
Ericsson understandably had to take a new engine after his crash yesterday and thus will start near the back of the pack. He did get out for some vital lap time in FP3 though. All eyes were on Leclerc, who looked to have a shout at Q3. Instead he was a surprise faller in Q1. Bewildered by his apparent lack of pace, he will have his work cut out to finish in the points tomorrow.
Marcus Ericsson, 19th, 1:22.048
"First of all, it is good to be back in the car after the crash I had yesterday. Our mechanics worked all night and did a great job to repair the car in time. FP3 was all about getting comfortable again, and I felt good in qualifying. Unfortunately, the result was not what we wanted – with both cars out in Q1. We will analyse what happened and work on making improvements for the race. The result doesn't change much for me, as we have received a grid penalty for changing my engine. Nevertheless, it is really tight in the midfield, so I hope that we can still fight from there and have a good result tomorrow."
Charles Leclerc, 17th, 1:21.889
"I am not sure what happened to our performance between FP3, where we were very competitive, and qualifying. I am very happy with my lap – which is something I rarely say – so that makes it even more frustrating to be out in Q1. We have lots of work ahead of us, and have to understand exactly what happened so that we can recover before the race tomorrow and get a good result."
Toro Rosso
Hartley couldn't extract the optimum performance from his STR13 and exited in Q1. Team mate Gasly, though, was understandably delighted at another Q3 appearance, and will hope to build on P9 tomorrow and grab his third points finish in a row...
Pierre Gasly, 9th, 1:21.350
"Today was unbelievable, we didn't know if we would get through to Q2 before Qualifying, and then we made it to Q3! It's an amazing feeling to be starting in P9, everything went super well during Qualifying, I managed to get a good gap and slipstream and put one of my best laps in for the season. I think this was clearly the best result we could have achieved in Qualifying, and it's fantastic to have done it at Toro Rosso's home race. I didn't feel so great with the car yesterday, but we made some good progress overnight and now I feel much better with it. Today was half of the job done and now we need to finish the other half tomorrow. It's a really long way from the grid to Turn 1 so it will be crucial to really nail the start, then after that just try to be at the right place at the right time because it's going to be tight. When you start further up the grid it's a bit less risky, so I'll try to put my car in the right place to keep it clean, then push as much as possible."
Brendon Hartley, 18th, 1:21.934
"It was an incredibly tight Qualifying session today, my last lap wasn't too bad, I made a bit of a mistake in Turn 1 but the rest of the lap was clean. We could have used a bit of rain this afternoon as we saw yesterday we were quite competitive in the wet. The car didn't feel too bad and the team's done a good job to tune the car to something Pierre and I both like. The midfield was incredibly close today which is amazing for F1, but frustrating for me to be on the wrong side of that. There was around one-tenth of a second between Pierre and I, and that made the difference of six positions. It's a bit disappointing to be 18th because it gives us more work to do tomorrow, but after a couple of penalties we should start higher on the grid."
Jonathan Eddolls, Chief Race Engineer
"We had an afternoon of mixed emotions. Pierre had a fantastic Qualifying session to qualify in P9 at another track where we thought it would be difficult for our car. Unfortunately, Brendon just missed out on Q2 by half a tenth. Q1 was extremely difficult as everyone knows the importance of the tow, so drivers bunched up as no one wanted to lead the queue. Pierre managed to get a good lap together at the end of the session to make it through.
"Q2 was another extremely tight session and difficult with the tow, but we got it right for the run that counted and Pierre made it through by only 0.002s. Q3 was a very good lap and we extracted the absolute maximum from our package. The changes we made to the cars from yesterday to today worked well, our straight line speed is competitive and the drivers were much happier with the balance. Race pace during the Friday long runs was reasonable, so we're remaining optimistic for the race. It was also great to hear the cheers from the Tifosi on the pit wall after today's Qualifying results. Given the weather they endured yesterday, it's what the fans deserved as they have made the atmosphere electric!"
Toyoharu Tanabe, Honda F1 Technical Director
"Spa and Monza are both circuits where power is very important and we were very happy to be eleventh fastest in Belgium one week ago, but to be ninth here in Monza is fantastic. It was down to a great performance from Pierre, aided by a tow from another car and by the team sending him out on track at the perfect time. Everything has gone smoothly on the PU side so far this weekend and we got everything possible out of it for qualifying. But it's tomorrow that counts and we will do all we can to ensure Scuderia Toro Rosso has a good result at its home race."
Pirelli
Mario Isola, Head of Car Racing
"After a very interrupted day yesterday, today was a bit more normal, although the teams are still missing quite a lot of representative dry running data, which should make predicting the optimal race strategy tomorrow a bit harder. Nonetheless, we would expect a one-stopper if conditions remain dry, based on the supersoft and soft. This could still change if the track conditions turn out to be very different from what we have seen so far. With the field seemingly very closely matched, and the tyres able to deliver optimal performance in a wide variety of conditions, we should see a hard-fought and rapid race tomorrow at a circuit well-known for its pure speed. Congratulations to Kimi Raikkonen and Ferrari for setting the record lap today."