Feature
What the teams said – Qualifying in Italy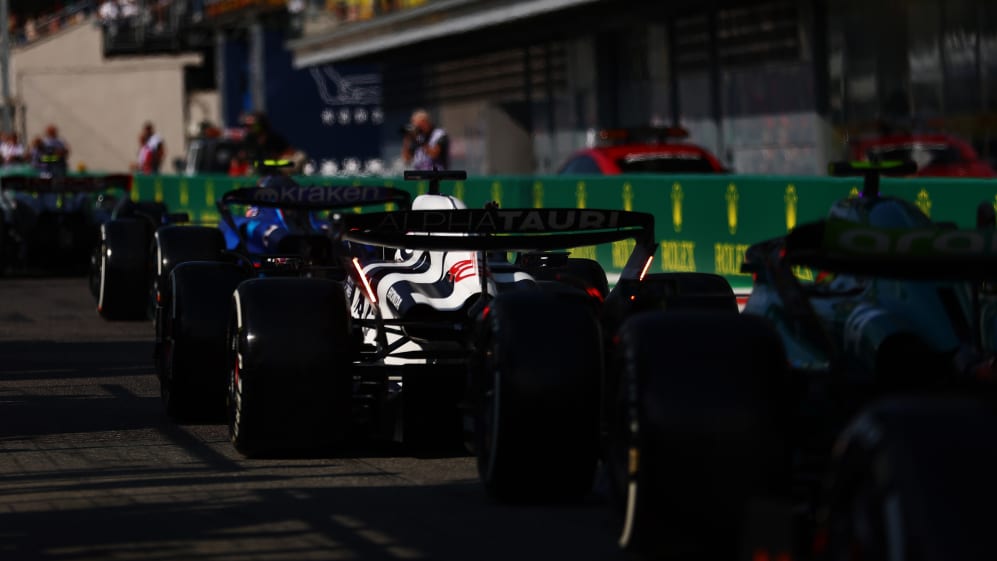 Ferrari
When Sainz topped FP3, the fans sat up and took note as it appeared that Ferrari were favourites heading into qualifying. Leclerc had been struggling by comparison, but when both cars made it to Q3 it seemed like he'd found the missing tenth. So it proved, with both cars in the fight for pole. Ultimately Sainz just proved too strong for Leclerc and Verstappen, with the Spaniard grabbing a spine-tingling pole position that had the crowd in raptures. Leclerc was slightly disappointed with third, knowing second was possible.
READ MORE: 'I've got goosebumps!' – Sainz hails 'incredible' run to pole on Ferrari's home soil
Charles Leclerc, 3rd, 1:20.361
"Q3 was really on the limit and I'm happy with my two laps, considering where we started from this weekend. The direction we went in with the set-up of my car yesterday wasn't the right one, although at first I thought it was. So we had to adapt and make some changes for FP3, a session that still felt a bit inconsistent. But overall, our performance was good today and the gaps are really small between all of us. Let's see what we can do tomorrow."
Carlos Sainz, 1st, 1:20.294
"What a Saturday! It's so special to get pole position here, in front of all the tifosi. I had a very good feeling from the car already on Friday and today we confirmed our pace. Q3 was always on the limit and we all took big risks in the fight for this pole. When I finally crossed the line and I heard the tifosi screaming like crazy and jumping on the grandstands I knew we had it!
"The weekend is not over yet, we want more, and for that we need to stay focused and prepare well for tomorrow. It's going to be a challenging race but we'll give it everything to fight for the win and give the tifosi around the world something to keep cheering us on!"
Fred Vasseur, Team Principal
"We dedicate this pole position to our many tifosi here at the track. As expected, qualifying was very closely contested and Carlos did a simply perfect job. He has been quick since the first free practice session and he fully deserves this. Charles was only six hundredths slower, but that was enough to put him behind Max. This is the best team qualifying result of the season, which will allow us to have a two-pronged strategy tomorrow.
"Over a flying lap, we knew we were competitive, but from what we saw on Friday, our race pace isn't bad either. We will take a look at where we are after the opening lap and then see what we can do. We have worked hard and it's great for the team at ithe track and for those working back in Maranello to see that we have made another step forward and that the effort everyone has put in is paying off. Tomorrow we will give it our best shot."
Red Bull
Perez was sidelined in FP3 with an oil leak, but fortunately the team managed to get him out for qualifying. Knowing they had a tough fight with Ferrari on their hands, Verstappen was towing the Mexican in Q1 and Q2, before the two went their separate ways and concentrated on their own laps in Q3. Verstappen dipped a wheel in the gravel on his first flying run, but nailed his second lap – it just wasn't quite enough. Perez likewise did well to grab fifth, fractions away from Russell in P4.
READ MORE: Verstappen optimistic Red Bull have the race pace to beat Ferrari to victory at Monza
Max Verstappen, 2nd, 1:20.307
"It was very close all the way through quali and Ferrari have been quick throughout the whole weekend. From our side we did everything we could to be as competitive as possible and I was happy with the lap in Q3, so nothing really to complain about. It was just not enough for pole but we know we have a good race car. It is all about the race pace and if we have better race pace, like normal, we will try to put the pressure on them. I am happy with how we set up the car for the race and hopefully that will pay off on Sunday. I know the win is something that could happen. If it's 10 in a row that would be amazing, but we have to execute the race in the best possible way to achieve that."
Sergio Perez, 5th, 1:20.688
"Today wasn't a great day. Adding a new engine and missing a large part of FP3 today was not ideal as it meant that we didn't get to run the soft tyres before going into qualifying, so we were less prepared for Q3. Overall, I don't think we maximised our performance and showed what we could do today. The team, however, did a tremendous job turning the car around in time for qualifying. We had a good Friday and great race pace yesterday but today we just didn't capitalise on our performance. Tomorrow I am optimistic that we can still show our strong pace and we will do our very best to come through the field."
Christian Horner, Team Principal
"A very impressive lap from Max to get on the front row. We knew from this morning that the Ferraris were going to be incredibly quick over a lap and in the end there was only a couple of centimetres difference between the two of them. Checo recovered well from missing track time in FP3 and an engine change to line up P5 makes for an exciting race tomorrow."
Mercedes
Mercedes just lacked pace all day with respect to their rivals, with once again Hamilton not able to match his team mate. Russell's final Q3 lap almost out-performed the car, getting ahead of a Red Bull and a very fast Williams on a day where the W14 looked sluggish on the straights. Hamilton couldn't match that and had to settle for splitting the two McLarens in eighth, but they do tend to go better in race trim so it is still all to play for.
Lewis Hamilton, 8th, 1:20.820
"That wasn't the greatest session. We started off the weekend well in FP1 on the first run, then it feels like things have got more complicated and I just haven't found the sweet spot with the car. It was improving through qualifying, and we made it to the top ten, but I still didn't have the feeling I wanted with the car on the final run. We know how close the times are in qualifying, and that also translates to very similar race pace, which can make it hard to make up positions through the field, especially early in the race. George did a great job today to get on the second row, and I hope I can make progress forwards tomorrow."
George Russell, 4th, 1:20.671
"You need to be dynamic in this new qualifying format as you jump down the tyre compounds, and I think we did a good job managing it today. The engineers did a great job overnight and we hit the ground running this morning, I felt more comfortable in the car. With the softer tyre compounds Pirelli have brought here, I think there's the option to tune the set-up more aggressively for qualifying or favouring the race pace a little bit more. We've done the latter, so I hope it pays off tomorrow. There's always lots of talk about a tow here, but it's always a double-edge sword; I chose clean air on each run and it worked well today. Overall, though, this was a session that just shows how you need to get every detail right in F1: in Q1, I didn't get the tyre in the right window and was P13; then in Q3, we ended up P4. Now it's full focus on the race and I hope we can challenge for the podium."
Toto Wolff, Head of Mercedes-Benz Motorsport
"That was a solid session for us but again a mixed outcome from qualifying – less than two tenths between our drivers, but that means four positions when it's such a close field. George did a strong job to get onto the second row; Lewis found it more difficult to build confidence in the car, and he was struggling for rear grip through the sessions. We know how hard it is to overtake at this circuit, with the small wings and a reduced DRS effect. If George makes a good start, then he can fight at the front; if Albon gets past, for example, then it might be a more complicated afternoon for us. As for Lewis, we know what he can deliver in the race – and he will fight until the final metres to climb through the field. Finally, it was great to see Ferrari put on such a great show, and fantastic to see the emotions of the tifosi as well. It will be a long race tomorrow, probably a one-stop without too much variety in the strategy, but let's see how we go when it comes to the race pace."
Andrew Shovlin, Trackside Engineering Director
"It was a really solid lap by George to take 4th on the grid. We were miles off the pace yesterday, but some good work was done overnight to close that gap down. Lewis was the wrong side of a tight bunch but that's how the grid is this year, his final lap began well but the rears started to give up in the final sector which cost him a few places. This track doesn't suit our car particularly well so a podium is a stretch target but we'll be looking for any opportunity to move both forward. We're expecting a hot race tomorrow which is going to mean tyre management is a big factor. But that should also create possibilities to offset and open up some choices on strategy."
Williams
Sargeant watched his wing mirror spontaneously crack during practice, which may or may not have been bad luck for the American. He didn't so much suffer bad luck in qualifying as a lack of pace, unable to make any impression during Q2 and winding up 15th after a mistake pushing too hard on his final flying run. Albon did deliver on the promise this car has around tracks like Monza, not only making the top 10 but out-qualifying both McLarens to grab a spot on the third row.
Logan Sargeant, 15th, 1:21.944
"This whole weekend we've struggled to get any tyre other than the hard tyre working and that showed. We need to look into that as I felt really comfortable on the hard compound and we were really good with both cars, then I struggled a little on the medium. It was really good until we switched compounds and we're not completely sure why. We haven't done many long runs so it's quite difficult to know exactly where we're at for tomorrow. The goal is to move forward, and we should have the car to do it so let's see what tomorrow brings."
Alex Albon, 6th, 1:20.760
"We came into Monza hoping to get into Q3, so P6 is great! We have a great car and quick cars are ahead of us in terms of race pace, so in that sense it's fine. If we can hold position against the Astons and the McLarens, I'll be pretty happy. The car has been feeling good and until qualifying, we've been making changes to the car every session, as we struggled to dial it in a little bit, but then everything came together. We knew this track was going to suit us, but we need to use these weekends to pull further ahead in the constructors', so let's see what we can do tomorrow."
Dave Robson, Head of Vehicle Performance
"Like yesterday, the ATA format led to some mixed approaches in FP3, but we were happy that we got most our work done as intended. In contrast, qualifying is more prescribed than usual with tyre compounds mandated for each of the three sections.
"Both drivers were very strong on the Hard compound in Q1 and both were happy with their cars. Alex was able to find improvements as we stepped through to the softer compounds, but Logan found it more difficult. This qualifying format is tricky and asks more of the drivers and team than usual, especially at a track where it is important to balance the tyre preparation with the Race Director's prescribed pace, whilst also getting the ideal gap to the car in front.
"The car showed decent pace in the limited high fuel running yesterday and both drivers are in a position to attack the race tomorrow. Logan has a bit more work to do but has a very good opportunity to race the cars ahead and secure a strong result."
McLaren
After struggling in Spa with their downforce levels, McLaren weren't expecting this track to suit their car. They were way off the pace in final practice with both cars, so all in all, Piastri and Norris in Q3 together is a good result. The Australian got more out of his final lap to wind up seventh, nearly two-tenths ahead of Norris who had only just squeezed into Q3 in the first place. But the team are worried about how they might go in the race, so points are not guaranteed.
Lando Norris, 9th, 1:20.979
"Not my best qualifying, but not a bad day. We struggled a little bit to find the last couple of things on the final lap. Probably a little bit too close to the car ahead. That compromised me maybe a little bit more than I was hoping for but other than that I think it was pretty much as good as we were going to get between Oscar and myself. Oscar did a good job. Tough day but I think we did the maximum."
Oscar Piastri, 7th, 1:20.785
"Not a bad result. I felt like I did a pretty decent lap at the end and there wasn't too much more left in it. I'm happy with what I did. Of course would like to be a bit more competitive but I think that's about where we expected to be. We'll do some work tonight to prepare for the race and see what we can do tomorrow."
Andrea Stella, Team Principal
"As usual, qualifying in Monza is intense, with cars trying to find the right position on track. I have to praise the team, as we operated well in these conditions. In terms of performance, today we didn't have enough speed to compete for the top rows of the grid. However, we are still happy that we have two cars in Q3, thanks to the good work of the team and the drivers. We now look forward to tomorrow. It will be challenging with the tyres in hot conditions, but we will try to extract the most out of it and score good points."
Aston Martin
Stroll was always up against it having missed Friday's running and so it proved as he lost out in Q1. Alonso made it all the way to Q3 but was the slowest runner on both his first and second flying laps, the car just not coming alive on the soft compound tyre. But he has targets in his sights for tomorrow, with McLaren struggling in a straight line and so potentially vulnerable once the lights go out.
Fernando Alonso, 10th, 1:21.417
"It wasn't our best qualifying today finishing in 10th position. We still managed to make Q3 again and it means we can fight for points tomorrow. Today it seems we performed better in Q1 and Q2, but we struggled to match this pace in Q3 on the softs. There are no points awarded for today and our strength has been on Sundays. We will hope for an unusual race tomorrow and look to capitalise on any opportunities."
Lance Stroll, 20th, 1:22.860
"It was a tricky session on track; I just wasn't feeling any grip from the tyres so I couldn't push where I needed to. I didn't get a single lap yesterday during the first and second practice sessions, and while that didn't help, I don't think it was the cause of today's result. We'll regroup as a team this evening and look through the data to see if we can identify where things went wrong today. Tomorrow's race will be tough – I've got a big job to do – but we'll be prepared for anything that comes our way."
Mike Krack, Team Principal
"A tricky qualifying session where we were missing the performance level of our expectations. We need to understand why Fernando did not manage to improve when we fitted the soft tyres because we were not able to compete for the top positions in Q3. Lance struggled for grip on the hard tyres. He missed so much track time yesterday and that compromised his preparation. We will need to be opportunistic tomorrow to bring Lance up the field and we will be reliant on the fortunes of others to some extent. There is still a long race ahead and we will give it everything tomorrow to try and bring home some points to minimise the damage."
AlphaTauri
Lawson had had three practice sessions to get his eye in here as opposed to his one in Zandvoort, and it made all the difference, as the young Kiwi gave a very good account of himself with a Q2 appearance. Not only that but he wound up an impressive 12th on the grid, not far away from his team mate in P11. Tsunoda might rue his luck in being just 0.011s away from the top 10, but he still has a very decent shot at points tomorrow in what is his team's home race.
HIGHLIGHTS: Watch a scintillating qualifying in Monza as Ferrari's Sainz takes pole ahead of Verstappen and Leclerc
Liam Lawson, 12th, 1:21.758
"Overall, we've been progressing over the sessions, building up my confidence. You can feel the limit, but it's also about knowing the step up in grip between the different compounds, if you make changes what it's going to do to the car, and that just takes some time. With both cars being so close to Q3, we definitely had the potential to make it, but unfortunately, Alonso went off the track right in front of me, so there was some gravel on my line. However, it would've been tight regardless. I'm happy to have made some improvements and I'm sure there's more to come. It's a good position to be starting in, and with both cars so close to each other, I'm positive about points for the team tomorrow."
Yuki Tsunoda, 11th, 1:21.594
"We struggled a lot yesterday, but straight away in FP3, the car felt much better. We made a big step and quite some changes to the car, and that worked well today. I'm pretty frustrated and disappointed with myself, because I think I could've done a better lap at the end. I apologise to the team, as I think there was the pace in the car to get to Q3. The team did well, and the track position was good in qualifying, I lost some time in a couple of places, so the frustration is more towards myself. For tomorrow, the race pace doesn't seem too bad, and we're just outside the top ten, so we just have to put it together, and points can be possible."
Claudio Balestri, Chief Engineer – Vehicle Performance
"We weren't completely satisfied by our level of performance yesterday, the car was sliding more than we wanted, and in some corners, we were not very competitive. For all these reasons, we decided to make some changes to the setup overnight, to try and find a good compromise to remain competitive on the straight, which is always an important trade-off here in Monza. As for today's programme, in the morning session, we worked to verify the setup changes for different conditions and fuel loads. For the low fuel runs, we focused our attention on the mandatory hard and medium tyre compound for Q1 and Q2, to maximise the possibilities of doing well in these two qualifying sessions, and this approach paid off. The changes made overnight were positive, and this is why we were able to go to Q2 with both drivers in a very difficult session, where you need to manage the traffic, and the tow is important. We were competitive on the medium tyres in Q2 but were not fast enough to make it into Q3. The gaps were incredibly small, and our last laps were not perfect, so in the end, we finished in P11 with Yuki and P12 with Liam. Now, we need to switch our focus to tomorrow's race, where we will target some points."
Haas
Haas didn't expect this track to suit them, so when they had both cars in the top 10 in final practice, it looked like they might be about to exceed expectations. Alas, it was not to be, with Magnussen struggling from word go. Hulkenberg once again proved his qualifying prowess with a Q2 berth, but it was just too competitive for the German to make it to the top 10.
Nico Hulkenberg, 13th, 1:21.776
"Our pace on the soft tyre in FP3 was as expected, the soft tyre always helps a weaker car more than the hard tyre. Going into qualifying, I expected the challenge to be very difficult. I'm glad we made it into Q2, I ended up with no tow in Q1 which is quite costly around here but somehow, we still managed to pull it off, so I was quite surprised and happy about that. Q2 wasn't perfect, not super smooth and the final attempt was a bit difficult, but P13 is a realistic picture for us."
Kevin Magnussen, 19th, 1:22.592
"I was quite happy on the soft tyre in FP2 and FP3, we looked pretty decent on that tyre but we just didn't have the same balance on the hard tyre – unfortunately. It's typical that during an ATA weekend we look like we have some decent pace, but not on the hard. Anyway, the race is tomorrow, and I hope we can find something on the other compounds and be a bit more competitive."
Guenther Steiner, Team Principal
"It would've been nice to get one car into Q3, but Nico was getting very close. The field is so close together and every little bit makes a difference, and his last lap wasn't his best lap, and we didn't make it. Anyway, I think it was a good performance to get into Q2 as Nico had no tow when he did it, so well done for that. With Kevin, getting into a situation with Stroll ruined his last lap, I'll never know if we would've been faster or not, but with this regulation with the minimum lap time, and people out on different programs, it is sometimes difficult to manage. We need to look at how to do that better, and how to avoid a penalty and still be in a good tow, or at least not in traffic."
Alfa Romeo
Zhou couldn't make it through to Q2, losing out to the tune of half a tenth. He had lost a lap time to track limits, but it still wouldn't have been enough to progress. Bottas did make it through, but the Finn couldn't make much impression on the medium tyres on either of his runs and wound up in 14th.
Valtteri Bottas, 14th, 1:21.940
"Qualifying has been a pretty straightforward job and to get a place in Q2 is a good result: the car felt decent with all tyre compounds, which was an advantage with the Alternative Tyre Allocation rules. Our pace hasn't been quite there earlier this weekend, but we made a step forward compared to practice: we are good on the straights, but we lost a little bit in the corners. I reckon the pace of our closest competitors is quite similar to ours, and hopefully we'll get to put up some good battles out there tomorrow to make up some ground. After all, this is Monza: races are often unpredictable here, and we might still have a chance climb up the grid and get into the top ten."
Zhou Guanyu, 16th, 1:22.390
"We made a significant step forward, in particular between FP3 and Qualifying, compared to how we struggled yesterday: we could have been in Q2 but, unfortunately, I found traffic at the end of my launch lap, which ended up costing me too much time in sector one. It wasn't a clean lap, sadly, and we ended up going out in Q1. Tomorrow will be challenging, but we head into race day with a positive approach, ready to seize any opportunity that will come to us. We need to make the right calls and move forward in the field."
Alessandro Alunni Bravi, Team Representative
"The team did a good job in recovering from a difficult Friday. We addressed some of the issues we had yesterday, when we couldn't find the right balance for the car and the pace was lacking. The team has been executing its game plan well, managing to handle car release times and the tyres effectively, and I reckon Valtteri's P14 is the most we were able to achieve today. Unfortunately, Zhou found traffic at the end of his preparation lap, meaning he couldn't get the most out of his time on track. Tomorrow won't be an easy race, but there is still a chance to do a further step forward, so it'll be crucial to nail the best strategy and be at our very best, maximising every opportunity. I am confident, if we repeat the job done today, that we can achieve that, and place ourselves back in the top ten. Finally, I would also like to congratulate Ferrari on scoring a pole position at our shared home race: it sure made the crowd happy, and I hope we will be able to contribute to the festive mood tomorrow."
Alpine
It was a fairly disastrous qualifying for Alpine, who lost both cars in Q3. First, Ocon seemed to impede Norris and while the stewards didn't have a look, it did disrupt the Frenchman's rhythm. Then Ocon managed to run wide on a messy lap, and left himself too much to do with the clock ticking down and a damaged floor for company. As for Gasly, he lost a lap time to track limits, again just leaving himself an uphill task to get those hard tyres warm enough in the closing moments of the session.
Esteban Ocon, 18th, 1:22.548
"Obviously, it's very disappointing to exit Q1 today. It was clear that our package was not quite suited to this track and I feel like both cars maximised their potential today, finishing with very similar lap times. It's up to us to really pin down the causes, which led to this lack of performance and I am sure we will find some solutions going forwards. In the meantime, the focus shifts to tomorrow and coming up with a plan to fight our way up the field to salvage something from this weekend. I am sure we can race much better tomorrow and we look forward to the fight."
Pierre Gasly, 17th, 1:22.545
"We knew this was going to be a tough day as a team and unfortunately that is the case with both cars out in Q1. Obviously, that's a disappointing feeling and not where we want to be but tomorrow is the race and we will see what we can do to advance. We know the areas where we are lacking pace – it has been the focus for us this weekend in practice – but ultimately, this circuit does not suit our overall package and that has shown today. We have work to do tomorrow but we will see what we can do on strategy and aim for a positive race."
Matt Harman, Technical Director
"It's been a tough day for the team today with both cars out in Q1, which, of course, is disappointing for all of us. We entered the race weekend knowing it probably was not going to be one of our strongest of the season given the characteristics of this circuit and knowing where the strengths of our overall package are best suited. We've experimented with some things in Practice and we arrived in Qualifying with the best available set-up to maximise lap-time. With both cars very similar in lap-time, split by just 0.003seconds, that goes to show there was not much left on the table today from both drivers. Tomorrow is the race and we will give it everything we can to gain some places."
Pirelli
Mario Isola, Motorsport Director
"The Grand Prix at Monza is always special, because of the great atmosphere at what is rightly known as the Temple of Speed and also because of the show it puts on for the public, who today were treated to a thrilling fight for pole between the two Ferrari drivers and the amazing champion, Max Verstappen. It was really exciting as the three of them improved their times in Q3 one after the other.
"On the tyre front, these two days have seen us trial the ATA format once again, this time in stable weather. The teams and drivers have shown that they have adapted quickly to the different challenges this has created in terms of tyre usage, without affecting the on track activity. Now we will carry out a detailed analysis of the whole weekend to see if this format could be adopted on a regular basis in the future, maybe with a few adjustments, or if we will stick with the standard tyre allocation.
"Looking ahead to tomorrow's race and possible strategies, we can confirm that a single stop is the quickest option, with the Hard compound being the main protagonist. It remains to be seen if some will decide to start on the Medium to have more flexibility, with a good level of grip at the start, or risk starting on the Soft to try and make up places in the early stages. The two-stop strategy is conditioned by the fact the pit lane is very long and therefore time is lost at each pit stop, but it could be a valid choice if the race is neutralised at any point."
FACTS AND STATS: The irresistible Ferrari connection with Monza continues as they score a record 23rd pole