Feature
What the teams said - qualifying in Italy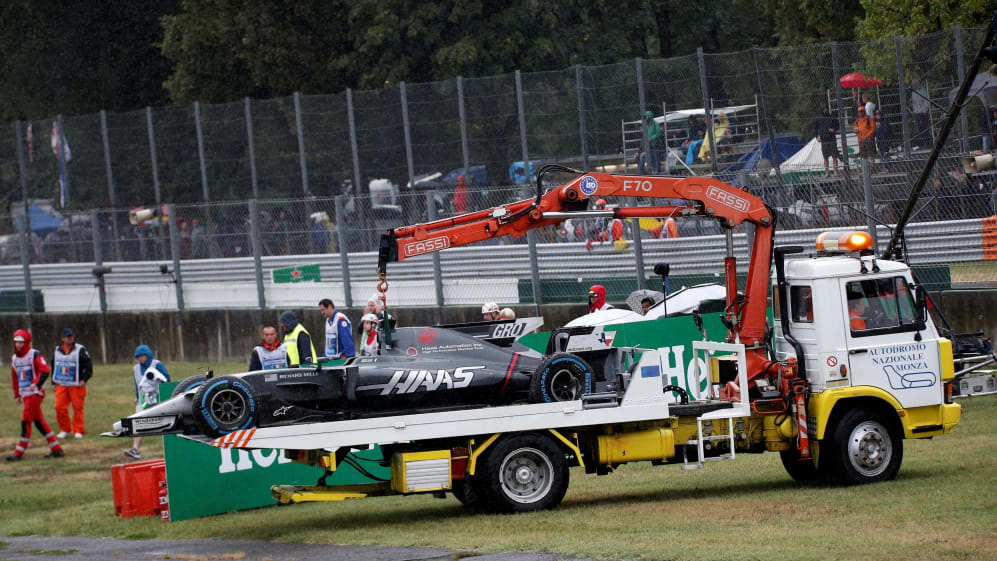 A round-up of all the action from qualifying at the Formula 1 Gran Premio Heineken d'Italia 2017 in Monza...
Mercedes
It was hard to know what sort of pace Mercedes had, given that neither driver set a time in FP3. But right from the start of qualifying they looked quick - provided they could judge which tyre to be on at the crucial moments. At the start of Q3 it looked like they had made a poor judgement call to start on the inters, but luckily they had time to correct and from there Hamilton proved unstoppable, becoming the outright pole position record holder in style. Bottas couldn't find quite the same levels of grip and could only manage sixth.
Lewis Hamilton, 1st, 1:35.554
"It's very hard to find the words to explain how I feel, I'm trying to figure it all out. It probably won't sink in for a long time. It was an epic day, I feel truly blessed. The Red Bulls really made me work hard for the pole today, which I'm grateful for. The weather has obviously been incredibly tricky for us all. What a day to come here in this beautiful country with the English weather and to be massively challenged. It was very difficult to see out there, and very easy to make mistakes - as always in the rain. The second to last lap was ok at the beginning, but then I backed out of it, hoping that I'd get one more lap. There was a lot of pressure for that last lap - there could have been a red flag, there could have been a yellow flag. There was a lot of risk, but I gave it everything. A big thank you to my team for making it all possible, the guys here, the guys back at the factory for continuing to support me. We've got a lot of the sponsors here from Mercedes-Benz and Petronas who have been sponsoring and supporting me for a long, long time, so I'm really grateful for that."
Valtteri Bottas, 6th, 1:37.833
"Today was a tough day. In the end, I just couldn't get the Wet tyre to work. We stopped for a new set, tried to go for one more lap, but I just didn't find any grip. Initially, in some parts of the qualifying we got everything working well, but it was really on a knife edge with the temperatures of the tyres. With more rain, I could not get the tyres hot enough. However, with the grid penalties for the Red Bulls, I'll be starting fourth, which is not too bad. And it is for sure good to be ahead of the Ferraris with both cars. We have a long race ahead of us tomorrow; luckily it's supposed to be dry."
Toto Wolff, Head of Mercedes-Benz Motorsport
"These tricky conditions are the times when you can do many more things wrong than right, so we can be pleased with our result. After such a long time waiting in the rain, I think the racing fans got their money's worth from the dominant lap Lewis produced right at the end - even if they were probably cheering a bit more for the cars in red than for us. It was a brilliant lap, after a session where he was the quickest man throughout, and it was undoubtedly a performance worthy of claiming the all-time pole position record. Valtteri performed strongly, too, until he ran on at the second chicane on his final timed lap. But grid penalties for cars in front of him will work in his favour tomorrow in terms of the starting position. The key point to take away from this afternoon is that we will start the race with both cars ahead of our direct competition, and we will be aiming to keep it that way to the flag. Conditions are predicted to be warm and dry, though, so it will be no easy walk to the finish. We will do our homework tonight, prepare for every scenario and aim to deliver a strong performance in the race. Ferrari will be competitive, so we need to cover our bases."
James Allison, Technical Director
"It wasn't quite a perfect conclusion but we enjoyed a very strong session and have every prospect of a good race tomorrow. Lewis was in imperious form throughout the rather elongated session, and Valtteri too although things didn't go as well for him in Q3. But he will have a strong race tomorrow. It was a terrific job from the strategists and race team to put the drivers out on the right piece of track, and the right tyres, during each part of qualifying. Overall, a very good all-round team performance on a day that required maximum concentration."
Red Bull
Red Bull often look up to the skies hopefully, with rain being the great equaliser. Their prayers were answered in epic fashion as the heavens opened and from there both drivers looked to capitalise. With penalties having already consigned them to the rear of the grid, they were driving mostly for pride, with both taking their turn in the top spot. Ultimately they couldn't match Hamilton's imperious form, but second and third is still an impressive result, with Verstappen pipping his team mate by one-tenth.
Max Verstappen, 2nd, 1:36.702
"Qualifying was positive today and I was happy with it. To be second is, of course, a very nice surprise and in the wet I always enjoy it. Q1 and Q2 with the tyre choice was a bit difficult as the intermediates never seemed to work very well. In Q3 on the new extremes I didn't have a lot of grip, I was sliding around and I never really felt that comfortable. I cooled the tyres for one lap and then my final lap was luckily not too bad, it wasn't perfect but second was a good result for us. We always knew we had the penalties to take tomorrow and having a good Qualifying means I hopefully start 15th rather than at the back. Let's hope we can overtake, move to the front and I think realistically the aim will be for fifth or sixth."
Daniel Ricciardo, 3rd, 1:36.841
"It is, of course, annoying about those penalties here. It would have been nice to start up front especially with some different names up that end and not the usual suspects. It would have been a chance to probably stay in the front for longer but at least I put a good effort into Qualifying and that put me up to 18th for the race instead of 19th. In the end I gained one position for doing a good job and I'll take that. I didn't really enjoy Q1 and Q2. Not because of the conditions, we were just slow as I struggled for grip and felt I was a bit like a passenger. As soon as we started Q3, I felt straight away that there was some grip that I didn't have in the first two sessions. I still feel we left a bit on the table but generally it was a good recovery so I'm happy. I will enjoy tomorrow's race thoroughly and have some fun. 18th is far down the back so I don't expect to finish there."
Christian Horner, Team Principal
"A very positive Qualifying for the team today. To qualify in second and third despite the tricky conditions and after the lengthy delay was the absolute best we could have hoped for here in Monza. Both Max and Daniel seemed to extract better performance from the extreme tyres and we made the right decisions in adapting to the changing conditions through the Qualifying sessions, and we could capitalise on that in the final shootout. It is slightly academic for tomorrow as the penalties see both drivers starting down the grid but we will be hopeful of making good progress as the race unfolds. At the very least the fans deserve to see an exciting Italian Grand Prix as a reward for their support and waiting in the rain for the late show today."
Ferrari
Ferrari had pushed their rivals all the way on Friday, but couldn't find the same pace in the wet conditions. Both drivers made Q3, but once there Raikkonen struggled for grip and was disappointed with seventh, which was one place higher than his team mate could manage. Fortunately for Vettel and his championship hopes that will become P6 after the Red Bull drivers take their penalties, but nonetheless he could have his work cut out to prevent Hamilton taking the outright championship lead come race day.
Sebastian Vettel, 8th, 1:38.064
"This isn't where we wanted to be. Obviously, we didn't have enough speed, but tomorrow I think it should be fun. It will be a long race on a track where you can overtake, so anything can happen. I don't know what caused today's result, but it was not ideal and we didn't have the grip. Now we'll try to understand what happened and then we'll focus on the race. I don't think anybody was expecting so much rain. Obviously, we are all disappointed, but there's no point in complaining now. I know that we have a strong car, we have a new chance and anything can happen. We could have done better today and we tried to do it but it didn't work. I am confident tomorrow will be better."
Kimi Raikkonen, 7th, 1:37.987
"Today in wet conditions it felt quite tricky all the time. We struggled to get the tires working, in most places we had no grip and it was very slippery. It was difficult to go through the corners and be able to push and go fast. The starting position is not ideal but we'll start in a bit better position thanks to penalties for the other cars. Now we have to wait and see how the weather will turn out. I'm sure that in the dry conditions it will be a lot different, our car should be working quite well."
Toro Rosso
Sainz was the first to set a time in FP3, and looked assured in the conditions. Come qualifying though, he struggled to get the intermediate tyres to work and so opted to switch back to the full wets. Despite this, the Spaniard - who has a 10-place grid penalty for using additional power unit elements - couldn't find the pace to make the top ten shootout. Kvyat struggled in the damp conditions, complaining that he couldn't stop the car. He was happier once the track started to dry, but like his team mate didn't have the pace to challenge for Q3.
Daniil Kvyat, 14th, 1:38.245
"It was definitely not easy out there today! We had a few balance issues and I was fighting to stay on track almost at every corner; a lot of wheel spin everywhere too! At times it was also difficult to decide what tyre to go out on – sometimes the track was for extremes, sometimes for inters… But I'm happy with the decisions taken today and, all in all, it was a decent session from my side, I did my best. For tomorrow, it's not going to be an easy race, especially if it's dry – this is not a track that suits us. Having said that, we will of course try our best and see where we end up."
Carlos Sainz, 15th, 1:38.526
"A very difficult qualifying today and hard to read the weather as well… It was also quite tricky out there! At the beginning of the session I had no feeling with the intermediate tyres and I felt more comfortable on extremes. In the end we decided to move back to the inter, as everyone was improving on that tyre, but we had very low grip – this is because of the set-up compromise we are running for tomorrow, when it should be dry. Hopefully this will help tomorrow, because today in these conditions it was always going to be difficult. We were running with less downforce than our competitors, that's why I was struggling a lot out there, especially in the corners. For tomorrow, when we're expecting a totally dry race, we'll be starting from the back because of our grid penalty, but we will try our best to make up as many positions as possible and see where we end up!"
Jody Egginton, Head of Vehicle Performance
"Very busy evening going through our own data but also conducting the normal competitor analysis, as we are missing some long-run data. With FP3 being rain effected, we opted to conduct a single short-run to check the various settings which are rain specific and this was completed without any issues. With the rain continuing into qualifying, with some variation in intensity forecast, we were prepared for a mixed session. Q1 was disrupted early on with a red flag, meaning we only got a single timed lap before the red flag came out. At the restart, we fitted full wet to both cars moving to the inter later in the session but, although both cars made the cut for Q2, this tyre was not yet working as we wanted. We employed the same strategy for Q2, also making some setting changes to try and bring the inter tyre in. However, with both cars still struggling with balance on this tyre, we were not able to close a clean lap and could not progress on this occasion. We now switch our attention to race strategy, investigating which options can allow both cars the best opportunity to maximise point scoring opportunities."
Williams
Massa topped FP3 with Stroll right behind, raising a few eyebrows along the paddock and both drivers fancied their qualifying chances and made Q3 comfortably. Massa ran wide, ruining his fastest lap but all eyes were on Stroll who defied expectations on a day which called for experience. He qualified fourth, ahead of a Mercedes and both Ferraris and thanks to the grid penalties for Red Bull, will start from the front row.
Felipe Massa, 9th, 1:38.251
"It was definitely a great qualifying for the team. For many years, our car has been difficult in wet conditions and today the car was great, which for me was very important in qualifying. I was happy to be in Q3, but not so happy with my position because for sure I would have been happier to be in Lance's position. He did a fantastic job, an amazing lap and qualifying. It was great to see what he managed to achieve in terms of lap time. I'm so happy for him. We are starting P2 and P7, so we are in a good position for the race tomorrow and we will try everything we can to have a good race with both cars."
Lance Stroll, 4th, 1:37.032
"It feels great. I didn't expect that coming into today, but racing is full of surprises and you never know what will happen. They were difficult conditions out there, but we really handled it well as a team and pulled it off. I felt confident, felt good with the car and put it all together. Tomorrow is the race and that is where it counts, and I am just going to run my race like I always do. I am starting from a bit of a different position, but anything can happen and we have just got to be on top of our game tomorrow. The car just seems more competitive this weekend. I know the conditions weren't really normal. We expected coming into this weekend with more straights and less high speed corners we would be a bit more competitive and it just seems to be that way."
Paddy Lowe, Chief Technical Officer
"It has been a long afternoon but from our point of view, it was worth the wait. It was a terrific result to get both cars into Q3. We had great pace in the car, especially with Lance, who is my driver of the day. We were briefing him this morning before FP3, asking him if he wanted extra practice in the wet because he's never driven an F1 car in full wet conditions but he said "No, I'll just take it as it comes" and that's what he did today. We saw some great talent out there. Good performance in the wet is one of those things that's very difficult to test or develop, so it's one of those surprises that can unfold positively or negatively on the day. Tomorrow, we have Lance on the front row, which is great in his first year of F1 - a tremendous achievement. We'll see what he can do in the race. Felipe did a great job too in very difficult circumstances and will line up seventh on the grid. So we are aiming for some good points to end the weekend."
McLaren
Alonso's 35-place grid penalty meant he was always unlikely to feature at the sharp end of qualifying. He did make Q2, but spent most of that segment in the garage, only coming out towards the end to complete one flying lap. Vandoorne had a greater interest in proceedings, and made Q3 for the third time in four races. He opted to just do the one Q3 run and qualified P10, but will start eighth after Red Bull's penalties.
Fernando Alonso, 13th, 1:38.202
"The car was great today in wet conditions, especially compared to the dry. We were much more competitive and we made it into Q2. Obviously, we didn't want to push too much in qualifying because there was no point – we'll start last anyway, due to the penalty – so we just saved the tyres and used the engine in a lower power mode, but we still did a decent qualifying. We needed to keep an eye on Stoffel's position too, as we didn't want to be in Q3 with the wrong car!
"We missed the opportunity to use the tow today because with wet conditions you don't want anyone in front, as the visibility is so poor. We'll save it for some future races.
"I think we were potentially top five or top six today, so we hope for these conditions tomorrow. It's apparently going to be sunny though, but we'll see what we can do from there."
Stoffel Vandoorne, 10th, 1:39.157
"For us to be in Q3 on a circuit like Monza means it's been a pretty good afternoon, especially as it wasn't so easy out there and there were pretty difficult conditions.
"I'm happy with my performance today. Unfortunately, we didn't get to have a proper go in Q3 – we had a loss of engine power so I had to abandon my quicker lap, and we don't know what the problem is at the moment. It's a shame because I really think we could have pushed our way further up. We could have taken more time to find the limit and taken a few more risks, but we didn't get that chance.
"With penalties we'll probably start P8, which is inside the top 10, and we've been running strong in the dry. I think tomorrow should be dry, so we'll need a good start and to keep in touch with the group in front. There's some quick cars in front and some quick cars behind, but once we're in position hopefully we can stay there. Tomorrow is when the points are distributed, and I'm optimistic in the race we can have a good go."
Force India
Just 0.002s separated Perez and Ocon in Q2, but it was that fine margin that was the difference between making Q3 and not. On this occasion it was the Frenchman who progressed, and came out on full wet tyres at the start of the session to put in a serious of flying laps in the best of the conditions. P5 is an impressive result, made more so by the fact it will translate to third on the grid for the race. For the sake of the team, the six places that separate the two Force India drivers on the grid might come as a welcome relief, given events last time out in Belgium.
Esteban Ocon, 5th, 1:37.719
"A great qualifying session. I'm really happy for everybody in the team. We knew there was an opportunity for us this afternoon and I'm so pleased we could take it. I always enjoy driving in the wet and the conditions today were really challenging. The car felt great; there was a really nice balance and I have to say a big thank you to the team for all their hard work. We will need to fight hard tomorrow because there are quick cars all around us, but I believe we can score some really big points and I'll be aiming for the podium."
Sergio Perez, 11th, 1:37.582
"It's been a very long afternoon and I am happy the fans got a good show in the end after waiting in the rain for so long. The conditions on track were difficult; there was a lot of standing water and the cars were aquaplaning a lot, so I think Charlie [Whiting] did the right thing by postponing the session. The conditions were changing all the time and it was very important to be on the right tyres at the right moment. In Q2, we took the decision to change from wets to inters and I only had two laps to try and make it happen. In the end, I missed out by two thousandths: it's not ideal, but it was the best we could do today. It was not a perfect lap – I went a bit too wide at Ascari and I got very close to Ricciardo ahead of me, and that compromised me a little. These small margins were enough to miss out on the top ten. We'll be moving up on the grid with a few penalties and I hope to make up some more positions tomorrow."
Robert Fernley, Deputy Team Principal
"After such a long day it's satisfying to end the qualifying session on a high. Esteban made it through to Q3 and will start the race from third on the grid. He made the most of the wet conditions and we have a great chance to fight for a podium tomorrow. Sergio was a bit unlucky to miss the top ten shootout by a couple of thousandths, but starting from ninth gives him a good chance to demonstrate the speed of the car and bring home points too."
Renault
A disappointing day for Renault, who couldn't match the pace they showed last time out in Belgium. Palmer mistimed his last run, just missing the chequered flag to exit in Q1. Hulkenberg did reach Q2, but failed to make an impression in conditions that usually favour the German.
Nico Hulkenberg, 12th, 1:38.059
"Today was tricky and in particular with the Intermediate tyres as it felt like driving on soap as we just couldn't develop any sort of grip and balance. We had one set of Wets that felt much better and we were on good pace until the start of Q2, but at the end we couldn't get pace on the Intermediate tyres when we needed it. We'll do the best we can tomorrow; hopefully we can grab some points."
Jolyon Palmer, 17th, 1:40.646
"The tyre choice was difficult today. I pitted for Intermediate tyres from a lap that could have gotten me through Q2 but then I couldn't get the tyres working properly. I got one lap in but it was just sliding around and couldn't get another lap in before I saw the chequered flag. We knew that whatever happened today we start from the back so it's not a big deal, but it would have been good to get a better crack at qualifying, regardless of where we'll start tomorrow."
Alan Permane, Sporting Director
"We were rather looking forward to the rain as our car has been working well on the slightly higher downforce level. In this morning's practice session, a single lap confirmed that everything was working well. Unfortunately qualifying was a struggle to get either tyre into the correct working window. We definitely favoured the full wet and struggled more on the intermediate when the water levels reduced.
"Our aim is to make up places where we can and maximise everything. The forecast looks dry so it should be a more straightforward day."
Haas
Grosjean was the unfortunate pre-cursor to the series of delays to qualifying, after aquaplaning his VF-17 into the barriers on the start-finish straight. The Frenchman was understandably disgruntled, complaining that the conditions were too dangerous to drive in, but fortunately the damage to his car looks minimal. That ended his involvement and Magnussen's finished at an early stage too when he exited in Q1.
Romain Grosjean, no time
"I knew straight away the conditions were not good. The visibility was terrible. It just aquaplaned at more than 300 kph (186 mph). I lost the car in a straight line.
"You couldn't see anything and you couldn't drive in a straight line. There was just too much water for the car. I had massive aquaplaning and there was nothing I could do. There was no warning. It just went. I was unlucky to be there at that time and place. Maybe waiting a few more minutes would've been the right choice.
"From the out lap onward, I complained a lot saying that it was too dangerous and we couldn't see where we were. I wasn't the only one. Clearly, crashing in a straight line shows that the car cannot take it because there was too much water.
"I'm disappointed that we started qualifying in those conditions. What can you do? You cannot back off. If there is someone behind you, they hit you straight in your back. You don't know what's in front. I just think we should've waited.
"The hit wasn't that bad. Physically, I'm alright. Mentally, crashing down the straightaway is not an easy thing to digest. It wasn't a big impact, so I believe the car is going to be fine for tomorrow."
Kevin Magnussen, 16th, 1:40.489
"To sit and watch an empty track for that long is tough, so good job to everyone that stayed. For myself, it wasn't the best day. At the end, I just couldn't get any heat into the intermediates. I should have stayed on the wet tires. I know the guys at the front were getting them to work, but we don't have the downforce to make it work. The wet tire would've been better. It was my call, so that's what happens sometimes. It's the first time we've had that crossover with this year's tires. It is how it is. The start position is going to be a little bit better tomorrow because of other people getting penalties, so that helps a little bit, but I'm still disappointed with today."
Guenther Steiner, Team Principal
"A challenging day today. It was a very confusing qualifying. Romain damaged his car on the third lap and that took him out of the game. We have a broken car that we have to fix for tomorrow. With Kevin, we couldn't get the intermediates to work, or at least it wasn't working as expected. The good thing is with all the penalties going around, it looks like he will start 11th. I would say, in all the bad luck, we got a little bit lucky."
Sauber
Both Saubers struggled for grip in the treacherous conditions and couldn't make much of an impression on the field. Ericsson took the intra-team spoils for the second race in a row, by a tenth. Given the number of grid penalties to other drivers, both Saubers should start in the midfield. Whether they can stay there will be the challenge.
Marcus Ericsson, 18th, 1:41.732
"Today was very difficult due to the weather conditions. I think that the performance on the wet tyres was alright and the balance of the car also felt ok. Unfortunately, when we changed to intermediates towards the end of Q1 we just could not get them to work properly. It is a bit disappointing that we could not do better in these challenging conditions, but that is how it goes sometimes."
Pascal Wehrlein, 19th, 1:41.875
"The first laps on the wet tyres were ok and I felt comfortable in the car. As the track conditions were improving, we changed to intermediate tyres. However, we were not able to bring them into the right operating window so I could not set a better lap time. I did my best and will now concentrate on tomorrow's race."
Pirelli
Mario Isola, Head of Car Racing
"The extreme wet conditions with standing water on the track clearly wasn't ideal preparation for the grand prix. Monza is the fastest circuit on the championship and even these extreme conditions didn't stop some drivers reaching top speeds of more than 300kph. On top of that, there are not enough corners to increase tyre temperature and the day was not warm. However, the indications are that tomorrow's race should be dry, which presents a completely different challenge to what was eventually seen in qualifying. Teams will have to rely on the dry data gained from free practice yesterday in what is likely to be a one-stopper. Without a full complement of information heading into the race, and with a free tyre choice for the starting grid, the teams will have to monitor tyre behaviour carefully tomorrow."