Feature
What the teams said – Qualifying in Mexico City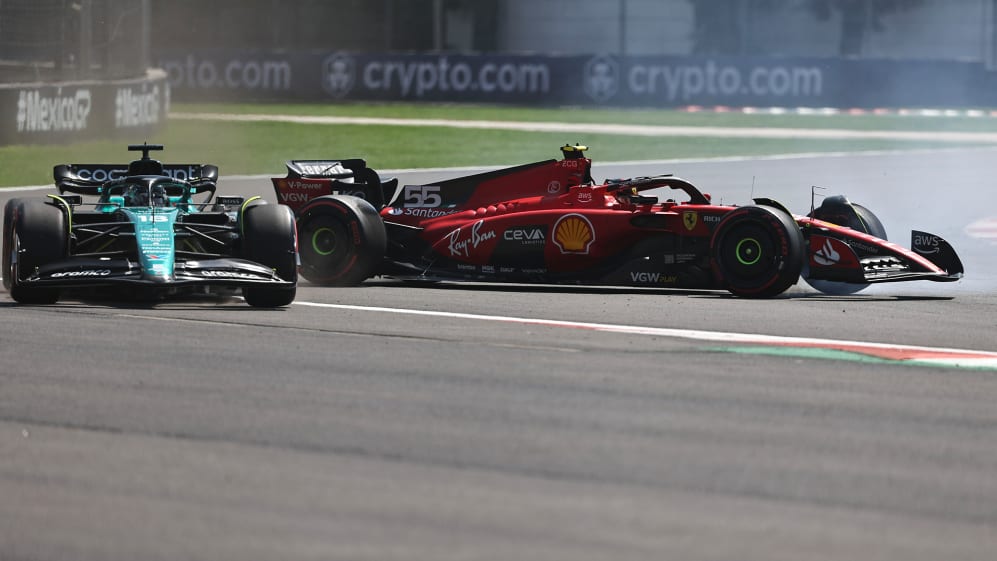 Ferrari
Ferrari didn't manage to set a representative flying lap time in FP3, Leclerc caught out by traffic and Sainz spinning off for the same reason. As such they were an unknown heading into qualifying and looked in the mix but not exactly electric. But come Q3, both drivers extracted the maximum from the car to jump up the order and lock out the front row. Neither could repeat that feat, their second flying runs no quicker but it didn't matter – they'd done enough to secure an incredible front row lock out.
READ MORE: 'It was a very strange one' – Leclerc and Sainz both baffled by Ferrari's pace as they score front row lockout in Mexico
Charles Leclerc, 1st, 1:17.166
"I did not expect to take pole position today. After FP3, it seemed as though we were on the back foot but once we put it all together in Q3, it went well. I'm already focusing on the race though, because we want to convert this pole into a win. Our pace has been good so far here this weekend, so let's see what we can do tomorrow."
Carlos Sainz, 2nd, 1:17.233
"It was quite a strange qualifying session today, but a mega result for the team! It hasn't been the cleanest of weekends for us but in Q3 we managed to put everything together and consolidate a front row lockout for the race. Traffic nearly put me out in Q2, but the lap in Q3 felt good and this is a fantastic boost for everyone in the team, especially during this long triple-header. We need to stay focused, as tomorrow won't be an easy race. Temperatures and tyre management will be key for us. However, we are in the best possible position to try to keep everybody behind. Let's race!"
Fred Vasseur, Team Principal
"After FP3 I was convinced we could do well, but maybe not this well! Performance this afternoon was mainly driven by the tyres because there was the risk that if you pushed too hard at the start of the lap, you would have killed the tyres at the front or the rear towards the end of the lap. We managed things very well during Q1 and Q2 and we had the advantage of having two new sets of Softs for Q3 for both Charles and Carlos and the first flying laps proved to be the best.
"Of course we will enjoy today's result but we must not get carried away and we are already focused on how we can convert this performance to the best possible result tomorrow as we saw the field is very tight. It's a very long run to turn 1 and the slipstream here is an important factor, but we still prefer to start from the front row. Having both drivers there separated by six hundredths shows the team is doing a good job."
Red Bull
Verstappen topped FP3 relatively comfortably and looked quick from the off in qualifying. He made it all the way to Q3 using just two sets of tyres, but suddenly as the track temperature dropped, his car started sliding around and a small error on his first flying run cost him pole. On his second flying run, the car just got away from him, and he surprisingly had to settle for third. As for Perez, he only had one set of new tyres in Q3 and found himself just squeezed out of the second row by Ricciardo.
Max Verstappen, 3rd, 1:17.263
"I tried to do the best I could but it just didn't come together today. There's very low grip around this circuit because of the altitude, so it's not as easy to push as hard as I usually would in qualifying. I didn't have the perfect balance in Q3 and that cost us a few tenths here and there. Nevertheless, we were still close to the Ferraris and it's a long race tomorrow. I am feeling confident, I of course would've liked to start first tomorrow but we'll have a good slipstream into turn one so let's see what we can do."
Sergio Perez, 5th, 1:17.423
"I don't know where the Ferraris came from, we were not expecting them to be that fast. Overall, it got a clean lap and it felt ok but I just lacked some progression through qualifying, which I didn't get fully and that really hurt us. Not having a new set in Q3 wasn't ideal, that probably proved quite costly with the evolution and being on a used tyre. We wanted to be on the first two rows but we are still P5 and a lot of things can happen tomorrow, I need to overtake four cars and anything can be done in this sport. It's a long race and it's a long way into turn one, we know overtaking here can be really difficult, but anything can happen and I know I have the support of this crowd behind me."
Christian Horner, Team Principal
"Not the qualifying session we are used to seeing. We did well but Ferrari really pulled it out at the end. I think even they were surprised. Q1 and Q2 looked like a struggle for them and then they put in a very strong time that first run in Q3. They couldn't better it on the second run, we put in a strong lap but it wasn't enough. Congrats to them they were very quick in a very confusing session but equally, good to see both Daniel in P4 and Checo in P5. We are looking forward to tomorrow, we have a good race car and as long as they stay out of trouble on that first lap we should be set up well. Arguably starting in the front is not where you really want to be on this track with that huge run down to turn1. It will be interesting to see if there is some formation driving by Ferrari, but it's a pretty wide track and it will make a really exciting race."
AlphaTauri
With Tsunoda starting from the back of the grid, his role in qualifying was to tow Ricciardo around and help his team mate make Q3. The Japanese racer did just that, a selfless effort that helped Ricciardo save a second set of tyres for the top 10 shootout. The Australian then proved that he had the pace to be there regardless of the tow, by grabbing an incredible fourth on the grid. Post-injury, it is safe to say that Ricciardo is back to his best, as he sets about scoring his first points of his comeback.
READ MORE: Ricciardo says P4 grid slot 'no fluke' as he vows to 'put up a fight' in Mexico City GP
Daniel Ricciardo, 4th, 1:17.382
"I'm very pleased. P4 is a little higher than we expected within the top 10, but the pace has been there from the start of the weekend. After Austin, knowing we had a normal weekend in Mexico to try things with our setup, we started with a slightly different car and definitely more toward what I was after. I was happy to hit the ground running yesterday. The confidence in the car was there, and we were always a solid P10 car, with some purple sectors sometimes. Before qualifying, it wasn't about whether we could make it into Q3 but how far up the grid we could qualify. Yuki was great and gave me a slipstream in Q1 and 2, so that definitely gave us the extra tenth or two to get in, and then Q3 was just our pace. From that point of view, we had the pace to do it. The lap I was visualising in my head was maybe P7, or P6 at best, but P4 is wild. As a team, we have to enjoy it because it's a big moment. It's not often that we get this far into the top 10, so there's a part of me that will be enjoying it for the next hour. Points are awarded tomorrow though, and I believe we have a chance to score a lot. Half the job is done but it's a long run to Turn 1, so I'll keep calm, pick a good line, and race hard."
Yuki Tsunoda, 15th, No time set in Q2
"Firstly, a great job to the team and Daniel. We knew I was taking an engine penalty, so we just wanted to maximise the opportunity for my teammate. Obviously, I'm frustrated because there was definitely the potential to have both cars in Q3, but I'm happy with how I did and that I was able to help my team and teammate. We focused mainly on race pace during Free Practice, so I'm confident the car will be strong tomorrow. I'll do my best again and try to overtake as much as possible. Our car's characteristics seem to suit this track, so we're aiming to have both cars finish in the points."
Jonathan Eddolls, Chief Race Engineer
"From Friday, we could see signs that the car was performing well here and that there was even more performance to find after FP2 because neither driver had the perfect balance. The team put a lot of effort into the overnight analysis, particularly on the tyres, to make changes and improvements for Saturday. The track temperature for FP3 and Qualifying was similar to FP2, so we had a consistent set of conditions to work with. From the get-go, it was clear the changes were in the right direction. Daniel was very competitive on his first run on the medium tyre, but he and Yuki struggled a bit more on the soft compound. It was harder to find the sweet spot, but it gave us a platform to work on for Qualifying. With Yuki starting from the back of the grid, he showed how much of a team player he is by giving Daniel tows throughout Qualifying. This was key to the success today because it allowed Daniel to save a tyre set in Q1, leaving two new sets of the soft compound for Q3. On top of that, Daniel and the AT04 were flying today, and he was consistently putting in times towards the top of the timesheet. The track changed slightly for his last run in Q3, and a number of teams didn't improve, but even with that, Daniel's first lap was quick enough for P4 on the grid tomorrow, with a purple Sector 3 and only one tenth behind Max. It's been hard to take for Yuki, knowing he starts from the back on a weekend in which the car is performing so well. Thanks to him from the whole team for giving Daniel the tow, which was instrumental in today's result. The performance this weekend has been the best of the season so far, but there are no points for today, so we need to remain focused on the job at hand, which is turning our strong qualifying performance into points tomorrow."
Mercedes
Russell improved markedly in FP3, which gave rise to some hope that Mercedes might be in the mix for pole in Mexico. But while both cars made it into Q3 with relative ease, even feeling confident enough to use the mediums tyres in Q1, once in the top 10 shootout things unravelled. They had to run used soft tyres on their opening flying laps, and once they bolted on the fresh softs Russell couldn't better his P8. Hamilton at least did improve, but only to sixth.
Lewis Hamilton, 6th, 1:17.454
"I've been struggling all weekend with the car and it has been a bit of a nightmare to drive. We've had to try and put the performance together piece by piece, and we made good changes going into qualifying so that I was much happier with the car. Q1 and Q2 weren't looking too bad - especially the second run in Q2. But the car is just really peaky - sometimes it's in the window, sometimes not. And I couldn't squeeze anything more out of it on that final lap. The race is definitely going to be a challenge: we will be overheating the tyres and the brakes, so it won't be easy to battle the cars around us. I don't really know what kind of race to expect but it's going to be on a knife edge."
George Russell, 8th, 1:17.674
"It was a bit of a shame to end up P8 because we showed signs of strong pace at points, but we didn't deliver when it counted. We lacked consistency today - some runs we were strong, others not, so it was a confusing picture. On the final run, we had one set of new tyres and tried something different on the out lap, and it didn't work and the tyres weren't in the window. As for tomorrow, it will be hard from P8 - the brakes will need managing and PU temperatures are always a challenge, too. We came here expecting to be competitive and I hope we can make progress in the race, but it won't be easy."
Toto Wolff, Head of Mercedes-Benz Motorsport
"P6 and P8 are less than we had hoped for from qualifying today. We made some good steps with the car today, but we couldn't put the lap times together when it really counted. Ferrari made a massive jump from Q2 to Q3, and you could see all the way through the session that it was all about fine margins - two or three seconds of out lap pace, and getting the tyres perfectly in the window, or just slipping out of it. On our final new tyre, it looks like we were a bit too slow and the tyres a bit too cool - but it's just tricky to find that sweet spot. We are less than three tenths off pole, but it feels like a lot more given our starting positions. We showed some decent race pace yesterday - but we don't know if that will translate tomorrow, after the set-up changes we made. But the only goal will be to move forward from where we start."
Andrew Shovlin, Trackside Engineering Director
"To qualify P6 and P8 is disappointing after we made good progress with the car since yesterday - and doubly so when the gap to pole is less than three tenths of a second. The field is just so tight these days and we were not fast enough when it mattered. It's frustrating as the team worked hard overnight to get the car into a better place and it feels like we have made good progress, it's just clearly not enough. It's very difficult to know how the race is going to pan out; we've made enough changes overnight that our Friday long run data is not particularly relevant, but hopefully we've improved the pace. Ferrari certainly look like they have a good car here and, given the championship position, it's important that we can stay in the race with them. Also, interesting that Daniel is up there. We've had good race pace recently but for many different reasons we've not been converting it into points. Hopefully we'll do a good job of that tomorrow."
McLaren
Norris exited in Q1 in what was a surprisingly messy session for McLaren. Sent out on the mediums, he was called back without setting a time by the team, his first timed lap on the softs was aborted and that left him with it all to do on his final run – only for yellow flags to come out for Alonso's spin. Piastri had set a competitive time so he at least made it through, but a mistake on his first flying run in Q3 was coupled with a conservative effort on his second run, which left him seventh on a day where more felt possible.
READ MORE: Norris explains shock Q1 exit from Mexico qualifying as he sets target from back of grid
Lando Norris, 19th, 1:21.554
"Today's result is obviously not what we wanted. An issue with the car on the first run meant we didn't set the banker lap we needed. I made a mistake on my second run, and didn't get a chance to complete my third lap due to the yellow flag, but that's the way it is sometimes. It's frustrating as the car was good and the speed was there. I'll bounce back tomorrow."
Oscar Piastri, 7th, 1:17.623
"Seventh on the grid. The pace looked good early on, we had a decent Q1, a decent Q2, we just struggled in Q3 with grip for some reason. We'll have a look and see what we can do tomorrow. We're still in contention for strong points, and this circuit always throws up opportunities."
Andrea Stella, Team Principal
"A tricky qualifying here in Mexico City with mixed results. Oscar completed a strong qualifying, building through Q1 and Q2. We thought we had decent pace for Q3, but we didn't see the step forward in pace that we would have liked. Nevertheless, Oscar lines up in a strong position to score points tomorrow.
"On Lando's side, we had an issue on the first run, which we are reviewing. This meant we couldn't put a banker on the timing sheet on the Medium tyre. From there our session was compromised by an imperfect lap from Lando when on Soft tyres and then by the yellow flag on the final lap at an unfortunate time. This sequence of events prevented us from progressing to Q2.
"Our objective for tomorrow remains the same, to score good points. Oscar starts in a good position, and we know the pace in the car merits more than 18th on the grid for Lando, so he will aim to move forward and into the points. Tonight we'll analyse the data, prepare our plan for the Grand Prix and get ready for an exciting race."
Alfa Romeo
Bottas was quick once again in final practice, raising hopes of an impressive qualifying show. The Finn did just that, making it all the way to Q3. Initially it looked like Zhou had missed out, but a late deleted lap time elevated him into the top 10 as well. In the end they had to settle for the fifth row, both only having one set of fresh softs for Q3 but it was still a good effort and leaves them well placed for more points in the Grand Prix.
FACTS AND STATS: Bottas maintains his Mexico qualifying form as Alfa Romeo surprise with two cars in the top 10
Valtteri Bottas, 9th, 1:18.032
"It's great to have both cars in Q3, especially considering where we were just a week ago. I am really proud of the team for the work done: everything ran smoothly today. The track definitely suits our car quite well, so it's been good fun out there: I think I got the most out of our car today, despite a lock-up in the last sector on my final lap. Looking ahead to tomorrow, with the pace we've shown so far, as well as what we have learnt in practice, I reckon we have a concrete chance to bring home some good points, so I am looking forward to getting in the mix."
Zhou Guanyu, 10th, 1:18.050
"I am happy with the step we have made today, after a challenging Friday. I felt we had a stronger car in race pace than on the single lap, so to be in Q3, on the same level as Valtteri who had been confident with the car from the beginning, is a very good result. The margins have been tiny all weekend, and we knew track limits would be an issue on this track: we waited in the car at the end of Q2, and indeed we got promoted into Q3. In the final segment, I squeezed everything out of the car – I don't think I left anything on the table. We kept improving with each session, feeling more comfortable with each lap. Now, with two cars in the top ten, we have a good chance to score points: we will still need a strong race tomorrow, but we've put ourselves in a good position to do so."
Alessandro Alunni Bravi, Team Representative
"The result we have achieved today definitely represents a solid starting point for tomorrow's race. We are delighted for both cars to have made it into Q3, and we must pay tribute to our drivers, to everyone trackside, as well as the team back home in Hinwil, and to our engine suppliers, Ferrari. We were able to properly maximise our package today, and I reckon we have a real chance to add points to our tally tomorrow. It wasn't easy out there, but both Valtteri and Zhou did a solid job, having been able to extract the maximum from their cars and from their own performance. Now, our focus remains on tomorrow's race: the job is only halfway done, and our sole target must be converting these favourable starting positions into two points finishes. Today has been a good day for the team, but tomorrow is when we must be at our best and achieve good things."
Alpine
Gasly spun in FP3, flat spotting his tyres and hampering his programme. With Ocon also off the pace, qualifying looked like it might be an uphill battle for the French manufacturer. In the end, Ocon exited in Q1 through no fault of his own, unable to improve on his final flying run thanks to yellow flags. Gasly did make Q2, and came close to Q3 – missing out by eight hundredths of a second.
Esteban Ocon, 16th, 1:19.080
"It's been a tough Saturday and an unfortunate day for us. After a positive Friday, and with the target of reaching Q3, it's certainly a tough one to take to exit in Q1. We tried to be aggressive in Q1 on two sets of tyres and, in the end, it did not pay off with some traffic and incidents on my second push lap. It's certainly frustrating as we were not able to show our true potential and I know there was more on the table today, especially given the close margins throughout the field. Points are scored on Sundays and I remain optimistic for tomorrow's race. I have had some good starts this year and another one tomorrow will be important. We have to put ourselves in a position to take any opportunities and scoring points remains my goal."
Pierre Gasly, 11th, 1:18.521
"I'm satisfied with eleventh place today as that is slightly above the expectations we set heading into Qualifying. We know this track layout does not seem to suit the strengths of our car so it was important to maximise everything we had in our hands today. We knew it would be a challenging afternoon in Qualifying where even making it out of Q1 would be extremely close. We made good improvements between Practice and Qualifying and we have to continue looking into the reasons as to why we have found it so hard at this track. We will go with the flow tomorrow, see what we can do on strategy, and give it our all in the race. We are in a decent starting position to contend for points and that remains our objective on race day."
Julian Rouse, Interim Sporting Director
"It was a tricky Qualifying session today with traffic management being a prominent feature around this track. The field was again closely matched, meaning that the smallest of margins resulted in the difference between three or four places on the grid. Neither driver improved on their final runs in Q1, with both Esteban and Pierre being hampered by some traffic both on out laps, when tyre warm-up is key, and on their push laps. Unfortunately for Esteban this meant he did not progress through Q1, narrowly missing out by less than a tenth. Pierre only had one new set of Soft tyres for Q2 and just fell short of making it into Q3. His lap was pretty good and eleventh was about as good as it could have been for this weekend. We will review our options overnight in terms of strategy and will look to extract the maximum from tomorrow's Grand Prix. The aim will be to improve on our starting positions, with an eye on getting both cars into the top 10."
Haas
Magnussen had a very tricky final practice session, as he struggled with a tyre issue that cost him most of his running. Going into qualifying a little undercooked as a result, the Dane couldn't extract enough pace to escape Q1. Hulkenberg did, and 12th is a decent place to fight from but much will depend on whether the team's upgrade has helped their tyre wear issues, with this race likely to be very hard on tyres.
Nico Hulkenberg, 12th, 1:18.524
"You're always hoping for more. With the weekend that we've had, it's been a real struggle and we've played a lot with the set up, but I'm happy with the changes made going into qualifying again. It felt good, positive, and to be honest, if you told me P12 before the session, I would've definitely taken that. It's tough, we're not quick enough on merit so we'll need outside circumstances to help us get a result, but we'll hang in there and hopefully get something from it."
Kevin Magnussen, 17th, 1:19.163
"It's so incredibly tight out there, basically one second between the whole field pretty much, and we're at the trailing end of that. For us, this track is probably more difficult because of the thin air and ambient pressure not helping us in terms of cooling, so it's pretty much what we expected. I've had about five laps before qualifying all in all here, so I can't say too much about the long run, I haven't had one. It's been a tough weekend not doing FP1 and having an issue in FP3 as well, I haven't really had the best of preparations."
Guenther Steiner, Team Principal
"Starting P12 with Nico and P16 with Kevin is actually where we thought we were, pretty good. We got the best out of it and maybe got a little bit lucky to get into Q2, but we took it and squeezed everything out of what we could. Hopefully with those positions, let's see what happens tomorrow because I was surprised today, and I hope I get another good surprise tomorrow."
Aston Martin
Aston Martin remained off the pace in FP3, their overnight work not coming to any fruition. As such, hopes in qualifying were low so it was no surprise to see Stroll exit in Q1. Alonso was fortunate to get through, lying P10 when he spun and accidentally scuppered the chances of plenty of others late on. But the Spaniard couldn't make much headway in Q2, exiting in the middle of the pack and leaving himself plenty to do come race day.
HIGHLIGHTS: Relive the action from a dramatic qualifying as Leclerc takes surprise pole in Mexico
Fernando Alonso, 13th, 1:18.738
"It was a very tricky Qualifying session today and we've not been performing at our best so far this weekend. We've tried a few different things with the set-up, but we seem to be losing pace everywhere over the lap. The race will be tough for everyone with the high temperatures and usually there is a lot of traffic around this circuit. However, we remain hopeful of scoring points tomorrow. After all, we were running in the top 10 in Austin despite having started from the pitlane. It's a long race tomorrow and we will keep pushing."
Lance Stroll, 18th, 1:19.227
"It's been a tough weekend extracting performance from the car. We were struggling with pace throughout Qualifying and didn't have the grip to push. I got caught in traffic through the final sector on my fastest lap too, so I lost a few tenths there. We've got a big job to do from P18 on the grid, but we'll get our heads down tonight and see what's possible tomorrow.
Mike Krack, Team Principal
"It was a disappointing Qualifying session. We have not been as competitive as we had hoped and the drivers were not comfortable in the car. We will review and analyse everything to understand where we can improve overnight. There is a long race ahead of us and we will give it everything to try and progress. Our race day performance in Austin shows what is possible. We will be targeting points tomorrow."
Williams
Sargeant managed to lose both his flying lap times in Q1 to track limits, and was also investigated for overtaking under yellow flags in what was a bit of a messy session for the American. Albon had impressed once again in final practice and hopes were high of a Q3 berth. He did initially look to have done enough to make the top 10, before his fastest lap time was also deleted, leaving him a somewhat disappointing P14 on the grid.
Alex Albon, 14th, 1:19.147
"I don't think it was track limits, however, I might be wrong. Based on the external view of the shot, it looked to me that my rear tyres were still on the white line, however, it is what it is. It's really frustrating but what's more frustrating is the lack of pace in Qualifying; I was four or five-tenths slower than I was in FP3, losing a lot of grip, so I almost had to do tyre management to keep the tyres alive into sector 3.
"It was the same from FP1 to FP2 and now FP3 to Quali, so we really need to look into it. We'll look to tomorrow and see what we can do."
Logan Sargeant, 20th, No time set in Q1
"Unfortunately, this afternoon went wrong for us. Going for that last lap everyone wanted to stop in the pit lane for about a minute and lose loads of tyre temp and then there was impeding on the lap and yellow flags.
"I never really had a fair chance to set a lap. I was at the wrong place at the wrong time. We should've got into Q2 with a clean run. In hindsight, we needed to go early and get ahead of all that mess. It's frustrating as we have a quick car this weekend but didn't put a time on the board.
"The race pace wasn't too bad yesterday, so we'll try and move forward tomorrow"
Dave Robson, Head of Vehicle Performance
"Despite only minor changes to the conditions and the set up, we had a very different performance between the two sessions. The performance was strong in FP3 but in Qualifying both drivers struggled to find the same level of grip that they had exploited in FP3. Added to the difficulties at the pit exit, Qualifying was much more difficult than we had hoped.
"With both drivers having laps deleted for very fine track limit margins, 14th and 20th was the best we could do today. We need to understand what happened between FP3 and Qualifying.
"Racing in Mexico is different to every other circuit that we visit and there is still a lot to play for tomorrow: car and tyre management will potentially dominate the day and provide numerous opportunities to race. We would like to have started higher up the grid, but we can still race hard tomorrow."
Pirelli
Mario Isola, Motorsport Director
"Qualifying produced quite a few surprises, which bodes well for a spectacular race tomorrow afternoon. As has often been the case this year, qualifying was very closely contested, with the top three all within less than a tenth of one another and the top ten within less than a second. Compared to last year's race here, the fastest time of all was a bit more than six tenths (0.609 to be precise) quicker, in line with the performance between the Soft used in 2022, the C4 and the one used today, the C5, as well as matching our previous simulations. Today, over the course of the two sessions, we saw that the track evolution stabilised.
"Looking ahead to tomorrow afternoon, we expect the one-stop will still be the favourite strategy, with two alternatives: starting on the C4 before switching to the C3 after around one third distance, or opting to start on the C3 and lengthening the first stint to two thirds of the 71 lap race. The two-stop is a possibility, using a mix of C3 and C4, but it's not as quick as one pit stop strategy."