Feature
What the teams said – Qualifying in Miami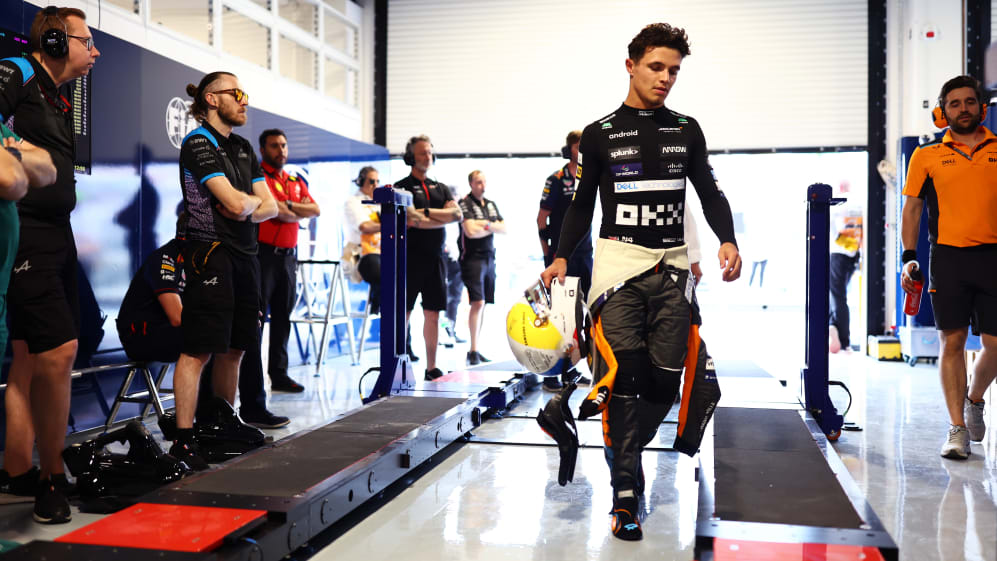 Red Bull
Verstappen finished on top in final practice by four tenths of a second, and was heavy favourite for pole heading into qualifying. But come Q3, he made a crucial mistake in the first corner on his first flying lap and aborted. Perez though nailed his first effort to grab provisional pole. The duo came back out at the end of Q3, but no one could set a lap time thanks to Charles Leclerc's crash, and that left the Mexican with his third career pole and the Dutchman scratching his head as to how that went away from him, with only P9 on the grid to show for a day where he had looked seriously quick.
READ MORE: Perez relieved to take Miami pole after enduring 'worst weekend up to qualifying'
Max Verstappen, 9th, No time set in Q3
"The initial problem starts with me today, I was taking the car to its limit and I made a mistake. I had to abort the lap and then you rely on a bit of luck that there won't be a red flag. It's painful and upsetting, we've been really quick all weekend, my fastest lap in Q2 would have been quick enough for pole which I think says that we have a quick enough car. Of course, I go into every weekend trying to win, but starting ninth is not the optimum position. My minimum target tomorrow should be P2. It's going to be tough tomorrow for sure, but I made it tough for myself."
Sergio Perez, 1st, 1:26.841
"Overall, I was happy with today, we delivered when it mattered and under a lot of pressure. It was good. We had a difficult weekend up until qualifying it has been a struggle. The track was improving but this tarmac has only recently been laid and is really sensitive, it has made things a little tricky so I needed that second lap. I knew coming into Turn 3 that you cannot leave anything on the table and it was important to make sure it was a strong lap. It never feels nice when you see another driver crashing or a red flag on track and I was a bit surprised, I thought we were going to go again and not end the session there, but that was it. I just want to do well tomorrow, it's a new day and anything can happen. I have to be fully committed and we have to try to do our own race. The target is to get the perfect launch and then the perfect race. I am very happy; I feel like I am in a good moment but it is a long season and it is all about consistency."
Christian Horner, Team Principal
"Checo got a superb first lap, the wind was getting up and you could see a few of the cars were struggling but Checo navigated it perfectly to deliver when it counts to get the pole, which we're delighted with. It was frustrating for Max not to get that chance on the second run, there will be a lot of work for him to do tomorrow, but we've seen him come through from 15th to win previously and you can't rule a driver like Max out. We're obviously disappointed not to have both cars up there but we're looking forward to what should be a really exciting race."
Aston Martin
Aston Martin were experimenting with car set-up in FP3, and dropped down the leaderboard as a result. But come qualifying, Alonso made it all the way to Q3. His team mate couldn't follow him, Stroll opting to stay out on one set of tyres in Q1 – a gamble that didn't pay off when the Canadian couldn't improve on his last flying run. As for the Spaniard, second on the grid on a used set of tyres is a pretty good return, as he finally found a set-up to his liking.
Fernando Alonso, 2nd, 1:27.202
"It was a very good qualifying session. Things have been a bit up and down for the last few events – Baku was very difficult – but, over a regular weekend format, we've been able to experiment with a few different options on the car. We put it all together for qualifying – the car felt good. And there was still a lot more pace in the car because my Q3 lap was done on used Softs. On my second run, on fresh rubber, I was already a few tenths up – but then the yellow flags came out. The result gives us a lot of confidence for tomorrow – Sunday is usually our day; we take care of the tyres and have good race pace. Plus, starting further up the grid always makes things a little easier. Getting on the podium will still be difficult but we'll just do our race – it's going to be tough but we'll enjoy it."
Lance Stroll, 18th, 1:28.476
"Qualifying didn't go my way today. We made the call to try and get through Q1 running just one set of Softs. With the benefit of hindsight, that wasn't the right call: other teams fitted a second set and saw big improvements. But these things happen – and Fernando got into Q2 using just the one set, so it was possible. I'm just focusing on the positives: our car feels good and our race pace is usually very competitive. Tomorrow is when the points are scored – and there's a long race ahead."
Mike Krack, Team Principal
"This was a particularly tricky day to manage. In FP3, we had to deal with a change in wind direction and a rapidly changing track surface while also trying to find a good race set-up after two stop-start sessions yesterday. All credit to Fernando, who drove with typical fiery spirit to qualify second – it was a great effort. But we were too aggressive with our tyre strategy in Q1, choosing to keep both drivers on used Softs for their second runs. It was a marginal call, and it didn't work out: the track ramped up and drivers on fresh rubber found a lot of lap-time. It meant that Lance finished the session an unrepresentative 18th overall. If we'd done a better job, he would have comfortably made it into the next two sessions. We'll learn from that for the future. We've already seen that fortunes can swing wildly at this track, and we'll be giving it everything to get both cars in the points tomorrow."
Ferrari
Ferrari built on yesterday's promise, with both drivers looking quick. They both made it through to Q3 with ease, but as Sainz grabbed third, Leclerc made a mistake coming out of Turn 17 on his first flying lap and could only manage seventh. He came out first of everyone for the final flying runs but pushing hard, he overcooked it into Turn 6 with the wind perhaps playing a part. The combination saw him spinning off into the barriers, and the resultant red flags ended the session for everyone.
READ MORE: Leclerc says Q3-ending mistake was 'not acceptable' as he qualifies P7 in Miami
Charles Leclerc, 7th, 1:27.861
"I pushed too hard on my last lap in Q3 and there are no excuses to be made. We will start from P7 tomorrow and the weather looks like it could mix things up.
"I hope to have a clean race and will push to make my way back to the front."
Carlos Sainz, 3rd, 1:27.349
"It was coming together as a very good qualifying until the end. This P3 is not too bad, but I feel I had very strong pace and maybe we could have fought for more. It was an unfortunate moment for Charles but these things can happen and tomorrow we go again.
"The race will not be an easy one for sure and we'll keep an eye on changing weather conditions. We'll fight hard to bring home a good result!"
Fred Vasseur, Team Principal
"First of all, well done to Carlos for his best qualifying of the season, even though he might have gone even quicker on his second run. We could have had a better team result as it was clear that Charles was also very quick. He was pushing hard as always in the final phase and unfortunately, he hit the wall.
"However, when you are chasing pole, mistakes can happen. The top ten on the grid is certainly unusual, with some of the expected front runners further back, so it looks like being an interesting race tomorrow.
"For our part, we hope to see the fruits of the race preparation we have done between yesterday and today as this will be a tough race in terms of tyre management. Then there are the usual scenarios that can arise when racing between the walls, plus there's a chance of rain tomorrow, which could shake things up as well."
Haas
Hulkenberg made up for his crash yesterday with a solid FP3 session and looked to be the pick of the two Haas drivers. But a mistimed final run in Q2 cost him, when he wasn't on a lap as the chequered flag fell and the track was at its best. That left Magnussen as the sole Haas car in Q3 and the Dane delivered in spades, his first lap good enough for fourth. He showed the importance of nailing that banker lap despite being on used tyres, with a second row start now his for the race tomorrow.
FACTS AND STATS: Magnussen's P4 gives Haas their first ever top four start for a Grand Prix
Nico Hulkenberg, 12th, 1:27.903
"The car felt good, and we definitely should be in the top 10 but unfortunately my last run got really compromised on the out lap in traffic, and I didn't do the second lap on new tires – my Q2 time was on used tires. It's frustrating and a big shame as the car had a lot more in it and a lot more potential. The car fits well to this place so at least that is a big positive for tomorrow – heading into the race with some pace."
Kevin Magnussen, 4th, 1:27.767
"I'm well chuffed with that! In the US, at the Miami Grand Prix, in front of our home crowd and title sponsor and other partners – it's great to be able to get a result like that. Of course, there's no points for qualifying – we know that – but we also know what it feels like to have a good qualifying. That was a lot of fun and hopefully that gets everyone a bit pumped up for tomorrow. I'm very happy to be starting P4 tomorrow and I'm really pumped."
Guenther Steiner, Team Principal
"A pretty good day today and obviously an exciting qualifying for everyone. Unfortunately, Nico didn't make it into Q3, which wasn't completely down to him. If you're unhappy about starting P12 it's not bad, we're still in a position to get into the points tomorrow. Kevin, ending up in P4 after setting the fastest time on used tires out of his opponents did a fantastic job on that one. The whole team is very upbeat, and everyone did a good job and now tomorrow we need to keep on delivering, but if everything goes to plan we should get some points."
Alpine
Alpine spent much of FP3 on the medium tyres running a contrary programme to the rest of the field. But they looked quick on the C3 rubber, and carried that form into qualifying. They out-performed Aston Martin and Mercedes by getting both cars into Q3, with Gasly grabbing his best qualifying of the season with fifth. Ocon was left disappointed after not nailing his first run in Q3, and then losing his second to red flags.
Esteban Ocon, 8th, 1:27.935
"What a difference a week makes. I'm proud of the team for this strong recovery after our disappointment in Baku and we very much deserved to have both cars in Q3 in Qualifying. We were probably a little unlucky with the red flag at the end as I do feel there was more on the table and we could have been higher up the grid. We're still in a good position for tomorrow's race and we have a good enough car here to come away from this weekend with points in the bag."
Pierre Gasly, 5th, 1:27.786
"I'm very pleased with today's Qualifying and starting in fifth puts us in a good position for the race. It's great that both Esteban and I are in the top ten to secure an important team result, especially after last weekend. It's important for us to come back strong. The red flag was unfortunate just as we were about to begin our final lap on new Soft tyres as I was feeling pretty good and it would have been interesting to see where we would have finished. That said, my lap on used tyres was decent, enough to be fifth on the grid and we're all looking ahead to tomorrow's race where we must aim to convert this performance into points."
Alan Permane, Sporting Director
"As a team, we are happy with today's Qualifying result with Pierre in fifth and Esteban in eighth. We've had a very strong Saturday, right from the beginning, with a productive Free Practice where we were able to fine tune the cars ahead of Qualifying. Both Q1 and Q2 were relatively trouble free for us and we looked quick enough throughout to comfortably reach Q3. Pierre managed a fantastic lap on his used Soft tyre to go fifth, so credit to him for maximising that run. There was a little more on the table for Esteban on his effort, but it's still a solid job and he's also put himself in a good position in eighth. It's great to have both cars comfortably in Q3 – and deservedly so – and it's important now we can convert this result into points in tomorrow's race. The weather in this part of Florida can be unpredictable and we'll be ready to take any opportunity."
Mercedes
Mercedes lacked pace in FP3, and so were always up against it in qualifying. Hamilton's session started badly when he clipped the barriers trying to avoid a slow-moving Haas, and that left the pressure on in the closing stages. He did make Q2 but could go no further, a mistake on his final flying lap proving costly. Russell did scrape into Q3 by the barest of margins, and managed to grab sixth with his banker lap on used tyres. They will both hope to have better race pace than one lap speed.
READ MORE: 'It was one of those days' says disappointed Hamilton after qualifying in 13th for Miami GP
Lewis Hamilton, 13th, 1:27.975
"It was a struggle out there as we weren't that quick today. It was quite an up and down session; there were a couple of good moments where the car was feeling alive, and I thought we were going to be OK. It was frustrating that we didn't get into Q3 as we should have. I was hopeful, but the timing at the end was just off. I got backed up by a lot of traffic in the final corner and just couldn't get the tyres in the window. Overall, we just struggled with the balance of the car. I gave it everything I had but it didn't happen today. I'll now get my head down and try and come back tomorrow."
George Russell, 6th, 1:27.804
"The car is just not working for us this weekend. We're struggling a lot with the balance and it's bouncing around a little bit. The performance isn't coming to us which is a shame as everyone is working so hard to achieve it. As the grip has been laid down and the track has improved, we've seemingly got slower. Clearly, this is a bit of an outlier as a circuit as can be seen by the pace of some of the other cars. Ultimately though, we need to do a better job.
"I'm not going to take any pride in qualifying P6. We're working for more and we're capable of more. It's challenging as in FP1, everything felt smooth. As the weekend has progressed, the feeling in the car has got worse. It's rare that that happens but it just hasn't quite come together here in Miami."
Toto Wolff, Head of Mercedes-Benz Motorsport
"In the end, the car we have right now is simply lacking performance – and our problems compound from there. It has a very narrow operating window, and it's on a knife edge for the drivers. When it's good, we can deliver solid performances. If it's bad, then we struggle, and that's what happened today. We can't take satisfaction from being P6 when that's only thanks to the red flag – and probably our true level was behind that.
"Our lack of performance today was emphasised by how close the whole field is behind the Red Bulls. At points, there were almost ten cars within two tenths – and that means that every detail counts. In Q2, we were trying to give the drivers the best position on track, but we made a mistake. You could see in Lewis' first sector that the tyres just weren't there, and that ultimately cost him the chance to move into Q3. We will now see what we can do tomorrow and try to recover from our starting positions; there were some signs of stronger pace on high fuel, but we shouldn't go into the race expecting miracles. It's going to be a tough battle for points."
Andrew Shovlin, Trackside Engineering Director
"We weren't quick enough today. We had a bit of luck with George to finish sixth but Lewis, on the other hand, was disadvantaged by being stuck in a group on the out lap and couldn't bring the tyres in. Clearly, we've not got the measure of this track. We started the weekend well when the track was at its worst, but as the circuit has gripped up it feels like others are getting the benefit and we've stood still.
"We'll put all our energy into preparing for the race now. The grid is mixed up so that may help us find opportunity to move forward tomorrow. If the degradation is high, or we get incidents, then we may be able to bring our second set of hard tyres into play which could provide some opportunity. However, the real opportunity will come from good long run pace. After the interrupted sessions, it's impossible to know where everyone is going to fall out so tomorrow will be one of those races where we're very much forming the plans as we go."
Alfa Romeo
Bottas made it to Q3 for the first time this season, having looked strong over one lap all day. But with only one set of fresh tyres, he opted to sit out the first runs and then couldn't complete his lap when he did come out thanks to red flags so had to settle for P10. As for Zhou, he exited in Q2 on a day where he never really seemed to be on his team mate's pace.
Valtteri Bottas, 10th, No time set in Q3
"It's great to be back in Q3 and I'm very pleased to be in the top ten ahead of the race. We made a big step forward overnight and managed to get the most out of the setup, which shows the team is doing a good job at bouncing back from the last few races. The red flag in Q3 obviously penalised us: I only had one set of tyres left and couldn't set a time when the session was interrupted, but I think we could have been even higher up in the standings. There's no point focusing on that, however: the potential for a good result is there and we must prepare well to fight for points tomorrow. It's going to be a long race and, as we have seen, it is very easy to make a mistake here; but we are confident and motivated, and if we do our jobs well, we have a solid chance to bring home a good result."
Zhou Guanyu, 14th, 1:28.091
"Today has been a good day for the team and a sign that we can get back into the fight for points. I feel a lot more comfortable in the car, especially compared to the last few races, so we are moving in the right direction. Q1 has been a clean session for me, but in Q2 I suffered a bit being at the front of the pack. I missed the slipstream and, in such a tight field, that was enough not to make the cut. Miami is a tricky circuit and traffic in the final sector, especially in Q1, was a bit of an issue; nevertheless, I am happy to see our package working well around here, as this is a big motivation ahead of tomorrow. We will give everything, in the knowledge we have the pace to fight for the points."
Alessandro Alunni Bravi, Team Representative
"Today's result is a positive step forward and a big motivational boost for everyone in the team. We looked confident and the car worked well, and to hit the first Q3 of the year is a reward for the work all of us in the team have put in to recover from a few disappointing performances in the last rounds. Everyone went above and beyond to understand our issues and address them, and this is a step in the right direction: but our work is not done and we need to keep working hard to continue progressing. Valtteri did an excellent job in Q1 and Q2, but the red flag in Q3 means we'll never know where he would have been in a full session. We also have to give credit to Zhou for his work in Q2: when his final lap was compromised, he worked with Valtteri to give his team-mate a tow and help him into Q3 - this is the spirit of this team. Now we must remain grounded and focus on tomorrow's race. It'll be a long race on an unforgiving track, and we'll need to be at our sharpest to bring home some points."
Williams
Not to be for Sargeant at his home race, who had to make do with propping up the field after struggling with the balance of his car throughout the day, especially as the wind picked up. As for Albon, P11 might seem disappointing – especially as he missed Q3 by the slimmest of margins. But with a mixed up grid and a few cars out of position, this race could come back to him tomorrow and points are definitely not out of the realms of possibility.
Logan Sargeant, 20th, 1:28.577
"We made a pretty good step from FP3 to Quali and had the car in a good place. I had the couple of tenths needed to advance to Q2. I needed to do it on the first push, but I did it on the second and I felt like the tyres were graining towards the second and third sectors of that lap. It was extremely tight out there with fine margins. We'll take the positives which should leave us in a better place for the race. Looking ahead to tomorrow, we'll try and be opportunistic and make the most of it."
Alex Albon, 11th. 1:27.795
"I think we maximised everything in Qualifying and we're in a good position for tomorrow. Sometimes you get upset because you're so close to Q3 but then you have to remember, it's still a good job. I'm happy with the lap that I did and we did what was right for our car. We really need a clean out lap to get the tyres in a good place and that's why we tend to do a bit better on a Saturday than other teams. With the track evolution the way it is, it's so aggressive, much more than most tracks we go to because the grips so low, so that five minutes is enough for the track to be another tenth, and that means Q3. It's a big unknown what the tyres are going to do in the race but starting P11, hopefully we can turn it into something tomorrow."
Dave Robson, Head of Vehicle Performance
"Although the weather conditions were stable today, it was still a tricky day with both sessions difficult to negotiate. There was still a lot of variation amongst the teams as to how to get the best out of the tyres and this made finding a gap in the traffic difficult.
"We had a productive FP3 session and were able draw some conclusions on the changes that we made overnight. Alex was mostly happy with his car, but Logan was still having a few issues. Further changes were made and both drivers went into Q1 in good shape.
"Alex did a very good job in Q1 and with help from his team, he was in a good place on the track throughout the session. Logan too was in a good position but a small error on his first timed lap put him on the back foot. He recovered exceptionally well to end the first run faster than Alex. Both had good second runs and Logan was only a few tenths slower than Alex. Unfortunately, the midfield is so tight that Logan was unable to progress to Q2.
"We opted to give Alex a single run in Q2 and this almost got him into Q3, which would've been an excellent result. Although he missed Q3 by only 0.05s, he is still in a good position to race tomorrow."
AlphaTauri
De Vries managed to out-qualify his team mate for the first time this season in a solid performance. But that AlphaTauri package doesn't have the same pace that it did in Baku, with both drivers finding themselves down the order. Points may be hard to come by in the race, unless there is plenty of chaos ahead.
Nyck de Vries, 15th, 1:28.395
"Of course, we always want more but looking at FP1 and FP2, we as a team are satisfied and happy with the performance gains we made. We found ourselves on the backfoot, but the progress we made overnight helped us reach Q2 for the first time, which is a great accomplishment for us. We are lacking long run experience here and overtaking is difficult, but it will be a long race and maybe there will be opportunities, which we can capitalise on. Grip levels are low, especially if you are off-line it can become very slippery, but it's a new day tomorrow and the race is on!"
Yuki Tsunoda, 17th, 1:28.429
"It's definitely not the result we wanted. We didn't have the pace from the early stages and struggled a lot. The midfield is as close as it has been over the past few races, but tomorrow is a new day, so we will see how it goes. We changed the setup a lot, still it didn't seem to work well, but we have to move on and remain focussed. The balance itself was alright, however the grip was poor. We have to accept it's difficult and it's not my best qualifying, but we'll analyse all the data tonight, trying to find some more performance for tomorrow."
Guillaume Dezoteux, Head of Vehicle Performance
"Since yesterday's Free Practice sessions, we have been struggling to extract grip from the tyres straight out of the box. The overnight analysis led to interesting discussions between the engineers and we decided to change significantly the setup for today, targeting more aerodynamic load. Unfortunately, FP3 was still difficult and both drivers were unable to extract the performance from the Soft tyres in the opening laps. We did some further analysis and fine tuning for the qualifying session, which we were expecting to be very tight between the midfield cars.
"In Q1, we witnessed a huge track improvement from lap to lap. Traffic was well managed and both cars were able to do clean laps. That was enough for Nyck to get through to Q2, which is a nice reward for the hard work from everyone on his side of the garage. Back on track, Nyck had two attempts, one on a used tyre and the last lap on a new set. Again, we could locate ourselves in a good traffic window, but it wasn't enough to progress in the rankings. As for Yuki, he couldn't put the three sectors together and missed the cut by less than half a tenth, which is frustrating.
"With the starting grid a little bit mixed up at the front, we can expect some action tomorrow. We will analyse the various strategies tonight to be ready to take advantage and get closer to the points. The weather could also play a role and create opportunities. When you start from the back, it's easier to take some risks and we're up for the fight!"
McLaren
After a promising Friday, McLaren dropped back in FP3. But it was still a surprise to see both cars exit in Q1, seemingly on merit. Having shown so much more promise in Baku with those upgrades, it was their worst qualifying performance of the season and leaves both drivers up against it in the race at a track where overtaking can be tricky.
Lando Norris, 16th, 1:28.394
"Tough day for us. Not the result we wanted but almost the best we could have done. I made a small mistake which might have cost me one position, but the fact is we just didn't have the pace to be competitive today. It's a shame but we'll have to try to do what we can to go forwards tomorrow."
Oscar Piastri, 19th, 1:28.484
"I'm disappointed to be out in Q1. It was very close between everyone around us. We knew it was going to be tough today and so it proved. We'll have a look and see what we can do tomorrow to try to move forwards."
Andrea Stella, Team Principal
"Overall, a difficult Saturday for us. From FP3, we were aware that we had lost some relative competitiveness in these hot conditions. Things were a little better in qualifying compared to FP3, but not enough to progress from Q1. The group of cars around us is exceptionally compact and the difference between being out in Q1 or having both cars in Q3, like we had in Baku, is tiny. We know this result can happen until we improve the car further, which we plan to do over the course of the season. In the short term, we stay calm, we learn from today and prepare for the race tomorrow, where points are ultimately distributed."
Pirelli
Mario Isola, Motorsport Director
"Qualifying was both exciting and dramatic, with a distinctly Spanish-speaking flavour to the top three: Sergio Perez, Fernando Alonso and Carlos Sainz. As expected, pole was a lot faster than last year when Miami made its debut, with an improvement of nearly two seconds (1.955s to be exact) that might have been even bigger had the final runs of Q3 taken place. The softs showed good performance: they were quick not only on the first flying lap but were also able to recover grip after one or two cool-down laps, giving drivers the chance to improve their positions. The data collected so far suggests that a one stopper from medium to hard is the best theoretical way to run the race. The slight shortening of the pit lane opens up the possibility of a two-stopper, but we've also seen a bit of graining on the softs over long runs. This is the case if the weather remains stable, but forecasts indicate that rain could come into play on Sunday, either before or during the race. And as everyone knows, if it rains, anything can happen…"
HIGHLIGHTS: Watch the qualifying action from Miami as Hamilton drops out in Q2, Leclerc crashes and Perez takes pole