Feature
What the teams said - qualifying in Monaco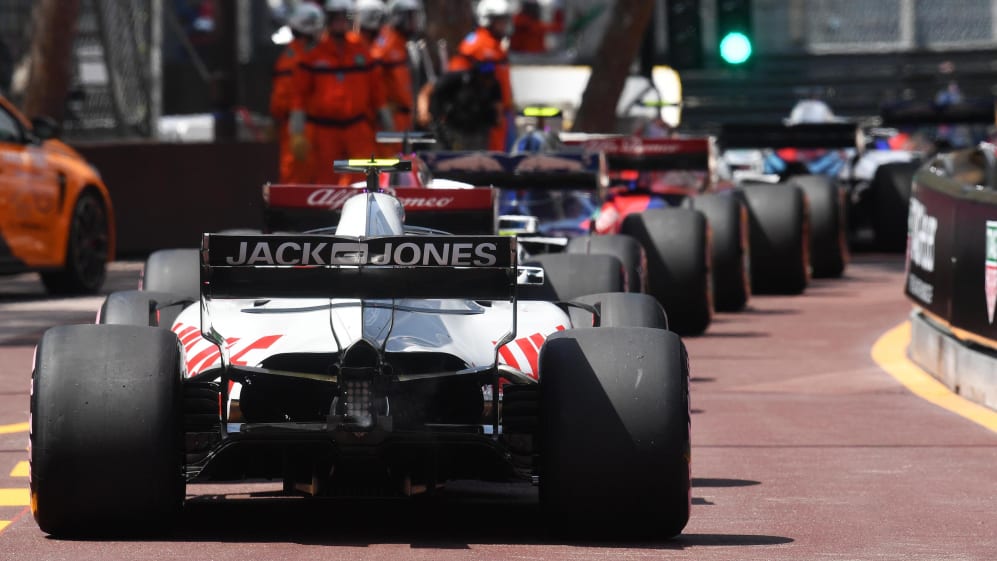 A round-up of all the action from final practice and qualifying at the Formula 1 Grand Prix de Monaco 2018 at the Circuit de Monaco...
Red Bull
Quite simply breathtaking. They came into this weekend as favourites and Ricciardo delivered, topping all three practice sessions and proving unstoppable in qualifying to grab his second ever pole position. Whether his team mate could have challenged him will never be known - Verstappen crashed in FP3 in an incident remarkably similar to that which ended his race in 2016, and was forced to sit out of qualifying as a result. At the stewards discretion, he will line up at the back of the field.
Daniel Ricciardo, 1st, 1:10.810
"I'm pretty delighted, but I will be even more delighted if I'm on the top step tomorrow. I'm trying to keep things pretty chilled now but I've done everything I need to do up until this point, so I'm pleased with that and everything the team have done. At the moment I feel like I have done half the job I came here to do, so we will try and finish it tomorrow and I've made life easier by putting myself on pole. I just kept building up and putting the laps together and then in Q3 it was very important to maximise everything at the right time and I was able to do that. I had confidence in the car which started on Thursday and then it was about finding the rhythm, which is very important around here. I knew the car would be strong and it's great to get the best out of it. Everyone came into the weekend saying that we were favourites and I thought they were trying to take some pressure off themselves but I thought, let's prove them right! It's one extreme to the other for the team today, with Max not making the session, but that's Monaco and it pushes you. Finding the balance even with a good car, still isn't easy. I think if we are smart and do the race we know we can do tomorrow, then we are in with a good chance for the win."
Max Verstappen, No time set
"I got a little bit caught off guard passing the slow car, which isn't an excuse, and clipped the inside barrier before hitting the wall. It happened so quick after getting a bit distracted and perhaps I turned in a bit too early. Like in China, this was my mistake. It is of course not what you like but unfortunately sometimes it happens. Before Qualifying I was ready to get in the car but it turned into a bit of a rollercoaster. They fired up the engine and only then could we see the leak, at this stage it is too late to make it out. It makes it a bit more painful knowing this is a track that we genuinely had a shot at pole and the win. It was a small mistake that resulted in us paying a big price. That is usually the way in Monaco. I saw Daniel back on the Energy Station after quali and congratulated him on a great performance. We know we have pace here but it is so hard to pass and when you get held up there is little you can do."
Christian Horner, Team Principal
"A fantastic performance by Daniel today. He's been quickest in every session so far this weekend, including the three segments of Qualifying to achieve his second pole position at our 250th grand prix. Unfortunately Max found the unforgiving nature of this circuit in P3 hitting the barrier in Turn 15 resulting in significant damage. The mechanics did an unbelievable job getting the car turned around only to then discover a gearbox leak which necessitated a change and in the time available it just wasn't possible to get him out on track for Qualifying. So, it is bittersweet in some respects but today belonged to Daniel."
Ferrari
Ferrari looked to be Red Bull's closest challengers, with Raikkonen not far behind Ricciardo at a circuit he normally performs well at. But once again it was Vettel who found the perfect lap when it mattered to grab P2, but even he was no match for the Australian today. Starting second and fourth, they are well placed to try and perhaps split strategies in an effort to get the better of their title rivals...
Sebastian Vettel, 2nd, 1:11.039
"I've been quite happy today even if you always have the feeling you could do much more. However, we tried to get everything out of our car and we got a good position. Red Bull has been strong since Thursday, but we got as close as we could. The main thing for us is that our car has potential. In the first corner I just couldn't drive the way I wanted but for the rest it was ok. It was a tricky session also in terms of getting the tyres together. Now we'll focus on the start tomorrow, but it will be a long race. It will be a different game to play tomorrow, compared to today. On Sunday, it could be more tactical, and we need to consider that a short period of the race could decide the result of the race itself. Also, we need a bit of luck, but the most important thing is to be ready to react. We know what we have to do, so we'll see how the race turns out".
Kimi Raikkonen, 4th, 1:11.266
"Today we struggled a bit to make the tyres work straightaway in the first two corners, get them into the correct temperature window and get the car to turn where we wanted. During the lap they seemed to improve, but here at Monaco, if you are not 100 per cent sure of how it's going to be in Turn 1, then you lack a bit of confidence. Obviously, we cannot be totally happy with this result, we wanted to be higher up the time sheet, but this what we have got today. The race is a different story. Usually it's very tricky to overtake here, but in the past a lot of things happened. We'll try to stay out of any trouble, make the right decisions and do the right things at the right moment".
Mercedes
Mercedes looked to be lagging behind Ferrari and Red Bull in FP3, so it would have been a relief to see Hamilton mixing it at the front of the field, even if he did get pipped to second by his title rival Vettel. The Silver Arrows had tried to qualify in Q2 on the ultrasoft tyre but the gamble failed and they ran the hypersoft like everyone else and thus will start on that compound. Bottas had a moment in practice, running straight on at Sainte Devote and losing a chunk of rear wing when trying a handbrake turn. He was more cautious from there on in and qualified in fifth.
Lewis Hamilton, 3rd, 1:11.232
"It was a really good session, I gave it everything that I could. But even with a perfect lap we couldn't catch Daniel today; Red Bull just had a little bit more performance, particularly in the last sector. I was up in the first sector, but I just couldn't hold onto it. I'm glad that we're up there, I won my first Grand Prix here from third but obviously that was in unique circumstances. The team did a fantastic job getting the car to where it is. It will be interesting to see how the different tyre choices work for each of us tomorrow and there's going to be lots going on throughout the race. I really can't tell you what Monaco is going to bring tomorrow, but I'm going to give it everything and just keep my head down. My goal is to switch places with Daniel, so that's what I'm going to go for."
Valtteri Bottas, 5th, 1:11.441
"Today was tricky. We expected the Red Bull to be very fast around here and we also knew that it was going to be one of the most difficult tracks for our car. We improved the set-up from Thursday and the car felt much better to drive. The main limitation was overall grip rather than balance, I was sliding around quite a bit. I don't think I could have gone any quicker as I feel like I would have ended up in the wall. We tried to get through Q2 with the ultrasoft, but we realised we didn't have enough pace for that. So we will start the race on the hypersoft tomorrow which will be interesting. P5 is not ideal as it's easier to start from the front row in Monaco, but we know anything can happen here."
Toto Wolff, Head of Mercedes-Benz Motorsport
"In Formula One, you can't make a car that is the class of the field at every circuit - and we saw that again today. We came to Monaco expecting this to be one of our weakest tracks, aiming to limit our losses in terms of points, and this is a decent starting point towards that objective. We start P3 and P5, helped a little by circumstances, and also two strong laps from Lewis and Valtteri. So we can't be satisfied, but nonetheless I'm reasonably pleased. In Q2, we tried something different with the ultrasoft, but the grip just wasn't there on the harder compound and we were some way off setting a competitive time. It was a bit optimistic in hindsight but we at least tried something different, even if it didn't work out. Looking to tomorrow, everybody knows this is a long race and a tough one, with very few opportunities to make up positions. They will be managing the pace at the front, so we will try to make good starts and then see what progress can be made. It will be a day for damage limitation - and seizing any opportunity that comes our way."
Andrew Shovlin, Trackside Engineering Director
"You never go into Monaco qualifying expecting a straight forward session and this was no exception. We struggled to find clear track in the early stages so it took us a few laps to get a decent time on the board, making things a little more exciting than they needed to be. Going into Q2, we knew that we did not have the fastest car so decided to have a go at getting through on the ultrasoft, thinking that the alternative strategy might play into our hands tomorrow. Ultimately, we didn't quite have the pace to make this work and came in for hypersofts. By Q3, the reduced number of cars on track makes life a bit easier and both drivers had clear laps and were quite happy with the balance of the car. On a perfect day, Lewis might have made it to the front row but he was having to push right to the limit to get the time and the rears just started to give up in the final sector. While we clearly have work to do to improve our performance on a very slow track like this, we're happy that we got the set-up right and we're happy that the team worked well in the most difficult qualifying session of the year. The race is always exciting and always unpredictable and the hypersoft is likely to add to that drama. We're close enough to the front to be in the fight and we'll be ready to take advantage of any opportunity - perhaps not being on the front row helps in this regard as they will be covering each other and it may allow us to do something a little different."
McLaren
Qualifying has been McLaren's weakest aspect so far this season, but they looked assured to have two drivers in the top ten, before Vandoorne failed to complete his final flying lap in Q2. Alonso managed his best qualifying of the season at a track where it matters more than most, and was suitably optimistic about his chances in the race.
Fernando Alonso, 7th, 1:12.110
"We were a little bit worried after finishing FP3 in 15th position – we lacked some pace and the balance was not ideal. But the team did a great job ahead of qualifying: we changed the car completely, a bit like throwing a coin in the air and having everything work out fine.
"This afternoon's session was a little bit stressful – there was a lot of traffic, and you really needed to deliver a lap when your tyres are at their newest, and then wait and see if your time is good enough. That's quite tense, but at the same time it's very challenging.
"Tomorrow is going to be a long race. We just need to stay away from the walls and bring the car home with the best possible result. That's going to mean securing your starting position on the first lap and then playing with the strategy.
"Key to this race will be the tyres – the Hypersoft has very high degradation, so we'll need to manage that."
Stoffel Vandoorne, 12th, 1:12.440
"We had a competitive car in FP3, but then discovered a small problem before qualifying. There was no time to fix it, so we had to go into this afternoon's session without the right settings. Immediately, it felt a bit different; not as good as FP3, and a little bit unbalanced.
"That wasn't ideal for qualifying, but won't be a worry for tomorrow as it can be fixed.
"We were still very competitive considering what happened; we had good pace in Q1 and Q2, and were a bit closer up the field. A bit of traffic on my out-laps and not-the-most perfect lap meant I finished 12th. We were two tenths up on the delta, so I think it would've been easy to get into Q3.
"I'm obviously disappointed, but there's definitely the potential for points tomorrow. We can decide on our starting tyre: the Hypersoft doesn't look to be the best race tyre, so starting on a different compound could hopefully open some doors for us.
"We'll just need a bit of luck on our side tomorrow."
Eric Boullier, Racing Director
"Starting the Monaco Grand Prix from seventh and 12th positions gives us a extremely good opportunity to score points tomorrow.
"This is our best collective qualifying performance of the season so far, and is a real testament to the effort of the whole team, who have worked incredibly hard to bring new components to the track, evaluate them and ensure they perform smoothly. Coupled to that, both Fernando and Stoffel have driven with commitment and precision all weekend – and, but for a small problem with Stoffel's car, I think we could have started both drivers inside the top 10.
"Seeing this sort of validation is hugely encouraging for the whole team. Let's hope we can bring the weekend to a conclusion with a strong performance in the race – I strongly believe we can."
Force India
All eyes were on Renault or perhaps McLaren as best of the rest but Force India continued their upturn in form, getting both cars into Q3 with ease. From there Ocon nailed his lap to grab sixth and out-qualify his team mate for the third race in a row. Perez lines up ninth and a double points finish could jump the team in pink ahead of Haas in the Constructors' Championship.
Sergio Perez, 9th, 1:12.154
"It was a very intense qualifying session and a good result for the team as a whole. I am really pleased with my job in Q1 and Q2: my laps there were perfect, possibly my best of the weekend. In Q3, I lost a bit the feeling with the car, but even then I was less than a tenth away from being sixth. It was such a small margin but it will make a big difference on the grid tomorrow. I'm still happy with how much we improved the car after free practice. Esteban did a fantastic job to qualify where he did and our pace gives me confidence for tomorrow. The race is going to be long and a lot can happen. We have to see how the hypersoft tyres perform in the race, especially if the weather is hot. The most important this is to keep our race clean and see where we end up."
Esteban Ocon, 6th, 1:12.061
"I'm feeling very happy. Today we showed our strength as a team and we are sixth on the grid in Monaco. It's the most important qualifying session of the year and we have a great opportunity to score good points tomorrow. The team has done so much work to improve the car by bringing updates to each race and it's really paying off. My lap in Q3 didn't feel like my best of the weekend, but the car was working well and the lap time was there. I'm not getting carried away because there is a long way to go tomorrow. We still need to do a good job in the race, stay out of trouble and bring the car home."
Otmar Szafnauer, Chief Operating Officer
"An excellent team performance in a hugely important qualifying session. We took some good steps forward with the car before qualifying and Esteban and Sergio delivered clean and tidy laps, building up their speed with each run. The margins were very tight so sixth and ninth place are a good effort. Of course, the most important part of the weekend is yet to come, but we've given ourselves a good chance of bringing home a result tomorrow."
Williams
Stroll struggled with the balance of his car and the unusual problem of a loose headrest, and exited in Q1. Sirotkin did impressively progress to Q2, to record his second best qualifying of the season in P13. Points aren't out of the question for the Russian, but he will have to eliminate the small mistakes that have could prove very costly on this tight circuit.
Sergey Sirotkin, 13th, 1:12.521
"It was a good qualifying result for the team. I think we exceeded our expectations and targets throughout practice, so in these terms I'm a bit disappointed to finish behind where we have been in those sessions. At the same time, we must be realistic. We are now getting better at maximising our package and what we have earlier and quicker throughout the race weekend. We are working very well here as an engineering group. We've done a good job on both sides, here at the track and back at the factory. It's very nice to be back where we deserve to be. We're properly in the midfield, fighting those guys. We are right there. It's a good, solid starting position at a track where many things can happen. We will go for it!"
Lance Stroll, 18th, 1:13.323
"That was pretty terrible. It is one to forget. I had a loose head rest on my first run, so I couldn't turn left or right for that matter, and then after that we had yellow flags, so I didn't really get a fair chance to show what I could do. Tomorrow, I have to pass people."
Paddy Lowe, Chief Technical Officer
"Firstly, at a circuit where its actually very difficult to get through without incident, we've got two complete cars at the end of this session. Unfortunately, it was not so good for Lance. He had an issue with his headrest in his first run and then had a yellow flag during his final attempt, so unfortunately, he was not able to get the best out of the car and qualified 18th. Meanwhile Sergey's laps in Q1 were very impressive and even gave us some hope of eventually getting into Q3. Unfortunately, that wasn't to be. Sergey performed brilliantly this afternoon and got the very best possible out of the car, but that was only good enough for 13th. Overall, I think everybody did a good job. We're a little bit disappointed because there was some promise of getting our cars a little higher than we are but still, compared to some of our recent races, our pace is looking stronger and so we will endeavour to do our very best in the race tomorrow, which is when the points are scored. Lastly, a well done to the team as this is the most difficult race to execute operationally and so far, so good."
Renault
Renault were there or there abouts through practice, but Hulkenberg was unable to find clean air and exited in Q2. He does have the silver lining of free tyre choice for the race though. Sainz briefly grabbed sixth in Q3 before being bumped down when Ocon and Alonso fitted fresh rubber. Nonetheless, a double points finish will be the aim.
Nico Hulkenberg, 11th, 1:12.411
"So that was not exactly not the cleanest quali, but we all feel we can have a good day tomorrow. I locked up a little coming into Turn 10 out of the tunnel and lost the time that would have got me through. But at least we have some flexibility with the strategy for tomorrow's race that can come into play."
Carlos Sainz, 8th, 1:12.130
"It was a very tight one today. After Q1 we had to react and we changed a few things on the car to try and get closer to the 1:12 mark. We got closer still in the second session and then in Q3 we did a good job, taking eighth, even though the out lap in run two was not the best. Tomorrow will be a tough race: a one-stop strategy on the hypersoft won't be easy with tyre degradation, so it might be one of the hardest Monaco races in recent seasons. The undercuts and overcuts will play a big part and so will traffic. We have some things to think about overnight but I feel very positive."
Alan Permane, Sporting Director
"We have mixed feelings about today. Carlos pretty much got everything he could out of the session and the car. We were pretty happy with that; the times are very tight. Nico just didn't have a great session. If you look at what the car was capable of and what he thought was achievable, we could have been P6. It didn't quite work out, with some traffic and then a minor slip but that's Monaco and sometimes that's how things work out.
"We have to work out whether it's an advantage [for Nico]! Being eleventh gives us some options to start on some different tyres and will be looking at that overnight to see where we need the flexibility."
Haas
Haas struggled for pace, choosing to sit out a big section of FP3 while they worked on changing the set up of Grosjean's car. It paid dividends in the sense the Frenchman made Q2 unlike his disappointed team mate, but he could qualify no higher than P15 and with a three place grid drop for the race -earned last time out in Barcelona - the American team have their work cut out from the back of the pack if they are to salvage anything from the race.
Romain Grosjean, 15th, 1:12.728
"Unfortunately, between FP2 and FP3, we didn't manage to get much more performance in the car. We knew qualifying was going to be difficult. I was pretty pleased to go into Q2 because that wasn't even in the planning, initially. I gave it all in Q1, and I knew I wouldn't have much more in Q2. I did improve my lap time, which is great, but everyone made a bigger step. It's been a difficult weekend. I think we can learn a lot from it. We just can't get any grip, but the balance of the car itself is pretty alright. Obviously it's Monaco, so nothing is finished until the chequered flag is down, thought it's not ideal for us to be starting 18th and 19th on the grid."
Kevin Magnussen, 19th, 1:13.393
"It's been a bit of a shock this weekend, especially coming from last weekend being so good, so competitive, to being this uncompetitive, and really struggling for so many different reasons. It's not just tires not working or balance issues, it's just lacking pace this weekend. We can't seem to find it in any way. In a short space of time, we've tried a hell of a lot of things. It's not been easy."
Guenther Steiner, Team Principal
"Obviously, a disappointing qualifying for us, because this year we're used to doing better than this. We saw it coming on Thursday – we were not very competitive. Nevertheless, Monte Carlo is special. I think it doesn't show what the car is capable of at a normal track. Tomorrow, we do the best that we can. Maybe something strange happens and we get ourselves in a good position. Regardless, we still believe our car can do better than this in the races that follow."
Toro Rosso
Hartley had predicted Q3 was possible and he was right - but it was Gasly who made it all the way, qualifying in P10. The Kiwi found himself at odds with a Force India on his final flying lap and exited in Q1, but he will gain a place thanks to Grosjean's grid drop. Even with an alternate strategy, it might be a long race...
Pierre Gasly, 10th, 1:12.221
"I must say I felt good with the car today! I think we made a good step compared to Thursday and to the last few races. We were only a tenth from P6 - which is great and not great - because of course it's frustrating as you think you could have always found that extra tenth. I'm super happy to get to Q3 and it's a good starting position, especially on this track. As we've seen in the past anything can happen around here! I think it will be super important to get a good start. I'm feeling more and more comfortable in the car, so I need to keep taking that experience and keep improving, Monaco is really particular and we had to setup the car in a different way - I think it was very positive. Every weekend we're learning more and definitely this weekend it looks like everything is working quite well. We caught back up to the midfield and hopefully we can have a great race tomorrow and score some good points."
Brendon Hartley, 16th, 1:13.179
"I'm really disappointed getting knocked out in Q1, especially after ending practice this morning in P7 and I was really happy with the car. We've been looking strong all weekend, but when it came to qualifying I wasn't as happy with the car in terms of balance, so there's a bit to be looked at there. It's always a tough one around here, it can be a lottery with traffic and yellow flags, and in the last two attempts I had in Qualifying there was a lot of both, so it really wasn't ideal - especially since it's very difficult to pass around here. It will be tough tomorrow, but our car looks good so we'll see what we can do!"
Jonathan Eddolls, Chief Race Engineer
"It's unique in Monaco, where we get the whole of Friday to go through all the data from Thursday. The engineers spent a lot of time going through everything in terms of the car setup, understanding the new aero parts and how to optimise and extract the most from the tyres. We put that into practice in FP3 and the car looked extremely competitive. Pierre had issues on his car Thursday, but was up to speed straight away after we fixed these yesterday. Both drivers were pushing each other throughout the whole of FP3, and, based on the competitiveness, we thought that reaching Q3 with both cars in qualifying was a real possibility. Qualifying was a little bit disappointing in the end, I think overall the drivers had opportunities to put laps together, but we couldn't quite realise the full potential of the car. The field was extremely tight and unfortunately Brendon was knocked out in Q1, missing Q2 by 0.1s, but it was great to get Pierre into Q3. On his final run with new tyres it was looking extremely positive, and his lap delta was several tenths up until he kissed the barrier at Turn 15, which subsequently lost him some time. It's a pity, as the car was capable of P6 or P7 without Verstappen participating in Qualifying. It will be a challenge tomorrow as overtaking is not that easy around Monaco, but our car has an advantage; it's easier on tyres than most of the others, so this should give us opportunities on the hypersoft. Hopefully we can take home a few points tomorrow as our race pace looked positive."
Toyoharu Tanabe, Honda F1 Technical Director
"This is always the most important qualifying session of the year, in terms of the advantage a good grid position brings in this race. Getting the timing right to send out the drivers on as clear a track as possible is very tricky. Pierre did a good job to get to Q3. Both drivers have been competitive right from the start of Thursday practice and we were able to find the best settings for the PU. The gaps in the mid-field are very close and we feel our package has a good potential, therefore, although anything can happen in this race, we can be optimistic about tomorrow."
Sauber
A mixed bag at Sauber - Ericsson was quiet and incident free, but exited in Q1. Leclerc badly locked up, bringing out the yellow flags and ruining many a rivals' lap towards the end of Q1 which won't make him popular tonight, but had already done enough to progress to Q2. From P14 a third consecutive points finish will be a tall order, but at his home race who knows what magic the youngster might find?
Marcus Ericsson, 17th, 1:13.265
"It was a tight qualifying as we would expect in Monaco. We knew Q2 was possible if we put everything together. Unfortunately for me, towards the end of Q1 there was a yellow flag when the tyres were at their best, so that is frustrating. It feels there is potential in the car and I felt good driving. With that said, it is positive that we are in the midfield again and in the fight. We have to focus on tomorrow now, because here in Monaco, anything can happen. If we have a good strategy and trouble-free race, we can have good results. I look forward to getting a new chance tomorrow to fight back."
Charles Leclerc, 14th, 1:12.714
"I am really happy about today's qualifying. Finishing in Q2 for the third time in a row feels amazing, and achieving this in my home town makes it even more special. It was a good day overall, and everything seemed to come together well. We are at a challenging circuit, and the whole team did a really good job in extracting the maximum from the car. I am looking forward to tomorrow, when I will be part of the Monaco Grand Prix for the first time ever in Formula 1. A big dream is coming true, and I can't wait for it to start."
Pirelli
Mario Isola, Head of Car Racing​
"The hypersoft is definitely a tyre that will be used extensively during the race, but the key to it will be to avoid graining, especially at the front, in order to keep degradation under control. The drivers who are able to do that will have an advantage. As usual those starting outside the top 10 have a free choice of tyres, and it will be interesting to see if they adopt alternative tactics at a race where the strategy has always been quite straightforward up to now, depending as always on safety cars: a reasonably common occurrence here. While Monaco is typical of nowhere else, the extra speed and therefore degradation of the new hypersoft has already added another dimension. Tomorrow we will see how this translates into a race context: it's going to be particularly fascinating as well to see what Max Verstappen can do from the back."