Feature
What the teams said - Qualifying in Qatar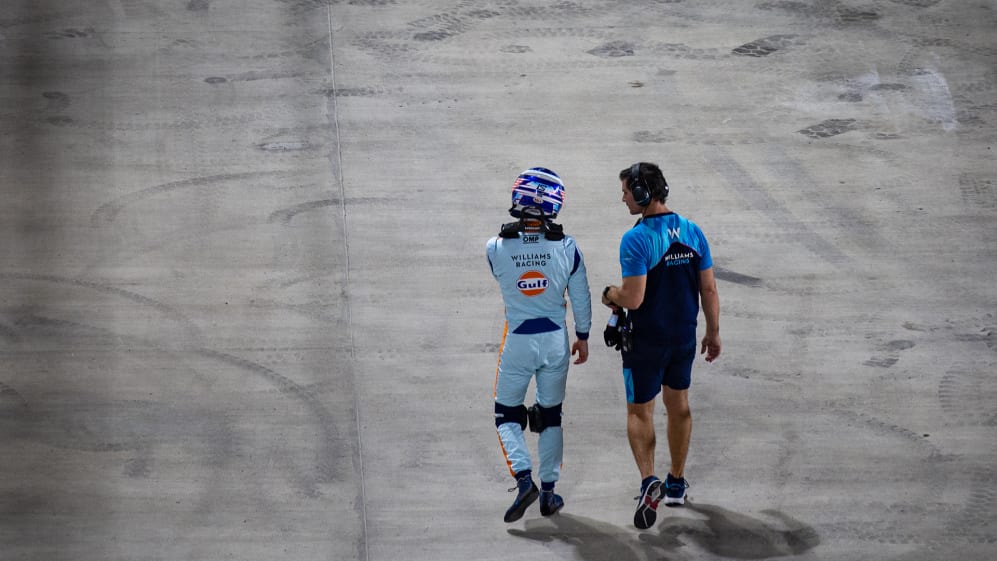 Red Bull
There were contrasting fortunes under the lights for the Red Bull drivers. Perez lost a lap time late on in Q2 and found himself already out of qualifying, with it all to do come Sunday. But Verstappen was unmatched and unstoppable, as he wound up on pole by another huge margin. He didn't even need to finish his final flying lap, which is just as well as it was an uncustomary scruffy effort.
READ MORE: 'It's a good start' – Verstappen says Red Bull 'did the best' they could as he seals pole position in Qatar
Max Verstappen, 1st, 1:23.778
"I'm very happy to be on pole. The tarmac was quite slippery so I was really having to build up lap after lap, but I think we were in a good window and we were improving quite nicely through each run. I think we also made the right calls after FP1 heading into qualifying. Tomorrow will be interesting, with the different session times and temperatures, but let's see what we can do. Overall though, I think we can all be happy with the performance of the car today."
Sergio Perez, 13th, 1:25.462
"It was quite difficult out there today, we struggled for balance a lot and we had so many issues that I couldn't really fix any of them. Every corner was different and the conditions here made it tricky. It is not over, it is obviously going to be very difficult to pass in the race here, especially with the track conditions we currently have but we will see what we are able to do and recover from there on Sunday. Tomorrow is a new day and we have the chance to put in a better performance across the Sprint format."
Christian Horner, Team Principal
"A session of exceeded track limits for many drivers today, not least Checo. He drove well and was through to Q3, but then unfortunately removed from Q3 after having his lap time deleted. It has been a challenge but it has been the same for everyone, the circuit is evolving quickly and of course the teams have only had one session to sort the cars out, but now the set ups are locked in for the rest of the weekend. For Max the first run was such a strong lap he nailed it in the first sector, if not the first corner. He then tried to take a little bit more out on the next lap and made a mistake but with that banker, it was enough today to see him through. We have had a very strong race car all year and I would expect a strong race car again on both Saturday evening and Sunday evening."
Mercedes
Mercedes didn't bolt on the softs in FP1, so their one-lap pace was a complete unknown heading into qualifying. They didn't shed much light on the matter in Q1 when they came out on medium tyres either, quickly realising that was the wrong tactic and aborting for a set of softs. Both cars eventually made it to Q3 and while Hamilton looked to have the edge on his team mate, he found himself sliding around on his final lap while Russell nailed his last effort to grab a very impressive front row berth.
Lewis Hamilton, 3rd, 1:24.305
"Qualifying is always difficult and today was a pretty average session for me. It was quite windy out there and difficult at the beginning. We nearly didn't get out of Q1 but fortunately we managed it. We were then right up there in Q2 which was encouraging. We've been a little bit surprised by our pace here today. It's a good surprise and positive for the team. Being on the front two rows of the grid is clearly a good result. It's important that we are ahead of both Ferraris and that is really key. George also did a great job today. I'm going to be giving it everything to try and bag the most points we can on Sunday."
George Russell, 2nd, 1:24.219
"I am very happy with P2 today. FP1 was really challenging. The grip was low, and it was really windy. It was very dusty and sandy on the track. When we went out in qualifying, the track temperature had dropped, and the wind had calmed. The lap times had improved massively. The car felt good throughout the session, and I'm pleased with where we finished. It's great to have Lewis behind me in P3 now. We can be strategic and work together. We've got our sights set on a strong result on Sunday, especially with both the McLarens and the Ferraris behind us. We know we're going to have a fight on our hands as they will be quick.
"It's fair to say that the Grand Prix will be a completely different story if this track evolution continues. We're going to have to learn on the job, but the F1 Sprint will give us a good indication of tyre wear and what the likely best strategy will be. We're looking forward to tomorrow."
Andrew Shovlin, Trackside Engineering Director
"We're very pleased with P2 and P3 on the grid for Sunday. Especially after a tough weekend in Japan. Of course we benefited from McLaren's misfortune. However, neither George or Lewis lost a lap to track limits throughout the entire qualifying session and that is important. We have to give them credit for keeping it clean.
"The sprint races are always a challenge and is made a lot easier by hitting the ground running with a good balance. We've struggled with the format so far this year, so it was really pleasing to see both cars running well at the start of first practice. The track is evolving so rapidly here that we were constantly adapting plans through the qualifying sessions. We had a bit of a scare with Lewis in the Q1 where we were closer to the cut-off than was comfortable. Q2 and Q3 were well handled by both the team and drivers though. We've got another qualifying to get through tomorrow, but it's good that the drivers are happy with the cars. We just need to get the tyres in the right place for the hotter conditions, but hopefully we can have another good session."
Aston Martin
Aston Martin were yet another team to have two drivers at different ends of the grid. Stroll just couldn't get a lap together full stop in Q1, losing some to track limits and exiting at the first time of asking for the fourth straight qualifying. That resulted in some obvious emotion in the garage afterwards from the Canadian. As for Alonso, he made it all the way to Q3 and kept his head in the tricky conditions to grab a spot on the second row.
FACTS AND STATS: Alonso's Q3 record continues as he makes it into top four for the first time since June
Fernando Alonso, 4th, 1:24.369
"I am very happy with qualifying in fourth position for Sunday's race, after a few weekends where we weren't as competitive. It was very tricky to manage with the slippery track and windy conditions. The car felt fast in FP1 and it felt good again later in Qualifying. It's only the first step and we have the Sprint tomorrow, so let's see what we can do as there are points available on both days."
Lance Stroll, 17th, 1:26.345
"It was a disappointing Qualifying session today. My first lap was deleted due to track limits and I had to abort my second due to traffic, so I had a big job to do for my final run. The car felt okay, but we just didn't have the pace. We've got another opportunity to go again tomorrow, and learn what we can ahead of the Sprint events."
Mike Krack, Team Principal
"Some strong laps from Fernando this evening to put us fourth on the grid for Sunday's race. Sprint event Fridays are always challenging, especially on a dusty circuit with a lack of reference data. The track was evolving and improving a lot. Full credit to the team in Silverstone and trackside for dialling the car in so quickly. Unfortunately, Lance did not progress from Q1. He had a couple of laps deleted for track limits which put him on the back foot and stopped him progressing."
Ferrari
Ferrari were another team to have a mixed time of it. They had looked in the mix in the only practice session, but both drivers were struggling for stability in the windy conditions, running wide and losing numerous lap times. It was that which did for Sainz in the end, while Leclerc did make Q3 but couldn't quite get in the mix with the like of Mercedes. He's fortunate that both McLaren cars lost their lap times, which promoted him up the order.
Charles Leclerc, 5th, 1:24.424
"I had to abort my first run in Q3, after running wide in a corner in the first sector and so I only had one lap left to set a competitive time. It was quite tough to get the tyres to work today: on the first flying lap the rears were not working as expected and the situation only improved when you continued to push, which is not ideal in qualifying. Now, we'll give it our all for tomorrow to get on the pace that we lacked today."
Carlos Sainz, 12th, 1:25.328
"Overall, it's been a difficult Friday. I struggled with the car balance and couldn't find decent grip out there in qualifying. I'm obviously not happy but we'll see what we can do for tomorrow. Hopefully we can turn it around for the Sprint and we'll fight hard to recover on Sunday."
Fred Vasseur, Team Principal
"Unfortunately, today's result was not too much of a surprise as we knew this track would not suit our car that well. On top of that, we also had problems managing the package we had as we didn't manage to get the tyres working well, especially the Softs in the first sector.
"On his only run in Q3, Charles did his best after Carlos missed the cut out of Q2 by the smallest of margins, also having a few problems with track limits which made life more complicated than expected. This could turn out to be an issue in the race too, especially if the wind is gusty.
"Tomorrow, we have another qualifying session, which takes place at the hottest time of day, while the Sprint will allow us to gather information about our race pace with the track in similar conditions to the ones we will encounter in the Grand Prix itself."
McLaren
McLaren were expected to go well here, such is the similar characteristics this track has to Suzuka. And effectively, they did go well. Unfortunately though, both drivers pushed the limits a tiny bit too much and had lap times deleted. Norris lost both his efforts in Q3 to wind up P10 when he had the pace for the front row, and Piastri lost a second row berth with what he admitted was a scruffy effort. They'll both be looking to atone tomorrow.
READ MORE: Norris and Piastri reflect on disastrous double Q3 lap deletions in Qatar qualifying
Lando Norris, 10th, No time set in Q3
"A disappointing day, I had a correction and oversteer, went off and the lap time was deleted. I should have been much higher up today. The pace of the car has been amazing, the team have done a great job. I made too many mistakes and paid the price.
"There are definitely opportunities to recover across the weekend, but right now I'm frustrated that I didn't get the job done in quali, which is to put in good laps. We'll work hard to prepare for the Sprint tomorrow and try and make up for it on Sunday."
Oscar Piastri, 6th, 1:24.540
"P6. It's a bit of a shame to get my lap time deleted at the end. It makes life slightly trickier on Sunday, but the pace in the car was decent. It's a shame we both overstepped the mark a little bit on our laps. We'll try again tomorrow and hopefully we can do a bit better."
Andrea Stella, Team Principal
"Sixth and 10th is a disappointing result as it doesn't reflect the potential of the car. Our pace today was, again, quite strong which in itself is encouraging. While it's a tough result to accept today, the weekend is quite long. We have a Sprint Shootout and a Sprint race to come and the race itself will be quite interesting from a tyre point of view. So, there are plenty of opportunities to recover and score good points. We now turn our attention to maximising the Sprint tomorrow and the Grand Prix on Sunday."
Alpine
Alpine had a very solid opening day in Qatar. They managed to get both drivers into Q3, although they did nearly trip over each other in the pit lane in Q1 after being released at the exact same time. In the end Gasly just pipped his team mate, but both have good starting slots for Sunday's Grand Prix as they chase another double points finish.
Esteban Ocon, 8th, 1:24.763
"It's great to be back driving in Qatar and it's been a good day for the team with both cars in Q3 in Qualifying. Our day started with a busy Free Practice session and I think we optimised the changes well to head into Qualifying in a good place on car balance. The team did a very good job in turning things around quickly in such tough conditions and everyone has managed the sessions well today. We are in a good starting position for Sunday's race but now our focus turns to the Sprint Shootout and Sprint Race where there is a chance to grab valuable points."
Pierre Gasly, 7th, 1:24.553
"I am very happy to be back in Q3. Right from the start of the day, I have had a good feeling with the car and felt in a good place where I feel I could push the car to the limit straight away. I put in a strong lap in Q2, same in Q3 and in the end it's put us in a solid spot on the grid for Sunday. It's been a strong Friday for the team overall and hopefully we can convert it into points over the next two days. The field is tight, much tighter than I thought it would be, so we will see what we can do to close down some of the cars ahead. It's the Sprint tomorrow and the aim is to have another solid day right from the get-go here in Qatar."
Alfa Romeo
Alfa Romeo's much hoped for upgrade package didn't quite do the business in the last couple of races, but in the hands of Bottas, that all changed in Qatar. The Finn always tended to go well on these kind of surfaces and he made it all the way to Q3 – albeit with a slice of luck as Perez was relegated for track limit infringements. Zhou is a rookie at this track and found it harder going, losing out in Q1.
Valtteri Bottas, 9th, 1:25.058
"I am happy to have made it back into Q3 after a while, and I felt really confident in the car today. This result is a good reward for the whole team, for the job done over the past few weeks. It has been a positive surprise to be in the top ten but it shows how we hit the ground running, right from the only practice session – as we intended to – and made all the right calls. Of course, tomorrow will be a new, standalone day, with the Shootout and the Sprint, but we have definitely kicked things off the right way and, most importantly, we'll be lining up on the grid in the top 10 on Sunday, right in the fight for points."
Zhou Guanyu, 20th, 1:27.432
"We should have qualified much higher up, as we saw with Valtteri, but we never got a chance to even set our final lap in Q1. It's frustrating, Logan [Sargeant] decided to overtake me on the start/finish straight and that destroyed both our laps. The track was improving with every lap, and we could not set a lap when it really mattered, It was a completely unnecessary move, but it doesn't matter now – the damage is done and we need to move on and think about the rest of the weekend. Tomorrow we get a chance to exploit our pace in the Shootout and the Sprint: we will need to have a clean first session and maximise what we can achieve in the evening."
Alessandro Alunni Bravi, Team Representative
"We can be happy about this result: it shows that all the work we have done in the past few months, and the developments we have brought to track bear fruit. It's testament to the good job done by the team back home in Hinwil and our race team here tonight. Of course, this is only a qualifying session and there is still a lot of work ahead of us to bring home the points: yet, single-lap performance had been one of our weakest points, so tonight's result shows we're moving in the right direction. We will be starting in the top half of the grid with Valtteri, and this will allow us to plan a different race. It is a shame that Zhou was not able to enter Q2: his lap was compromised by the incident with Sargeant, but he will have the pace to be able to recover positions on Sunday. We approach tomorrow's Sprint with the aim to confirm the performance we have shown today: our target will be to score points, and this will also be the objective for Sunday and every single event between now and the end of the season."
AlphaTauri
Not to be for Lawson, who has been so impressive in qualifying in his short time in F1. He was another to struggle to get to grips with this tricky track and lost a quick lap time in Q1 to boot thanks to track limit infringements. Tsunoda though, was incredibly unlucky to miss out on Q3 by the merest of margins – a whole 0.004s was what the Japanese racer needed to find.
Liam Lawson, 18th, 1:26.635
"Today was tricky. Since we hit the track in FP1, I've been struggling with the car, and I know everybody was with the way the track was. I think we narrowed down the issues we experienced in practice, but not enough, and we still have things to look into. The track was quite dusty in FP1, but it cleaned up a lot for qualifying and was a lot better. The final laps felt good, but I was struggling with the handling of the car. There are some corners we need to look into to find more time because I didn't have the confidence to really push and put it on the limit, but with the different format this weekend, there are definitely opportunities."
Yuki Tsunoda, 11th, 1:25.301
"I'm pleased with my performance. On such a high-speed corner track, it's easy to exceed track limits, but so far, I haven't, so I'm happy. It would've been good to be in Q3, so it's not exactly the qualifying we wanted, but it's still close to the points, so it's okay. There are places I can improve on, but the car's upgrades are working, so we're feeling optimistic. There's margin for improvement, and tomorrow is another day for qualifying, so I'm looking forward to it because it's another chance to do better than today. The conditions were tricky today because the wind in FP1 was extreme but calmed down for qualifying, and the temperature dropped, so it was slightly easier to drive. The car turns differently in some corners from one lap to the next because of the wind, but it's one of the track's characteristics that makes it interesting and fun to drive."
Jonathan Eddolls, Chief Race Engineer
"As is typical for a Sprint event, it has been a very busy and challenging Friday with very difficult conditions on track. Gusts up to 45kph impacted the handling of the car but also brought a lot of sand onto the circuit and the track was very green at the start of FP1. In fact, the lap times improved by approximately 10 seconds from the start to the end of the session, and with these swings, the car balance was also changing. With the very low grip, the car had understeer, oversteer, and general sliding, so it was a case of giving the drivers as many laps as the time allowed to understand the main limitations. We improved the balance throughout FP1 but knew there was still more to do for qualifying. We had good run plans and executed Q1 well, but Liam didn't have the consistent balance needed to progress through to Q2. At least with this format, he has another chance at the Sprint qualifying tomorrow. Yuki entered Q2 with two new sets of the soft compound and was able to improve on each run, but in the end, the last lap wasn't quite enough to make it to Q3, missing out on a mere four milliseconds. It's not the first time we have finished in P11 by such a small margin this season, but at least we start close to the points on Sunday. Understanding the tyres will be difficult for the race, so we will do all we can to maximise our opportunities. We now shift our focus to the Sprint qualifying preparations."
Williams
Sargeant came close to making Q2, hanging on to that P15 slot until the dying moments when none other than his team mate improved to knock him out. That was a surprise in itself, as Albon had really struggled in practice and looked completely unable to string a lap together. The team will need to pour over the data tonight, to try and work out how to improve heading into tomorrow.
Logan Sargeant, 16th, 1:26.210
"It's been a good day. It's a step in the right direction and what I needed to do coming into this weekend. The best part about it is we have another chance to do it tomorrow. The disappointment is that I know I had some margin in the high speed that I found on that second push but unfortunately couldn't improve but it's right there. Coming into the weekend not knowing the circuit, I found my feet really quickly which is important. As a team, I'm proud of the way that we've progressed through Free Practice, the changes we made for Quali and we had the car in a good window. I got almost everything out of it. There was a little bit more on the table but I'm sure everyone can say the same."
Alex Albon, 14th, 1:25.707
"Retracing it, we only did one practice session in which we really struggled with the wind and balance, just finding it difficult to find that sweet spot. It happens with these short weekends; you've got to be prepared early and we just struggled, so it's a bit frustrating. There might be some small changes we can make overnight but nothing that's going to help us with the wind, which is obviously bad for everyone, but it impacts some cars more than others and we're one of them unfortunately. Every corner feels different with no rhyme or rhythm, so it's instinctive driving which is fun but difficult."
Dave Robson, Head of Vehicle Performance
"There haven't really been any major surprises today: we knew that it would be very demanding, and it was! The track was in very poor condition in FP1, which combined with the wind, made it extremely difficult to learn the track and understand how to improve the setup. We made some changes ahead of the Qualifying session and these are now locked in due to the Parc Fermé regulations.
"The track is likely to continue to evolve over the coming days but there is also likely to be a new coating of sand before we run again tomorrow afternoon. Evolving the car balance, tyre management and driving to suit the evolving track will be tricky but we have a few tools at our disposal.
"Considering the difficulties of FP1, the drivers did well this evening and delivered most of what the car was capable of. Logan had a very productive day and was unfortunate to get knocked out of Q1 by Alex. Logan found learning the track reasonably easy despite the conditions in FP1 and was able to improve his setup ahead of qualifying. Alex struggled a little more for rhythm in FP1 but did a good job in qualifying to find a good step. He had to abort his final lap in Q2 following a small mistake. Although he was on for a better lap time, it would've been difficult to better his qualifying position.
"We have the sprint sessions tomorrow and it will be fascinating to see how each team chooses to approach these in terms of tyre usage and run plans. Our focus tonight is on working out our own best plan for the likely conditions."
Haas
On paper this track didn't overly suit Haas, who are still counting down to their upgrade package arriving for the next race. So, Hulkenberg making it to Q2 is a small victory for the team. Magnussen had a harder time of it at a track he's never raced at, but will hope today's experience will stand him in good stead for the Sprint Shootout tomorrow.
Nico Hulkenberg, 15th, 1:25.783
"It was hectic in a way, but ultimately not good enough or fast enough, we lacked a bit of pace and balance. Obviously, during a Sprint there isn't a lot of practice so we couldn't play with the car or the set-up as much as I or the team would've liked. Tomorrow, we have qualifying straight away in different conditions, when it's much hotter. It will be a bit of a surprise, a mixed bag of what we're going to get, so we just need to be on our toes and react quickly."
Kevin Magnussen, 19th, 1:27.046
"On my side, it's a new track and I found it a little more difficult to learn than I had hoped. It's actually a pretty tricky circuit to drive and not having been to it before, it's taken me a while to get on top of it. So, there's a lot more lap time to find from me. It's a long weekend ahead still, but of course disappointed with P19, but we'll try and do better in the next session."
Guenther Steiner, Team Principal
"After a relatively good FP1 with Nico we were hoping for more than what got out of qualifying. With Kevin, he never got in gear I'd say - he wasn't there in FP1 and he wasn't there in qualifying. We have another qualifying session tomorrow with the Sprint Shootout, so we'll try to get better to understand why we fell back in qualifying from FP1 and why we lost so much pace. We need to look into it and hopefully come back stronger on Saturday."
Pirelli
Simone Berra, Chief Engineer
"Wind, sand and a brand-new surface: this combination made it very difficult to decipher the first day at the Lusail circuit. The conditions were predictable, but they certainly made life more complicated for everyone because very little of the acquired data was useful to prepare for the rest of the weekend. That is even more the case for ourselves, because with only 60 minutes of free practice there was very little time for long runs, with few laps completed and few drivers attempting it.
"In fact, it's tomorrow's Sprint race that will provide some indication on tyre behaviour over a long run, although we need to keep in mind that the wind could once again blow a lot of sand onto the track in the coming hours, which would effectively reverse its condition to the way it was when the drivers tackled it this afternoon. We will therefore have to rely on the simulations we have received from the teams to give our assessment of how the tyres might behave on a track that is certainly one of the most severe tests they face."
HIGHLIGHTS: Watch the action as Verstappen takes Qatar Grand Prix pole while Perez and Sainz make early exits