Feature
What the teams said - qualifying in Spain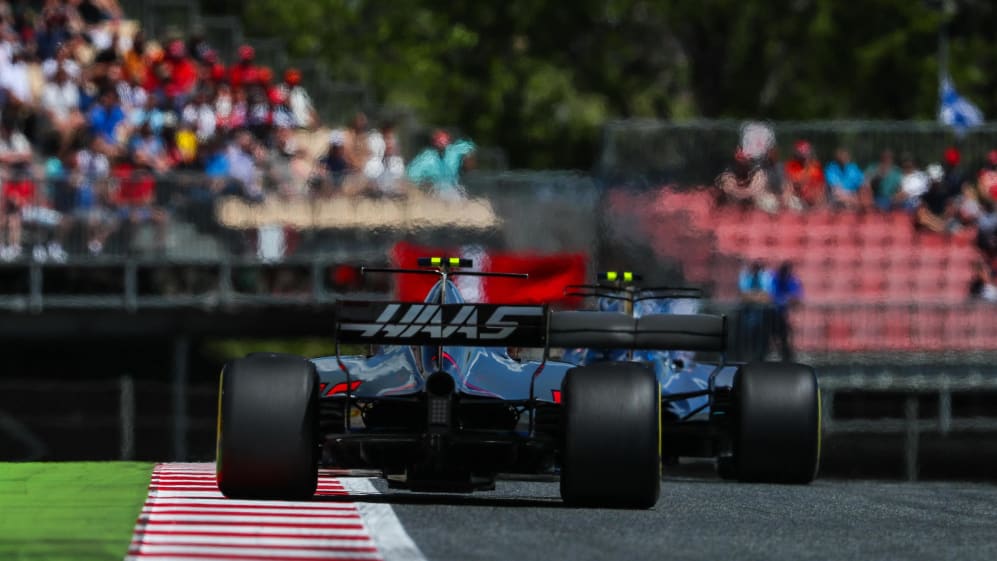 A round-up of all the action from qualifying at the Formula 1 Gran Premio de Espana Pirelli 2017at the Circuit de Barcelona-Catalunya...
Mercedes
After serenely topping free practice on Friday, Mercedes found themselves in a real battle for pole after Ferrari upped the pace in the morning practice session. The team did well to get Bottas out on track in FP3, despite a water leak on his W08. In qualifying, Hamilton put together a good first lap to grab provisional pole, but failed to improve on his second and there were nail biting moments in the Mercedes garage as the other times rolled in. Vettel had improved enough to grab second from Bottas, but not to displace Hamilton.
Lewis Hamilton, 1st, 1:19.149
"That was a really intense qualifying. We had to pull out every millisecond we could to take pole. We made some changes ahead of qualifying and the car felt great, so I was very happy with it. The race pace is looking good and the team has done an incredible job this weekend, as always. I don't know if the guys back at the factory get tired of hearing this, but they've done an incredible job. To make this step forward and bring a great package for this weekend to keep us in the fight with the Ferrari, I'm so grateful to them. We'll work as hard as we can on Sunday so that effort doesn't go to waste."
Valtteri Bottas, 3rd, 1:19.373
"For most of the weekend we've had the edge on Ferrari but in Q3 they raised their game. For me starting the day with the engine change and moving back to the old engine, I was always going to be on the back foot. I really struggled through qualifying with the rear stability of the car, so it was difficult to find a good rhythm. It wasn't one of my best qualifying sessions but I'm happy with the job that the team has done. You could see Lewis was very strong and quick today. It's a shorter run down to Turn 1 than in Sochi, but we've seen in the past that you can make positions from the second row. I've done some good things from P3 before. Everything is still wide open. We're happy with the race pace and upbeat for tomorrow."
Toto Wolff, Head of Mercedes-Benz Motorsport
"Nobody had it easy out there this afternoon and it was nice to see such a close fight for pole in the final laps. Lewis did a great job: it was tricky to put the sectors together today, and I'm not sure any driver had a perfect lap, but he did two times good enough for pole position in Q3 and really deserved it. As for Valtteri, I think he was probably lacking some miles after the engine change this morning; he had the pace but small mistakes on each lap meant he couldn't get on the front row. Even so, first and third are good starting positions, from the clean side of the grid. The race will be long and tough with the tyres; there will be lots of opportunities to take, so we need to stay alert and make the right decisions all the way though. We saw from the lap times this afternoon that this new generation of cars is blindingly fast and that gave the fans a great Formula One show today."
James Allison, Technical Director
"We were delighted to see Lewis claim pole after a great first lap in Q3 - we had hoped for more on the second run but, in the end, he landed a few hundredths shy of his previous time. But it got the job done and that's what counts. For Valtteri, it was a highly creditable performance after his practice session this morning was disturbed by problems with the car. We did some good work on race set-up during Friday's practice sessions and are now looking forward to starting from P1 and P3 on the grid. We know already it will be a very tight race but it's one we have every chance of coming home from with a smile on our faces."
Ferrari
Raikkonen topped FP3 but the good news was tempered by Vettel stopping at the end of the pit lane with an apparent engine issue. His mechanics frantically worked on the car and managed to get him out for Q1, but there was more drama to follow, with Vettel being instructed to pull over on track before the technical gremlins resolved themselves enough for him to not just continue, but be competitive. It became a four-way battle for pole between Mercedes and Ferrari, with a mistake at the last chicane costing Vettel pole, while Raikkonen was just pipped by Bottas for third.
Sebastian Vettel, 2nd, 1:19.200
"I don't know how the mechanics did it. It's a lot of work to put together. I want to say a big thanks to the team. This morning we couldn't do what we wanted to. We know the track and the car, and I know that it is working. In the end we could have got pole position, but I missed the apex at the chicane. I was a bit late and lost a bit of time there. But, overall, putting the car on the front row is a massive success. I think we worked really well. We realized that there was an issue and that we could fix it. Tomorrow, with the race rhythm, it will be fine, because when you get into the pace it is easier. A good start looks always good, so we'll see, but I am confident for tomorrow and I always try to keep a smile".
Kimi Raikkonen, 4th, 1:19.439
"The car has been working well the whole weekend and I'm happy with that, but I'm disappointed with the qualifying result . Track conditions were a bit tricky today, better than yesterday though. Although I felt I had a lot of speed I struggled here and there, making small mistakes, hitting the kerb, running wide, so I did not put a good lap together. Tomorrow we'll try again. We can make hundreds of different plans for the race, but there's no guarantee things will run as we wish. We know the strategies of our two cars, but we don't know what the others will do. We'll try to react in the right time and take the right decisions. The length of the DRS area has been increased: we don't know if it will make a big difference, but it's probably going to help a little bit ".
Williams
Williams had struggled in practice, with both drivers complaining of poor grip. As such it was no surprise to see Stroll exit in Q1, with Massa just scraping through. What was a shock was the veteran Brazilian managing to extract enough pace to make Q3, splitting the Force Indias in the process.
Felipe Massa, 9th, 1:21.232
"It wasn't a fantastic qualifying, because we knew the best we could achieve today was seventh, and we're ninth. I struggled with overheating on the tyres throughout qualifying, especially in sector three. It was quite difficult even to get into Q2, and Q3, because the tyres were getting too hot. I was really slow on all of my out-laps, slower than all the other cars, but it just wasn't working. I then decided to go even slower to see if the tyres could survive for the last sector. It helped, because I picked up some pace, maybe four tenths, and I managed to make it through to Q2. In Q3 I was the slowest car on my out-lap again, but the tyres were too hot in sector three and I lost a bit of time and maybe a couple of positions because of the issue. But, the race is tomorrow. We will try to do the best we can and fight with the teams around us, even the McLaren is in the mix. Fernando did a great job today."
Lance Stroll, 18th, 1:22.411
"It has just been tough for us today and all weekend to get the tyre working properly. The low grip situation is hard for us. But I was actually not too disappointed by my lap. I was three tenths off Felipe and for me at this stage that is not too bad, but it has definitely been tough to get our car where it should be and working the way it normally does. We can only focus on tomorrow now, as today was not what we were hoping for. The pitstop strategy will be a tricky call as it's difficult to overtake here, but we will look into that tonight and see which way we go."
Paddy Lowe, Chief Technical Officer
"It was a tough session and very close across the whole midfield with tenths of a second making differences of five or ten places. We were forced to do two runs in Q1 with both cars, and even with that it was quite close for Felipe to get through to Q2. Unfortunately Lance didn't get through, although his time was not far off Felipe's at that moment. Going into Q2 we made a few changes to our approach to the lap to try and find more time. That proved helpful and we managed to get Felipe into Q3. We made further improvements, but unfortunately Felipe made a mistake in the last corner and didn't get the place we wanted, which really goes back to Q1 where we had to spend the extra set, otherwise he could have had another go. In terms of strategy for tomorrow, as we came into the weekend it could have been one, two or three stops, but I think the one-stop is out of the question and it's between two and three now."
Red Bull
Red Bull had finished in fifth and sixth in all three practice sessions, so it was no surprise to see them occupy those spots once again in qualifying. As in practice, Verstappen had the upper hand on his team mate, beating him in every segment. It will be interesting to see if they have the pace to challenge the Ferrari of Raikkonen ahead come race day.
Max Verstappen, 5th, 1:19.706
"That was a very good qualifying, it went very smoothly and we had no issues and I think the lap was spot on. The car was definitely the best I have had all season and I was very pleased with the balance today. To be just under six tenths back from pole position is a good achievement and we should be very happy with that compared to one and a half seconds back in Sochi. The team has worked really hard to get the updates ready for the car so a massive thank you to them. We have been studying the upgrades all week to understand the package and how they would work, once we got the setup sorted and I was able to get comfortable it resulted in a good combination and successful Qualifying. It is a good step forward and has given us a solid platform to build on for the rest of the season. As always we will keep pushing and try to close the gap even more. It is always nice to come back to Barcelona, I have driven a lot of laps here and it has been kind to me. Like we saw last year, you never know what can happen on race day here, our long run pace looks ok so let's wait and see."
Daniel Ricciardo, 6th, 1:20.175
"Even with the upgrades we didn't expect to come here and get pole today and I'm still about a second off the leaders in qualifying, but Max was a bit closer which is good for the team. Personally I was struggling in the last sector, especially at the last two corners. I just wasn't able to carry enough speed through the chicane which is where I lost most of the time. For the rest of the lap I felt we did all we could and now we have a pretty good balance in the high speed corners. There is more potential in the car which we need to unlock but we have definitely found something this weekend and the gap to the leaders looks to be closing a bit. In the race it would be nice to get on terms with Ferrari and Mercedes but I think the main battle will be between Max and myself. Maybe we will even look at trying something different and splitting the strategy across both cars to put a bit of pressure on the top two teams. It should be an interesting race."
Christian Horner, Team Principal
"Our drivers did well to extract the maximum out of the cars in qualifying today. Fifth and sixth is the optimum we could have realistically hoped for but it's pleasing to see that we're closing the gap to the cars ahead. Hopefully we can make good use of the third row for the start of the Spanish Grand Prix tomorrow and build on the progress we've made so far this weekend."
Renault
Hulkenberg had finished well inside the top ten in FP3 and seemed to have the speed to make it there in qualifying, but the changing conditions cost him a place in Q3. Palmer had less running time than he might have hoped in practice, and struggled with the set up of the car in qualifying. He qualified 17th after complaining of understeer.
__Nico Hülkenberg, 13th, 1:21.397 __
"The conditions in qualifying didn't play in our favour this afternoon. It was very windy and together with the higher temperatures, it has had an impact on our aero performance. We didn't change a great deal on the car from this morning as it was pretty decent, so the main difference from FP3 was the ambient conditions. I didn't feel as happy with the car as earlier today, but that said, I'm very happy with the laps I put in, especially the last one in Q2 which was pretty sweet, but that was it for today. We will put our heads down, push hard and aim for a good race tomorrow."
Jolyon Palmer, 17th, 1:22.401
"This afternoon was very disappointing, certainly compared to yesterday when we were seventh and eighth. We were definitely missing performance and we need to understand why that has happened. The wind was very strong which certainly affects the cars, so we have to understand why our car seemed more susceptible to this. Now it's time to work with the engineers in preparation for the best race possible tomorrow."
__Alan Permane, Sporting Director__1UnEgFokg00Gs08ogew0ee
"Frustrating, as a couple of tenths would have put us in a more familiar qualifying position. It's a very tight midfield battle and we were just the wrong end of it today. We had no obvious issues on either side of the garage or either end of the car, we just struggled for overall grip which meant we weren't able to show better pace.
"There's more tyre degradation here than we've seen at other circuits so there is potential for different strategy permutations. The obligatory Medium compound is notably harder and slower than the Soft tyre so this will present a challenge. As ever, we'll be doing everything possible to move both cars forwards."
Haas
Both Grosjean and Magnussen showed glimpses of pace but both also struggled for grip, with Grosjean noticeably running wide and spinning on separate efforts. As such, the Frenchman was unable to put together a representative clean flying lap and exited in Q2. Magnussen was also eliminated but in P11 he will have free tyre choice and a decent chance to score some points.
Romain Grosjean, 14th, 1:21.517
"I was hoping for more than P14. Without that last spin on the last lap, perhaps we could have done better. Anyway, the car balance has been very tricky and the wind makes it very unpredictable. We struggled with that, so there are a few things we need to work on because I don't think we're operating as we should be in some areas. The problem right now is that if I push it to the limit, one corner's going to be fine but the next it goes away. That's a big problem for me as I'm struggling to drive it when it's like this. The car is not reacting as I would like and the grip is very low. We'll see how it goes tomorrow in the race."
Kevin Magnussen, 11th, 1:21.329
"It's always frustrating when you miss out on Q3 by a small amount. You can always say that you had it in there, but you know we'll get there. Q3 is not far away. I think I nearly maximized everything. There's always a little bit more you can do, but so can everyone. I don't think this is our track, really. It's good to see that the upgrades have worked a little bit. It hasn't been negative. We just need to build on it and get into Q3. We only need to get one car tomorrow then we're in the points. Of course, we would like more than one point, but even that would be satisfying to get out of here with something. I'll cross my fingers for a good start. Hopefully, the temperature will drop and the wind will die down and it'll make it a bit easier for us."
Guenther Steiner, Team Principal
"A very interesting and stressful day, but in the end I think we can come away from qualifying with our heads up. We qualified 11th, and getting into Q3 was very tight. We had a good FP3 session this morning. Both drivers did a good job. I think Romain was just trying too hard on his last lap, but the midfield is tight, and it always will be. It will be a half-tenth up or down and you could be anywhere from seventh to 14th. It's very, very tight. We are 11th and 14th, and it's a good place to get into the points tomorrow."
Toro Rosso
Mixed fortunes for the Toro Rosso team. Kvyat struggled mightily with his STR12 and subsequently qualified last. Sainz did make Q2 and looked to have done enough to squeeze into Q3 before a late flurry of improvements dropped him to 12th. With free tyre choice though, he still has a good chance of scoring points in his home race.
Carlos Sainz, 12th, 1:21.371
"We knew it was going to be very tough to get into Q3, but we were close! It's a shame, because I think we had the right balance on the car and I felt comfortable. For tomorrow, I hope we can have a good race. I always try my best and I will do just that once again, in front of my home crowd. I will try and be aggressive at the start in order to gain positions and strategy can always be an important factor here in Spain, so I think we can put on a good show; I'm looking forward to it. I can also count on all the support from the fans to give me that extra boost!"
Daniil Kvyat, 20th, 1:22.746
"The car was very hard to drive and, to be honest, I think we need to change quite a few things… It was already difficult yesterday and today it just continued – I had absolutely no grip and I just can't handle the car well here. For sure it's quite a disappointing situation, but we just need to keep our heads down and analyse why I'm struggling here in Barcelona – it's strange. Starting last there's nothing to lose tomorrow, so we will just need to go forward and see where we end up after having worked hard overnight."
James Key, Technical Director
"A disappointing qualifying session for us. We had a lot of balance improvement to do from yesterday, with the new parts on the car. I think we achieved a reasonable amount of that today with some changes and a fresh look at some directions we had taken. By the end of FP3 we were generally happy with getting the car dialled into where it needed to be. Unfortunately with Carlos, he was in an extremely tight battle for Q3 and looked good to go into this final part of the session from what we could see, except for the last run in Q2 – we didn't quite get the step we needed to make sure we stayed ahead of the other guys and this left us just outside… When you've got two and a half tenths between P7 and P13, you can really be anywhere within that group, and sadly we were at the wrong end of it. We now need to think how best to approach tomorrow with him to make progress. Regarding Daniil, he's had a troubled weekend and he's never been 100% comfortable with the car. The set-up directions have been similar across both cars, so we need to try and understand this, check the car again and see what's going on that could've affected him so badly in qualifying. We know he and the car are better than last place on the grid! We need to be fighting to try and squeeze through to the top ten with both cars and not be concerned with positions in Q1… However, this is the result today and we need to look into it in more detail. Regarding tomorrow, obviously we'll work hard now to see what options we have and do the best we can from where we are."
Force India
Fresh from a successful qualifying in Russia, where both cars made Q3 for the first time this season, Force India were at it again - despite bringing fewer upgrades than many of their rivals. Perez was a solid eighth but Ocon was disappointed to be tenth, after missing the DRS activation zone and thus not benefiting on his flying lap.
Sergio Perez, 8th, 1:21.070
"I'm very happy to be up in P8, although I am a bit disappointed to lose out to Fernando [Alonso] by such a small margin. This result comes as a bit of a surprise after some difficult practice sessions, but I think the team did everything right this afternoon. I think the key to our performance was the way we approached our warm-up lap because we got the tyres in the correct window and found the grip when it mattered. The race is going to be long, but I have a new set of tyres, which we managed to save in Q1, and that should make a difference tomorrow. Overtaking is difficult here, so I hope I can make up some ground at the start: we have some very quick cars behind us who will give us a challenge, but I think we're on course for a good race."
Esteban Ocon, 10th, 1:21.272
"It's great to make Q3 again, but I am disappointed not to be higher up the grid. My lap in Q3 was heavily compromised because I didn't get the DRS to work – I pressed the button too early and the DRS didn't open. So I missed out on some performance – maybe three tenths, which would have made a big difference. On the other hand, as a team we have both cars inside the top ten and we've shown that when it matters we are strong and consistent. That's encouraging for tomorrow and for the races to come. A good start and strong first lap will be important tomorrow and I'm confident we have the speed to get a good result."
Robert Fernley, Deputy Team Principal
"It's been a good day with both cars through to Q3. The team did a fantastic job overnight to unravel all the data from yesterday and dial the cars into this circuit. Barcelona provides a thorough test of a Formula One car and to be lining up in P8 and P10 shows the progress we continue to make with the development of the VJM10. Sergio's performance was strong all day: he got through Q1 using just one set of tyres and delivered clean and tidy laps in Q2 and Q3. There was the potential for even more with Esteban and without the DRS issue he would have been higher up, but it's something he will learn from. Track position is especially important at this track, so to be starting in the top ten means we're in good shape to continue our run of points finishes."
McLaren
Vandoorne failed to extract much pace from his MCL32 and exited in Q1. Alonso by contrast was a man with a point to prove in front of his home crowd. Firstly, he made Q2 to the relief of his supporters. He then went one better, making Q3 for the first time this season and finishing 'best of the rest' in P7. It was the lap of the day and could help McLaren net their first points of the season...
Fernando Alonso, 7th, 1:21.048
"Today is one of those days where everything goes right and everything is meeting and exceeding expectations. I'm definitely happy, surprisingly happy, after how our weekend started yesterday, and our qualifying results so far this season. P7 was not something we were even thinking about.
"Even if yesterday we didn't do much running, the car performed quite well and the upgrades were working fine. Today we put everything together, I felt confident in the car – in spite of quite windy and tricky conditions – and I need that confidence to push and gain those couple of tenths in quali. "All the support I get from the people here in Spain always gives me extra motivation, so the extra tenths today were because of them.
"I'm so happy for the team because these guys work so hard. Being on the grid tomorrow among the cars that we should always be fighting with to get to the top positions will be a boost for all the guys.
"But, the race is tomorrow, and that's when the points will be given out. We need to try to maintain this position as much as possible with a good strategy executed well, and a good start of course."
Stoffel Vandoorne, 19th, 1:22.532
"I don't really know what happened today. Yesterday I was feeling quite comfortable and confident in the car, happy with the performance, and everything was moving in the right direction to do a bit better today. It's a shame we weren't able to translate that in qualifying, because I think the potential was definitely there to get into Q2. It seems like we lost a bit of performance compared to yesterday, and at the moment there's no real explanation why. But it's been a difficult start to the season altogether, so hopefully tomorrow we can do something better.
"Today I struggled a bit in both sessions – everything felt a little bit more difficult – and I don't really know why as I say. We need to analyse the data tonight and see what happened and what we can do for tomorrow. It's not been an easy start to the weekend for the team again and the most important thing is that we get on top of those issues and have some smooth running for the rest of the weekend. I don't have any targets for tomorrow – just to run a smooth race without any issues. I think strategy will be quite important and we'll see what's possible.
"Fernando getting through to Q3 shows that the car is going in the right direction. We just need to makes sure we put it all together. Everyone is keeping their head down and trying to push as much as they can to improve this situation, so hopefully we can see some improvements over the next few races."
Sauber
It was tight in the intra-team battle, with Wehrlein making Q2 at the expense of his team mate by just 0.005s. Despite finding further time as the track improved, Wehrlein couldn't challenge the cars in front and will start P15. With some out of position cars behind, it will be interesting to see if Sauber can defend these places come race day.
__Marcus Ericsson, 16th, 1:22.332 __
"Overall it has been a positive weekend – bearing in mind that we did not try all the aerodynamic parts on the car yet. We had a good feeling in FP3 and we could underline that as well in qualifying. We are closer to the midfield here in Barcelona, which is a good sign. My aim was to qualify for Q2 today, so I am disappointed to have missed it by only five thousandths. Overall I am satisfied with the progress we have made from a team perspective, but personally it is a pity that I was eliminated in Q1."
Pascal Wehrlein, 15th, 1:21.803
"I am pleased with Q2. After the practice sessions on Friday, we could not have expected such a result. We had some issues with the car yesterday as well as today in FP3 so I was not sure how qualifying would be. The most important was to get the maximum out of the car – which I have done. The team also did a good job considering that we do not have the full update package on the car yet."
Pirelli
Mario Isola - Head of Car Racing
"We had an extremely close qualifying session, with very small margins between the contenders. I think we can expect two pit stops tomorrow, as the performance gap between the medium and soft means that the drivers will all want to maximise their running on the softer compound. As a result, we'd expect at least two stints on the soft for as long as possible, with just one stint on the slower medium."