Feature
What the teams said - Race day in China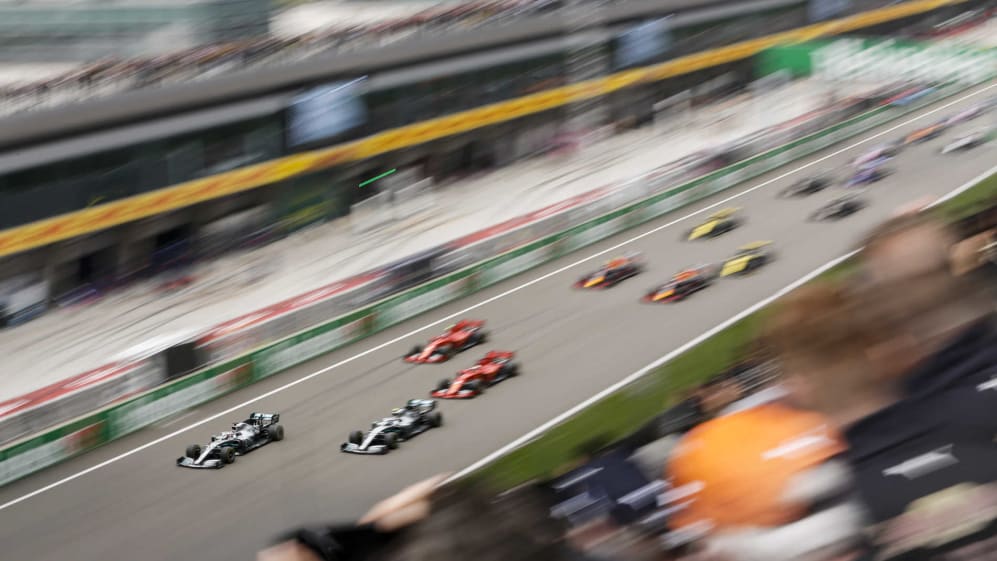 The drivers and teams report back on all the action from the 1000th World Championship event at the Formula 1 Heineken Chinese Grand Prix 2019...
Mercedes
Bottas had some wheelspin off the line, which cost him a position to his team mate and ultimately the race win. Once Hamilton got his nose in front, he had a trouble-free race in the clean air, managing the gap to his team mate and with enough left in the tank to debate going for the quickest lap. The third one-two for Mercedes in the first three races is the best start a team has had to a season since 1992, and bodes rather well considering the Silver Arrows might not actually be the fastest car...
Lewis Hamilton, 1st
"It's not been the most straightforward of weekends, but what a fantastic result for the team, everyone's worked so hard for this. Coming here we didn't know exactly where we would stand with Ferrari, as they'd been so quick in Bahrain. Valtteri has been quick all weekend and did a great job today. To have a 1-2 together is really special for the 1,000th Grand Prix. The start was where I made the difference and after that it's history. The strategy has really been on point over these first three races so we need to keep that up. Team LH China have been incredible all weekend, a big thank you to them. They welcomed me from the moment I arrived at the airport, at the hotel every morning and night every single day, and then at the track too. A big thank you to everyone who's supported me. You can still see it's very close between us all. I really have no idea how the next races will turn out but I'm super excited for them."
Valtteri Bottas, 2nd
"For us as a team it's really been a perfect start to the season; we could not have imagined to get three 1-2s in a row, so a big thank you to everyone for their hard work. We managed to maximise on every single opportunity which is great to see. For me personally today has been a bit disappointing as I was on pole, but then lost the race at the start. There's a white line just outside the starting box and I had some wheelspin when I went over it and lost the position to Lewis. It's all about details in this sport, so unfortunately that detail decided the rest of the race. On the positive side, we did have a strong race pace here in Shanghai, much better than in Bahrain. I think that we're in a good position, but we need to keep pushing. This track is very unique in its layout and Baku will hold very different challenges so it's going to be interesting again in two weeks."
Toto Wolff, Head of Mercedes-Benz Motorsport
"To win the 1,000th race in such a controlled way is amazing. It's a very special win and you can tell that everyone in the team is very happy with the outcome. Based on our long run simulations we didn't think it would be so straightforward and our advantage to Ferrari came as a bit of a surprise. They still look very quick on the straights; I'm not sure it's just the power, our car is maybe a bit draggier than theirs, but we have to keep working on our straight-line performance. Stacking the cars for a double pit stop was a risky moment because you have everything to lose when you're leading the race. But we thought we would lose positions if we had stopped one of the earlier. Our plan worked out perfectly; it was a well-choreographed pit stop and the team did a brilliant job. Lewis had the clutch paddle under control today and had a strong start and controlled the race from then on. Valtteri for sure won't be happy as he had pole and the speed to win today, but the start was the deciding factor. Baku is a different ball-game, there's a very long straight and we need to get the power and drag level there right. I think we'll be up for the fight and I'm looking forward to it."
Andrew Shovlin, Trackside Engineering Director
"Obviously a great result, it was luck and solid reliability that got us the 1-2 finish in Bahrain so our goal was to come here and win the race by being fastest. Both drivers did a great job. Valtteri was unlucky to lose the lead into the first corner having put together such a strong weekend. Lewis drove a commanding race from the front, managing the car and tyres well. We knew that the race would be tight between a two and a one stop and were hoping to be able to build a gap to the others so that we could shadow their strategy rather than get forced onto a defensive race plan. It's been very satisfying to see how well the team and the car have worked here. Everyone in Brackley and Brixworth is working very hard to help us optimise for each track and to bring developments to the car, so it's fantastic that all that hard work has been rewarded with such a strong start to the season."
Red Bull
Verstappen kept his foot in when it mattered to manage to undercut Leclerc, helped by his team's good awareness of the strategic timing out on track. He nearly overtook Vettel too, going for a bold move but never getting a nose far enough in front. Gasly had a quiet race, off his team mate's pace but comfortably ahead of the midfield pack behind. He did however, bolt on some fresh tyres in the closing laps to grab the fastest lap and subsequent bonus point on offer.
Max Verstappen, 4th
"It was not an easy race but as a Team we did a really good job today. We planned a good strategy to undercut a Ferrari and stay ahead, so we definitely maximised the result to finish fourth ahead of Charles. I had a good battle with Seb when he came out of the pits on colder tyres which was good fun. That was my one shot and I tried but after that you could see that we didn't quite have the pace to fight him to the end. I was pushing really hard and we can be happy with the team result. We still need a bit more pace to fight Mercedes and Ferrari but we are in a good position and collecting solid points each race."
Pierre Gasly, 6th
"I'm happy to score my first fastest lap in F1 today. We saw that we had quite a big margin behind us in the last few laps, so we decided to go for it and have an extra pit stop which worked. During the race I tried to keep the rhythm, take care of my tyres and improve my feeling with the car. I'm slowly getting more confident, I think we take one step every weekend but of course I would like to take three every time. There is still work for me to do for the next race but the good thing is that I know what I need to improve and what I can do better. We are quite happy to finish in the points and take the extra point for fastest lap with us. Tonight I will make my way to the factory and spend tomorrow and the day after in the sim and we'll work for the next race."
Christian Horner, Team Principal
"P4 and P6 today represents good teamwork. A strong strategy and being the first to adopt the two stop with Max allowed us to beat Charles Leclerc today. Max drove the wheels off the car all afternoon and although he fought hard to pass Vettel and challenge for a podium, we just didn't quite have the pace to get ahead of him. It is great to see Pierre continuing to settle into our car and he had another solid race, finishing sixth and claiming fastest lap. He took one point away from Ferrari and gaining that additional point for fastest lap was a real positive for him, which I'm sure he will take confidence from."
Renault
A mixed bag for Renault. They were forced to retire Hulkenberg with technical issues, as once again reliability proved to be their Achilles' heel. Ricciardo made a great start and drove a solid race to not only see the chequered flag for the first time this season but bring home some points too in a 'best of the rest' P7.
Nico Hulkenberg, DNF
"It's clearly a very disappointing race for us today. It was a difficult start to the race, I lost a position and it was tough following cars ahead. We pitted and came out in some traffic, but then I felt a loss of power. We tried our best to fix it out there as it looked like a software issue, but it wasn't possible and we had to park up. We're looking into the issue, but it looks like an MGU-K related problem. We have things to work on ahead of the next race, but we will look at everything in detail and come back stronger."
Daniel Ricciardo, 7th
"It's good to get on the board, finish the race and have my first points with the team. We'll take the positives from that. It might have looked a simple seventh, but it wasn't easy. It was a bit of a lonely race, I didn't have so many battles but I was being pushed hard from the cars behind all the way to the end. It's a strong result and the best we can ask for; at least for today. We want to push on from this over the next couple of races and keep working from here."
Cyril Abiteboul, Team Principal
"We can be pleased that Daniel opened his points-scoring account with us this weekend. He drove an intelligent race to conserve the tyres on a one-stop strategy, which we had to adopt to maintain position despite the challenge of starting on the soft tyres. Nico, unfortunately, retired with an MGU-K related problem that we will investigate further after this weekend. We will look at the weekend as a whole and our focus switches to the next race."
Haas
For the second race running, Haas struggled with tyre wear and pace after looking promising in qualifying. Their drivers soon went backwards and despite switching to a two-stop strategy, couldn't regain lost ground. Grosjean came closest – on fresher tyres he chased down an ailing Albon but ran out of laps to challenge. Zero points today will feel painfully costly in an increasingly tight midfield battle.
Romain Grosjean, 11th
"I was a bit worried, to be fair, before the start as our race pace hasn't been amazing all weekend. The car's amazing over one lap, but as soon as we go two laps on the tyres, we're not there anymore. We need to understand exactly what happened. I think without the blue flags at the end we'd have scored a point. Alex (Albon) did a great job defending well and not making any mistakes. Congratulations to him. It's so annoying to give it all, push hard, and just not get the chance to score points."
Kevin Magnussen, 13th
"I didn't have the pace today, so we need to work on the race pace. Qualifying's been good all year, so far, we just need to sort out the race pace – it's the most important one to be good at. There's some work to do. I don't really understand it at the moment, we all need to understand it. It's not easy. It's frustrating that we see we've got a good car, that can qualify well, then we can't convert that into race pace."
Guenther Steiner, Team Principal
"Not the race we'd have hoped for. It seems that we had a very similar problem to what we had in Bahrain. It was déjà vu. So, we need to look into it, and work hard to get this issue sorted. We move on to the next one."
Toro Rosso
Mixed fortunes for Toro Rosso. Albon atoned superbly for his error in FP3 yesterday, forcing him to start from the pit lane. The Thai driver worked his way through the field and kept enough life in his tyres to produce a decent defence in the final laps and steal the last point on offer. Kvyat, who looked the more likely to make an impact today, did exactly that but for the wrong reasons. He understeered into the McLarens at the start, earned a drive-through penalty as a result, ran wide trying to pass Stroll and experienced a botched pit stop. An early retirement ended his torrid race.
Daniil Kvyat, DNF
"It was an unfortunate race today because after lap one the race was pretty much over. The pace we showed with a damaged car was very strong, so it's disappointing not to be able to transform that into a good result as there was potential to finish inside the points today. I have seen the first lap incident with the two McLarens and I disagree with [the] penalty. I think it was a typical lap one sandwich and these things can happen as we're so close together."
Alex Albon, 10th
"Firstly, I would like to say a big thank you to the team for their hard work yesterday. It was looking a bit dark after FP3, but the guys worked very hard last night to change the chassis, so they deserved a good race and I was happy to bring home a point to reward their effort. We had the pace all weekend and I was confident we had a good shot at getting into Q3, although unfortunately we didn't get the chance due to the repairs. It was a difficult race because we initially had planned a two-stop strategy, but the degradation was higher than most people expected. Since we knew from FP2 we were good on our tyres, we decided to go for it and survive on the hard compound. I was a bit nervous at the end when Grosjean was almost catching me, but I'm really happy to have pulled that off!"
Jody Egginton, Technical Director
"This event has certainly been a very busy one for the mechanics. However, to start from the pit lane with one car and to score a point with it is a fantastic reward for the hard work of these guys and the rest of the team. In terms of the race itself, Alex has put in a strong performance today, pushing when required to obtain track position and then managing his tyres well in order to defend 10th position. Dany's race was less smooth with contact on the opening lap resulting in damage and a drive through penalty. A nose change was required as a consequence of the incident, so taking points away was going to be a challenge, even if his pace was quite reasonable. Today we have seen again that the midfield is very competitive and we are looking forwards to Baku."
Toyoharu Tanabe, Honda F1 Technical Director
"It is good to have three cars in the points again. Alex did incredibly well to come back from that very big accident on Saturday morning and go from pit lane to tenth at the flag and pick up another point. Well done also to the team who worked so hard to get the car ready for the race. It was a busy weekend on the PU side. Now we must analyse the problems we had with Daniil's PU. It was a shame his car was damaged in that incident on the opening lap, preventing him from having a strong race. We will keep pushing hard on the development front in order to close the gap to the front runners for further races."
Franz Tost, Team Principal
"From the beginning of the weekend we had a very competitive package. We were strong in the midfield, so we went into Qualifying quite optimistic for a good result. Unfortunately, Alex had a crash at the end of FP3 which caused a decent amount of damage to the car. We changed the monocoque and built a completely new car which meant he missed Qualifying and had to start from the pit lane. He drove a fantastic race, overtook many drivers and finished inside the points in 10th position, which showed how good our package has been this weekend. Daniil's race was unfortunately not as successful, he had a crash on the first lap after being hit from behind which destabilised the car. At the same time, Norris returned to the track after going wide and hit Daniil's front left-hand side of the car. In my opinion, Daniil couldn't do anything different, nevertheless the Stewards decided to give him a drive through penalty. Later in the race when Daniil made his pit stop, we detected damage on the front nose probably caused by his lap one incident. We made another stop to change the front wing which put him a lap down, therefore we decided to retire the car to save engine mileage. This was disappointing because Daniil's lap times were very competitive and I'm convinced he could have scored points today."
McLaren
McLaren started further back than has been usual of late and as such were also at risk of getting involved in the melee that often ensues towards the rear of the field. Their race was compromised on lap one when both Sainz and Norris sustained damage after colliding with Kvyat. Norris later retired, but Sainz at least managed to finish a race for the first time this year – albeit down in P14.
Carlos Sainz, 14th
"Another frustrating day. Impossible to avoid the Toro Rosso so another thing out of our control that ruined the race, and this time, unfortunately, involving our both cars."
"A real shame because our race pace was good and I managed degradation well, so I think we had a chance to fight for the points. We definitely had a better race car than a quali car. I prefer to keep thinking about the positives and be patient, because things in the end will turn around. I'm quite happy with the car, very happy with the team, my engineers, my mechanics, and things will turn around eventually."
Lando Norris, DNF
"My start was pretty good, getting off the line well and making up places before I had to back out in Turn Three when I was close to Kimi. I was on the outside in Turn Six and was hit which sent me into the air. That damaged the car, I lost a lot of places and had to box. That pretty much ruined our race.
"I didn't have great pace afterwards due to floor damage but Carlos' pace looked very good. The top-three teams aside, he looked to be the best of everyone else. So there was potential in the car today but the contact ruined it. On to the next one."
Gil De Ferran, Sporting Director
"Racing can be very cruel sometimes, and today it was. Obviously, the first-lap incident destroyed our race, but we tried to do our best and raced hard to the end.
"Despite it all, there were several positives to come from this grand prix, particularly our race pace, which was very competitive when compared to the guys that finished in the points.
"We also learned more about our car on this very different track, and now we look ahead to another fighting weekend in Baku."
Alfa Romeo
Raikkonen had a good day out, making a number of calm overtakes stick to work his way up into the points after starting 13th. He nearly had Perez at the end, closing and trying a handful of times before his tyres went off and he had to settle for ninth, his third points finish in as many races. By contrast, Giovinazzi struggled after starting last on the grid, his weekend compromised by reliability issues with his PU.
Kimi Raikkonen, 9th
"The car felt good today, at least scored some points. In the end I lost the grip on the front tyres. It's a shame because I was looking after them during the race"
Antonio Giovinazzi, 15th
"It was a difficult weekend overall. We started the race from the back of the grid and went with a bit of a different strategy to try and gain some positions. It didn't work so well in the end"
Racing Point
Perez had an electric start, and once again proved the master of tyre wear. The Mexican managed to eke out a one-stop strategy and, helped by some robust defending, kept a feisty Raikkonen behind to bring home some points at a race where Racing Point never looked competitive. Stroll struggled to make in-roads starting further back, and came home outside the points.
Sergio Perez, 8th
"I'm very happy to score four points today. The start was fantastic: I saw a gap, went for it and it paid off. Our race pace was good: we were able to maintain the pace and manage the tyres well. It wasn't an easy race, though, because I was under pressure from Kimi for most of the second stint, which made it more difficult to look after the tyres and keep up the pace. It was the same with Daniel ahead of me – I think he was working hard to manage his tyres because every time I got close to him he found the pace to pull away again. This was never going to be our strongest track so it's important to take opportunities such as today and keep scoring points. I think we have the potential to be stronger at the next race in Baku."
Lance Stroll, 12th
"Today could have been better. We were in front of Albon before the first stop and then he undercut us by one lap and finished in the points, so it's a bit of a shame. We could have been more proactive, because we didn't have anyone immediately in front of us. I think it was Sergio or Raikkonen ahead at the time, about five seconds up the road, so we weren't really fighting anyone in front and we had Albon three seconds behind. It was just a classic undercut. It's disappointing, because once that happened we were in his dirty air and it was tough to overtake. We tried an extra stop at the end and got past Magnussen to finish P12, but it could have been more. Our race pace was not bad but we just need to look at the strategy, because I think we may have been able to pick up a point today.."
Andrew Green, Technical Director
"We leave China with four more points in the bag and today's result means we've scored points in every race so far this season. Sergio drove a skilful race and managed the tyres well. He got himself in a good position on lap one and stayed out of trouble to bring the car home in P8. Lance was close to scoring points today, but just didn't have the track position to make the one-stop strategy pay off. Losing out to Albon at the first pit stop proved costly and he spent most of the afternoon chasing the Toro Rosso, fighting for the final point. We switched Lance to a two-stop strategy late in the race – taking a gamble – and giving him the final few laps on the soft tyre. He managed to pass Magnussen on the final lap, but there were a lot of blue flags to deal with which made things tricky. He made a great start and drove well, but the strategy didn't quite play out in his favour today."
Williams
Russell had a solid race, keeping up a respectable pace throughout and beating his team mate to the line to do all that could be asked of him. Kubica struggled by contrast, lapping much slower on his one-stop strategy and trailed home last. He did at least spin on the formation lap to liven up proceedings...
Robert Kubica, 17th
"There was not a lot to say today to be honest. The most exciting moment of the race for me was when I spun on the formation lap. I tried to put heat into the tyres and I lost the car going slow in turn six. I then had a good start and I went to the inside line but honestly, I didn't want to risk anything. I was close to one of the Racing Point's and I was on the inside and I didn't know if he would tighten the line, so I left enough space and lost two places there. It is difficult to risk something when you know the pace will be what it will be."
George Russell, 16th
"The pace was slightly better than expected, we were battling in the opening couple of laps and we managed to stay with the pack. Once things settled down, the gaps started to open, and it was a fairly lonely race for me. We were struggling with the tyres in the middle stint of the race, and the laptimes were dropping off, so it was the right choice to pit for a second time. At the end of the day this is where we are at the moment, we must keep pushing and keep working."
Dave Robson, Senior Race Engineer
"We had an enjoyable race today and were able to race a couple of cars who had found themselves a little out of position following their first lap incidents. We had clean, well-driven races from both drivers and were able to execute a sensible one-stop strategy with Robert. We tried a similar strategy with George, but the length of the stint and the loss of some tyre temperature meant that ultimately, we opted to pit George for a second time and allow him to finish the race on a new qualifying tyre. We have made some improvements to the car this weekend and have started to close the gap. We also tested some new components which may help us close the gap further in the coming races. The next race on the streets of Baku will pose a new set of challenges, but we are ready to meet those as we continue to learn about the FW42."
Pirelli
Mario Isola, Head of F1 and Car Racing
"Today was cooler than yesterday, a factor that affected the performance of the hard tyre and led the frontrunners to put on the medium in order to find extra performance in the final stint. Strategy was a key element of the race, with all the teams watching each other carefully and timing their pit stops to counteract moves from their rivals. We even saw both Mercedes cars stop on the same lap. The majority of the drivers stopped twice, but we saw an interesting mix of one and two stop strategies – as well as even three stops for Pierre Gasly, who used an extra stop for the soft tyre to his advantage by claiming the point for fastest lap. Congratulations also to Alex Albon, who turned round an unfortunate situation yesterday to score a point."