Feature
What the teams said – Race day in Hungary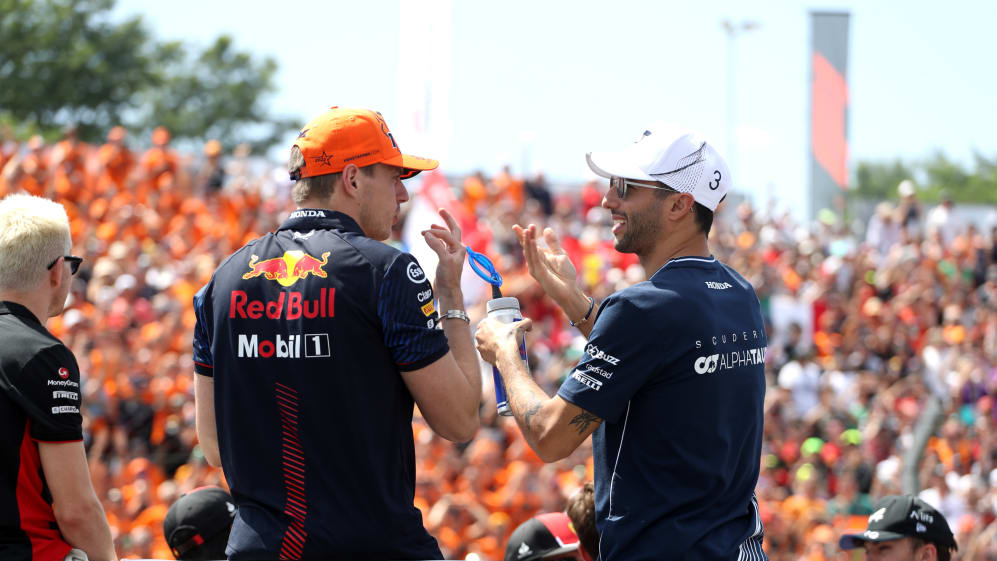 Red Bull
Verstappen muscled his way into the lead through the first corner, and from there never looked back. He built up such an advantage his strategy was almost an afterthought, and he even picked up the bonus point for fastest lap for good measure. Perez had to work harder for his points haul, starting on the hard compound, running long and then picking off cars once on the quicker medium tyres. He came close to getting Norris for P2 but some backmarkers cost him time and he ran out of laps to put pressure on the McLaren ahead.
READ MORE: 'What we've been doing is unbelievable' – Verstappen hails 'incredible' moment as Red Bull make history with F1 victory sequence
Max Verstappen,1st
"The start was very important to me. I wanted to get a good first stint and it meant I was able to look after my tyres well and extend it compared to the others. The car felt really good today and the balance was right with the increase in temperature. We had the struggle over one lap all weekend in qualifying, but I think that means it was the right call for the race.
"If I had a choice between the two, I would pick my race performance every time but we will always make changes and keep trying to improve the car. I think people forget a little bit that to win 12 races in a row is extremely hard but I hope it doesn't stop there. We have to keep going and I will always try to challenge myself.
"I had a lot of fun out there today and I was just smiling in the car, it was one of those days where everything just goes perfect. Well, almost perfect, I think I will ask McLaren to pay for a new trophy for me! We need to review the footage, like VAR, to see who really broke it because I heard Lando is blaming me."
Sergio Perez, 3rd
"Today was a good one and it was great to get to the podium. We raced initially on the hard compound, which was quite tricky, especially on lap one, but it ended up going well for a long time and we got some good pace before going on the Mediums. The race today was not only very demanding physically, but also mentally, I had to focus on looking after the tyres. It was really hot and I ended up actually losing 3kg in weight.
"It was a good result and now I just need to find consistency. When the pressure is on you and you are able to deliver, it makes you feel proud of what you are doing so we just need to keep going forward and keep pushing. I am focusing on myself and making sure I deliver to the maximum. It is great to be given driver of the day but sadly that doesn't get you any points!
"Finally, the record of 12 wins in a row is quite incredible. I am really proud of The Team: they have made history and it is quite something to have been a part of that."
Christian Horner, Team Principal
"I remember as a boy, watching Ayrton Senna and Alain Prost race with McLaren-Honda and they achieved 11 consecutive victories. I knew then what an incredible achievement that was. To think that we have bettered that is testament to the exceptional talent and dedication of the team, from the race track here in Budapest and back at the factory in Milton Keynes. It's an historic moment and one that means so much, we certainly don't take this for granted.
"Checo drove a great race today. It was a statement drive, showing everyone exactly what he's capable of and a race like this will give him a huge amount of confidence going into the next race. Max was typically phenomenal once again. He's at one with himself and the car. He has total confidence and trust in the team. What we're witnessing with him at the moment is a sportsman at the very top of his game. It truly is exceptional."
McLaren
Piastri made the better start of the two, streaming past Hamilton and up in to second. He had Norris on his tail for the opening stint, but lost out to his team mate in the first pit stops when Norris was called in first. From there, Norris was able to extend his advantage and did well to hold off a charging Perez at the end. As for Piastri, he was carrying slight floor damage after going wheel to wheel with Perez and that cost him in his fight with Hamilton late on.
READ MORE: 'We've proved some people wrong' – Defiant Norris happy with back-to-back podiums for McLaren
Lando Norris, 2nd
"Tough race. Not an easy one, especially with Perez catching, but he didn't have the pace to catch up in the end so I'm happy. I had to fight for a little bit in the beginning after Turn One but another podium for us, for McLaren, it's an amazing result.
"I think we're very happy with the progress we've made, to go from where we were four, five races ago, to be fighting for poles, and fighting for podiums, we'll take it for now, and work hard to continue improving throughout the season. We've shown great teamwork; everyone back in the factory did an amazing job and we'll now look to take these recent performances to Belgium."
Oscar Piastri, 5th
"P5. Some positives to take from that race. I think the big takeaway for me was working on tyre management. I struggled quite a lot in the second and third stint following some floor damage. So, yeah, a lot to learn from that one but to still end up with P5, with the challenges I had, is a very good result.
"Obviously, a great day for the team again, everyone at track and back at the factory. We have made decent steps forward in the last few races. The conditions this weekend have been a good test for us. To still be up there is a big confidence boost and we can look to take that momentum to Spa next week."
Andrea Stella, Team Principal
"Following on from Silverstone, another strong result for our team with Lando on the podium again and Oscar finishing P5.
"On Oscar's side, the first stint was very strong. In the second stint, we need to look at the impact that some car damage had, in terms of performance and interaction with the tyres, because we seem to have lost the ability to sustain tyre life over the stint.
"On Lando's side, it was a very strong race, especially the final stint in which he kept consistency in his tyres with Perez chasing hard, and he was able to bring home another trophy with another P2 finish.
"It was important to gain this confirmation that the improvements to our car work in hot conditions, and work on tracks with low-speed corners. My thanks again to all the people at McLaren who have laboured so hard to bring these upgrades trackside. I hope they are enjoying the moment – but only today: tomorrow we refocus and get ready for the Sprint weekend at Spa."
Mercedes
Not to be for pole-sitter Hamilton. He got squeezed by Verstappen off the line, and that allowed not just Norris but Piastri through too. From there fourth looked about as good as it was going to get, Mercedes delaying their second pit stop in the hopes of a late Safety Car but in the end calling Hamilton in. He was closing fast on Perez in the closing stages, once he'd stopped having to lift and coast to cool his car. Russell had a better afternoon, fighting his way forward after starting on the hard compound. He stopped last of the field and that gave him fresher tyres for his closing stint, where he picked off Sainz and was close enough to Leclerc to benefit when the Ferrari man's penalty was applied.
READ MORE: Hamilton says first-lap slump in Hungary 'didn't matter' as Mercedes remain 'long shot away' from race win
Lewis Hamilton, 4th
"My initial getaway wasn't the worst I've ever had but it wasn't as good as the others. I ran wide and also got done by the McLarens. After that, I didn't have the pace to keep up with those ahead. The balance of the car didn't feel great in the first stint, and I had a lot of understeer, to snap oversteer, and problems with through-corner balance. As the stints progressed, the car started to become more driveable, and the final stint was much better. The pace we had at the end was very strong and if we had had that throughout, we would have had a much better day.
"Nevertheless, I'm going to take the positives from this weekend. It was an amazing effort from the Team to take pole position. We still have a lot of work to do to beat Red Bull in a Grand Prix, but we will keep pushing."
George Russell, 6th
"P6 was beyond our expectations for today. It was definitely a good recovery. We thought we would be P11 in a typical race and P7 if we maximised everything. I'm happy with how it went. The car was really quick, and this place is one of my favourite circuits. As a Team, we usually go well here so I had a feeling we would be quick.
"Of course it is disappointing as we didn't deliver yesterday. I think we could have been right up there and if we had two cars up front, the dynamic changes completely. Nevertheless, we've extended the gap over P3 in the Constructors' Championship so we will take it. There are a lot of positives to come out of this weekend and we have learned a lot. We will go again at Spa next week."
Toto Wolff, Head of Mercedes-Benz Motorsport
"I think we had the second quickest car today, but the result doesn't show it. If you look at the lap time profile and George's progress, there was opportunity for more, but we didn't monetise it. That is obviously disappointing. In the final stint, Lewis reeled in over 10 seconds to those ahead and we finished just 1.5 seconds shy of the podium. I think if we had executed our race slightly differently, we would have had that margin. We need to analyse and see what we could have done.
"We were far off a pole position at the start of the year, and we've started to comprehend the car more. Having said that, Max looked tranquil up front and we're not here to race for second-best. Getting to the front is the objective and of course, that was far off today."
Andrew Shovlin, Trackside Engineering Director
"Starting from P1 and not even making the podium is always going to be disappointing. We never believed we had the pace to beat Verstappen, but we could have been second had more gone our way. The opening lap wasn't great for Lewis, dropping to fourth, but as the race went on our pace seemed to get better. At one point it looked like we'd be a distant fourth, but he did a good job closing Perez and Norris down in the final stint. It was frustrating that we couldn't get on the back of them sooner.
"Our expectations with George were to just make it into the points. For him to come sixth is a very good result. We were nursing engine temperatures, which cost both cars a lot of race time, as the ambient temperature was slightly higher than expected. We've made small gains to Ferrari and Aston Martin in the Constructors' Championship, which is some consolation. Overall though, we leave here thinking we could have done a much better job as a Team."
Ferrari
Ferrari had a tough day in the Budapest sun. Sainz started on the softs and made an electric getaway, finding himself just behind his team mate. On different strategies the team opted not to switch their drivers. Then Leclerc's first pit stop was a slow one that required a scramble to find a second wheel gun, and that put him behind his team mate when yet again, no team switch appeared. In the end it was a moot point despite Leclerc also picking up a five second penalty for speeding in the pit lane, with Sainz losing enough time having to defend from Russell to mean his team mate was able to stay ahead once the chequered flag fell.
Charles Leclerc, 7th
"I was quite happy with my pace in the first stint, as we were managing things really well and keeping up with the cars ahead. Then we lost time on our first pit stop, which put us on the back foot and I had to push to recover some positions. The penalty we got after the second stop was another thing that made things more difficult, so all in all, it wasn't a great day.
"I'm looking forward to Spa and hope that we can finish the first half of the season on a high there."
Carlos Sainz, 8th
"We had a good start, making up five places on the first lap, and a very good first stint with the Softs, managing to stretch the tyre life. Unfortunately, with the Hard compound and longer stints to do, we struggled with rear degradation and didn't have the pace of the front runners, which is our main weakness at the moment.
"We were expecting more at this track and we need to look into our main areas of improvement."
Fred Vasseur, Team Principal
"Our result is rather poor today. It was a complicated race with Charles, chiefly because he lost around seven seconds at the pit stop, which was a massive delay, because of an issue with a wheel-gun. This also put him in traffic and then there was also the 5-second pit lane speeding penalty.
"With Carlos, we took the risk of starting him on Softs and it was a good move in the early stages, as he made up places. But we knew it would be quite tricky for him as he would have to do a lot of tyre management, switching earlier to the Hard compound. However, starting eleventh and finishing where he did, ahead of Alonso, I'd say was not too bad a result.
"I have the feeling that we are not that far off the pace in terms of performance, but we did not put everything together over the whole weekend. We showed we had the potential on Friday, but then we did not build on it for Saturday or today in the race. Now we really need to focus on Belgium, because it is always important to go into the summer break with a good result, find more pace and minimise mistakes."
Aston Martin
Not to be for Aston Martin. Alonso couldn't take advantage of the melee off the line, and from there was managing his tyres for much of the race. Stroll managed to pick up places and did well to come home in the points from P14 on the grid, an early pit stop paying dividends as the undercut proved mighty. But Aston Martin weren't on the pace of the McLaren and Mercedes cars as they have been for so much of the season – and must be wondering why.
Fernando Alonso, 9th
"I think three points for us was the maximum we could achieve [as a team] today. We had a bit of a lonely race with no threats behind, but we were unable to make significant ground up on our competitors ahead of us. It was a hot and demanding race as well and we all had to manage the tyres throughout. There have been a lot of surprises in the last few race weekends, but we need to try our best to get back to fighting at the front of the pack. We will analyse everything and look to bounce back at Spa next week."
Lance Stroll, 10th
"I think P10 was the best we could have done today. I had a good first lap and I was happy with the move around the outside of [Valtteri] Bottas, but after that the pace just wasn't up there. As a team, I think we have some work to do to try and understand what we can be doing better. The car is quick, but there's more pace to unlock and that has to be our priority as the season continues. We'll take these learnings into Spa next week where, as always, we'll be pushing hard."
Mike Krack, Team Principal
"Getting two cars home inside the points was the maximum today. It was a quiet and uneventful race, and the results were in pace order as we finished behind our direct competitors. Both Lance and Fernando performed very well, but we are missing the performance to challenge higher up. Lance did particularly well to finish just behind Fernando from his initial grid position. Today is a reality check. We need to keep our heads down, keep working hard, and push through the developments to get back to where we were in earlier in the season."
Williams
Sargeant was doing well until he spun on the penultimate lap, and pitted to retire the car after flat spotting his tyres and overheating his brakes. Albon though had a much better afternoon. He fought wheel to wheel with the likes of Magnussen and Bottas and despite being on older tyres than the Finn, managed a late overtake to come home a very credible P11.
Logan Sargeant, DNF
"Honestly, I was pretty happy with how the race was going. I think we got a little bit unlucky with strategy; we had a slow first pitstop which cost us quite a lot, but all in all the pace was pretty good considering it's a track which should have been quite bad for us. For Alex to be knocking on the door of points should give us a nice appetite for Spa, where we should be really strong."
Alex Albon, 11th
"P11 is quite a surprising result, it was quite a defensive race which we like to do. We got track position and we were okay; we came into this circuit knowing it wouldn't suit us and we qualified where the pace of the car was. Clean air is so important around here; even though I pitted early, once I had clean air, I had a lot of laps to bed the tyre in slowly so once I came out and undercut the other cars, I had some grip left and could manage them behind me. We've highlighted the areas our car struggles with by coming here, so when the car doesn't feel great, it's still raceable. To finish P11 and almost make Q2 yesterday, it's a very good sign, so if we can fix these issues, then we'll be in a good place across various circuits."
Dave Robson, Head of Vehicle Performance
"Today was exciting and both drivers were able to mount a very strong recovery from yesterday. Both followed aggressive strategies that allowed us to be on the attack and whilst it made for a difficult final stint, both dealt with it very well and showed good pace whilst also managing their tyres.
"Although we didn't score any points, Alex finishing in 11th place was a very strong result at a circuit that we expected wasn't ideally suited to FW45. We have held on to 7th place in the Championship and collected another 11th place finish in the process.
"It was a shame that Logan didn't finish the race, but with a spin a few laps before the end, we opted to retire the car rather than risk further damage. Until that point, he was having another strong day and he can continue his good form into Spa.
"We now head to Spa for the final race before the summer shutdown. It is another sprint event, which will be very interesting given the weather and general nature of Spa. The car will be in quite a different configuration than it was this weekend and we hope that at as a result it will work well in Belgium. The strong result today was due to some excellent teamwork at the track and in the factory. We put together a good strategy and although it asked a lot of the drivers, they delivered strongly."
Alfa Romeo
With both cars starting in the top 10, hopes were high down at Alfa Romeo. They were dashed from word go though, as a terrible start for Zhou sent him backwards. He out-braked himself into Turn 1 and collided with Ricciardo's AlphaTauri, for which he was handed a five second time penalty for causing a collision. Bottas had also found himself baulked by that moment and lost places as a result. The Finn did manage to recover somewhat and was on the fringes of the points, but lost out to Albon in the latter stages.
Valtteri Bottas, 12th
"We had a good chance to turn a strong qualifying into points but, unfortunately, our race got compromised on lap one, just after the start. Zhou, who was in front of me, had some issues with the brake system strategy, so I had to move around him, losing some momentum. On top of that, all the cars starting on soft tyres passed us quickly. Overall, our pace was not quite as good as yesterday, and it didn't really allow us to climb back through the field. There's a positive we will take with us onto Belgium, we unlocked something more from our package on Saturday, so definitely the potential was there and we will aim to build on that. Of course, Spa will be a completely different track, but we will be working hard this week to find the right configuration to further progress and kick back right away."
Zhou Guanyu, 16th
"The elation from yesterday's result turned on its head, and there is no denying today has been very disappointing. We are yet to gather all the information about what exactly went on at the start: I was on full throttle, and then all of a sudden, something went wrong and I had to do the entire procedure again just in order to do a proper start. We will be investigating this right away, to avoid repetitions in the future. Having said that, our race was pretty much over after this moment: we were at the back of the grid, with not many chances to climb back. As a positive to take away from this weekend, it felt good to execute such a solid qualifying performance yesterday, with both cars in Q3, as a confirmation that the upgrades we brought in Silverstone are moving us in the right direction, and there is further potential to unlock. Hopefully, moving forward, we'll be more competitive throughout the whole weekend. We'll carry this momentum onto Spa, aiming to quickly bounce back and build up on the momentum we had on Saturday."
Alessandro Alunni Bravi, Team Representative
"After yesterday's strong performance in qualifying, we are of course disappointed not to convert good starting positions with both cars into a double-points finish; occasions like this can't be missed, so we will need to properly go through what went wrong today. Zhou's car suffered an issue with the brake system strategy during the starting procedure, and that ended up jeopardising not just his race, but both of our drivers'. Zhou lost 11 positions right before the first corner, and subsequently hit Ricciardo while braking, for which he received a five-seconds penalty that was executed during his first pit stop. Valtteri had to avoid Zhou at the start, thus losing important positions he didn't manage to recover. All of this resulted in both cars being outside the top ten from the start: we tried to recover with an aggressive strategy, changing earlier from Medium to Hard tyres, and attempting to undercut those in front of us, but eventually didn't have enough pace to climb back into the top ten. Today's result is upsetting for the team, but there is at least one major positive from the weekend: our overall performance improved from the previous races, and we must carry it with us as we head to Spa next week, for the final race before the summer break."
AlphaTauri
Ricciardo made a good start but was tagged from behind by Zhou and in turn hit the Alpine of Ocon. That cost him some places and some downforce, and he was lucky to escape needing an immediate pit stop although he did find himself trailing around last of all the runners. In the end the team pitted him twice tactically to get the Australian into cleaner air and it proved a good strategy as he overhauled his team mate to come home a very solid P13.
Daniel Ricciardo, 13th
"The whole weekend has been good and to come back, really feel all the things I've missed in the last twelve months, I can't ask for more on the first weekend, and it gives me confidence. I got hit in turn 1, and dropped to the tail of the pack. After that, we got stuck in traffic, but once we got some clear air, I could settle into a rhythm and from then on, I was happy. Our pace wasn't bad, maybe we could've been in the points today, I don't know, but our strategy was good, we were just a bit unlucky. On the other hand, the contact at the start could've ended my race, so I'm grateful the car was still ok, and I was able to do 70 laps to learn as much as possible. I'll learn from the mistakes I made to get better and better, and I made little mental notes, which I will share with the team. Overall though, there are a lot of things to be happy about."
Yuki Tsunoda, 16th
"We chose to start the race on the soft compound tyre today to gain as many positions as possible early in the race. The start was good, and I managed to make up quite a few places, so I'm happy with my performance. I had pace and was managing my tyres well today, especially on the soft compound, but unfortunately, it didn't quite work out, so together with the team we'll look at it. It's a shame because the pace was there. Overall, I'm frustrated with myself because I didn't put it all together and extract the maximum out of my performance every day. It's been a week of learning and what I learnt today I will use in the future to maximise our performance."
Claudio Balestri, Chief Engineer – Vehicle Performance
"For today's race, we decided to split the cars in terms of starting compounds. As for Yuki, we decided to go aggressive and use the softest compound, while for Daniel we opted for the medium tyre. At the start, Yuki gained many positions and got close to the top ten, but Daniel was hit by Zhou, finding himself in P18 at the end of lap one, after the two Alpines retired. After ten laps, the cars that had started on the soft tyres pitted, so we did the same with Yuki, fitting the hard tyres to go long for the second stint. Unfortunately, the pitstop was longer than normal, and we lost some positions, ending up behind Albon, who was on the same compound. Daniel was on a different strategy, completing a longer first stint, after which we decided to fit a set of hard tyres on lap 18, the best compound to be flexible for the remainder of the race. In the second part of the race, with both drivers on the hard compound, we decided to extend Yuki's stint, while cutting Daniel's short, to have free air for the last stint on medium tyres. This paid off because Daniel was able to be fast and consistent, and this was enough to regain the positions lost in the first lap, finishing the race in P13. Yuki was fitted with medium tyres in his last stint, but this wasn't sufficient to move him up, and he finished in P15, just two tenths behind Hulkenberg. We'll focus on the next race, where we believe we'll be in the position to fight for points."
Haas
Hulkenberg was another driver who had to tiptoe round the first corner and as such, was already out of the points pretty much from word go. From there it was a race of attrition for the team who still can't get on top of their tyre wear issues. The hot temperatures didn't help, and with only three retirements, neither driver could make much progress forwards.
Nico Hulkenberg, 14th
"Not good enough in the race, which wasn't news really, we kind of knew and expected this. To be fair though, I think we looked better today than we have in the past few races on Sunday, so I'm not too disappointed - given this is one of the toughest of the season in terms of non-stop corners, and there isn't much rest for the tyres or the driver. We weren't too far behind drivers that were in the points, so maybe it was actually a bit better than what I was expecting going into today."
Kevin Magnussen, 17th
"I'm not feeling very good about the results, it's a disappointing day for us. I had no pace on the hard tyre, we had two long stints on the hards – probably should've been on a three stop. We always try and learn something from each race – we're going to try and do something different for Belgium. It's important at this point to be patient and wait for some upgrades. We have to keep our heads cool and move onto the next one."
Guenther Steiner, Team Principal
"Going into the race we knew that we'd be struggling with the heat with our tyre degradation issues. I mean, it was a tough race, but I think we got the best from it that we could. At the moment this is what it is for us. We can't do anything else but keep working on the car and trying to resolve our problems. A lot of other people are picking up the pace – at the moment we can't, but we're working on it."
Alpine
Alpine's race was over as soon as it started. Ocon hit Gasly's car but that wasn't the full story, Ocon himself being hit from behind by Ricciardo who was hit by Zhou. While those two could continue, the Alpines could not – Gasly was in at the end of the first lap with a rear puncture and enough rear damage to end his race. Ocon limped round again but was in at the end of the second lap and for the second straight race, both cars failed to finish.
WATCH: Alpine suffer early double-DNF as Ocon and Gasly collide amid Turn 1 melee
Esteban Ocon, DNF
"There is not much to say from today. It's a very frustrating end to the weekend being involved in a racing incident with a few cars at Turn 1 on the first lap. There was not much we could do and the result was both cars had to retire with significant damage. Fortunately, I'm OK. Right now our focus is on regrouping and coming back stronger as we have another race next weekend in Belgium. We must move on quickly with the aim of heading into the summer break on a good note."
Pierre Gasly, DNF
"It's extremely frustrating for the entire team to have a double retirement, especially in such circumstances so early into the race. I was the unfortunate victim of a crash between a handful of cars and I just had nowhere to go and no chance of avoiding the incident. It's disappointing after making a good start off the line where I gained a couple of positions. As a team, we have to move on quickly and we have an immediate opportunity in Spa next weekend to make sure we enter the summer break with points."
Otmar Szafnauer, Team Principal
"We're all very disappointed by today's race with both our cars on the receiving end of an unfortunate, lap one, turn one incident. There was a concertina effect with one car hitting another leading to our two cars coming together in an unavoidable circumstance. Right now, it's a bitter feeling for all of us, a tough one to take, but we must keep our heads down and bounce back. We have another race next weekend in Spa, the final one before the summer break, where we will work for better fortune and a stronger team result."
Pirelli
Mario Isola, Motorsport Director
"It was a very interesting weekend which saw a trial of a new tyre allocation format, as well as evaluating bringing a trio of compounds one step softer than in the past. As for the ATA, first and foremost, it should be pointed out that it will be trialled again at Monza this coming September, on a track with completely different characteristics to this one and the data will be analysed very carefully. Apart from that, I'd say the two salient points from this weekend were that yesterday's qualifying was more unpredictable than usual, because it presented the drivers with new challenges: the need to adapt quickly to the change of compound and the fact that having two sets of each compound for the race introduced greater flexibility in terms of strategy.
"The fact that all the drivers made two stops in very hot conditions with a track temperature that was 53 degrees at the start, with no high degradation problems confirms that the three compounds we chose to bring here were the right ones, given that four drivers even used the Soft for their first stint, showing that it was not out of the question to race with it.
"Now we come to the final round before the summer break, at Spa-Francorchamps, one of the most fascinating tracks on the calendar, with totally different characteristics to those of the Hungaroring, both in terms of its layout and when it comes to the sort of weather we can expect. Belgium will be the third round of the season to feature the Sprint format, which should ensure an even more exciting show."
HIGHLIGHTS: Watch the action from a tense Hungarian GP as Verstappen and Red Bull make history