Feature
What the teams said – Race day in Italy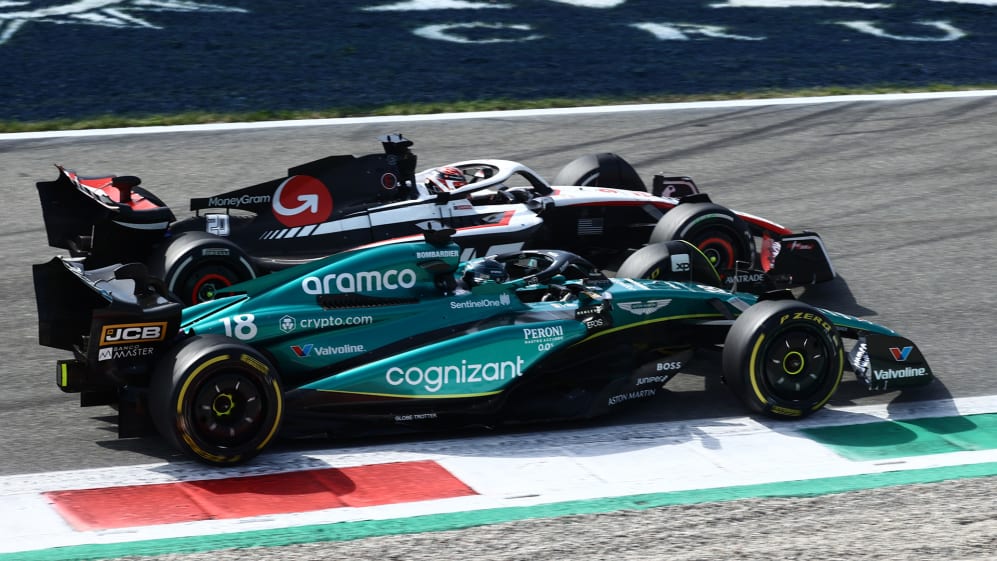 Red Bull
Verstappen had to work hard to get past an obdurate Sainz at the beginning of the race, but once in clean air the Dutchman never looked like relinquishing the lead as he cruised to a record-breaking 10th consecutive F1 win. Perez made it the dream 1-2 for the team after also finding the Ferraris difficult to pick off, the Mexican running wide and having to cede the places more than once before eventually finding a way past for his third podium in four races as he continues his mid-season resurgence.
READ MORE: 'I never would have believed this' – Verstappen in shock after making more F1 history with Monza win
Max Verstappen, 1st
"I had to be patient today to get the win, Ferrari had a lot of top speed all weekend and I think when you look at our rear wing we had to trim down our top flap, so our DRS the whole weekend wasn't as effective as normal. That meant we could never have a good run down into turn one, so I had to be patient and force Carlos into a mistake. At one point, when his tyres were wearing a little, we tried to make him brake late, he locked up a little bit and I thought, "perfect" and was able to pass him on the exit to turn two.
"From there it was about managing things and bringing the car home safely. 10 wins in a row is a record I am very happy about; it is something you don't even think about trying to achieve because it is very unlikely that those kinds of things happen. I am very proud it has happened and proud of what the Team has done again today, the whole year has been pretty incredible so far. And, of course, a one-two today as well, here in Monza, is special for us all."
Sergio Perez, 2nd
"It is really satisfying to achieve P2 today and it has been a brilliant day for the team. Overtaking was really difficult on this track and the Ferraris were very fast on the straights so it was hard to make my way through the field. We had some tough racing, but I fought really hard to overtake and gave it my all and it paid off. We didn't get to show it yesterday, but it's been a strong weekend in terms of performance.
"I feel like my form is fully back and I hope we can have a very strong end to the season. The team have done a lot of work on the suspension and the set-up of the car and we have made great steps forward here. Finally, the atmosphere here in Italy and on the podium was amazing: the whole main straight was packed and it was a great experience. Max's achievement today really is incredible so well done to him: today is his moment."
Christian Horner, Team Principal
"This was a very special victory but we had to do it the hard way. The Ferrari's were very quick today, just as they have been all weekend and with Carlos and Charles defending like their life depended on it meant we had to work that extra bit harder to lead the race.
"Sergio did a brilliant job, finding his form to claim second, while Max continued his exemplary run to take the win. This now gives Max 10 victories in a row which breaks Sebastian's record from 10 years ago. It's a fantastic achievement and a huge effort from every single faction of The Team.
"I say time and time again, it's not just what you see here at track that makes success possible, there is so much that goes on behind the scenes. Formula One is the biggest team sport in the world, and it requires every single person to do their job, investing in this car and sharing the same vision. This win is down to everyone in the Oracle Red Bull Racing Team that has done such an amazing job this season. That's now 14 victories in a row. We are leaving Europe unbeaten which is a truly remarkable achievement and something we look to extend as we head to the next race in Singapore in two weeks time."
Ferrari
Sainz had a good getaway and led in the opening stages. But he was always on the defence, first from Verstappen and later from Perez. When those two had made their way past, it seemed as if he might be able to coast to the finish but no – he then had to defend just as hard from his team mate, with Ferrari letting their cars race all the way to the flag. Leclerc was driving a very good race as he too kept Perez at bay for a time, and with better tyre management, really pressurised his team mate. He even got past at one point before locking up and dropping back in an entertaining tussle.
Charles Leclerc, 4th
"It has been a while since I had that much fun in a race! The battles we had throughout were great, and Checo (Perez), Carlos and I were really close towards the end, which made for an exciting handful of closing laps. We had some free space behind us, so I just enjoyed it and pushed to the maximum.
"I hope that the tifosi enjoyed it as much as I did and a big thanks to them for all the support this weekend. I hope that we will see more races like this to come and look forward to being back on track in Singapore."
Carlos Sainz, 3rd
"It was a great weekend all along and to be able to celebrate a podium with the tifosi is the perfect icing on the cake! I really want to thank every single one of them for their endless support. They are very special!
"Today I did everything I could to try to keep both Red Bulls behind, using my tyres to the limit and pushing for the entire race. Unfortunately, they still have the edge over us on race day and P3 was the maximum today. We had good battles on track with them and with Charles and I hope people enjoyed it as much as I did. Now we have some time to regroup and start preparing for Singapore as soon as possible."
Fred Vasseur, Team Principal
"It was a great race and the result was the best we could do today, finishing on the podium in front of our fans and bringing home 27 points which sees us get ahead of Aston Martin and close on Mercedes.
"We dedicate this result to our fans who have been so supportive all weekend long and we are pleased to have put on a good show both yesterday in qualifying and today, especially at the end of the race when we let our drivers fight it out for third place. We did that because we know how special it is to be on the podium here, but we also told them not to take any risks and they complied with that.
"Carlos drove really well all weekend and Charles also recovered well after getting off to a difficult start on Friday. In two weeks we start from scratch again in Singapore, but for today we can be happy with what we have done here. We knew our car would be more competitive on this sort of track and the SF-23 lived up to our expectations."
Mercedes
Russell couldn't keep Perez at bay, although they did both go off at one point into Turn 1. After the Mexican disappeared up the road, it should have been a lonely race to the finish for the Britain, until he came out of the pits side by side with Ocon and ran off track fighting for position, a move that earned him a five-second penalty which luckily didn't prove costly. Hamilton also had a penalty, his for causing a collision as he clashed with Piastri. Having started on the hards, Hamilton was making moves late on on the mediums, but couldn't keep his fight with the McLaren clean. It didn't cost him, as he picked off Norris and Albon, building enough of a gap to hold onto P6 at the flag.
Lewis Hamilton, 6th
"Every point and position that we are getting through these races are incredibly hard-fought. We started on the hard tyre today and it was nice to be offset but difficult at the beginning and not so easy to follow in the DRS train. I spent a lot of laps following the McLarens, so I knew that I had slightly more pace than them in the first stint, and hoped I could get them on the second one. There was a big gap to catch after the stop, and I was worried my tyres would go off when I caught them, but fortunately theirs did the same. I cleared Alonso immediately after the stop, which opened things up and let me close them down; but the incident with Piastri was just unfortunate. I misjudged the gap that I had and it was totally my fault – I went and apologised to him straight after. So I think we maximised today, and now I'm looking forward to Singapore in ten days' time."
George Russell, 5th
"Fifth place was probably the maximum today and I think we'd have taken that result before the weekend. We've outpaced McLaren and Aston Martin here, but unfortunately Ferrari were just a step ahead of us here – and then Red Bull out front. They were so fast in the high-speed corners today, I just couldn't keep Perez behind any longer than I did in the early laps. It was a tough race because the degradation was high, but the long pit-stop loss just means that a two-stop strategy isn't really competitive; that means a lot of time in DRS, but it's not easy to overtake with such small pace differences between cars. I'm looking forward to heading to Singapore next. We were competitive there last year and I think that our car will be better suited to that circuit, so hopefully we can fight a bit closer to the front than we managed here."
Toto Wolff, Head of Mercedes-Benz Motorsport
"That was a pretty incident-filled race for us and we maximised the points that were in there today. But like always, we need to be careful not to be too happy about finishing fifth and sixth. Looking back at them, I think both penalties for the drivers were fair, but fortunately they both did a great job to make sure they didn't have any consequence for the finishing positions; they both just took it on the chin, got their heads down and kept on racing. We know that these low-downforce circuits are not our strong suit, and in fact I think we have seen progress over the season from Baku to Spa to here. The next race is Singapore, so back to high downforce and coming towards our direction a little bit more. It will be important for us to maximise that opportunity when it comes."
Andrew Shovlin, Trackside Engineering Director
"We were the third quickest team today so fifth and sixth was the best we could achieve. The car just doesn't have the pace of the Ferrari at this downforce level. Fortunately, on normal tracks the fight is much closer but today was all about damage limitation and the team and drivers did a good job to minimise our points loss in the constructors' championship. The hot conditions made it tricky with the tyres and if you were pushing to defend or attack, the one stop became quite marginal. We were expecting a tough race for the tyres, normally our car is quite kind to its rear tyres but since Friday we've struggled to keep the temperatures down, we're just sliding around a little too much. Saying that, we at least had the pace and straight-line speed to gain a few places at the end with Lewis. We've been some way off threatening the podium positions here so we're looking forward to Singapore where hopefully we'll be able to fight for the bigger points positions."
Williams
Albon lost a place to Piastri at the start but soon regained it. He had to pit much earlier than the McLarens and manage his tyres, so the fact he kept both of them behind for so long was very impressive. He couldn't keep Hamilton at bay, but seventh is still a very strong result. As for Sargeant, he was yoyoing up and down the field after also stopping very early. He was on the cusp of points but was handed a five-second time penalty for colliding with Bottas late on.
Logan Sargeant, 13th
"It was a tricky race in general. We tried to make the one stop work after boxing early for the Hards, and I think it was just a bit too long on that stint considering the balance I had in the race, but unfortunately there was nothing we could do to get the car in the right window today. I struggled to keep hold of the Hard tyres and suffered quite a bit of oversteer. If we had the car in a better window we could have held on until the end. Looking at the next races, we will keep working really hard, try to put the car on the ground in a good window, and hopefully have good pace."
Alex Albon, 7th
"That was probably my toughest but my most proud race I've done, so I'm very happy. I'm sure Lando didn't enjoy that one too much, but I did! We went into today knowing it was going to be a tough, long race and we knew tyre deg would be high. I think on paper we went into this weekend expecting to be a little bit quicker than we were and four laps into the race I knew it would be long, but we managed to keep everyone behind. We were on used Mediums and used Hards so we made it tough for ourselves; I wouldn't want to do that race again but I'm super happy with the result. Scoring points two races in a row is really enjoyable. From where we were at the start of the year to now is amazing. I don't think the next few races will be easy for us so let's enjoy these ones."
Dave Robson, Head of Vehicle Performance
"We came to Monza thinking that we could score points on merit and we achieved that today. The hot conditions were not ideal for us, but we know that this is an area that we need to work on, and we are working hard to improve the situation. Both drivers were very good, especially given the high tyre degradation and hot conditions. Alex was brilliant again and was able to frustrate the McLarens for almost the entire race. It was a shame that he couldn't stay within 5 seconds of Lewis at the end, but to lose only one position following a very strong showing in Qualifying is an excellent result.
"Logan drove very well and for a time it looked like he could secure a points-scoring position. In the end Valtteri had too much pace and was able to overtake. Nonetheless, racing at low downforce on a hot track and with soft compounds is a very valuable experience and one that he can build on, starting in Singapore in two weeks' time."
McLaren
Piastri and Norris both made up places at the start, with the Australian running ahead. The team opted to pit Norris first which allowed him to undercut Piastri, but only just. The Aussie came out of the pits side by side with Norris, the two colliding into Turn 1. After that Norris settled down in his pursuit of Albon, but was frustrated lap after lap by his friend's stoic defence. Piastri was in that fight too until Hamilton made a move late on, not leaving Piastri enough space after getting past. That damaged Piastri's front wing and pitting for a replacement dropping him out of the points. He picked up a late time penalty too for leaving the track, on an unlucky day to forget.
Lando Norris, 8th
"A good race. I think the pace was strong today. It was just very difficult to overtake, as usual, but when we didn't have to overtake, the pace was good. We could pressure Alex the whole race, but he did a very good job, so hats off to him and Williams, they were quick this weekend and managed to stay ahead. I think it was the best we could have done, so happy with that. Big thanks go to the team, both at track and at the factory, for reacting after Spa and giving us a more competitive package. We'll put our heads down now and start focusing on Singapore."
Oscar Piastri, 12th
"A difficult day with plenty of challenges. Firstly, it was great to lead my first Grand Prix laps, and the overall pace was encouraging today, but unfortunately, we were still lacking in straight-line speed to really take the fight to Alex [Albon]. After the first stint, our race got a little bit more difficult and the incident with Lewis ended our chances of getting points. Lots to debrief on as a team and we'll aim to come back stronger in Singapore."
Andrea Stella, Team Principal
"Our objective for the race was to finish with two cars in the points, which we only partly achieved. With Oscar, while we were in the points we had a collision with Lewis, which dropped him out of contention, needing to pit for a new front wing. Otherwise, I think we can be pleased with the pace shown by the MCL60 today. We were ready for greater degradation and a more difficult race but in reality, our degradation was manageable, and we were limited only by the capacity to overtake. Considering where we were in Spa, two races ago, this feels very encouraging. The team have worked very hard since the Belgian Grand Prix to address our issues with top speed. They've done a very good job, and parts were being delivered here until the last minute. So, well done to everyone, and now we look forward to Singapore, where we hope to be competitive."
Aston Martin
Aston Martin didn't have the pace today, although that didn't stop Alonso taking every opportunity on offer. After dropping a place at the start, he climbed back into the points and tried to keep pace with Hamilton to pick up the pieces of any scrap that might happen. As for Stroll, starting last on a day where there were 18 finishers was never likely to yield points, and he came home well down the field.
HIGHLIGHTS: Watch the action from Monza as Verstappen seals a record-breaking win
Fernando Alonso, 9th
"It was a very difficult race today and it was one of the most physically challenging of the year. We will take many lessons from this weekend and look to be better next time. I had some hope we might be able to catch Lewis [Hamilton] when he had the penalty, but as soon as he passed Alex [Albon] I knew it would be difficult. Ferrari has unfortunately jumped us in the Constructors' Championship after this result, so we need to bounce back at the next race. There are still a lot of races and points left in the Championship."
Lance Stroll, 16th
"The car didn't have the pace we needed today, so it was a tough race to manage. We tried to do something slightly different with the strategy and only stopped once, but the tyres were falling off towards the end of the stint, so I wasn't able to hold position. It's been a difficult weekend for us, so we have some work to do before we head to Singapore in a couple of weeks."
Mike Krack, Team Principal
"Scoring a couple of points with Fernando was little consolation for a tricky weekend in Monza. Maybe with a few more laps we could have challenged Lando [Norris] and Alex [Albon], but there were not too many opportunities available. Lance did a good job today. He moved ahead of the Haas and Alpine drivers, but he suffered with the tyres dropping off in the final part of the race. We always knew that Monza would not be a particularly kind track to us and we have to take today's lessons into AMR24. We will work hard to be back in a more competitive position in Singapore."
Alfa Romeo
Zhou was struggling all race long with a variety of issues, but Bottas was having a slightly easier time of it. He managed to one-stop while many others around him needed to come into the pits twice, which saw the Finn get up to 10th. It wasn't all plain sailing though, as Sargeant tried an opportunistic move down the inside into Turn 1, the two colliding and Bottas lucky to escape without serious damage. He scored his first point since Canada, as Alfa Romeo chase Haas for P8 in the constructors'.
Valtteri Bottas, 10th
"Points were the target today, and we achieved that: it's nice to be back in the top ten as it had been a while, despite all our hard work, and this point is for everyone at Alfa Romeo. It may be just one point, but it is a good reward for the job done to turn our weekend around, and for the support of our home team from the grandstands. It's been a clean race from our side: our pace had slightly improved from qualifying, and we nailed our strategy, which helped us have some clean air and keep out of trouble. Overall, it is safe to say it has been a good day in the office today, and a good way to wrap up the European season."
Zhou Guanyu, 14th
"I am glad to see Valtteri bring home one point from this race, a point that helps us close the gap to Haas. Considering the results we had on Friday and Saturday, we made a massive step forward, which is encouraging for the races ahead – especially as we are meant to bring further upgrades in Singapore, where we must make a further improvement. I believe that, overall, it has been a clean race from my side; Valtteri and I were on different tyre strategies, he started on hard tyres, and I was on mediums, focusing on the Alpines in the hope of undercutting them. In terms of pure pace, we were still behind Williams; for this reason, it'll be crucial to make that step forward in Singapore and keep on working to add new points to our tally."
Alessandro Alunni Bravi, Team Representative
"Before the race, we said our target today was to score at least a point, and it's very important we were able to achieve it. We executed a perfect race and we were able to hit our target. It's especially remarkable, given the difficult Friday and Saturday we endured: but the team dug deep and we were able to turn things around when it really mattered. We need to pay tribute to them, and to our colleagues in Hinwil for their support before and during the weekend. Valtteri made no mistake from lights to flag and was able to make his reverse strategy work, moving up the order in the closing stages. Unfortunately, it was a more difficult race for Zhou: we tried an aggressive strategy, pitting him a second time for new mediums, but the pace just wasn't enough to make it into the top ten. We can celebrate this point, but we must not forget about the struggles of Friday and Saturday. We need to analyse what went wrong, learn and improve constantly, starting in Singapore already: we showed good race pace and, if we can improve our qualifying positions, we can fight at every Grand Prix. We will not give up, not until after the final corner of the final race, in our quest to score points: we need to work harder as our target remains P7 in the championship. Finally, it's great to be able to celebrate with a top ten finish what has been an incredible weekend on and off the track: we started on Thursday, with the launch of the new Alfa Romeo 33 Stradale in front of our garage; we had our colleagues on the grandstand, putting together a great choreography; and we delivered a good race to top it off. Hopefully, this can be the start of a new phase of our championship."
AlphaTauri
Tsunoda pulled over on the Formation Lap, smoke billowing from the back of his AT04, and filling his cockpit for good measure. His race was over before it started, leading to a delay to the start of the race for the rest. Once the Grand Prix did get going, Lawson had a good day at the office. He stopped twice, but pulled off some overtakes and fought hard but kept his nose clean. Thanks to a late slew of penalties, he wound up in P11.
Liam Lawson, 11th
"A couple of things went wrong today, we need to look into the start, as I could have done a better job, and that's where we lost the chance. The pace wasn't too bad then, but the race slightly got away from us. I'm still learning the procedures and definitely starting to feel more comfortable in the car, but I'm just a little bit disappointed with my race, as I think we may have had the pace for points today. I'm not sure though, so we need to look into it. These races are longer than I'm used to, so definitely adjusting, but I felt much more prepared than I did last weekend, so I'm happy about that."
Yuki Tsunoda, DNS
"I heard a weird sound from the car, and after that, I didn't feel any power. We don't know the exact reason yet, but we'll investigate. Obviously, no reliability issue would've been nice, but it's only the first time this year, so we stay positive and come back stronger. I wanted to race, especially starting so close to the points at our home race, so it's a shame because our pace looked quite strong during practice, but there is a lot we can take from this weekend. The car performance has been looking consistently solid the last couple of weekends, and even if we struggled on some days, we were able to come back stronger the next day. To be able to extract the maximum is one of our strengths, so I'm not worried about the future."
Claudio Balestri, Chief Engineer – Vehicle Performance
"Today, the target was to score points, and we didn't. Yuki started in P11, but his race was over before the start due to an issue with the Power Unit during the formation lap, which stopped the car on track. As for Liam, who was starting in P11 at the restart, we decided to put him on medium tyres, which turned out to be the main compound chosen by almost all the cars on the grid, to allow some flexibility with the strategy. At the end of Lap 1, Liam was in P12 and was able to keep up with the pace of the car around us, but the tyre degradation, which is critical in Monza, especially at the rear, was high. Therefore, we pitted him on Lap 13 to fit the hard compound. We wanted to push more on tyres to go for a two-stop strategy, so we called him in again on Lap 33 to fit another set of medium tyres. In the last stint, the lap times were good, and Liam was closing the gap compared to some one-stoppers. We were able to overtake Sargeant on the final lap, while Bottas stayed in front, so Liam finished the race in P11, just outside the points. We now need to go home and analyse what we could have done better, to come back stronger in Singapore and beyond."
Alpine
Gasly was the first to pit, struggling with tyre life on a day where degradation was higher than expected. He two-stopped his way to the flag, but couldn't make much progress through the field. Ocon had an even worse day, pulling into the pits to retire the car midway through the race when he was already out of contention.
Esteban Ocon, DNF
"A tough weekend for us with a tough ending. Unfortunately, we had to retire the car as a precaution after feeling some steering wheel lock early on in the race. It's definitely been a big weekend of learning for us on what has been a difficult track since the first session on Friday. Now it's time to really look into the reasons why we could not really perform here and then quickly move on to Singapore. I have no doubt we will come back stronger and return to points-scoring form."
Pierre Gasly, 15th
"It's not been our weekend, that is for sure, and it's always a disappointing feeling when you leave without scoring points. We were simply not fast enough at this circuit to have any success and, of course, we will take this as a big learning going forwards and to see what we can do better next time on this type of track. We gave it our all out there today but fifteenth place seemed to be our maximum. We have a lot of work ahead and I'm definitely looking forward to Singapore for the next race. I'm sure we can be more competitive at the next run of Grands Prix."
Bruno Famin, Interim Team Principal
"After the high of Zandvoort exactly one week ago, we leave Monza on the back of a very difficult result and general performance level. We entered the weekend knowing it was going to be a challenge given the nature of the track, and that proved to be the case. As a team, it has certainly been a weekend full of learning, of which we can take forwards to future events on circuits with a similar configuration to here in Monza. On that front, we can remain positive and as a team we will regroup ahead of the next race in Singapore."
Haas
Not to be for Haas, despite a strong start for Hulkenberg that saw him very briefly run inside the top 10. His tyres soon started to drop off, and even though Magnussen started on the hards, he was having similar issues. Both drivers wound up two stopping as they propped up the field at a track that in fairness, they never expected to suit their car. But now Alfa Romeo are only one point away in the constructors'…
Nico Hulkenberg, 17th
"The start was pretty much the only positive to be honest, the only bit of fun, after that very hard work. We had no performance, no balance and not good tyre management or life, so it was pretty hard work out there. Frankly, we were far from points-worthy this weekend. I think in Zandvoort we had made some progress, but it was somehow hidden by race circumstances, but I feel the pace was heading in the right direction. Zandvoort is high-downforce, Singapore is high-downforce, so I feel and hope that things will get back to normal and we can at least be competitive in the midfield."
Kevin Magnussen, 18th
"It was probably the worst race as we just had no pace at all, the tyres were falling apart and there was no balance. We have a steep hill to climb. It's really confusing though because in FP3 we were P7, and today we were the slowest by a big margin. There was just no pace – we need to turn this ship around."
Guenther Steiner, Team Principal
"There's not a lot to say except the car is just not fast enough. You always try to do your best, but the car has no performance and that's where you end up when you cannot compete."
Pirelli
Mario Isola, Motorsport Director
"Even if Verstappen and Red Bull once again picked up all the points on offer, the Italian Grand Prix was truly spectacular with plenty of thrilling and close duels. Today's track temperature was always above 40° C, which led to slightly higher tyre degradation. Despite this and even with a trio of compounds that were softer than last year's, the drivers definitely did not have to worry about tyre management as could be seen from the many duels we witnessed, some going on for several laps. In terms of strategy, our predictions from yesterday were pretty much confirmed in the race. The one-stop was definitely the quickest and those who pitted earlier than the predicted window then had to make a second stop, except for the Williams duo, who once again proved to be particularly adept at tyre management.
"Finally, I want to thank the crowd of hundreds of thousands of fans who packed out the grandstands at this historic circuit over the three days. This is our home race and, even if we are not competing with opponents on track, we feel part of the great show that is Formula 1, especially here at Monza."