Feature
What the teams said - race day in Malaysia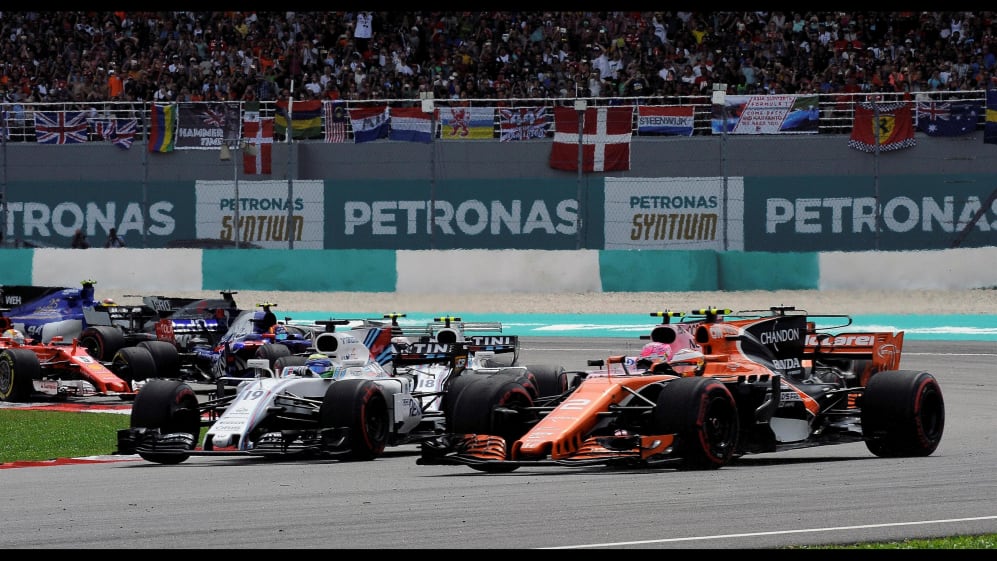 A round-up of all the action from the the 2017 Formula 1 Petronas Malaysia Grand Prix...
Mercedes
Hamilton led off the line but was soon under pressure from Verstappen in t__text in bold__he early laps. When the Dutchman attempted a pass, Hamilton saw the bigger championship picture and opted not to defend too robustly. Bottas meanwhile had made an electric start, passing Ricciardo and nearly picking off Verstappen himself. But once again, Mercedes seemed to struggle for pace and Bottas was unable to keep Ricciardo or a fast charging Vettel behind.
Lewis Hamilton, 2nd
"It was a much better weekend than we had anticipated after our Friday, considering the issues we did have with the car this is a good result. But still we have a lot of work to do with the car, some of the corners really magnified the issues we have. These next races are going to be crucial in terms of ironing out some of the creases we have with the car. I was having some problems with de-rates at the beginning of the race, so I was struggling with battery power. Valtteri seemed to struggle a lot more; I was able to pull a little bit more out of it. Naturally, I wanted to win the race, winning the races is still the goal. So even to be second is not that satisfying. Today was a step towards in trying to win the world championship and every point counts."
Valtteri Bottas, 5th
"Today was difficult. I was trying everything I can, I was giving it all I had, but I was lacking pace and I was sliding around. The start was definitely the best part of the day. It was really good, I could actually attack a little bit and fight for positions. But not long after that I just started to drop down and couldn't keep up with the others. In the first stint I had quite a lot of understeer, so I was struggling with the balance. The story of the race was managing the tyre temperatures. If I tried harder, then I started to overheat the tyre and slide even more, so I had to manage everything and that's why I was so slow. We need to analyse the race because the upgrade package should have been quite a step forward in terms of downforce, but I couldn't really see it. There are still a lot of things we need to try to understand, we need to learn from today. For Japan, we need to make sure we choose all the right bits for the car, and hopefully we will see some cooler temperatures."
Toto Wolff, Head of Mercedes-Benz Motorsport
"It was clear after just a few laps that both Red Bull and Ferrari had better cars than us today - but we nevertheless managed to score a good number of points and extend our lead in both championships. After a weekend where we have lacked a significant chunk of performance, we couldn't have imagined such a good outcome, but we can't let that distract us from the job we have in front of us. We leave Malaysia with a lot of question marks and we need to find answers to them in the next days and weeks, to ensure that we keep moving forward and racing at the front in the final quarter of this championship. We cannot get distracted by the fact we got lucky again this weekend. Lewis did a fantastic job today to score P2 while Valtteri, just like over the rest of the weekend, struggled to match that pace and brought the car home in P5. We know that gap doesn't reflect his true level of performance, and it will be a priority for us to put two equally competitive cars on track next weekend in Suzuka. In simple words, there is a lot more work ahead of us if we want to come out on top by Abu Dhabi."
Andrew Shovlin, Chief Race Engineer
"We expected a tough race today and it was. We lost the lead to Verstappen very early which was frustrating, but this is a reflection on our pace today which was just not good enough. We had a similar story with Valtteri who made a great start and did a really good job defending against Daniel for the opening laps but ultimately couldn't hold him behind. We have benefited significantly from Ferrari's misfortunes this weekend but they had an extremely quick car and we are under no illusions that the remaining five races will present us with a tough challenge to keep our noses ahead in both titles. We will be working hard in the coming days to understand our deficiencies this weekend. But Suzuka is a very different type of circuit and we will go there fighting to get on top of our problems and back to the front."
Red Bull
Both Red Bulls looked feisty off the line, with Verstappen keeping Hamilton honest for a few laps before taking the first opportunity provided to pass the Mercedes on lap four. From there he drove a fault-free race to record his second Grand Prix victory. Ricciardo battled past Bottas in a move that spanned three corners, and set about chasing down Hamilton ahead. He later came under pressure from Vettel on the faster supersoft rubber, but offered up a stern defence to keep the Ferrari at bay and record Red Bull's first double podium finish since Malaysia last year.
Max Verstappen, 1st
"It is amazing to win the race today. Straight away I could see our pace was good and that Lewis was struggling with traction. I just went for it and used all the battery power I could to get past him. I knew that he was fighting for the championship and wouldn't take too many risks, so I went for it. As soon as I passed Lewis I knew from there onwards I could control the race. The car was really good and our pace on the soft tyre was better than I expected. It was a very physical race and very warm in the car, plus I haven't been feeling that well this weekend but we managed to bring it home. You can never predict how the rest of the season will go but we keep improving the car and it is looking positive. So hopefully from now onwards we can build on this for the rest of the year and then have a good start to next season. I didn't expect yesterday that we would be so quick today and to win here was unexpected, so I'm very happy."
Daniel Ricciardo, 3rd
"I enjoyed the race today. At the beginning I had hope that I could finish second but then after the pit stop it was just about holding on to third as Seb was coming. I was always going to get my elbows out and make it as hard as I could but I was surprised that there was only one proper attack from him. Maybe he used all the tyres to get up to me and then after the attack I guess he had some problems. If I'm honest I would have liked a bit more of a fight until the closing stages just to have made it a little more exciting as the last few laps were kind of lonely. This double podium is a very positive result for us today. Obviously Max got the big one and drove well so congrats to him for the win; he drove strong all weekend. There were a few extra bits available for the cars here and I think we're going to try that again in Suzuka; it looks positive for us at the high downforce circuits."
Christian Horner, Team Principal
"A great performance by the whole team today and fantastic to see Max get a well-deserved victory, after enduring so much bad luck throughout the season. I said when Max's luck would change it would change in a dramatic way and it's difficult to believe the last time he was on the podium was at the beginning of April in China. Today he drove a truly dominant race, making a sensational pass on Lewis and then really controlling the race from there. Daniel, after starting on the wet side of the grid, initially dropped a place to Valtteri but worked hard to get the pass done, which is incredibly hard at this circuit, and then managed to save enough in hand to fend off a fast-recovering Sebastian at the end of the race. It's tremendous for us to sign off the last grand prix in Malaysia with a double podium and a victory, the fifth that we've achieved here. Our thanks to the Malaysian Grand Prix and to the many fans in Malaysia who support Red Bull; we celebrate with you today."
McLaren
Alonso did well to keep a quick Vettel at bay for a handful of laps, but once the German was past he spent much of the race in the midfield without ever looking like seriously challenging for points. He did get his elbows out in a move on Magnussen that led to the McLaren and Haas banging wheels, but that was as exciting as it got for the Spaniard. Vandoorne drove an excellent race to match his previous best finish of seventh, the highlight exiting the pits in a three-wide battle with the both Williams, holding Massa and Stroll at bay despite being on colder tyres.
Fernando Alonso, 11th
"It was a tough race today.
"From the very beginning, at the second corner, the two Williams touched in front of me, and made me lose a few positions. As a result, we ended up in the secondary group, running a little slower than our true pace, and could not overtake.
"So I lost a lot of time, and that really compromised our race. A shame, definitely not one of our best races today.
"But we'll have better days, and, hopefully in Japan, we'll come back with stronger form, and I'll be able to add my contribution to the constructors' championship on Honda's home ground.
"Having scored points at this track and at Singapore, two very different circuits, is really good for the team. I hope we can continue scoring more points in the remaining races."
Stoffel Vandoorne, 7th
"I can say that this was my best ever race in Formula 1 - up until now.
"All weekend, I've been really strong and felt really confident with the car. After qualifying seventh, we weren't really confident about where we'd finish in the race, so to pull off seventh today is an amazing result.
"I made a great start; we knew it was probably going to be difficult to hold off the Force Indias and the Williams behind, but only Perez came through.
"From then on, I had amazing pace, pushed hard every lap to try and manage the tyres and maintain the gap over Stroll, and I managed that until the end.
"I'm very happy!"
Eric Boullier, McLaren Honda Racing Director
"First, I want to pay tribute to Stoffel. This was his second consecutive finish in seventh position, and was a result that demonstrated just how much effort and dedication he's applied to make this work for him.
"Before the start, it was by no means looking like an easy race, particularly as we knew that we would probably be at the mercy of some of the faster cars behind us. So I think we can be proud of all we achieved this weekend, around a circuit that was not best suited to our package.
"Stoffel was the beneficiary of a good start and had the opportunity to run cleanly throughout, but Fernando's race was really compromised by the time he reached the second corner. Through no fault of his own, he was boxed in, and lost position, as an accident unfolded in front of him.
"Despite a strong drive, we weren't able to help him make progress through the midfield, which was particularly full of incidents at this race. But he still did well to come home 11th.
"I think we have plenty to look forward to when we head to Suzuka next week."
Yusuke Hasegawa, Honda R&D Co. Ltd Head of F1 Project & Executive Chief Engineer
"The Malaysian Grand Prix proved to be another positive result for the team. Stoffel maintained his momentum from Singapore and brought home more precious points, and the result was even more impressive when you consider that this is a tough, power-hungry circuit. I think today we were able to prove the progress of both our car and power unit.
"Stoffel made a good start and was able to keep position until the end of the race. He showed very consistent pace and maintained the gap to his rivals chasing from behind. I think he did a brilliant job all weekend.
"Fernando also had some good battles and overtakes, and it was a shame that he finished just outside of the top 10.
"Overall, it was a decent step forward for us that we could secure points at this potentially difficult circuit. Our reliability was also good throughout the weekend, even in the hot conditions.
"Now we are heading to our home grand prix in Suzuka and I hope we can continue our momentum and give our fans a great race."
Ferrari
After yesterday's woes, worse was to come for the Scuderia as Raikkonen suffered a suspected turbo issue before even leaving the garage. He did make it to the grid but was soon wheeled back to the pits and didn't make the start. All eyes were on Vettel to see if he could scythe his way through the field and he didn't disappoint although his progress was eased by many midfield runners pitting in front of him. He made it all the way to fourth, pressurising Ricciardo ahead before dropping back to manage his tyres. It looked like Ferrari were going to end a torrid weekend on a high - until Stroll's Williams collided with the German on the warm down lap, leaving him to hitch a ride home with Wehrlein...
Sebastian Vettel, 4th
"I am still optimistic, because we know that we have a quick car. Of course it was a shame for Kimi who couldn't take the start, and for me having to begin my race from the back of the grid. We tried to fight for the podium, pushed very hard, but in the end the tires were starting to give up and we couldn't be really there. However, it is promising to see the car is good, even if both Kimi and I hit trouble this weekend. I don't know yet if the issue is the same on both cars, we'll need to have a look. For sure it's not ideal having one car out yesterday and another one today. So, there's something we need to understand. It's been a difficult weekend, but nevertheless the speed is there. So far we've had a pretty good record for this year regarding reliability. I am not that worried to be honest, but we need to get on top of the problem."
Kimi Raikkonen, DNS
"We don't know what happened today, it's too early to say. The car had been working perfectly all weekend and suddenly, out of nothing, we had an issue. It's one of those things that unfortunately can happen. Car and speed wise we have been very good, but then unfortunately Seb had problems yesterday and we had ours today. I'm pretty sure that I would have had a very good car today, but obviously you never know and it's pointless to start guessing. We have a good package, but we have to take the most out of it. What happened today is very disappointing and hurts all of us, but there's nothing we can change right now. The next race is a new challenge again, we'll go there as in any race weekend, and then we'll see where we are."
Maurizio Arrivabene, Team Principal
"All weekend, it was clear we had a very competitive car. That could be seen from our pace in free practice, Kimi's front row in qualifying and Seb's amazing fight back in the race, when he went from last to fourth. However, it all added up to our hardest race of the year, as we had to confront problems that we will now analyse in depth. They prevented Sebastian from qualifying and Kimi from even taking the start. The team remained focused on its job throughout, putting in a great deal of effort working in the garage and then implementing an impeccable strategy. It's further cause to continue to believe in ourselves: we have the car, the men, the drivers, the means and the spirit to fight all the way to the finish."
Force India
Force India recorded their 12th double points finish of what is turning out to be a good season, but once again saw their drivers tangling over the same piece of track - this time at the start. Both were able to continue, with Perez managing his tyres to perfection to come home 'best of the rest' in P6. Ocon had a busier time of it - colliding with Massa twice and spinning after contact with Sainz, he battled back to grab the last point on offer.
Sergio Perez, 6th
"It was probably the hardest race of my career, on a weekend in which I feared I would need to give up. It is an amazing result just to make it to the finish: I just kept going out of willingness to do it and I have to thank the doctors for helping me out. Having a good start was the key to my race and so was passing Vandoorne during the first few laps. After that, I was able to manage my race and it was all pretty uneventful. We were able to extend the first stint and manage our tyres well. I was only under pressure from Vettel, but that was not really my fight. We scored some more important points for the team and I am happy to come home with a good result after such a difficult weekend. I hope to be back to full fitness in Japan."
Esteban Ocon, 10th
"It was a disappointing race and I'm not feeling very happy. The contact on lap one [in turn two] with Massa gave me a puncture and ruined my race. I had to pit on lap two and drive almost the entire race on one set of soft tyres. When you consider the condition of the tyres at the end of the race, we did well to score the final point. The other bad moment of my race happened when I was overtaking [Carlos] Sainz and he crashed into me. I shouldn't have been fighting him, but I was out of position because of the puncture and trying to recover. I don't know what he did, but he just locked up and went straight into me, causing me to spin. So it's a race to forget for me because the pace of the car was strong and we couldn't maximise it."
Robert Fernley, Deputy Team Principal
"Congratulations to the whole team for another double points finish, which further strengthens our fourth place in the championship. Sergio drove a pretty much perfect race, despite being unwell, and sixth place is a wonderful reward for his perseverance over the weekend. On the other side of the garage, things just didn't work out for Esteban. The puncture on lap one compromised his race and to recover to tenth place was a fantastic effort. Being hit by the Toro Rosso of Sainz was costly, but the real challenge was managing the soft tyres over 53 laps. We take a lot of positives away from this weekend, especially the pace of the car in qualifying and the race. We've made some important steps forward with the car recently, which should allow us to keep scoring good points in all the remaining races."
Haas
Grosjean opted to two-stop but never had the speed to challenge for a points finish. He did manage a late pass on Gasly though to add a small positive to what had been a long afternoon. Magnussen was happier in his VF-17 and was fighting hard with Alonso and Palmer. Ultimately he lost the battle with the Spaniard but won the fight with the Briton so finished honours even in P12.
Romain Grosjean, 13th
"I didn't have a great start. I think I was on a wet patch of the racetrack. I got pushed wide at turn four. A car came from the inside and suddenly to the outside, so I had to go wide to avoid him. I was last, and what can you do when you're last after the first lap? The car felt pretty difficult to drive at the beginning. It came back to life on the last pit stop when we put the aero balance in the car. I think we didn't choose the right technical setup this weekend, and I include myself in the decision process. We can learn a lot from the weekend. I'm sure in Japan we're going to get stronger."
Kevin Magnussen, 12th
"I got a decent start and made some positions on the first lap. I just tried to hold on, really. We didn't have the pace to properly do something today. It was a long race. I chatted to Jolyon (Palmer) after the race when we got out of the cars. It's always difficult to know what actually happened when you're out there, but he told me what happened about losing his rear end."
Guenther Steiner, Team Principal
"A better than expected end of the weekend, even if we didn't get points, which is always what we're here for. Starting 16th and 17th, it's difficult to score points. I think we had a good race. We overtook a lot of other people and we showed that the car can do it. Our assessment from yesterday that we just underperformed in qualifying is the correct one. We need to find the pace in qualifying that we found in the race. If we start in a better position, we'll be back in the points. Everybody did a good job. Nobody gave up yesterday. We came back prepared and everyone delivered. All in all, it was a very rough weekend for everybody. It would've been nice to have a point – we didn't – but we're still proud from where we started off and where we ended up."
Toro Rosso
Sainz was having a solid drive in the midfield despite tangling with Ocon, but had to retire mid-way after suffering a technical issue. Gasly had a quiet but assured first race - he was fuel saving for much of the early stages, and couldn't hold a fresher-shod Grosjean at bay on the final lap but nonetheless didn't look out of place on his debut for Toro Rosso.
Pierre Gasly, 14th
"This was a special race for me, as it was my first ever Formula 1 race – a day I will never forget! It was definitely a good experience, I'd say even better than what I expected. I tried to do my best and pushed as hard as possible! It was a really physical and tough race – my drink system didn't work properly, the water was going all over my face and not in my mouth! – and it felt like a long race… But with such a big adrenaline boost that I got, I just kept focusing until the end. I was quite close to Magnussen during the whole race, but it was quite difficult to close the gap. I think I also need a bit more experience regarding tyre management – I struggled at the end of the race - and I also think I didn't manage the blue flag situations perfectly – I lost a bit of time – but this will come with a bit more practice, I'm sure! I will now have a look back at the race and see all the things I can improve for the next race in Japan next week. All in all, I leave Malaysia satisfied, it was a positive race!"
Carlos Sainz, DNF
"It was a very positive day for us in general – apart from the retirement, I think that we were doing a very good race and we showed a much better pace than yesterday during qualifying; when it comes to races we always seem to extract a bit more out of the car. We were good for points today but, unfortunately, in the end we had to retire due to an electrical issue. It's a real shame, as up until that point the car was responding very well to everything… The good news is that we have another race in only seven days, so we can quickly switch focus and start thinking about the Japanese GP straight away. I fly directly to Japan tonight, so I will get into 'Japanese mode' quickly and start enjoying what has become one of my favourite race weekends of the year!"
Franz Tost, Team Principal
"First of all, I'd like to congratulate Max Verstappen and Red Bull Racing for this fantastic result. Regarding our Grand Prix, unfortunately this wasn't our race weekend – I think that we could've scored some good points with Carlos because he showed some really good pace and the strategy the team decided to go with seemed to be working well. Unfortunately, he then had an electrical problem coming from the Power Unit and he had to retire. Pierre did a fantastic job again today – this was his first weekend with the team and he performed very well. I'm looking forward to seeing him race again in Suzuka because it's a race track he knows from the Japanese Super Formula championship. We now have to analyse why we lost performance here in Sepang in comparison to other circuits, but I'm convinced that we will come up with a proper solution and will perform better in Suzuka."
Williams
Massa was compromised at the start after being hit by a sandwiched Ocon. That allowed Stroll ahead and there he stayed, despite Massa trying and nearly succeeding with the undercut. The Brazilian again collided with Ocon mid-way through the race when battling for position, coming off the better much to the Force India driver's disgust. A solid double points finish took a turn for the bizarre when Stroll collided with Vettel after the chequered flag when both were picking up rubber. The FW40 looked to have emerged unscathed but the same could not be said for the Scuderia...
Lance Stroll, 8th
"It was hot and now I know what everyone was talking about what it is like racing here in Malaysia. I am very happy with the end result, which was fantastic, coming eighth from 13th, having great pace throughout the race, having a good fight all through the race, managing my tyres, and eighth and ninth being a great result for the team. Then at the end I was on the in lap, on my normal line, picking up rubber, doing all my switch changes, shutting down the car and Sebastian came flying by me, pushing round the outside like the race was still on."
Felipe Massa, 9th
"I had a fantastic start, and overtook many cars, so I was really disappointed about the incident at Turn 2, where I got pushed out by Ocon. I lost a lot of places and damaged the floor of the car. I feel like I could have got higher up if it hadn't happened. But overall the result was positive for the team. We scored points whilst Renault and Toro Rosso didn't, so that helps us in the Constructors' Championship."
Paddy Lowe, Chief Technical Officer
"We had some rain just before the race but it had almost completely dried by the time we got to the start. Both drivers made very good starts and were in good shape to make up some places by Turn 1. Unfortunately, Felipe, having got as far as fifth position, got squeezed by the two Force Indias and lost some of those gains, dropping behind Lance. He damaged part of the floor on the left hand side so there will have been some performance loss. Once the race had settled, Hulkenberg stopped very early so we felt obliged to cover him to save position, first with Felipe and then with Lance. Since Lance, who previously had the lead, ended up behind Felipe after the pitstops we felt it was correct to swap the places. We also knew Felipe's car was carrying some damage. Unfortunately, in the execution of that we lost a potential position to Vandoorne coming out of the pits. It was a very long second stint for Lance and Felipe, but the tyres lasted well and we held position to finish with good points in eighth and ninth, so congratulations to both drivers for a strong weekend and a double-points finish for the team."
Renault
Hulkenberg dropped out of the top ten in the early stages, complaining about the drivability of his R.S.17. He stopped early but couldn't make the tyres last and was forced into a second stop, dropping down the field as a result. Palmer was in the thick of the action but spun twice in the space of three corners whilst battling Magnussen, costing him a handful of places.
Nico Hülkenberg, 16th
"It was a very a disappointing Sunday. It began with a start that wasn't fantastic, we lost a few positions in turn one but from then on we were on the back foot for the rest of the race. There were difficult situations, we got stuck in traffic and had to pit twice. I took some big risks to try and get ahead, it's a pity we couldn't show the speed and the potential of the car. We'll look to have a better race next Sunday."
Jolyon Palmer, 15th
"The start of the race wasn't great I was then following Nico for a good part and there were a few good overtakes. After that I lost the car and I don't really know why, it came as a surprise and we pretty much lost the race from there. We move on and look ahead to next week."
Cyril Abiteboul, Managing Director
"The team had a tough weekend that ended with a bad race. Apart from qualifying, we couldn't get the car working properly as we had done in previous races. After a very poor first lap from both our cars, we were on the back foot and stayed there until the end of the race. We tried to be a bit more aggressive with Nico's strategy. We called him in early however that didn't work in our favour as we remained in traffic after the stop. His attempts to gain position increased the tyre degradation and meant we were forced to do a second pit stop for safety reasons. Jolyon was in a similar place to Nico before he spun his car twice which made him lose a few positions and ultimately led to bad results. It's the last time we want to see this and we will take the necessary measures to better understand our lack of performance this weekend. I am confident that we will recover and will be back on track in Suzuka. On another note, I'd like to congratulate Red Bull Racing for the double-podium finish. It was a great effort from the whole team here in Malaysia and it's great to see our partner team succeed!"
Sauber
Sauber opted to start both cars on the soft tyre, and run a long first stint. Whilst Ericsson never looked to be in the mix, Wehrlein ran as high as 11th before dropping back after pitting late on. The last time the Swede got the better of his team mate during a race where they both finished was at Silverstone back in July.
Marcus Ericsson, 18th
"It was a poor race for me today. My pace was not good enough and I do not understand the reasons for that yet. We are looking into our data to understand the causes and to make sure that I can get back on track stronger for the next race in Japan."
Pascal Wehrlein, 17th
"I am quite pleased with today's race. Even though I am not satisfied with the end result, I was able to maintain a good pace throughout, and fought my way into the midfield for some of the race. That is a good step. Now I want to look into our data and analyse how this progress was made. The goal is to keep up the good work for the next few races to have more satisfying results."
Frédéric Vasseur, Team Principal
"In terms of our pace, we had a good race today compared to our previous races – even though our finishing positions do not reflect that. Our strategy was also good, and we were able to catch up with the competitors in the midfield at some stage. Pascal gave a consistently strong performance today and Marcus also put in a good performance. Overall, it is a positive sign for us and we need to keep up the good work and keep pushing."
Pirelli
Mario Isola - Head of Car Racing
"After practice was interrupted by weather and a red flag, the teams still had to fully calculate degradation rates over long runs, which was the main challenge today. In the end, track temperatures were relatively cool by Malaysia standards – around 40 degrees centigrade – and degradation was low on both compounds, so the stints were able to be stretched out. With all the frontrunners selecting similar one-stop supersoft-soft strategies, one of the highlights of the race was Vettel's charge up the field from last, helped by an alternative strategy by starting on the soft. Force India's Esteban Ocon was forced into an early stop following a puncture caused by contact with another car: he then ran all the way to the end on the soft tyre after pitting on lap three."