Feature
What the teams said - Race day in Mexico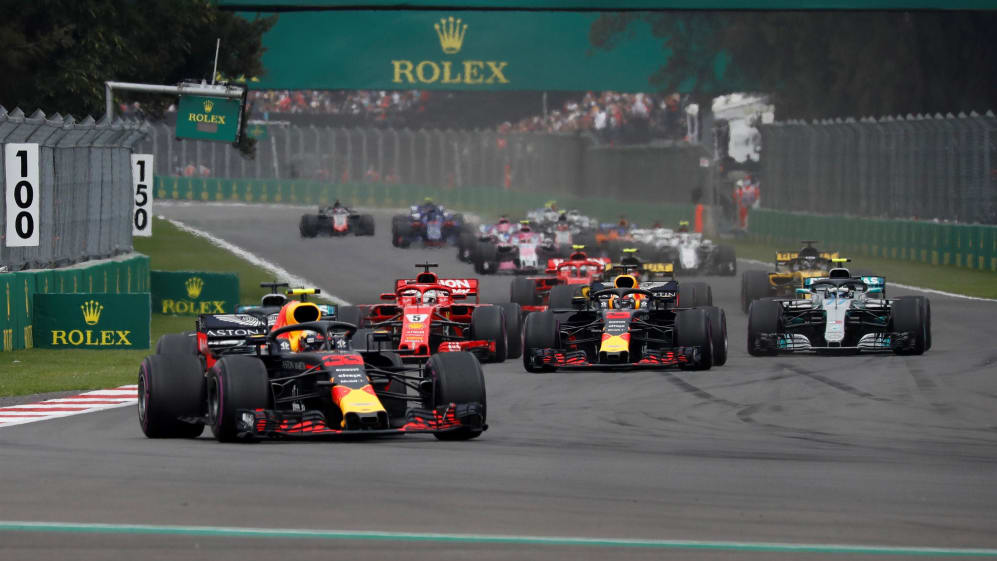 The drivers and teams report back on all the action at the Formula 1 Gran Premio De Mexico 2018...
Mercedes
Hamilton made an electric start, before he started to struggle on his tyres, as did Bottas behind in fifth. The Silver Arrows were just harder on their Pirelli rubber than their rivals and it showed on track, with Bottas being lapped and Hamilton losing out to both Vettel and Ricciardo before being jumped by a one-stopping Raikkonen. But guess what? Fourth was more than enough to secure Hamilton his fifth world championship crown and boy was he happy...
Lewis Hamilton, 4th
"Honestly, it's very hard to realise it at the moment. It's something I dreamed of, but I never in a million years thought I'd be standing here today a five-time World Champion. I never knew that was going to happen and I am just so grateful to everyone who has helped me be here. I want to say a big thank you to all the fans here for making the Mexican Grand Prix as special as it is. And I want to say a big thank you to my team. Bono said on the radio - the Championship wasn't won here, it was won through a lot of hard work and through a lot of races. So, I am so grateful for all the hard work back home, for PETRONAS, for all our partners and ultimately for Mercedes. I have been with Mercedes since I was 13, so to achieve the same thing Fangio had done with Mercedes so many years ago, is an incredible feeling and very surreal at the moment. The race itself today was pretty horrible. I got a great start and was really working my way up, but then we were really struggling with the tyres, both Valtteri and I. I was just trying to hold on and bring the car home. Honestly, I am just so grateful. To my family back home, I love you, thank you for all the support. I wouldn't be here if it wasn't for all the hard work my dad did and my family. This is a very humbling experience!"
Valtteri Bottas, 5th
"Big congratulations to Lewis! He's had another strong season, especially in the second half, and really deserved this title. When I lost my opportunity for the title this year, I tried to help him a little to win the World Championship, but I'm already looking forward to fight again next year. I'm really happy for Lewis, but we can't be satisfied with today's race, it was very difficult. The start of the race was actually pretty good, but then we started to struggle with the tyres. The tyre life on this track was really poor; I ended up doing three stops, which is two stops more than we predicted. I tried to manage the tyres, I made sure not to slide, but they still just fell apart. I don't know yet why we struggled so much and on all three different compounds, so we will have to look into that and find out why we ran into these problems. I think most teams struggled a bit, but maybe not as much as we did, so we will have to investigate. Again, congrats to Lewis - now we need to make sure to keep pushing and claim the constructors' championship as well!"
James Allison, Technical Director
"After being on the receiving end of quite a whipping in the race today, it is extremely easy to overlook the scale of the remarkable achievement that Lewis and the team have put together. Lewis' fifth world championship, his fourth with Mercedes-AMG Petronas Motorsport - in a season which has tested all of us to the limit, considering that our car has not always had the pace to win from the front. Lewis' contribution to keep us in the fight and to carve out his very, very well deserved championship will go down in history as one of the great performances in our sport. Of course, we know we haven't actually finished our work for the season yet; we still have the constructors' championship which is every bit as important to us and we haven't yet managed to get the points necessary to seal it. We don't want to limp across the line with performances like we delivered today, we want to come back firing on all cylinders in Brazil and win it from the front in a fitting manner. So all our focus now turns to that and we're looking forward to having a stronger day on Sunday in Brazil."
Toto Wolff, Head of Mercedes-Benz Motorsport
"Usually, we don't acknowledge greatness until someone's career is over, but we need to take a moment to recognise its presence - Lewis has now equalled Fangio's record and there aren't many like him out there! Lewis has been the differentiator this season - our car was the fastest at times, but not always; sometimes, like today, it was only the third-fastest. And yet Lewis' performance was always was very stable, his race craft was absolutely great. It has always been one of his strengths, but this year it was definitely one of the key factors of his success. We're very happy about Lewis' fifth drivers' title and our fifth in a row as a team, but the job is not done yet. There's a constructors' championship out there that we still want to win and that won't be easy as we saw today. We had a very bad race, we really struggled with the tyres, I don't think we actually switched the tyres on today. We don't know yet what the issue was, but we will dig deep, put the finger in the wound and find out why we struggled so much. Now all our focus is on the constructors' championship, we need to perform strongly in Brazil and make sure we keep pushing until the end."
Red Bull
Ricciardo had an awful start, allowing his team mate to get the jump into the first corner. From there the Aussie set about rebuilding his race before another apparent power unit failure left him staring at his eighth retirement of the season. Verstappen never looked back – he drove a clean and composed race to record his second win of the year and remind the title rivals just who they will have to contend with in the future...
Daniel Ricciardo, DNF
"I saw pass fail on my dash which I guess was some sort of hydraulic failure and I was forced to retire immediately. This sucks and it is at a point where I feel why should I even come on a Sunday. There hasn't been a clean weekend for so long due to many different reasons and it's breaking my heart. Deflated comes to mind but this feels deeper than that. I put it on pole but lost out at the start. It just doesn't seem to happen for me on a Sunday, even if I have a good Saturday. I don't want to end it like this and I know nobody is doing it deliberately but I just can't seem to catch a break and a double podium for the Team today was exactly what we all wanted. I'm a very positive guy and I will probably still wake up tomorrow with some sort of positivity."
Max Verstappen, 1st
"Yesterday I was very frustrated and disappointed but today I am really happy, and Sunday is the best day to be happy. I didn't sleep much last night and found today's race build up a long one, but after the lights went out my feelings soon changed. Once ahead I could just settle in and concentrate on my own race, especially as Lewis looked to be struggling with grip. I made sure I matched his lap times to maintain the lead. We got the strategy spot on again, having another set of Supersofts meant I was able to manage the wear knowing I had a fresh set to go onto towards the end of the race. So when Seb pitted we did the same and were able to keep the gap. When I saw Daniel pull over I asked the Team if they should turn my engine down as I already had such an advantage, I wanted to be sure we made it to the chequered flag. It was such a shame as we were definitely on for at least a double podium, if not a one, two. The podium, like last year is amazing. To have the DJ and the crowd coming down from the stands is really cool, two years in a row makes it even better. Mexico always has so many passionate fans which makes me love coming back here every year. Also congratulations to Lewis on his fifth title, he has been the most consistently strong driver all year and deserves the championship, I'm sure it feels very special. Hopefully I can challenge him for it soon."
Christian Horner, Team Principal
"I'm delighted that the Team secured a victory here today, but it's bitter sweet to have lost Daniel who was fighting so hard to maintain second place. It was a fantastic drive by Max. He reacted incredibly quickly at the start and managed to hold his line and re-pass Lewis into Turn 1. From there Max controlled the race in an extremely mature manner. We elected to adopt a two-stop strategy to cover the cars behind in what turned out to be a dominant win for Max. The frustration for us as a Team is that we didn't have both drivers on the podium. Daniel lost out at the start after getting a little too much wheel spin but he then settled into a great race pace. Seeing the tyres come off Max's car at his second stop we elected to leave Daniel out on a one-stop strategy, which he was making work in second place and defending brilliantly against Sebastian. With nine laps to go Daniel had a sudden hydraulic failure which caused him to retire immediately. It is hugely frustrating for the Team not to have both drivers up on the podium, especially when it's such a great celebration here. Our apologies go to Daniel today and we will fight as hard as we can in the last two races of the season to secure a positive result for him. Thanks to our engine partner, who in challenging conditions provided us with a power unit this weekend that was capable of taking on and beating the best. Congratulations also to Lewis on securing his fifth Formula 1 World Championship which is quite an achievement and puts him amongst the sports' elite."
Ferrari
The Scuderia were hard but fair at the start, and Vettel soon set about chasing down Hamilton and Ricciardo ahead. He made swift work of his arch-rival, but the Aussie proved harder to pass until he retired – leaving Vettel running second. But with very few laps in which to chase down Verstappen, it was too little too late and he had to graciously congratulate Hamilton on winning the title instead. Raikkonen nursed his tyres carefully in a one-stop strategy and therefore sneaked onto the podium.
Sebastian Vettel, 2nd
"I'm glad that Kimi and I were on the podium today and also because the atmosphere here is always great, but obviously I am disappointed for the result of the drivers' championship. At the beginning of the race I was looking after my tyres a little bit. Then, after passing Lewis, we thought about putting some pressure on Max, also trying something different in case they would start to struggle with their tyres towards the end, but he was too quick to catch. I want to congratulate him for this race and Lewis on winning the championship. This is not a very happy day for me, but one thing is being down and another is not being able to get back up, and I know that in two weeks I will be back up and try my best to finish the season well and fight for the constructors' championship."
Kimi Raikkonen, 3rd
"Today I was pretty happy with the car. Obviously the result is not ideal but from where we started we did our maximum. We got two cars on the podium and some more points for the team. The first set of tyres was a bit tricky, for sure the second one was better, but that's what we expected to be. In the first stint we tried to pass the Mercedes, but we did not manage and the tyres suffered from this attempt. Then we changed from two stops to a one stop strategy, knowing it would be a long race; the tyres were actually really good in this phase. In the end we ran out a little bit with the left front, but it still worked pretty good. Hopefully we can close up in the constructor championship in the last two races. Congratulations to Lewis; he has done the best job of any of us this year and he deserved to win."
Maurizio Arrivabene, Team Principal
"Today's result reflects the determination of the entire team, after a less than ideal qualifying on a track where aerodynamic downforce and tyre management are fundamentally important. Seb and Kimi both drove great races. Thanks to the efforts of the team, both here at the track and back in Maranello, the Constructors' Championship is still undecided and the team has closed the points gap over the past two races. We are therefore determined to fight all the way to the finish, starting with the next GP in Brazil. Congratulations to Lewis Hamilton on his fifth Drivers' World Championship title."
Renault
A mixed bag. They looked on for a solid best-of-the-rest finish before Sainz had to retire with technical issues. Hulkenberg did at least make the chequered flag despite being bemused by just how far off the pace they were. Nonetheless, it helped the team solidify their fourth place in the constructors' championship.
Nico Hulkenberg, 6th
"We've had two very good weekends in a row with a lot of points. From my side, it was a very calm and solid race, albeit a little lonely to get ourselves through on a one-stop strategy. We had to manage the car and the tyres through the race and the whole team did a good job all weekend. It was a shame to lose Carlos, otherwise we could have had sixth and seventh again and another strong haul of points for the team. Nevertheless, we've extended our lead in both the Drivers' and Constructors' Championship, so that's very positive."
Carlos Sainz, DNF
"Today was a big shame. We were leading the midfield comfortably and in contention for some good points and then, without warning, the car shut down. It's really frustrating after making such a good start on lap one, but that's racing. We've not had too many reliability issues this season, but when I have, it's been when I've been leading the midfield, so that's a bit of bad luck and coincidental for it to happen again today. We'll investigate the issue and move on. We'll keep fighting, aim to score points at the last two rounds and look to secure fourth in the Constructors' Championship. We deserved more, but at least Nico stayed in the points, so it's not a bad result for the team. Congratulations to Lewis Hamilton for his fifth title."
Cyril Abiteboul, Team Principal
"Today saw a strong result for us in the championship battle with Nico driving an intelligent race to sixth position. We also saw a Renault-powered car on the top step of the podium after a fine performance from Red Bull. All weekend we were able to show good pace in Mexico and that echoed our performance in Austin, this illustrates that our team continues to push hard right till the end. It was a very frustrating retirement for Carlos and everyone in the team. He was doing a fabulous job and would have also scored a good haul of points. Congratulations to Lewis Hamilton on his fifth World Championship title. He and Mercedes set the bar very high and that must be an inspiration for the future. There are two races left in 2018 and we are aiming for a strong finish to our season."
Force India
A race to forget. Perez made a long opening stint work to his advantage and looked on for a decent points haul before retiring with a long brake pedal. Ocon, meanwhile, got into a mess at the start, losing half his front wing in the process. He then tangled with Hartley, suffering further bodywork damage. He limped home outside the points after saying "nothing is going well in this race."
Sergio Perez, DNF
"It's a big shame to retire from my home Grand Prix – especially when things were looking really good in the race. I think we had at least seventh place in our pocket and the great strategy that we started planning yesterday [in qualifying] was really paying off. Sometimes in racing you have these big disappointments when there is an issue with the car. Today it was the brakes that forced me to retire because suddenly the pedal went long and we had to park the car. Until then it had been a really exciting race for me – I had a great first lap, getting ahead of Fernando [Alonso], and then some good battles with the Saubers later in the race. I was controlling my race, looking after the tyres, and I thought we would pick up some good points. I feel sorry for the team and for the fans who have been incredible this week. They always make me feel very proud and today they gave me amazing support."
Esteban Ocon, 11th
"This has been probably the worst race of my whole Formula One career so far. Nothing went our way and it's just been a terrible afternoon. I made a very good start, managed to pass the two Saubers on the run down to turn one, but that's pretty much the only positive to take from today. I went alongside Carlos [Sainz] in turn three but I saw he was going to turn in. I braked to avoid a collision, but we still made contact and it broke my front wing. I had to pit at the end of the first lap and my race was effectively over. It's a shame because we had a good strategy and a fast car, but today was not our day. Let's just forget about this race and come back stronger in Brazil."
Otmar Szafnauer, Team Principal & CEO
"A hugely disappointing afternoon for the team and definitely a missed opportunity to score important points. The strategy we had prepared for yesterday was playing into our hands with Sergio until a brake seal failure forced us to retire the car on lap 38. Up until that moment, Sergio was comfortably running in the points and looked set for sixth or seventh place. On the other side of the garage, Esteban had a scruffy race with contact on lap one destroying any chance of points. Sainz closed the door in turn three and that damaged the front wing. It was a real shame because Esteban only needed to stay out of trouble on lap one and the strategy would have seen him finish well inside the points."
Sauber
Sauber looked vulnerable starting on the hypersoft rubber, but proved their doubters wrong by making the pink-marked tyre last far longer than predicted. By keeping their heads down and staying out of trouble, they scored their second double points finish of the season.
Marcus Ericsson, 9th
"It is a great result for the team today – getting both cars into the points is a great effort which has allowed us to advance by a position in the Constructors' Championship. I am very proud of my race and think that it was one of my best performances in Formula One. I had to fight hard to manage my tyres, I had to recover many positions after the pit stop and I didn't make any mistakes, so I am satisfied with my result."
Charles Leclerc, 7th
"It was a good race and I am happy with my result, a P7, which is my second-best result so far in Formula One. It was challenging to manage the tyres and the race was quite demanding in that respect. It was a good team effort and we scored enough points together to advance in the Constructors' Championship. Overall, a positive result, and I hope that we will be able to have a similar next race in Brazil."
Frédéric Vasseur, Team Principal
"It was a positive Grand Prix for us with strong progression throughout the weekend. We had Charles and Marcus in Q3 and today they both scored points and the team gained a position in the Constructors' Championship. The race was tough, and all drivers struggled with their tyres due to the challenges of the circuit. Both Charles and Marcus did an excellent job in tyre management, and could retain their positions which ultimately resulted in a successful outcome for the team. We have to keep pushing to finish the season on this note, and will fight for another good result at the next race at Sao Paolo."
McLaren
Alonso hit misfortune at the start – he ran over debris in the form of Ocon's missing front wing, which lodged itself behind his wheel and led he his retirement. Vandoorne made a one-stop strategy work and came home to score his first points since Baku back in April.
Fernando Alonso, DNF
"I didn't feel anything wrong with the car, but apparently some debris from [Esteban] Ocon's car that was flying around hit our car in the wrong place and probably caused my DNF, which is one in a million case.
"I'm sad now, because I wanted to stay in the race, but in a couple of hours' time I'll only have good memories of this Sunday, because it has been quite emotional with a lot of support from such great Mexican fans.
"I've been unlucky today, and it's okay as long as it's not your mistake, in which case you take more time to get over it. These things happen, so let's see if in the two last races we can have a bit more luck and see the chequered flag."
Stoffel Vandoorne, 8th
"I'm very satisfied with today. We put a lot of hard work and preparation into this weekend in terms of what strategy to choose, and we knew it was possible to score points here. I'm super happy to finish P8 and score some points. It's important for us for the constructors' championship and now we can go on to enjoy the last couple of races.
"In practice we didn't look super competitive and qualifying wasn't the best result, but we were closer than usual, and we always know that when we get to the race there's an improvement. I'm glad we saw that today. It was a great race. After lap one we were last and had a lot of work to do, so it was a strong recovery. I made some good overtakes on track which were very crucial, and in the end making the tyres last to finish eighth is also a great result for myself.
"It wasn't easy at the beginning, but I was always there or thereabouts attacking at the right time when I had to, and managing the tyres at the same time. The crucial point was when we had to decide whether to go for one or two stops. The tyres were looking very tricky, but we managed to recover them little bit and that was the turning point."
Andrea Stella, Performance Director
"The weekend has certainly been bittersweet. Fernando once again didn't finish the race, and was involved in a first-lap incident. His retirement was caused by a water pressure loss due to a leak, which may have been related to the incident due to running over debris, but we are still investigating. Either way, he had significant debris stuck in his car, so had he continued it would have made his race very difficult.
"On the positive side, Stoffel scoring four valuable points after he was 19th at the end of the first lap was due to a combination of factors including some great overtaking manoeuvres, impeccable driving, and looking after the tyres to make them last for 59 laps. Also, it was a great race by our strategy team, who realised we had to take a risk by extending our stint on the harder compound, and it paid off.
"In addition, we did well to manage the cooling of the engine and the brakes which were both very marginal throughout the race, thanks to good preparation at the track and at the factory.
"Finally, our pit-crew executed a great pit-stop today. In fact, I'd like to thank everyone in the team – not only in the garage but also back at the factory – for their constant commitment and development, and of course hard work so far this season."
Haas
Starting towards the back, it was always going to be a tough ask for Haas to recover. They went longer than anyone else in their first stint, but once they pitted they struggled to make the ultrasoft work as well. Grosjean tangled with a Williams and later Hartley in a torrid afternoon, whilst Magnussen never figured in the reckoning.
Romain Grosjean, 16th
"It's been a very tough day. We didn't get what we were expecting on the ultrasofts. On the supersofts, we made it as good as we could for as long as we could. We got the maximum out of the tyre life. Then on the ultrasofts, we were having problems we were just not expecting. There was a lot of rear degradation. I decided to pit again under the final VSC (Virtual Safety Car). It didn't make a difference in finishing with Kevin. It was very close. Just a tough day."
Kevin Magnussen, 15th
"We had gotten ourselves into a good position, then we pitted around lap 40. When we got out onto the ultrasoft tyre though, it just didn't work at all. I mean, if we want great racing, we need tyres. That just wasn't possible today with these tyres. It's tough, but we move on."
Guenther Steiner, Team Principal
"The only good thing about this weekend is that it ended. There's nothing good to take away from here. We were just too slow and we couldn't get the tyres to work. We move on to the next one."
Toro Rosso
Gasly chose the hypersoft rubber, hoping to gain plenty of places on the first lap. It worked in that he jumped up three spots, and two stopped to steal the final point on offer despite being pushed wide by Ocon. Hartley had a more eventful time, flat-spotting his tyres at the start which forced him into an early stop, and then he earned himself a five-second time penalty for also clashing with Ocon. Shedding bodywork all over the track, he limped home outside the points.
Pierre Gasly, 10th
"First of all, congratulations to Lewis for winning the Championship – another great achievement for him, and well done to Max! As for my race, it feels great to finish in the points. With the penalty, we started last on the grid in P20 so it was difficult to reach the top 10, but we managed to do it in the end; I'm really happy to get one point. It's good for everybody in the team, especially after a couple of tough races. I felt good with the car, I had some great battles and the strategy was the right one so I think we did everything we could. It wasn't an easy race; tyre management was a key factor today so you needed to be smart and push at the right time, staying focused and disciplined with your driving for the whole race to make these tyres last. We should be able start in our normal qualifying position in Brazil and Abu Dhabi, so we can fight hard and try to get our position back from Sauber."
Brendon Hartley, 14th
"I had a good start. It was a little bit of a mess going into Turn 4, a car pulled in front just before braking, I locked the brakes and flat spotted the Supersofts. Unfortunately, we had to pit on lap one and after that I effectively did a one stop race from there. I think it was a solid race with really strong tyre management. I defended heavily against Ocon, so it's a shame I got a 5-second penalty when we made some contact. Without the damage and penalty from the contact I would have been P10, and without the flat spot on lap one we had the pace to be even further up. The pace this weekend is very encouraging but the final outcome a little disappointing."
Franz Tost, Team Principal
"Firstly, congratulations to Max Verstappen for his fantastic win, Aston Martin Red Bull Racing did a really good job over the weekend showing strong performance from FP1 onwards. Also, congratulations to Lewis Hamilton and to Mercedes for winning the Drivers' Championship. Mexico is always a big challenge for the engineers because of the high altitude, which means cooling the brakes and the engine are key factors. It's also a big challenge for the engine manufacturers to find the correct parameters for the PU. We decided to race here with the pre-Russian spec PU, meaning Pierre started the race from the back of the grid. Pierre had a good start and was able to catch up with the midfield, managing the whole race well. Towards the end, he had a decent fight with Ericsson but unfortunately he wasn't able to pass him. We still scored one point, which means the car had a good potential today. Brendon had a flat spot after the start, therefore we called him in to change the tyres on lap one. He then had a really competitive race so it's a pity that he had a collision with Ocon which damaged his floor and received a questionable 5-second penalty. Due to that, he was only able to finish in P14. We lost some points to Sauber but there are still two races to go in Brazil and Abu Dhabi, so we must put all of our efforts in taking back eighth position in the Constructors' Championship."
Toyoharu Tanabe, Honda F1 Technical Director
"Pierre got a precious point today thanks to an aggressive drive that took him from last on the grid to tenth at the end. The result was partly down to his driving and partly the team's good strategy. At a track that puts the PU under a lot of strain, we had a trouble free weekend which is a positive thing."
Williams
Williams never had the pace to compete and spent most of the afternoon doing battle with a similarly dogged Haas team. Stroll's two-stop strategy beat Sirotkin's one stopper, but with a hefty fine for an unsafe pit release, the day ended on a sour note...
Sergey Sirotkin, 13th
"A very good team effort today. The way we managed the final stint doing 58 laps on the prime tyres was absolutely mega. With 10 laps to go I still had better tyres than the cars around me. I had a really good rhythm and a lot more pace than the cars ahead. I was side by side with Kevin (Magnussen) but when the Virtual Safety Car came it completely ruined my rhythm, which in turn, cooled down the tyres and reset things. During the restart I was struggling to warm up my prime tyres and it took me three laps to get them back into the window. I put a tough move on Kevin and had four laps to catch the cars ahead. In the final few laps I was able to catch the cars ahead of me, but the race was over. We did a really good job of managing the stint, but I'm disappointed I couldn't be more aggressive in the fightback towards the end of the race. Overall, mixed feelings."
Lance Stroll, 12th
"It was too bad we couldn't score points today. Maybe with a one stop - I know Sergey managed a one stop - we would have been able to. But we were in a bit of a different position fighting on track in the first stint. The ultrasoft in the first stint went off very quickly, so we had to go to a two stop strategy. Then we went really long on the supersoft, and we were just managing that."
Paddy Lowe, Chief Technical Officer
"Considering our general performance level that was a relatively good day. Again, two cars home in good condition, which is a positive for the team. It was a very tough race with tyre management, both drivers showed themselves extremely competent at controlling their pace and controlling the use of the tyre. That's what made the difference for them in the end to beat some of the cars out there this afternoon."
Pirelli
Mario Isola, Head of Car Racing
"From the point of view of tyre management it was a tricky race, with a two-stopper confirmed as the winning strategy, but also with many drivers opting to stop just once. From the beginning, the teams had to manage tyres, degradation and also graining, with a number of different approaches seen. In fact, neither of the top three teams used identical strategies with both of their cars: a sign of how difficult it was to call. As expected, the teams also had to react to race circumstances as they happened, with virtual safety cars adding to the strategic complexity. Congratulations to Lewis Hamilton and Mercedes for a well-deserved driver's championship after a dominant season."