Feature
What the teams said - race day in Monaco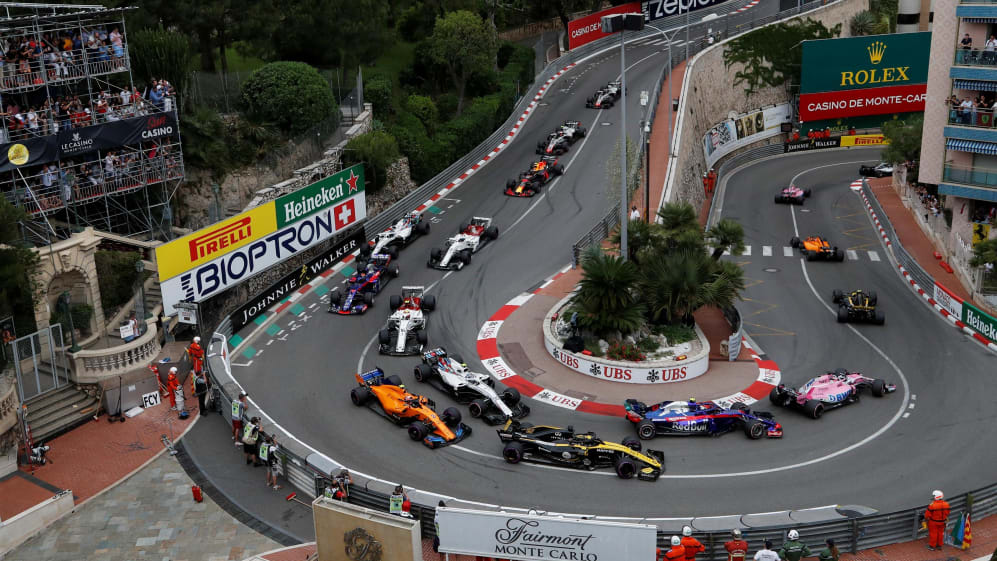 A round-up of all the action at the Formula 1 Grand Prix de Monaco 2018 at the Circuit de Monaco...
Red Bull
Ricciardo delivered a masterclass to lead from the front and grab his maiden Monaco victory. That was despite suffering a loss of power that meant he had to nurse his RB14 from before halfway in a drive that will be remembered for years to come. Verstappen was over-shadowed by his team mate today, but did do well to recover from last to ninth, pulling off a series of sensible overtakes in the process.
Daniel Ricciardo, 1st
"Wow, it still hasn't sunk in. It was a perfect weekend but a crazy race. It's such a long week and because I get so excited for this race, I find it hard to control myself and I just couldn't wait for the lights to go out today. The start went well and I thought, I've pretty much done the hard part so let's just finish this race. Then on lap 28 I exited a corner and felt like I pretty much had no power. When it was clear that it was an MGU-K issue I wanted to close my eyes and start crying as I thought the race was over and I wondered just what I have to do to win here. I spoke with my engineer on the radio and we changed a lot of things that didn't fix the problem but we just had to survive with the problem and keep Seb behind. We had a lot less power, fortunately, it's a tight track and we had a good car so I could make up enough time in the corners not to be vulnerable on the straights. On any other circuit, there was no way I would have won today. It wasn't fun driving like that and I'm pretty exhausted, but very, very happy. We finally got some redemption and this is the sweetest feeling. It wasn't easy but now I can say I'm a winner here and it's great to win the team's 250th race."
Max Verstappen, 9th
"Although we knew it was going to be damage limitation I still really enjoyed myself out there today as I was able to race other cars and be competitive pretty much from start to finish. Deep down of course I am still disappointed as we could have had a much better result if I hadn't made the mistake in practice, but on the other hand, I made the most of the race. I had fun, I was passing cars and fighting every lap which is especially rare here in Monaco, normally it is just cruising during the race. The car handled well and we got the strategy spot on and finished in the points so I think that is a good day's work all things considered. I have learnt throughout my career that it is easy afterwards to say it could have been like this or that, but I always have to look at myself. This weekend I made a mistake but Daniel did a superb job so a massive congratulations to him on winning the race and having a very special moment."
Christian Horner, Team Principal
"Difficult to describe the performance Daniel put in today. From lap 28 when the MGU-K expired, which creates all kinds of issues with cooling, with brake and tyre temperatures, he managed it in the calmest of manners while defending with Sebastian Vettel no more than a second behind him, and I never believed with approximately a 25 per cent loss of power that he would hold the lead for another 50 laps and win our 250th grand prix. The day and the entire race weekend has belonged to Daniel with a phenomenal performance. It was a great recovery from Max. From the back of the grid it's always going to be a tough afternoon but he made good progress with some good overtaking which is very difficult to do here, and he benefitted from some good teamwork and strategy and managed to get in to the top 10. Of all the races to win on the calendar, Monaco is the highlight because of that rich heritage and history; this one especially so for Daniel after the disappointment of 2016. To achieve that victory today was testimony to the great car that the guys and girls in Milton Keynes have produced, and Daniel's ability behind the wheel. It is absolutely teamwork that wins races and we have to thank all of our team partners for their support that allows us all to savour special moments like this."
Ferrari
Vettel was encouraged to go chase down his man after Ricciardo reported a loss of power on the radio, but despite closing the gap, couldn't get close enough to pressurise a mistake from the Australian and had to settle for second. Raikkonen looked the more feisty at stages, running Hamilton close before coming under pressure from Bottas behind, but he drove a mistake-free race to come home just outside the podium places.
Sebastian Vettel, 2nd
"Today, I was trying to get closer to the car in front and do something; but obviously if you get closer it doesn't help with your tyres. In some corners you don't really need power and Ricciardo was quicker than us. He was always able to open the gap and I was never really there. He could keep his pace and I think that perhaps it could have been worse for us if he hadn't had some issues. Unfortunately, there weren't many chances to do something different. I think it was tricky for us to make the tires work the right way. Then, when the Virtual Safety Car came on, a McLaren was just exiting the box and took a lot of time, while I was struggling with tire warm-up, and I think that was the biggest issue that cost me quite a few seconds. It took to me one and a half lap to get the rhythm back, but by then it was too late. However, there are so many races to go and I believe we need to understand our problems. We have a good car, but we can make it better."
Kimi Raikkonen, 4th
"Today nothing really happened in the race; to be honest, it was a pretty boring one. We know that on this track, once everybody has stopped, whoever is in the front dictates the speed and no matter if he goes four second slower on a lap, there's no way to pass unless somebody makes a big mistake or runs out of tyres. We end up following each other through the whole race. I had no problem managing my tyres, in fact they were pretty good. I only had some graining with the first set, but apart from that they were ok. I was never worried about Bottas behind me, we had the speed and I could easily close up with the car in front, but there was no way to pass him. We were all the time doing our best, but couldn't use our pace. Obviously we cannot be happy with fourth position, but as always, we try to learn from every race."
Maurizio Arrivabene, Team Principal
"Compared to the race weekend here last year, this one seemed more difficult right from the start. But thanks to the efforts of everyone in the team, the SF71H got progressively better, until it proved capable of taking second place in qualifying. However, on a track like this, it was not enough to produce an even better race result. Like everyone else, we opted for a one-stop strategy, which therefore meant having to manage the tyres in the second stint, so as to save them for the final laps. However, at that point, the Virtual safety car came out, meaning it was no longer possible to attack."
Mercedes
Hamilton was the first of the front runners to pit, but he couldn't extract enough pace from his ultrasoft rubber to undercut Vettel ahead. From there he had a tricky race, managing worn tyres which were suffering from graining, but came home comfortably in third. Bottas looked to have the better strategy, having swapped onto the more durable supersofts, but despite hounding Raikkonen ahead was unable to find a way past.
Lewis Hamilton, 3rd
"A big congratulations to Daniel, I'm really happy for him. He was so close to winning his first Monaco Grand Prix two years ago, so it's good for him to have it now. I'm happy with the weekend - we were the third quickest team and we almost got second. I'm grateful to only have lost three points to Sebastian in the championship fight - I'll take that and move forwards. It wasn't a really difficult race, we just had to take the tyres go a long way; I didn't think they were going to go as far as they did. It's a shame that the race is unfortunately not as exciting as the whole spectacle of Monaco, especially since through practice there's no place like it and the track is just epic in Qualifying. We hope that Canada will suit our car a little bit better; but it will be another close fight, especially with the Ferrari."
Valtteri Bottas, 5th
"That's Monaco - sometimes a lot of things happen; sometimes nothing happens and you get a pretty uneventful race like today. I think we made the right choice with the SuperSoft tyre for my second stint, it felt like it was working better than the UltraSofts. The first stint was difficult because of the tyre drop-off, but the second stint was really good, I could put pressure on the cars ahead. I had more pace than the cars in front of me, and yet there was nothing I could do; even with the pace difference overtaking was impossible. We knew the weekend might be difficult and that's how it turned out to be, but we managed to do successful damage limitation. Qualifying P5 did not make that any easier for me and I don't think we could have done anything different today with the car we have. Montreal should be a better hunting ground for our car, so we hope for a better outcome in Canada."
Toto Wolff, Head of Mercedes-Benz Motorsport
"In sport, you have to accept that there are days when you won't win and, if you'd offered us third and fifth before the weekend, we'd probably have taken it as a fair result. Congratulations to Daniel, he deserved the win and was the quickest man out there this weekend. It was a tough and frustrating afternoon for Lewis and Valtteri. Lewis suffered from graining on both tyre compounds which he had to manage through most of the race; we discussed making another stop but it would only have cost us positions, not gained any, so it was the right call to stay out. Valtteri ended up running most of the race on the best compound, the SuperSoft, but there was no way past Kimi so he had to follow him to the flag. Overall, this was a weekend of damage limitation for us and we can be pleased to leave Monaco in the lead of both championships. Now we will regroup and aim to return to winning form in Canada."
Andrew Shovlin, Trackside Engineering Director
"It was a frustrating afternoon in many ways, we finished where we started and never really had much opportunity to do any more. Our HyperSoft stints were weak on both cars, we suffered graining early on and fell back so stopped Lewis quite early for UltraSoft to avoid losing race time. Valtteri had a similar issue but we kept him out a bit longer as it wasn't really impacting his race. Our championship rivals were better at managing the HyperSoft today and we need to understand and improve before Montreal as it's likely to be even trickier there. With Valtteri we decided to try the SuperSoft tyre as Lewis was feeling that the ultra was quite delicate and needed managing. This seemed to work well in terms of pace, with Valtteri catching the cars ahead quite quickly but there was no way to pass so he had a rather frustrating afternoon following Kimi for 46 laps. Lewis was concerned that he wouldn't get his tyres to the end as they opened up early on but after some degradation they stabilised and he was able to keep pace with Vettel who seemed to have similar issues and Riccardo who was struggling with a power unit problem. Towards the end of the race, the midfield cars closed up which took away any real options to do anything under a safety car, so we just focused on bringing the cars home. Happily we've not suffered too much of a dent in our championship today and we didn't come here expecting to be the benchmark, so overall we are not too disappointed. However, whilst Montreal should suit our car more, the tyres will play a big role in the strategy there and unlikely Monaco, you can overtake. So, we'll be working hard over the next few days to make sure we understand our weaknesses. We had a tough weekend in Monaco last year and finished first and second in Montreal a few days later so we are confident that we can recover our form and will be aiming to do just that."
Force India
Mixed fortunes down at Force India - Ocon started sixth and finished there after a fault-free drive to record his best result of the season. Perez would have been in the points too but for a slow pit stop costing him in the region of ten seconds, a mistake which was especially costly at this circuit.
Esteban Ocon, 6th
"A fantastic result today. I'm really happy and it was great fun. The pace we had was impressive and the team did a fantastic job with the strategy. We had a great understanding of the tyres and there were times during the race when we were the fastest car on track. In the final few laps I was catching Bottas and Raikkonen by over a second per lap and I was right behind them at the end. It feels great to get this result and a good bunch of points after a few disappointing races. I hope we can have many more weekends like this one."
Sergio Perez, 12th
"I am disappointed today because we didn't get the result our pace deserved. We had a problem at the pit stop and this completely ruined our race. Our first stint was strong, we looked after the tyres well and pushed hard just before the stop. We had a good rhythm but we pitted slightly early to react to what was happening around us. We lost some time, but in the second part of the race we had good pace. Unfortunately, it was impossible to overtake. I was quicker than the cars in front, but you need a big advantage to be able pass around here, especially with these very wide cars. I leave Monaco feeling we have lost some important points. Esteban showed what we could do today and it feels like an opportunity lost."
Otmar Szafnauer, Chief Operating Officer
"Congratulations to the entire team on a well-deserved sixth place in Monaco. Esteban did an excellent job all weekend and hasn't put a wheel out of place. After his strong qualifying performance it was very satisfying to see him bring home eight points today with a very mature drive. It's a shame that Sergio had an issue at the pit stop, which undoubtedly cost him the opportunity to finish inside the top ten. He showed good pace in the second half of the race but without track position it was hard to make it count. We take a lot of encouragement from out strong performance this weekend and will look to carry this momentum into Montreal in a couple of weeks' time."
Toro Rosso
There will be different moods down at Toro Rosso tonight - Gasly ran a long opening stint, which enabled him to make up two places when he eventually pitted. Helped by Alonso's retirement, he finished solidly inside the points. Hartley was running well despite being handed a five-second time penalty for speeding in the pit lane, but was just in the wrong place at the wrong time when an out-of-control Leclerc crashed into his rear, ending his race.
Pierre Gasly, 7th
"My first Monaco GP in Formula 1 and my second time in the points, honestly, it was an amazing race! Starting P10, we knew it could be difficult but the car was just so fast! I tried to be careful with the tyres from the beginning, and when I was alone on track I could just push flat out because I was feeling good with the car. We managed to exit after the pits in front of the others and I fought hard to keep Hulkenberg behind because we know that in Monaco it's hard to pass. I just tried to stay focussed and not to make any mistakes because in the end the tyres were quite used – It wasn't easy but we managed to finish in P7. I'm just super happy!"
Brendon Hartley, DNF
"It was a tough race starting from 15th. I had a pretty good start, but I damaged my front wing on the first lap at Turn 5 which was annoying. It was an uphill battle from there, the tyres quickly faded with lack of front downforce, but we held on and made a big effort to make the Ultrasofts last until the end. We pitted really early to make an undercut which was a good strategy, and towards the end of the race I was catching Carlos for P10, but then I got hit from behind by a Sauber. Charles and I spoke afterwards and he said he lost the brakes, it's pretty frustrating, but that's Monaco. We were strong all weekend apart from Q1, where we didn't get it all together. I was happy with how I was driving today but ultimately it wasn't meant to be."
Franz Tost, Team Principal
"First of all, congratulations to Red Bull Racing for this fantastic victory. Ricciardo deserved it more than anyone else, and I'm really happy for him and Red Bull winning this prestigious and important race here in Monaco. From Thursday onwards we were quite competitive, unfortunately, we did not get everything out of our package in qualifying, but what counts is the race. Pierre Gasly did a fantastic job finishing in seventh place, he controlled the race from the beginning onwards and he really took care of his tyres. Taking into consideration it was his first time here in Monaco in a Formula 1 car, he managed the tyres in a very professional way, therefore we could stay out with the Hypersoft so long. The strategy was also absolutely correct, calling him in very late which put him in 7th position. Brendon Hartley was close to scoring some points, but unfortunately, Leclerc crashed into his rear and he could not finish the race. We are now looking forward to Canada, where we expect a similar performance as we've had in Monaco."
Toyoharu Tanabe, Honda F1 Technical Director
"In today's race, we maintained the momentum that we had in yesterday's qualifying and finished higher than our grid position with Gasly, which is always a good thing in Monaco. This was a very strong performance from the whole team, but most of the credit goes to Pierre, who drove a fantastic race. From the PU side, we were able to get our settings just right, including energy management and driveability specific for this unusual track. There's not a lot more to add, except that we are pleased everything ran reliably yet again throughout the whole weekend."
Haas
Haas had a quiet afternoon at a circuit they have never seemed to get to grips with this weekend. Their drivers kept the battle clean despite Grosjean complaining about his team mate's driving in the early stages. After seemingly being 'best of the rest' at the start of the season, Haas have now slipped to eighth in the constructors' standings.
Romain Grosjean, 15th
"It was a tough race. We struggled and didn't have much pace. Unfortunately, with no crazy thing in the race, we were always going to be in a difficult position. I think we should have a good car in Canada."
Kevin Magnussen, 13th
"The car that we had this weekend is not representative of what we should have. I'm just glad we're out of here, and I can't wait to go to Montreal and get back into the fight. Everyone on the team deserves that. We're moving on. We're all looking forward to Canada and to putting some new parts on the car, getting back into our normal shape, and getting back in the fight for points."
Guenther Steiner, Team Principal
"In the end, this is what we had to expect. We got two cars home in 13th and 15th. There was not much more in it. There was no damage, we drove a solid race, and made up positions. Now we go onward and upward."
Renault
With Hulkenberg starting on fresh ultrasoft rubber, Renault left him out the longest of any driver and it was a bold strategy call that proved decisive. Rejoining behind his team mate, Sainz was asked to move aside to allow the fresher shod German to make in-roads on Gasly ahead. Needless to say, the Spaniard wasn't happy with the call and subsequently lost a place to Verstappen too, but managed to nurse his car home to grab the final point on offer.
Nico Hulkenberg, 8th
"It's a positive feeling today. I had the possibility of running a different strategy to Carlos and it worked well. It was a good recovery from a not so successful qualifying yesterday and I think eighth was the best we could do in the situation. My first stint was very successful. It was very difficult in the middle as I had a lot of graining, but the tyre recovered and I could do some very quick laps and it brought the race back to me. That's the thing with Monaco; it can be crazy or it can be like today, but we made the most of the opportunities."
Carlos Sainz, 10th
"It was a very difficult race for me. We changed tyres on lap 16 and then I had to do over 60 laps with the Ultrasoft tyre, which was not ideal due to the heavy graining we had. There wasn't much I could do – the other cars on other strategies were just much quicker. Let's look at everything calmly next week and come back stronger in Montreal."
Cyril Abiteboul, Team Principal
"It's been a mixed weekend. The overall result is good; two cars in the points and a good cushion in fourth in the championship, but a race like this one exposes more of our weaknesses. Carlos did his best with the strategy, but experienced more severe tyre degradation than expected on his set of Ultrasofts. We have to thank him for playing the team game and helping us with the result today. Nico's first tyres came back to life so we could implement the strategy that we had planned and he could secure eighth. Despite the fact it is a much better result than last year in Monaco, we were not as competitive as recent races and more work needs to be done on tyre management and understanding, as in the current situation we are almost better to start P11 and have a free tyre choice than to start within the first ten with the qualifying tyres. Clearly some teams ahead of us manage to make it work, so it is possible. Let's move on to Montreal."
McLaren
Alonso was running solidly in the points before a gearbox issue forced him to park the car down at Sainte Devote for his first retirement of the season. Vandoorne pitted twice and displayed decent pace on fresh hypersoft tyres in the last few laps, but by that point was too far down for it to pay dividends.
Fernando Alonso, DNF
"It was quite a boring race: I was cruising around in seventh position as there were barely any yellow flags or Safety Cars.
"I'm obviously disappointed because this was our first retirement of the season today. First, I felt a loss of power and then I was somehow stuck in fifth gear. It's painful because we had seventh place in the bag.
"We were the fourth fastest car around here this weekend, and seventh in the race is what we would have deserved.
"There's nothing we can do about it now, but we obviously need to improve our reliability for the forthcoming races."
Stoffel Vandoorne, 14th
"This was a disappointing race for me.
"The first stint was really tough – I'd started on the Ultrasoft and was looking to run longer than the Hypersoft runners, but I had too much degradation and couldn't manage it. Then I lost a lot of time at my first pit-stop, and that also lost me track position.
"My final stint – on the Hypersoft – was a bit quicker, and I could take the fight to the cars in front, but obviously Monaco is no place at which to overtake.
"We were expecting more, but I still think we've taken a step forward with our qualifying pace. But I think we need to really focus on improving our car performance so we're better placed to score points."
Eric Boullier, Racing Director
"It's bitterly disappointing to be walking away from the most prestigious grand prix of the year with no points – but, sometimes, that's motor racing.
"It's made even more frustrating by the fact that Fernando had driven a faultless race and, through no fault of his own, was forced to park the car with a transmission problem on lap 53.
"Stoffel had limited opportunities to make progress from his 12th position on the grid. But he kept his nose clean all afternoon, managed to recover a flat-spot, and pushed all the way to the flag.
"There are positives to take away from the weekend: our pace on Saturday was a clear improvement, and our upgrades continue to deliver on the track. There's a lot more work still to be done, but we head to Canada feeling confident that we're headed in the right direction."
Sauber
Leclerc drove a solid race and was just outside the points, ready to pounce if anyone suffered some misfortune. Unfortunately the misfortune wound up being his own, as a brake failure at the chicane led him to barrel into the back of the unlucky Hartley ahead, ending both their races. Ericsson drove a quiet but composed Grand Prix to come home just outside the points.
Marcus Ericsson, 11th
"As expected, it was a tricky race for us. It was good though, and I am happy with my result. The focus of the race was on tyre management. It was challenging to keep them working in the right window, and make sure to not use them too quickly. It was tough to advance, as we were both stuck behind Brendon (Hartley) for the majority of the race. We lost a lot of time there. It was a good team effort overall, and there are a lot of positives. Next up is Montreal, which is a track that suits us much better. I look forward to that."
Charles Leclerc, DNF
"It was a tough race, and it is disappointing that I could not finish it. Everything was going quite well, we had a good pace, and were competitive in the midfield. We lost a bit of time getting stuck behind Brendon (Hartley) for much of the race and, being on a track where it is difficult to overtake, there was not much we could do. Unfortunately, there was an issue with my brakes just a few laps before finishing. I tried to avoid the car ahead, but there was nothing I could do. A shame, but I look forward to the next race in Canada now."
Frédéric Vasseur, Team Principal
"We had a strong pace in today's race with both of our drivers. They lost quite a bit of time behind Brendon Hartley, but still advanced and defended their positions well. The face of the race changed after Charles collided with Brendon ahead. He had an issue with his brake discs and could not avoid it. Marcus had a strong pace, especially towards the end of the race, when he was able to catch up with Sainz. Overall, a good job done by both of them, and we will make sure to continue to fight in the midfield in Montreal."
Williams
Williams had lacked the pace to be competitive, before a series of unfortunate events led to their drivers limping home at the back of the pack. Stroll hit Ericsson, which gave the Canadian a puncture and a long journey back to the pits. Sirotkin was penalised for his wheels not being fitted by the three-minute time signal before the race. A 10-second stop-go penalty proved costly for the Russian, and ended any chance he had of a competitive finish.
Sergey Sirotkin, 16th
"It's not ideal to finish where we did but, in some ways, it was a good race. We had a car that was definitely allowing me to fight. I think we had the pace, the car really had the pace and I think we had a good chance to be in the points, but a bit of bad luck with the penalty following what went wrong on the grid. I think we showed a good improvement in qualifying. We showed a good improvement in the pace within the race itself. We'll just keep working, harder and harder, and we'll get there."
Lance Stroll, 17th
"It was a pretty terrible day. I got a puncture on lap nine and lost a bunch of time, like a lap, just getting to the pits. After that I was busy letting cars through with blue flags as I was a lap down. Then we had temperature problems all race, and I was told to give gaps and let cars by, so there was not much of an opportunity and we just weren't racing today. Looking forward I am very excited about my home race next and hope we can have a much better weekend in Canada."
Paddy Lowe, Chief Technical Officer
"A hugely disappointing day because we'd had a pretty promising weekend so far, certainly with Sergey starting in a better grid position than we've had more recently. Unfortunately, we suffered a wheel assembly problem on the grid with Sergey's car which meant we fitted the wheels after the three-minute deadline. Consequently, he was handed a 10-second stop-go penalty which put him half a lap adrift of the pack. His race was ruined from that point on. He spent the afternoon in that situation suffering constant blue flags. We converted to a two-stop strategy as that is actually the quickest race if you're not holding a position. It was good to see that he could put in some quick laps at the end whilst in free air. On Lance's side, he had a puncture on lap nine due to the brakes becoming too hot, which overheated the rim and caused the failure. We failed to control that on the second set of tyres and he suffered another puncture. The issue was managed for the rest of the race, but with so many pitstops and blue flags, Lance was in no position to make any progress."
Pirelli
Mario Isola, Head of Car Racing​
"We saw a much more mixed blend of strategies in Monaco than we have witnessed in previous years, fulfilling the role that we hoped the new hypersoft would play here by adding another variable into the competitive mix. The result was the fastest race lap time ever seen at Monaco, thanks also to a tyre that the drivers enjoyed using both in qualifying and the grand prix. With the circuit constantly evolving and a brand-new compound to get to grips with, most drivers succeeded in extracting the maximum according to their different strategies"