Feature
What the teams said - Race day in Sakhir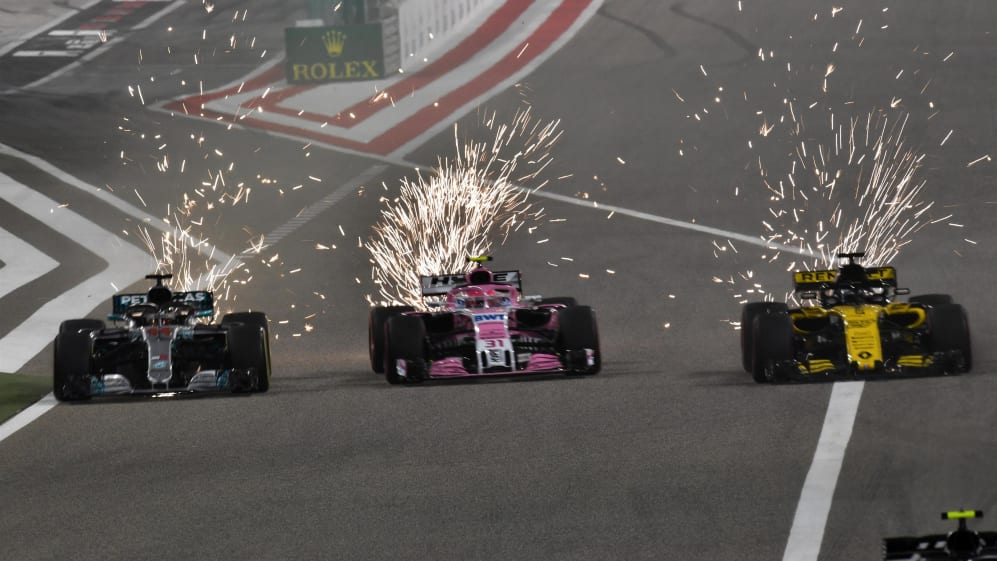 A round-up of all the action from the Formula 1 2018 Gulf Air Bahrain Grand Prix at the Bahrain International Circuit...
Red Bull
Red Bull had been talking about taking the fight to their title rivals but barely lasted a handful of laps as both cars had to pull over in the early stages. Ricciardo was first after a loss of power belayed an electrical fault, before Verstappen got a little bit too feisty battling Hamilton and wound up with a rear puncture. He nursed his car back to the pits for fresh rubber, but there was too much damage sustained and he too was told to park his RB14 trackside moments later.
Daniel Ricciardo, DNF
"Coming in to Turn 8 I lost all power, everything switched off without warning and I couldn't do anything. I guess it's an electrical engine issue, maybe battery related but I don't know exactly yet. Obviously, everyone in the team is so disappointed as we genuinely felt like we had a good car today. The weekend was going pretty good for us and I really believe our race car was even better. I know I only did one lap but I could already see Kimi sliding on the rear tyres. I really felt like we were going to be in with a good chance which makes it even more frustrating. Being out so early in a race is just the worst feeling; especially when it's a night race and you are up all day waiting for those two hours and after two minutes it's over. I get really fired up for Sundays so now I've got two hours of adrenaline stored up inside me and I don't know what to do with it. This sport can rip your heart out, it's brutal sometimes."
Max Verstappen, DNF
"Due to the hit with Lewis we sustained some more severe damage than just the puncture, we haven't had a chance to look at the car yet but we suspect the differential. From the start I was enjoying the feel of the car and finding the gaps and it was shaping up to be an exciting race. I had a good tow on the straight, the last corner was really good so it allowed me to stay close to Lewis. We got a bit squeezed but from the middle to the end of the corner I was ahead, I then felt a nudge from behind and could feel the puncture and therefore knew the race was likely over. In my opinion there was plenty of room for the both of us to go around that corner and to say 'no action taken' is a bit harsh as I am now out of the race due to that contact on my left rear. If it was the other way around I'm sure he would want it looked into."
Christian Horner, Team Principal
"A brutally harsh race for us today. After an average start Daniel managed to move back up into P4 and was catching Kimi quite quickly. But then a complete electrical shutdown with a suspected failure to the energy store brought a premature end to his race. While Max made great progress in the first couple of laps, he was right on Lewis' gearbox and lined up a pass into turn one and unfortunately contact on the exit of the corner gave Max a puncture and the resulting damage, and that sustained to the transmission driving back to the pits, ultimately caused his retirement. Both cars retiring within two laps is extremely disappointing particularly when we had a race car today that was capable of challenging Ferrari and Mercedes. Thankfully the next race is only one week away and congratulations to Toro Rosso on a fantastic race result."
Ferrari
Vettel led from the start, and was the first of the front-runners to pit for fresh rubber. On the soft tyres, it looked as if he would have to two-stop but with Mercedes bearing down, he managed an assured drive on rapidly degrading tyres to record victory in his 200th Grand Prix start. Raikkonen retired after a botched pit stop saw him released with three new tyres and one old one still fitted. That cost the Finn a podium place, as well as leaving a mechanic with a broken leg and the team with a hefty fine for the unsafe release.
Sebastian Vettel, 1st
"Obviously, this is a great way to start the season and it wasn't expected. Obviously Australia was a different race and if you compare these two races, here we had the pace and won on our own. So, I think it's been much better, but it was a very tough race. It took a while for the adrenaline to go, but for the next week we are not sure where we are going to be. It is difficult to predict with everything changing so much. In China it will be a different track and a different challenge, but we have to improve our car and work on it. We still need to improve the balance. However, if we should have a similar feeling like here, then I think we should be in a good shape. We were losing a little bit at the end and Bottas was getting closer. We couldn't wait and see what he was doing. So, in response to that we had to come in first to protect the track as much as I could. We had targeted two stops and that's why we had chosen Soft tires. But then we had to change strategy; the tyres were already wearing out, but then it seemed everything was ok. But after 10 or 12 laps, the tires got worse and the last five laps were very tricky. It feels better winning here than in Australia, because here we had the pace. So, I am very happy, even though it's sad to see one of our guys getting injured. I wish him to get well soon, I know he's in very good hands now."
Kimi Raikkonen, DNF
"What happened to our guy Francesco today at the pit-stop is very unfortunate. I feel sorry for him and hope he's going to be OK soon. It's always a bad thing when someone gets injured but I am sure he has the best people taking good care of him and I wish him a speedy recovery. As for the accident itself, all I know is that I moved when I saw the green light go on. I couldn't have possibly realized that there was an issue with the rear left wheel, then I saw someone had got hurt and, immediately, I was told to stop by the team. Unfortunately something must have gone wrong and we'll need to find out what. The car had good speed today but I had some wheelspin at the start. Anyway, there's not much I can do now but wait for the next race, where we'll try to do our best."
Maurizio Arrivabene, Team Principal
"Today's result, with a win for Sebastian, is confirmation of the great job done by the team, of an effective car and of a driver who drove like a true champion right to the very end. It was a shame for Kimi, who would have completed a fine result for the team. We chose to take one of our mechanics up onto the podium as a mark of respect to our colleague Francesco who was injured during the pit stop. The whole team hopes he recovers quickly. We are already preparing for the next race in China and as usual we will give it our all."
Sergio Marchionne, Chairman
"First and foremost, I wish our mechanic a speedy recovery and hope to see him back on track soon. The team performed consistently all weekend and we were front runners right from the start of practice. It was a difficult race and Sebastian drove like a true champion. I am sorry for Kimi who could certainly have finished on the podium. This Grand Prix confirms that the Scuderia has a great car, a solid team and two drivers on top form. But it also showed how close things are between us and our rivals, who are very strong. That's why, at the risk of repeating myself, it's worth pointing out that there is still a long way to go and we have to maintain a high level of concentration, continuing to work diligently and with passion, which is something we are well capable of. It's the only way we can give our fans other equally satisfying Sundays."
Force India
Perez's race was compromised from the start - he was tapped into a spin by Hartley and had the double insult of winding up last and having bodywork damage which limited his pace for the rest of the afternoon. He also suffered the unusual fate of having 30 seconds added to his race time for a parade lap infringement. Ocon managed to avoid the incidents at the start which put him in good stead and he opened Force India's points account for the season.
Esteban Ocon, 10th
"It was a very tough race and there was never really a chance to catch my breath. I was always pushing, always fighting, always chasing. We are right in the middle of the midfield fight and it was a nice reward to overtake Carlos [Sainz] with just two laps to go and score the final point. I'm a bit disappointed that we didn't get more from this race, especially starting from eighth place, but we did the best we could in the circumstances. The main positive to take from this weekend is the improvement we made compared to Melbourne. We need to keep working in the same direction to find more performance in China next week."
Serio Perez, 16th
"It feels like an opportunity lost because my race was effectively over on lap one. We knew how important it was to stay out of trouble, but there was nothing I could do to avoid what happened. I made a pretty good start, but Brendon [Hartley] lost control of his car and spun me around. I had a lot of damage to the floor and that cost me performance for the rest of the race. Despite that, I nearly made it back into the points, but in the end there was no chance to do it. We can look at some positives: it was a fun race, with lots of battles and we are making progress with the car. I hope we can continue the good work and be quicker in China, where we will hopefully get more performance from our package."
Otmar Szafnauer, Chief Operating Officer
"We had to work very hard to score the final point tonight. Esteban did an excellent job of chasing down Sainz in the final few laps and put significant pressure on him to overtake him and move back into the top ten. It was marginal as to whether it would be a one or a two stop race, but I think we called it about right with both cars. Sergio's race was compromised heavily by the contact with Hartley on the opening lap where we were simply the innocent victim. There was big contact, which damaged the floor quite significantly and impacted performance. The spin dropped him to the back of the field and a slow puncture forced him to pit early and adopt a two-stop strategy. To recover to P12 was a tremendous effort in the circumstances."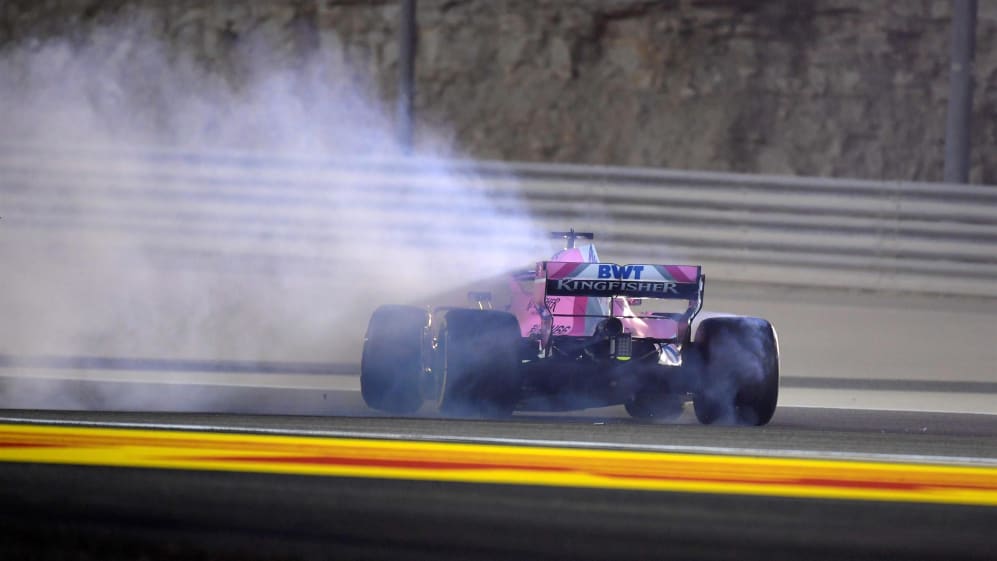 Mercedes
Bottas jumped Raikkonen at the start, and although Hamilton didn't make up many places in the first few laps, he soon got motoring and opportunistically passed three cars to get himself right up amongst the front runners. From there it was a strategy battle - Mercedes had put both their drivers on medium-compound tyres, so could they reduce the gap to Vettel ahead with enough time to pass the German on his older soft tyres? Bottas got close - within half a second - but Vettel held firm and the Silver Arrows had to make do with second and third.
Valtteri Bottas, 2nd
"It was so close in the end, it's a shame I couldn't win. When it's so close, you start to think about every lap and every corner after the race, trying to figure out if there is something you could have done better. But I feel like I did a good race, I didn't make any mistakes and I gave it everything I had. I didn't try the Medium tyres before the race, but it went well and we managed to do a really long stint. Only in the last three laps I started to struggle with the tyres and once I got close to Sebastian everything got more difficult. The pace today was better than expected so that we could put some pressure on Ferrari. It's very close and it's going to be an interesting season. We still have work to do, especially for conditions like here in Bahrain. I think we can see some positives, but the main thing for us is to really learn from this weekend."
Lewis Hamilton, 3rd
"It was not an easy race, but one that I feel quite happy with now that I've cooled down. Today was all about damage limitation and I think to get in the top three is a really great result for the team and for myself. We would prefer we didn't have the gearbox issue that we had this weekend, but I was really happy with my race pace. I had a really good start but I didn't capitalize on it. I got past a couple of cars off the line and then I went opposite to go on the inside. But the car ahead decided to dice to the right so I had to bail out and had cars pass me on the left, so I fell back on the opening lap. In my mind I knew that I had to get past that group of cars very early on. But by the time I did get past them the guys were 15 seconds ahead, so really the race was lost in those opening laps. Ferrari have shown over the last two races that they have the edge at the moment, but it is close and we definitely have to do a better job. Shanghai has always been a good hunting ground for me, so I really hope that we can go there with some strength."
Toto Wolff, Head of Mercedes-Benz Motorsport
"It's incredibly frustrating to come so close to a win and to miss out at the very end but that was a race that kept us on the edge of our seats until the final corners. If you had offered us P2 and P3 yesterday, I would have taken it straight away; but when you consider that both Red Bulls retired, and one Ferrari, then it was also the minimum result we should expect from the race. In hindsight, it's easy to look back at the race and see opportunities to win. When we came out after the first stops, running the medium tyre, I think we were in a potentially race-winning position with Valtteri - but Ferrari and Sebastian managed the race extremely well and earned the win. Our car really came alive on the soft and medium compounds today, and that is probably one indication that we will see the competitive balance swing from track to track this season. For Lewis, a podium finish after starting P9 is better than our predictions - and his three-car overtake was a real highlight of the race. Overall, it was good damage limitation after we put ourselves on the back foot with the penalty. And now we need to focus on those fine margins that make the difference between winning and losing these finely balanced races."
James Allison, Technical Director
"This is a Grand Prix that has to go down in the category of "one that got away". But after a difficult qualifying session yesterday, it was encouraging to see our long run pace was extremely competitive, especially because this is what let us down so badly one year ago at this track. We cannot help but wonder what might have been for Valtteri given another lap on Sebastian's tail, or indeed had Lewis started the race without the handicap of his gearbox penalty. But we must put those speculations behind us and head to China determined to claim our first win of the 2018 season."
McLaren
Alonso had his customary good start, and was involved in a race-long battle with those around him for position. Despite having fresher tyres, he ran out of time to challenge Hulkenberg ahead but seventh is a solid result considering where he qualified. Vandoorne by contrast had a poor start, dropping four places, and had to battle his way back through the field. But in an equally impressive display, he too managed a series of overtakes to work his way into the points.
Fernando Alonso, 7th
"It was another great race today, with the team performing good pit-stops, good strategy and good reliability. Everyone worked perfectly today and we got both cars into the points.
"We did a good job at the start, overtaking a couple of cars. We had newer tyres compared to the people around us and we were expecting a bit more, but after that we had the pace to keep our position in the front train.
"Looking at the overall picture of the weekend, we struggled in every session and had quite a poor qualifying, so now being seventh and eighth is a positive result for the team.
"Having 16 points after two races is promising, but at the same time we know that this weekend was not good enough in terms of performance, so we need to raise our game. We just cannot underperform again. We know that we have the potential, and that the car has some good things and bad things which we need to make sure we improve as soon as possible. New parts are coming, but whatever we have on the car on Sunday we're sure we'll deliver and push to the limits, and today was another good example."
Stoffel Vandoorne, 8th
"After the start of the race I didn't think this result would be possible today! I had a terrible start, a lot of wheel-spin off the line and found myself sitting there in absolute last after Turn One. From there we made a great recovery, and to finish eighth and have both cars in the points again is very pleasing.
"We always knew our race pace was going to be better than our qualifying pace and today we proved that again. We overtook a lot of cars on track and made some very bold overtaking moves into Turn One. For me it was an amazing race and I enjoyed some great fighting, so I'm pretty happy. We were very ambitious today and had a good strategy, knew our race pace was better than a lot of the people around us and today is a great result for us.
"We still have a lot of analysis and work to do to understand why our race pace is so different. I think it will get better over the next few races and if we're able to start in higher positions it will make our life a bit easier and allow us to finish further up the grid. I'm sure the results will be visible very soon. There are a lot of plans in place and we know that in Formula 1 it can take a bit of time to see the benefits of those, but we're very confident that on a Sunday we can go out and race. We showed that again today and we need to keep working and keep improving."
Eric Boullier, Racing Director
"After a tough day for us yesterday, a double-points finish is a pleasing reward for the hard work the whole team put in overnight to ready our cars for today's race. We knew that our race pace would be stronger than our qualifying performance, but in such a tight midfield it's often too close to predict and anything can happen to affect the order. While we did benefit from certain circumstances in the race, we showed good pace and deployed a strong strategy to gain track position at every opportunity.
"Both drivers did an incredible job – managing their tyres and fuel, regulating their pace, and reading the situation around them to maximise their track positions. Fernando drove masterfully to keep on top of the pack and attack cars further ahead, making great progress against our nearest competition to finish seventh. Stoffel, after suffering at the start and exiting the first corner last, made an impressive fightback through the field. Although most of them weren't seen on our screens, he made no fewer than 11 on-track overtakes over the course of the race, to finish just behind his team-mate in eighth place. Congratulations to both of them for today's excellent performances – their double-points finish is thoroughly deserved.
"I'd also like to say a massive well done to our mechanics for their excellent work in the pit-stops today, which really helped us to execute our strategy perfectly. Now we must keep our heads down, keep working hard, and first and foremost turn our attention to our qualifying performance to make an improvement in China in a few days' time.
"Finally, we send our thoughts and best wishes to the Ferrari mechanic, and we hope he makes a speedy recovery."
Haas
Grosjean always had his work cut out starting from towards the back, but his race was compromised early on when he suffered bodywork damage. He had to three stop to sort out his bargeboard which was lodged under the car, and limped home outside the points. Magnussen was his usual bullish self, trying hard to find a way round Gasly in the early laps. He briefly turned the airwaves blue after nearly tangling with his team mate who was running a different strategy, but the team will ultimately be pleased with the points after their Australian calamities.
Romain Grosjean, 13th
"It was always going to be difficult starting from the back of the grid. I didn't really have a good first lap, but after that I came back through the field quite nicely. If I hadn't lost my bargeboard I'd have finished potentially seventh or eighth. That was a problem – losing parts as we're just running on track. On those two laps, the car was absolutely undriveable. We had to pit to remove the part, so that was the end of the story."
Kevin Magnussen, 5th
"I'm happy about today. It's really good to get 10 points and get our championship started. I'm really proud of the team, especially the guys on the pit stops. They had a tough time between Australia and here. They kept their heads and got back to basics. They did what they do best and they delivered today. I couldn't really fight with Gasly in the Toro Rosso ahead in fourth, but still, we're happy with P5."
Guenther Steiner, Team Principal
"I'm pretty happy with fifth place. There were maybe a few points lost with Romain, who was going strong from 16th up to 10th, but then he needed an additional pit stop to clear off some parts of the car which had come loose. We have to investigate that to see if he went off or hit something at the start. All in all, it's been a good weekend. The pit stops were good. We had five in the race and they were all good. I think the guys have recovered and I'm very proud of them, and they can be proud of themselves for what they've achieved this weekend. Coming back from two failed pit stops at the last race in Australia to take a fifth-place finish without a problem, it's fantastic."
Renault
Contrasting fortunes in the Renault garage. Hulkenberg lost one place at the start but soon caught and re-passed Ocon, and despite struggling with battery deployment, came home solidly in the points for the second consecutive race. Sainz lost places at the start and from there struggled to make headway in the congested midfield.
Nico Hülkenberg, 6th
"We got the maximum from the race today, which is a good positive. We didn't quite have the pace to compete with the cars ahead of us and that leaves me a little disappointed, so it's clear the midfield fight is very close. It was a busy race and our main focus was fuel saving whilst still trying to race other cars and I think we managed that quite well tonight."
Carlos Sainz, 11th
"I was surviving in the end there with very tired soft tyres and having to do a lot of fuel saving. We need to analyse what happened at the start because I had too much wheel spin and from there onwards the race was compromised. I was stuck in traffic after both stops and we couldn't really do a lot from there. It was a tough day to be honest, but luckily China is just around the corner and we will fight our way back to the points."
Cyril Abiteboul, Managing Director, Renault Sport Racing
"It was an action-packed race that nevertheless saw us score a fine result with Nico who put in a great drive on a track that is difficult for us. Carlos' poor start penalised his race, which proved, once again, that every detail counts. Carlos finished just outside the points, which is disappointing, but he did the best he could with fuel management that became very complicated in his race to move back up the order. We had good pace in qualifying and the performance level of the car should see us qualify higher on the grid and thus have easier races. Sixth place for Nico keeps us in a good place in the Constructors' Championship with a points total in-line with our objectives, but the race pace wasn't very good in particular with the Soft tyres, which needs to be analysed, understood and improved as soon as possible."
Toro Rosso
Gasly had been the talk of the paddock after his excellent qualifying, and he proved it wasn't a fluke result by driving a mature, mistake-free race to come home in fourth place. He had to work hard in the opening laps, fighting to keep Magnussen behind, but from that point on he pulled out enough of a gap to be able to calmly manage his race. Hartley was penalised with a ten-second time penalty after catching Perez's Force India on the opening lap, causing the Mexican to spin. He fought hard but ultimately that cost him the chance of points. He was later penalised for a parade lap infringement, which dropped him to the back of the field.
Pierre Gasly, 4th
"Unbelievable, what an incredible day! The second race of the season with Toro Rosso and Honda, and we finish P4. It's just amazing, I'm so happy! A big thanks to the team because the car was fantastic! I had a nice fight with Magnussen and the pace was really good. I saw unfortunately both Red Bull cars had to stop, then after Raikkonen retired the team told me we had the opportunity to finish P4, so I gave everything to the end. The car has been fantastic since the beginning of the weekend, today I could just push flat out and the pace was great because I managed to pull away from the Haas. I need a bit of time to let this sink in, but we will definitely enjoy it with the team tonight! The start of the race was mega - I managed to overtake Ricciardo in Turn 1 which was great, after that it got a bit tricky when Magnussen overtook me in Turn 1, I knew I had to overtake him straight back because I would lose time and it would be difficult to catch him afterwards. Once I passed, I managed to keep him behind and push flat out while I was trying to manage the tyres, which we did pretty well. I think the pace was great so I'm just super happy."
Brendon Hartley, 17th
"An amazing day for Toro Rosso but a disappointing day for me. I had a good start and first couple of corners but had a small contact with Perez in Turn 4. This not only damaged my front wing for the remainder of the race but I was also given a 10 second time penalty. We had the pace to be comfortably in the points without the penalty so it was a bit frustrating. A big thanks to all at Toro Rosso and at Honda, it has been an amazing turn around since Melbourne which bodes well for the next few races."
Franz Tost, Team Principal
"Fourth place is a fantastic result for Honda and for Toro Rosso. We arrived in Bahrain with a new aero package and also Honda came with some modifications, and from the beginning onwards on Pierre's car - where we fitted the upgrades - we saw that we improved the performance in comparison to Melbourne. On Friday we had both cars on different setups - Pierre was with the new specifications while Brendon was on the previous version - but after a few runs we realised the new upgrades worked as expected and as calculated from CFD and the wind tunnel.
"On Saturday both cars were identical. Pierre had a very good qualifying by finishing sixth, which meant he could start from fifth position because Hamilton got a 5-place grid penalty after a gearbox change. Also Brendon showed good performance and finished in 11th place, just one-tenth of a second behind Q3. The start of the race from both drivers was quite good. Pierre defended his position and came back from the first lap in fourth, he then fought against Magnussen in a very good way and kept his position until the end of the race. I must say, that he controlled the speed by managing the tyres and the fuel in a very professional way.
"Brendon unfortunately touched Perez after the start, therefore he got a 10-second penalty when he did his first pitstop. Therefore, he couldn't finish in eighth or ninth position. Brendon did a good job in the race because it wasn't easy for him to catch up as he spent a lot of time in traffic. We decided to call him in for another pitstop for supersofts and he managed to close the gap - he would have probably needed another four or five laps to achieve 10th position. Generally speaking, we are very happy with this result. To finish in fourth position in the second race of the year is really a very positive sign from Honda and from Red Bull Toro Rosso side.
"I'm quite confident that we have what we need to keep this level of performance – maybe not finishing fourth all the time because we mustn't forget that Verstappen and Ricciardo didn't finish the race – but nevertheless I'm convinced that points are possible in all of the races. I want to thank the Research & Development department of Honda in Sakura, they did a fantastic job during the winter months significantly improving the performance, as well as the reliability, and the result is that we are now fighting for front positions. Thank you also to the aero department in Bicester, they really did a good job because all of the upgrades worked as expected. Congratulations to Honda and the team for the great job."
Toyoharu Tanabe, Honda F1 Technical Director
"It was a very exciting race and it is satisfying to have seen both our cars perform well to take the chequered flag. Special congratulations must go to Pierre who drove brilliantly all weekend to finish 4th, to give Honda it's highest finish since we returned to Formula 1 in 2015. Brendon drove very well to fight back from a 10 second penalty, but unfortunately it was enough to drop him out of the points.
"In the two weeks since our difficulties at the Australian Grand Prix, everyone in the team, at the track and back in the UK and Japan, has worked very hard and this nice result is a well-deserved reward for all our efforts. We feel we have made some progress, improving our reliability and it is also clear that the aero updates introduced here worked really well. We can enjoy this moment for a few hours, but as from tomorrow, it's time to focus on the next round in Shanghai."
Sauber
Ericsson was the only driver outside the top three to try a one-stop strategy and it proved a masterstroke. He wound up solidly inside the top-10 but on old rubber was always going to be under pressure from faster cars behind. As it was he lost a few places, but held on to come home ninth - his first points finish in 50 races, the largest gap between points finishes in F1 history.
Marcus Ericsson, 9th
"It is an amazing feeling to back in the points, especially this early into the season, as a start to our new chapter with Alfa Romeo. It is a great reward to everyone at the racetrack and back at the factory. The strategy we had today was good, and it was a challenge to make it all the way to the end of the race with the tyres and fuel we had. I had to be clever as a driver and pick the right fights to make sure that I do not use the tyres too much. It was a great team effort. I am very happy, very pleased, and I look forward to continuing on this positive path."
Charles Leclerc, 12th
"It has been a motivating evening for the team. After working hard all weekend, we scored two points, with Marcus having a very strong race. At the same time, I am not completely satisfied with my own result. We went for a high-risk strategy after I struggled with a flat-spot at the beginning of the race. We opted for a set of medium tyres – unfortunately, they did not last as long as we hoped. We are looking into what happened in the stint on the medium option and will be sure to learn from this experience. In any case, it was a positive race for the team, and I look forward to being back in the car next weekend in China."
Frédéric Vasseur, Team Principal
"It was a very good first step for us and a reward for the hard work during the winter by the whole team, both at the race track and at the factory at home. Today we made an important recovery from qualifying and both drivers and the team did a good job. Congratulations to Marcus for the strong race. He put in a huge effort over the winter to be able to show everyone that he is able to deliver. It is a great accomplishment for him. Charles also did a good job and put in a consistently good performance throughout the race. Unfortunately, he lost a lot of time at the beginning of the race after having issues with a vibration on the front wheel, requiring an early pit stop. All in all, it was a good team effort and we are pleased with the outcome of this weekend, but we remain completely focused and will continue to work hard and push in this direction."
Williams
Stroll suffered front wing damage after fighting with Grosjean at the start, forcing him to pit early and he did well to finish ahead of his team mate, but ultimately Williams didn't have the pace to challenge in the race today.
Lance Stroll, 14th
"I was really happy with my race, even though we were nowhere in terms of position. I had a really good start and picked up five positions, so I was happy about that. After that I touched the front wing fighting with Grosjean, so I had to box early and we lost 10 seconds as we had to change the front wing at the stop. But I managed to recover from that and beat my team mate at the end. I am obviously happy with the recovery we made after the first couple of laps. I still believe we did the maximum we could have done today. I hope we can be better in China, but behind the scenes there is a lot of work to be done."
Sergey Sirotkin, 15th
"It's not so easy to summarise the race. This was my first F1 race distance. It was a good experience, but we switched our plan. Our strategy was a two-stop, which we ended up sticking with and it was not optimum as I think we lost a bit of track time with that. Then I was caught by quite a lot of lapped cars, so again I lost quite a bit of track time. The pace was OK but we cannot follow other cars. It's something we definitely need to improve. It's a big problem on the first lap as it's impossible to fight people without damaging the front tyre. However, as we said a few days ago, we're just trying to get to the end of the race. I tried all the tyre compounds, so it was a good experience and I came up with some good pace on the last set, so it was a reasonable improvement. Now we go to China."
Paddy Lowe, Chief Technical Officer
"It was not a great end to a very tough weekend for the team. We didn't have the pace today to compete with any other cars except ourselves. We have clearly got to go away and look deeply into what has affected our pace, even relative to where we were in Melbourne just two weeks ago. We'll see what we can do in the short time available between now and China next week. This is a time to stick together as a team and work intelligently and diligently on the problems we face. Finally, I hope the Ferrari mechanic is OK after the nasty looking incident in the pitstop during the race."
Pirelli
Mario Isola, Head of Car Racing
"This was an absolutely thrilling and absorbing race, which delivered exactly what we hoped with this latest generation of tyres: many different strategies, close racing and an exciting finish with some of the best drivers in the world battling each other down to the final corner. Tyre management was absolutely key to Vettel's victory, with the Ferrari driver making a new set of soft tyres last for 39 laps, which we never saw before here during the weekend. Mercedes also made a one-stop strategy work by putting two cars on the podium when a two-stopper was theoretically quicker: this decision altered the entire complexion of the race and made for a thrilling conclusion. Congratulations also to Pierre Gasly and Toro Rosso, and our best wishes for a speedy recovery to the Ferrari mechanic who was injured during their pit stop."