Feature
What the teams said - race day in Singapore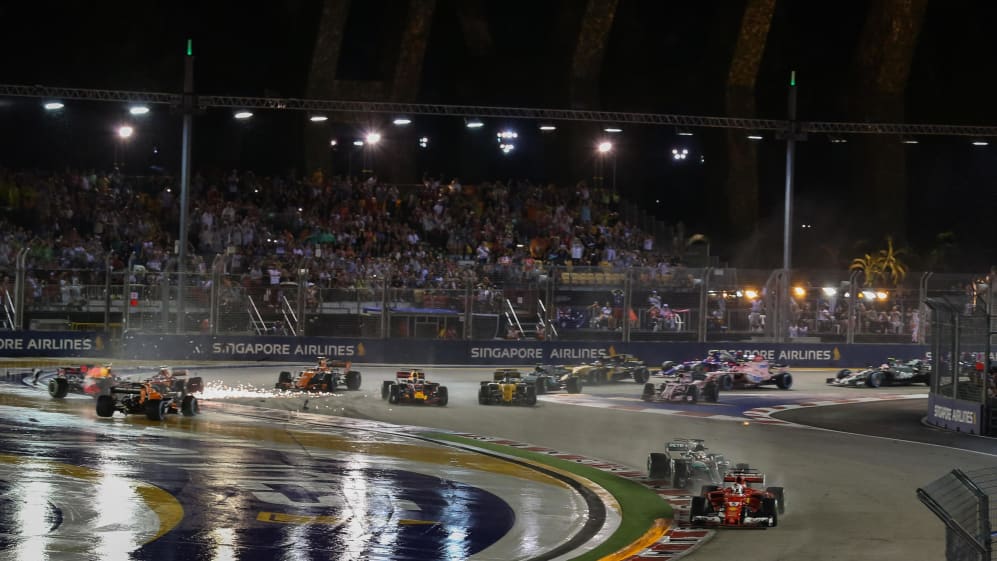 A round-up of all the action from the 2017 Formula 1 Singapore Airlines Singapore Grand Prix...
Mercedes
Hamilton opted to head wide at the start which proved to be the fortunate line, as he escaped all the carnage and emerged in second place - which swiftly became first when Vettel spun. From there he was able to manage the race and extend his championship lead, made sweeter by the fact that this was a track the team had expected to struggle at. Bottas had a poor start which again proved fortunate, and despite struggling in the wet conditions, once the track dried the Finn was able to extract enough pace to finish on the podium.
Lewis Hamilton, 1st
"What a day - I can't believe it, I'm so happy! I came in today and I saw that I was raining and I knew that this balances everything out. I love racing in the rain, then everything unfolded in the beginning. Starting on the Intermediates I thought it was going to be much closer pace-wise. These conditions give you the opportunity to really make a difference with your driving. It was the first time for all of us driving here in the rain, so it was a massive challenge. But I love that when you have to rise to the toughest of challenges, that's the most exciting part for me. Then it was all about staying focused and not making any mistakes. We came to a track that was potentially our weakest circuit and we leave with a win like this and so many points - that's a very fortunate scenario for us. Valtteri also did a great job, so to have all these constructors' points is awesome."
Valtteri Bottas, 3rd
"Today shows that anything is possible - that is racing! I think under normal circumstances it would have been extremely difficult for us to be on the podium. But today, everything really came to us, and we got very lucky. In the dry, the car was performing better than expected and the pace was very good for Lewis and me; in the wet, I struggled a bit more than him. It's nice to bring a trophy home after what has been a tricky weekend for me. But all in all it was a nearly perfect race for us as a team. There are still six races to go so everything is still wide open. We have been struggling quite a bit this weekend, so we need to make sure we learn from it for the future."
Toto Wolff, Head of Mercedes-Benz Motorsport
"We woke up this morning talking about little else than damage limitation; we leave Singapore this evening with a bigger lead in both championships. This was one of those days that reminds you what an unbelievable sport motor racing can be. And reminds you, too, that the points are only scored on Sunday. Of course, it goes without saying that we got a big slice of luck today. Not only did we avoid the chaos at Turn One but we also escaped without damage to both cars. After that, though, we had to make the most of the opportunity that had been presented to us - and out-race a very fast Red Bull. Lewis did that brilliantly, showing good race pace on both types of tyre, while Valtteri picked his way back through the field to the podium. So the emotions tonight are very different to what we felt 24 hours ago - but this result doesn't change a thing in the big picture. If anything, it's a stark reminder that there are six more opportunities for the luck to go against us this season, just as it happened to Ferrari today. We will celebrate our result this evening but, after that, it will be full focus on the next challenges ahead."
James Allison, Technical Director
"In the two weeks since the last round of the championship, and in all the hundreds of hours worked and thousands of simulations made, nothing pointed to a result quite like this one. Formula One is incredibly complicated, but days like this remind you that it is still a sport - and that you never know what might happen. After a difficult weekend prior to Sunday, the manner in which the cards all fell so right for us in the opening corners gave us a massive lift. But after that huge dose of luck, it was a relief to show that we had good race pace to justify our good fortune, and we couldn't be more delighted with the way Lewis and Valtteri made the most of it. This is a brilliant result for both titles and, of course, we leave Singapore with a spring in our step. But there is still a very long way to go in this championship race."
Force India
Perez had an electric start, making up eight places to run in P4. From there, he pitted twice to come home a solid fifth. Ocon had more of a fight on his hands in a very competitive midfield, and struggled for pace in the mixed conditions. Helped by retirements, he did come home in P10 to record the team's 11th double points finish of what is looking like a very successful season.
Sergio Perez, 5th
"I'm really pleased to come away from such a challenging evening with fifth place. So many things happened during the race, especially on lap one when it was so difficult to see anything because of the spray. At the same time, I'm a little disappointed that we missed out on a podium because I think the second safety car period didn't help our strategy. We started the race on the full wet tyre, but we had to switch early to the intermediate tyres under the Safety Car and I lost valuable track position. Even so, it's still a great day and a good recovery after a difficult qualifying session yesterday. This result helps our fourth position in the championship and continues my record of always scoring points in Singapore."
Esteban Ocon, 10th
"I am not happy to come away with just tenth place, but at least we're leaving behind a very difficult weekend – it's not the best way to celebrate my birthday. I made a very good start, but I struggled on both the wet tyres and the intermediates. This wasn't the case in Monza, where I was much more comfortable in the rain, but something wasn't working and I don't know why. This dragged me behind some slower cars. After the track had dried, I had good pace but I just couldn't overtake the cars I was chasing. It's just very difficult to find an overtaking opportunity here. It's good to rescue a point in the end, but we wanted much more than that. We have to analyse what went wrong and come back stronger in Malaysia."
Robert Fernley, Deputy Team Principal
"We made the most of an incident-filled race to score points with both cars. We started on the full wet tyres, which were the correct tyres for the early laps, but the rain eased off sooner than expected and the track came towards the cars on intermediates. We had to react quickly to the various safety car periods and the pit wall made the right calls to ensure we were always on the right tyres for the conditions. We lost out during the second safety car period, which cost both drivers track position – Esteban more so than Sergio. From there both drivers recovered ground, but it wasn't easy to overtake. Sergio had a long battle with Sainz and Esteban was fighting with Magnussen and Grosjean. Considering where we started the race, to come away with eleven points is a very satisfactory end to the weekend."
Red Bull
Verstappen appeared to be the innocent party in the first lap crash, squeezed in between the two Ferraris and then recollected by Raikkonen's out of control car to add insult to injury. Ricciardo had a very poor start by his standards and therefore avoided the collision, and found himself running second behind Hamilton. He kept the Mercedes man honest throughout, but struggled with a mechanical issue towards the end of the race and thus couldn't pressurise for the win.
Daniel Ricciardo, 2nd
"The rain made it all pretty hectic today. Everyone was in the same boat though and we hadn't driven in the wet here before so it's all about switching on early, being aware of the situation and trying to adapt as quick as you can. My start was quite slow off the line. In hindsight probably a good thing, because it allowed the chaos to unfold in front of me. Then in the first few laps I felt we were okay in the wet but then I felt we were a bit harsh on the tyres. Even when we pitted and had fresher tyres, we couldn't really make an impact on Lewis. The team was asking me to manage the gears through the race and after I learned we had a leak and were losing oil pressure in the gearbox from early on. Of course I came here to win and really wanted it, but second place is great and I'm not going to complain about it."
Max Verstappen, DNF
"My start was a little bit better than Seb and I think he saw that so he tried to move to the left to squeeze me out of the line a bit but he did not know Kimi was on my other side. I think it wasn't the smartest move and you can't make excuses for it when you are fighting for a world championship. Kimi had a great start and was alongside me very quickly, I didn't try and defend that as I knew it would be a long race, he then started to squeeze me also, at which point there wasn't a lot I could do. The rear wheels are wider than the front so I was locked in the sandwich with no way out, even when I braked. If I made a mistake myself I would be upset or angry but there was nothing I could do today. We all lost out in the end so we all experienced some pain rather than someone making a mistake and then being able to carry on. We have to take the positives from the weekend, we were quick in qualifying and the practice sessions with good potential going into the race, we can hold onto this and move on to the next race."
Christian Horner, Team Principal
"It was enormously frustrating to lose Max at the start of the race, in an incident that quite clearly had nothing to do with him. Sebastian moving to the left, Kimi moving to the right sandwiched Max and there was nowhere for him to go. Then, after the re-start, Daniel started to lose an awful lot of gearbox oil, which created a lot of problems with oil pressure, and we were feeling that it was looking unlikely that Daniel would get to the end of the race. However he managed to nurse the gearbox of the car incredibly well for three-quarters of the grand prix, and though able to hold off any threat from behind from Valtteri, unfortunately he could not attack Lewis ahead. So it has been another second place for us in Singapore, but a strong podium to take away considering how things were looking after the first 15 laps."
McLaren
Alonso had one of the best starts of the field, leaping up to P3 but in a moment of contrasting luck, found himself exactly in the wrong place as Raikkonen and Verstappen careered across the track, shunting his MCL32 into the air. Despite a heavily damaged sidepod, he miraculously continued before pulling in to retire after a handful of laps. Vandoorne ran over the debris at the start but didn't sustain damage, and drove a composed race at a new circuit to score some vital points and record his best finish to date.
Fernando Alonso, DNF
"My start was brilliant. The car did an amazing launch and I managed to gain several positions, up to third place, but after that we were in the wrong place at the wrong time. I wasn't aware of what was happening on the inside, all I know is that at Turn One some cars crashed and hit us. In that situation, you are just a passenger, there's nothing you can do.
"Unfortunately, that hit was too much for our car. From the cockpit you don't understand how much damage there is, but the car didn't feel great, it had a lot of oversteer so I asked the team what was the damage but they were not completely sure because they'd lost the telemetry. At the end, we had some electrical problems and we had to stop.
"These things sometimes happen in motor racing and unfortunately it happened to us today. We had so much hope for this race, and in wet conditions we are very strong so the disappointment is even bigger.
"Despite my disappointment this evening, it's actually been a positive and fun weekend - the team has done an outstanding job and I'll be hoping for better luck in Sepang in a fortnight's time."
Stoffel Vandoorne, 7th
"That was definitely an eventful race!
"To race under the rain at the beginning was definitely not easy, so my main focus was just to stay out of trouble, which we managed to do. From that point on, I just managed my own race.
"I think seventh place was really the best it was going to get for me today. Sixth was perhaps on the cards at one point, but it didn't work out at my second pit-stop. After that, i just focused on getting everything I could from the car and maximising the performance.
"Getting a couple of points means we finish our weekend on a high."
Eric Boullier, McLaren Honda Racing Director
"When the heavens opened shortly before the start, we knew this was going to be an exciting and unpredictable Singapore Grand Prix - and so it proved to be.
"Through it all, Stoffel finished a magnificent seventh, battling throughout and really maximising the potential of our car whether he was running Full Wets, Intermediates or Option tyres.
"We think sixth was within our reach had he not been delayed at his second pit-stop. The front jack failed to engage properly, which meant the left-front wheel wasn't lifted off the floor properly, which resulted in a slow removal. That delay meant he wasn't able to close on [Jolyon] Palmer despite a spirited chase.
"It was a phenomenally disappointing day for Fernando. He'd made a brilliant start in the wet conditions but was harpooned by Verstappen's car at Turn One. It was a significant impact, one which tore open the bodywork, damaged the floor and, ultimately, holed an exhaust.
"We were able to assess the initial damage as he passed through the pits behind the Safety Car, but, at racing speeds, it became immediately apparent that he couldn't continue. We had to retire the car shortly afterwards.
"Despite failing to get one car to the finish through no fault of our own, this was a positive day for the whole team. We may not be as competitive around the fast sweeps of Malaysia, but this result will serve to remind us all that we can race hard at the front whenever the slightest opportunity presents itself."
Yusuke Hasegawa, Honda R&D Co. Ltd Head of F1 Project & Executive Chief Engineer
"The heavy rain that began just before the start made today's race enormously difficult for us.
"Although Fernando made a great start, he was involved in an unfortunate incident at Turn One and ultimately retired on lap eight due to the inflicted damage. I think he would have been able to race with the frontrunners if he had continued, so it was very disappointing for everyone in the team.
"Stoffel's pace was competitive and he drove incredibly well, including overtaking his rivals on a track that is notoriously hard to pass on. He eventually crossed the line in seventh, his best result of the season, taking more precious points for the team. He did a great job today.
"Although we had the package to finish today's race in a better position without incident, it was still a positive step forward for the team that we were able to bring one car home in the top 10."
Ferrari
Vettel had a poor start, and darted across the track to cover off Verstappen in second. Unfortunately Raikkonen in the sister Ferrari had had an excellent start and was barrelling down the inside of the Red Bull. One pincer movement later and Verstappen and the two Ferraris collided. Raikkonen was out immediately, Vettel did make another corner before the damage to his SF70H caused him to spin in a straight line and wipe out his front wing. A double DNF and a bigger deficit in the Drivers' Championship was not the result Ferrari were expecting from a race they had high hopes for.
Sebastian Vettel, DNF
"I had an average start and then I moved slightly to the left trying to defend my position from Max. Then I got bumped on one side as Kimi's car hit me. I'm not sure what happened. I span at turn 3, but that's because the car was damaged already. Today we were on the wrong side of the track, which doesn't help. But there is nothing we can do now and for sure it is bitter, and it's a pity we couldn't show our pace today; but we have other races ahead of us and I am sure there will be more opportunities for us."
Kimi Raikkonen, DNF
"At the start I had a very good jump, then I got hit; that was the end of our race. I don't think I could have really done anything differently to avoid it, apart from doing a bad start and not being there. It's a pity, one of those things you pay a big price for. Whatever the cause or the issue, it doesn't change the end result unfortunately. We go to the next races ready to fight and do our best."
Maurizio Arrivabene, Team Principal
"That was very disappointing and it was definitely not the result we were expecting. But it doesn't mean that the battle is all over, just that it has become more difficult. We are very disappointed for our fans, but we will be back. We proved that we have an excellent car and two great drivers. All of us, those here in Singapore today and those working back in Maranello, we all have the Prancing Horse stamped on our hearts and we guarantee that we will be fighting right to the final corner of the very last Grand Prix of the year."
Williams
Williams split strategies at the start, with Massa on full wets and Stroll on the inters. It was the latter which proved to be the better call, as the Canadian kept his nose clean in a day that required a steady approach. Massa was unlucky - Williams hoped to switch him from the wets straight to the slicks but the track didn't dry quickly enough for their strategy to play out, and he came home just outside the points.
Lance Stroll, 8th
"I think it was a fantastic race. It was raining at the beginning so to capitalise on the start, overtake, and really come through the field due to others making mistakes was fantastic in tricky conditions. Then after that, we ran a steady race. We kept cool. I made one mistake letting Vandoorne by. I just locked up into Turn 7 and he got past but all-in-all, a fantastic result and four points for the team."
Felipe Massa, 11th
"I'm disappointed with my race. First of all, I started on the wrong tyres which was my decision, but I think in that moment you never know what is going to happen. Many cars decided the same as me, some others different, it was my mistake. Then I was nowhere on the track, I was very slow. When the safety car was out I asked to stop but the team decided to stay out. They were saying that maybe the track would dry. I was at the back so it was my only chance in the race. In the end, I stayed out. I was so slow and my race was finished. I'm disappointed for my race but not for the team because Lance managed to score points. At the end, it could have been worse, looking at where we started the race, so not bad for the team but a disaster for me."
Paddy Lowe, Chief Technical Officer
"After a poor qualifying it's great to come out of another race with some points on the board. It was looking like it would be an interesting race as soon as the rain came in. We have never had rain for the race in Singapore and it was remarkably persistent. Lance chose to start on the intermediate tyre in P18 with Felipe opting for the extreme wet in P17. Unfortunately, along with a few other drivers, the full wet turned out to be the wrong choice. There was a big incident at the start which helped us gain some places. In Lance's case he drove a great race. He was one of the earliest to stop for dry tyres and he had good pace on the ultrasoft, taking the advantages at every stage. He put up a good defence as well, particularly towards the end, and managed to get an excellent eighth place for his first finish in Singapore; one of the toughest races on the Formula One calendar. Congratulations to him for achieving that, he'll be very proud of himself for holding steady and driving so well throughout the whole two-hour race. On Felipe's side, he drove well throughout the whole evening, but really the mistake was made at the beginning and it was impossible to unwind from that extra stop that we needed to make. We hoped to jump straight from the full wet to the dry tyre, which is why we tried to stay out longer in the first stint, but we missed that window by a few laps and he had to make an extra stop for intermediates, which really ruined his race. Nevertheless, it was a good drive from P17 to P11, to finish just outside the points. Congratulations to the team as well, to bring two cars home is a really important achievement in a race of such high attrition. Our reliability was good and we collected some valuable points in the Championship."
Haas
Magnussen had a busy afternoon, barging past Ocon and then Massa in a show of bravado that ultimately proved fruitless, as he retired with a MGU-K problem in the latter stages. Grosjean for once was relatively quiet - after gambling on inters at the start, the Frenchman slowly worked his way up the field to record his seventh points scoring finish of the year.
Romain Grosjean, 9th
"I'm very happy for all of us, especially after a difficult weekend where we knew we didn't really have the pace. We chose to start on intermediates, which was ballsy. It was tricky, initially. After everyone pitted, it was the right tire to be on, so I was pretty happy with my choice. We swapped to the slicks maybe one lap too late. I think Kevin did a better job than I did in pitting for the ultrasofts. From there I had a strong battle. I tried to go for (Lance) Stroll. He hit the wall once and I thought that was it, but it wasn't hard enough to get any damage, so he kept going and didn't make any other mistakes, so I couldn't pass. Mentally it was a tough race. The conditions were horrendous, initially. You couldn't see anything. I'm very happy we've scored points here."
Kevin Magnussen, DNF
"I was gutted not to see the checkered flag. It's very frustrating, but it happens sometimes. It was tough out there, but it was fun. It was challenging, but good on Formula One for letting us race and not having to start behind a safety car.
"I was getting heat into my tyres again, because obviously I'd gotten out early on the tires and lost a bit of temperature, so they were building up. I was asked to swap, then I lost another position letting Romain past and getting wet tyres. Then we had an issue, so in the end it didn't matter."
Guenther Steiner, Team Principal
"To go away with two points here, for sure we worked hard for it, but we didn't expect it. All in all, we got a bit of a good end to this. On the other side, we're now eighth in the championship and not seventh. Coming in here we knew these things could happen, but we will fight hard to get back to seventh. Our drivers, our whole team, did a good job. There was nothing wrong with our strategy today. We always reacted very well. Both drivers kept the cars safe. Kevin would've brought his home but he had an electronics issue. We'll investigate that and why we had to shut it down. Romain did a good job and came home ninth with two points. We keep on going."
Sauber
Ericsson made it two crashes in two days - this time sending the rear end of his C36 into the wall on the Anderson Bridge and bringing out the safety car. Wehrlein kept out of trouble but ran the full wet tyres far longer than anyone else and thus lost so much time, he was never competitive.
Marcus Ericsson, DNF
"It was a difficult race for me today, especially due to the weather conditions we had to work with here in Singapore. I had an ok pace in the beginning, and was able to keep up with my direct competition. I then lost a lot of time due to an incident in one of the pitstops. I was pushing hard to make up for lost time, and went a bit over the limit. Unfortunately, that caused me to spin out of the race. Overall, a disappointment."
Pascal Wehrlein, 12th
"It was quite a chaotic race for me. As the track slowly started to dry, we decided to stay out on wet tyres and wait for the opportunity to change to a set of dry tyres, as soon as the track conditions would allow. However, the track did not dry up as quickly as we had anticipated, and the change to intermediate tyres was too late. Later on during the race, I lost more and more time due to many consecutive blue flags."
Frédéric Vasseur, Team Principal
"It was a tough race for us. Both of the drivers were on wet tyres when we split their strategies – Marcus changed to intermediates. Pascal was still running on wet tyres, as we were waiting to put him onto the dry compound. Unfortunately, the track did not dry up as quickly as we expected it to. He lost a lot of time due to several blue flags later on during the race. During Marcus' pitstop, there was a system error, which led to miscommunication. Overall, a very disappointing race for us. The procedures have to be revised to avoid repeating such situations in the future."
Toro Rosso
Toro Rosso were one of the few teams to opt for intermediate tyres from the start, a gamble that looked to have paid off as Kvyat scythed round the outside of Magnussen. The Russian's exuberance was short-lived however, as he crashed into the wall moments later. Sainz kept a cool head throughout, pitting just the once to switch to the durable supersoft tyre and as such coming home in fourth, his best finish to date.
Carlos Sainz, 4th
"WOW! What a day, what a result! I'd say this is probably my best day in Formula 1 up until now! After a weekend with so much media attention, to put together a perfect weekend and finish the race in P4 is just amazing. To start the race on intermediate tyres, then switch to the supersoft - where I struggled a bit during the first laps - and then make it to the end without losing positions is just the perfect way to celebrate a difficult weekend…it's definitely one I will always remember! I have to say that the most difficult part of the race for me was the start of my stint on the supersoft – it was not easy at all! I tried to do my best during the out-lap but Hulkenberg managed to overcut me… Luckily for me he then had a problem and from then onwards it was all about defending from Checo, who had been faster than us on Friday and also was on ultras! It was very difficult to keep him behind, looking in my mirrors the whole time, but in the end we did it! I had my flight booked to go back home tonight, but I'm definitely cancelling this – we need to celebrate this excellent result all together, this team have also done an amazing job this weekend… Thank you!"
Daniil Kvyat, DNF
"What a shame. Unfortunately I made a mistake and missed a good opportunity of scoring a good result today. I managed to overtake Magnussen and straight after that I locked my front wheel and went straight into the wall… I didn't expect this to happen so. It's very disappointing, but this is how it is sometimes."
Franz Tost, Team Principal
"What a fantastic result today, we've equaled our best race result since our win in Monza 2008, another P4! Carlos did a fantastic job, keeping everything under control in a difficult situation at the beginning of the race, going through a long and demanding race and bringing home a fourth position finish and 12 points. The team also did a fantastic job in all aspects. As for our decision to go on supersofts, we did this because we thought this would have given us an advantage towards the end of the race. However, with the Safety Car and tyre warm-up, this call was not without its challenges, but it worked out in the end. The mechanics were very good, delivering fast pit stops, and I'd like to thank the whole team because we've all worked very hard for this fantastic result. We've taken our chances today, been aggressive and not been afraid to try something different and this has paid off here. This now makes us all very happy and in a very positive mood before travelling to the next Grand Prix in Malaysia in two weeks' time."
Renault
A case of what might have been. Hulkenberg kept out of trouble to run in third place in the early stages, but a moment of indecision by the team over whether to pit immediately at the safety car cost both him and Palmer positions. From there, fourth was still a possibility before an apparent hydraulics issue forced the German's retirement. Palmer was one of the few drivers to try an overtake in the early difficult conditions, getting past Bottas in a daring move, and came home solidly in the points in what is arguably one of the best outings he has had in the R.S.17.
Nico Hülkenberg, DNF
"It was a very disappointing race, you put in a lot of hard work throughout the weekend and then these things happen. It's not great but it is a technical sport and a team sport. Unfortunately we had some technical issues with the engine and we had to retire the car."
Jolyon Palmer, 6th
"I'm so happy, it's been a long time coming but today everything fell into place. It was a tricky race with the drama at the start and the heavy rain but the circumstances put us in a good place to score some points. We had a good strategy, good pit stops and the car was good in the wet conditions. The next race should be even better."
Cyril Abiteboul, Managing Director
"Tonight's race was exciting and full of action with the rain and many safety cars - as it's often the case in Singapore. We walk away with mixed feelings. On a positive note, Jolyon was able to get into the points for the first time this season and achieve his best result ever in F1. Despite the circumstances, he drove an error-free race on a night where it would have been easy to make many. He was able to help the team in its progress for the Constructors' Championship, we now sit in seventh place and closer to reaching our goal for fifth position. The final races are well suited for our cars and our target remains unchanged.
"On the other hand, we feel very sorry and I want to apologize to Nico for having to retire his car. We had an oil leak which translated in his car having to take a performance penalty in the earlier part of the race and even tried an intervention during a long pit stop. Despite all our attempts and a great teamwork from all his car wouldn't have made it to the end so we retired for preventative measures."
Pirelli
Mario Isola, Head of Car Racing
"The start of the race was unknown territory for everyone, with no wet weather running during the weekend up to now. This tactical uncertainty was compounded by the first of three safety cars, immediately after the start, meaning that strategy was mainly a question of reacting to changing circumstances on track. Intermediates were generally the best choice for the conditions during the first half of the race, although the full wets also performed strongly on a track that was only drying out very slowly. Once the surface was dry, track evolution happened quickly, with everyone apart from Carlos Sainz – who drove a fantastic race – opting to finish the grand prix on the ultrasoft."