Feature
What the teams said - race day in Sochi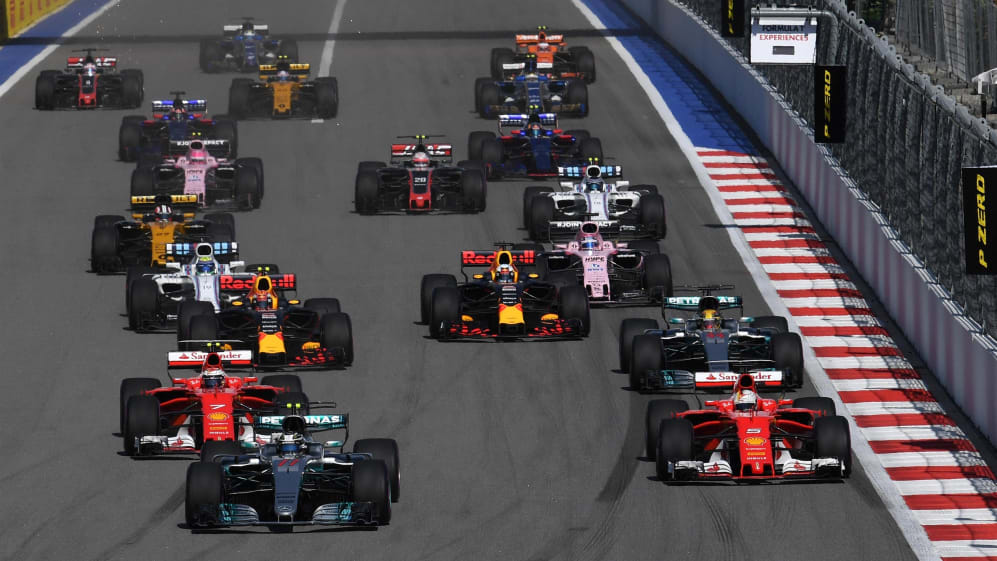 A round-up of all the action from Sunday's 2017 Formula 1 VTB Russian Grand Prix at the Sochi Autodrom...
Mercedes
Bottas put in a near faultless performance for a well-deserved maiden win, overturning pre-race predictions of a certain Ferrari victory. As had been the case all weekend, Hamilton could not match his team mate and - hampered by overheating issues - he never looked likely to challenge for the podium.
Valtteri Bottas, 1st
"It's going to take a while to sink in. Normally I'm not that emotional but hearing the Finnish national anthem was very special for me. It's all a bit surreal, the first win and hopefully the first of many. It was definitely one of my best races ever. The pressure from Sebastian wasn't too bad; the main issue was with the lapped cars, trying to get past those. It was tricky to pass them without losing time. I also had a lockup with about 15 laps to go that hurt the pace, but it was manageable. I asked for a bit of radio silence just to get on it and focus. I'm sure this victory will give me lots of confidence going forward. I knew I could do these results, I always trusted my ability, but this result confirms it."
Lewis Hamilton, 4th
"A big congratulations to Valtteri. He did an exceptional job today and he really deserves it. He's been fast all weekend and he's done such a good job for the team. He's a fantastic teammate to work with and it's such an amazing feeling winning your first Grand Prix. For me it was a very tough weekend. I just wasn't quick enough. I've never had cooling issues like that before but it meant I was out of the race from the get-go. I think I had the pace to fight with Kimi, but the car just kept overheating. Ultimately, if I had better pace then I would have been further up. At least I got some good points for the team. I'm just hopeful that I can pick up the pace at the next race."
Toto Wolff, Head of Mercedes-Benz Motorsport
"A fantastic first win for Valtteri this afternoon and an amazing day for him. He controlled the race perfectly: a great start, then a perfect restart after the Safety Car and a fantastic first stint where he built the gap on the UltraSoft. But then it got tense: we stopped, didn't quite have the pace on the SuperSoft, hit traffic and it needed nerves of steel to handle the pressure in those final laps with a four-time champion closing in. But in the joy of Valtteri's first win, the result was also a reminder that we still have work to do. Lewis had to manage temperatures from very early on, which meant he couldn't unlock the potential of the undercut around the stops. After that, it was a question of managing the race and collecting the points. But it's clear we didn't give him the car to do the job this weekend and it is a priority for us to sort this out before Barcelona."
James Allison, technical director
"We're all so pleased to see Valtteri on the top step of the podium. A driver's first win is always very special but especially when it comes like it did this weekend, off the back off some difficult sessions. That makes victory all the sweeter. Our happiness is tempered though by the fact that we couldn't get Lewis into a position where he could be properly competitive. It's a reminder to us that we have more work to do before we can put a car on the track for both Saturday and Sunday that we know is going to absolutely top rank competitive, which is what we'll need to do in this, such a hard-fought and competitive season."
Ferrari
The Italian team didn't have the edge on race pace that so many had predicted, at least early on, and once Bottas made the better getaway, they were on the back foot. Vettel gave it his all at the end, but it wasn't quite enough - while Raikkonen's pace bodes well for Ferrari's constructors' title chances.
Sebastian Vettel, 2nd
"I think my getaway was ok. Maybe I could have been a bit more aggressive. There was a delay in turning the lights off, so that I didn't get a proper reading of how the grid was. Still, I had a good start but we had a strong head wind all day and Bottas could get a massive tow, so there was nothing I could do. Valtteri had a great race. He drove better than the rest of us so he deserved to win. Towards the end I was flat out, I had a feeling that I could get into DRS distance, maybe on the back straight, put some pressure on him and, who knows, lead him into a mistake, but he made none. What happened with Massa was just a bit of a misunderstanding, I wasn't sure where he was going, but I did not lose the race at that point. Now we look ahead to Spain. We had a good answer about our car in Barcelona during testing days and I don't need to think about the championship. We had a very good start. We are here to win, to do our best, but we can still learn and improve. The speed was there today, but we could have done better. Yet, we have a strong car and a strong team and there is a lot of positive aspects."
Kimi Raikkonen, 3rd
"Overall, it has been a more positive weekend compared to the first three races. I was happier with the car and when I needed to push I could get the lap time out. The race was decided at the start and I had a pretty bad one. I thought I was losing a lot, but I managed to get the position back and stay there. My car was good all the way through the race, but after that, not a lot happened. We tried our best but there was not much to do, I was just holding my position. So, obviously, I'm happy for the podium, but I'm disappointed to lose a place at the start instead of gaining one. Now we need to keep working; small details can make a big difference in the end. I'm very happy for Valtteri who won his first race, I'm sure he will have a bright future."
Maurizio Arrivabene, team principal
"A shame, because today's result could have been better. We didn't get a great start and that penalised us for the rest of the race, on a track where overtaking is difficult. Our race pace was very good, as indeed was our strategy. Once again, both Seb and Kimi proved their worth, driving great races. Now it's already time for us to look ahead to the next Grand Prix in Spain."
Red Bull
They knew they were never likely to challenge Mercedes or Ferrari, so Verstappen's fifth place was the best Red Bull could have hoped for. They would have preferred both cars to finish, though - for the second race in succession they hit brake issues, this time on Ricciardo's car.
Max Verstappen, 5th
"The start was very important today and ended up being the only action of the race for me. I managed to get past Felipe and Daniel and from there on it was a very lonely race. I could see the cars in front of me pulling away and I was pulling away from the cars behind so I just tried to manage the car home. After the issues we had this morning luckily nothing upset me or the rhythm during the race so I just had to bring it across the line. The mechanics did a really good job sorting the issue in such a small amount of time and giving me a car to complete the race in P5. The pace was not so bad in the last stint which is another positive to take away from this tough weekend. Towards the end you naturally start to turn things down on the car to be safe. We maximised the opportunities we had so now we can look forward to Barcelona, the upgrades are coming and we can hopefully start to get involved in the fight at the front. Barcelona is obviously a very special track for me following last year's race so I am excited to return and see what we can do."
Daniel Ricciardo, DNF
"The start felt pretty good initially, I seemed to get away quicker than the guys in front which backed me up and meant I lost momentum. I was then a bit of a sitting duck on the outside line losing track position but it looked like it would be a good battle from there. After the safety car I looked in my mirror to see where the Force India was and I noticed that the right rear brake was on fire, I reported it to the team and they told me to bring the car back to the pits slowly. Unfortunately the issue could not be fixed and I had to retire from the race. It was early in the race so I don't know how much the safety car and two starts impacted us but the team will obviously investigate that. It's frustrating, on a Sunday you just build up for the race and try to store up your adrenaline to use at 3pm but today it was over very quickly and unfortunately I didn't get as much of a fight as I would have liked. We don't know how much the new package will give us until we get it on track in a few weeks but we are hoping Barcelona is the first step to getting closer to the leaders."
Christian Horner, team principal
"Firstly, congratulations to Valtteri Bottas on his first Grand Prix victory, a great win for him. For us, it was a real disappointment to lose Daniel early in the race with a right rear brake issue, straight after the safety car restart. We need to understand exactly what the cause of failure was; the outcome was similar to that which happened with Max in Bahrain but it looks like a different issue, so that needs thorough exploration. Max drove a strong race today, he had a good start but then he was in only racing himself in no man's land; putting a significant gap to the cars behind but not being able to keep up with the cars ahead. So, at a circuit that we know doesn't play to our strengths at least we got to our optimum with Max and hopefully in Barcelona we can start making some progress."
Force India
All smiles at Force India as they maintained their perfect 2017 record of getting both cars in the points at every race, as Perez took an impressive sixth, with Ocon an equally respectable – and career-best – seventh.
Sergio Perez, 6th
"Sixth place feels very satisfying and with Esteban in seventh it has been a really positive day for the team. We've consolidated our fourth place in the championship and I'm seventh in the drivers' championship – which is a tremendous effort from the first four races. The race today was not especially exciting for me because I was always on my own in clean air – chasing the cars ahead and pulling away from the cars behind. So there were no on-track battles and I could simply focus on managing my race and bringing home the points. The team did a great job with the strategy – waiting until the right moment to pit and not coming in too soon. Once again, we took all the opportunities that were on the table and we can feel very happy tonight."
Esteban Ocon, 7th
"It feels great to finish in seventh after such a strong performance from the whole team. I am very happy with what we achieved this weekend: we improved in every session and never went backwards. From the mechanics to the engineers, everyone did a great job and we can be proud. I feel there is nothing more we could have extracted from the car: the only negative from the race was a poor start, but I managed to get those positions back before the first lap was over, so it was all good in the end. Finishing in the points in all of the first four races is a great way to start the season and the best I could have hoped for. We are in fourth position going into Barcelona, where we expect some upgrades to be on our car, so we can be confident about the future."
Robert Fernley, deputy team principal
"Congratulations to the whole team on another double points finish. The 14 points scored strengthen our fourth place in the championship and are a nice reward for a weekend where we maximised all our opportunities. Esteban achieved his best ever result in Formula One and continues his 100% points-scoring record with us. Sergio's sixth place means he has now finished in the points in fourteen consecutive races and that's a wonderful achievement. The one-stop strategy was clearly the way to go today and we made all the correct calls from the pit wall. All in all it's been a very encouraging weekend: the car has worked well; we've made good progress with our qualifying speed and scored points once again with both cars on Sunday."
Renault
Palmer's race was over two corners in after his tangle with Grosjean – a racing incident said the stewards – but Hulkenberg put in a sterling drive to eighth. The German was the last man to pit, incredibly eking out his ultrasoft tyres until lap 41 of 52.
Nico Hulkenberg, 8th
"I'm really happy with the strategy we ran today; there wasn't too much left from the tyres at the end of that first stint, but we achieved what we set out to do. I lost track position at the start so we let everyone else pit ahead of us and went as long as we could go on the first set of boots. I kept pushing and the car performed really well, staying switched on with the track improvement meaning I was able to get faster and faster. I was definitely happier with our race pace today; we've still got more work to do but we've clearly taken a step in the right direction this weekend."
Jolyon Palmer, DNF
"I had a decent-enough start then heading down to Turn Two there was a Sauber on my outside then Romain made a very ambitious move over the kerbs on the inside from behind. There was no space for me to go because of the Sauber, so maybe Romain wasn't aware of that, but he kept it in, hit me, then we were both out of the race. That was a shame for both of us really. I feel for my crew this weekend as they've worked so hard on the car, then we had such a short race. Now it's reset, reload and look to Barcelona."
Cyril Abiteboul, Managing Director
"Another step forward for the team this weekend, not only confirming that we are regular top ten qualifiers but also showing that our race pace has improved relative to our qualifying performance too. Today was a really exciting race for Nico as we ran a reactive strategy after a poor first lap, trying to take the fight to the Force India cars as best we could. With a unusual strategy, we kept the pressure on them for most of the race, but eventually Nico had to manage his fuel and could not really threaten Esteban. We did everything we could at a circuit we knew would not be one of the most favourable for our package. Our overall performance gives us strong optimism as we head to tracks which should be more suited to our car, especially as we have a healthy development program lined-up. Jolyon had a very tough race weekend with a very short race after Romain's ambitious move. It is a real shame as he had shown clear signs of competitiveness on Friday and Saturday. We owe a big thanks to everyone in the garage this weekend as there have been some very long hours worked, without a single fault. Finally, congratulations to Valtteri Bottas on his first Grand Prix victory."
Williams
Two points, but it could have been so much better for Williams. Stroll at least recorded his first F1 finish, in 11th, but only after a costly spin on the opening lap. Massa, meanwhile, looked set for a safe sixth until he was forced to make a second pit stop due to a puncture.
Felipe Massa, 9th
"I'm disappointed, we were just unlucky with the tyres. I was really taking care of the car and the tyres, keeping the gaps in the right place, and we had a sixth position in our pocket today. It is unfortunate and painful for the team that we have lost good points, but we can't do anything about it. The car felt good, it was consistent with a good pace, I had a good start and first lap. I was around eight seconds ahead of Perez, we were just unlucky. I'm so happy that Valtteri managed to get his first victory. I knew when he signed for Mercedes that he was going to do a good job there, like he did for Williams, and he's doing it. He will be a different driver now with that first victory in his pocket."
Lance Stroll, 11th
"It was so unfortunate. I had a really good start and think I was around P8 at one point, and then I got squeezed on the kerb, there wasn't much grip and the car just got away from me. I knew I didn't have any damage, but I fell to the back and it was just one of those things that happens. After that, it was a difficult first stint because I had that spin and then had to spin the car round to keep going, and I overheated the rears quite a bit so I had poor grip. But then I recovered a bit on the second stint and saw the chequered flag for the first time, which was nice. It was a bit disappointing with the spin, as I think it could have been quite a bit better, but we will take our first finish."
Paddy Lowe, Chief Technical Officer
"It was a very disappointing day because we were in great shape for some good points. Felipe drove a fantastic race, but we had two slow punctures on his car. The first one wasn't too damaging because it came at a reasonable time for a one-stop strategy, but the second one took him well out of position to ninth, which is a much worse result than the sixth place he was on for. On Lance's side, he had an unfortunate spin very early on, but drove a good, solid race after that and narrowly missed out on the points. Without the spin he could have certainly been in the points, but he put in some pace when he needed to and gained a position through the pit stops, and it's great that he's got his first race finish of his career. Overall we're disappointed, we need to understand the reasons for the punctures as there may be more to it than bad luck. We'll look into that, and look forward to getting better results in Spain, which the car and the drivers deserve. Finally, congratulations to Valtteri for his first race win. We consider him a home driver, he learned a lot of his craft at Williams and we're delighted to see him get his first victory in Formula One."
Toro Rosso
The Italian squad failed to achieve their target of both cars in the points, as only Sainz was able to crack the top 10. Home hero Kvyat had a tough afternoon and was unable to improve on his 12th-place starting position.
Carlos Sainz, 10th
"What a tough race, especially as we were starting from behind because of the grid penalty… But today we got everything right: the start, the first lap, the pit-stop, the strategy… So we can be happy! We did a good race and recovered well from P14 to P10, which I think was the maximum we could do this weekend. After the pit-stop it was a bit of a lonely race for me and I just had to control the gap to Stroll, which we managed to do well. I must say that now I'm really looking forward to the next race in Barcelona – it's a track where I've always performed very well and to race in front of my home crowd is always very special. I also have my own grandstand there, so a lot of people will be coming to support me and this will surely be one of the highlights of the weekend."
Daniil Kvyat, 12th
"My start today wasn't the best and I lost a bit of time there. During my pit stop, we managed to get past Magnussen even though we then got undercut by Stroll and during my second stint I was unfortunately blue-flagged quite a lot and lost some more time having to let the leading cars by. I'd like to point out that my first comments after jumping out of the car this afternoon were maybe a bit too hard on the team – after having sat down with my engineers I understand why the team called me in a bit too early for my pit stop: at the time, it was a very difficult call to make and nobody knew that the leading teams were going to stay out for so long. On a positive note, the last part of the race, in clean air, was fantastic – we were flying and the car felt great! We now need to bring what made the car so good into the next races."
Franz Tost, team principal
"Sochi wasn't an easy race weekend for us, as we struggled with the speeds on this circuit's long straights. Therefore, we didn't manage to do a good qualifying session yesterday. As for today's race, in the end, both cars saw the chequered flag and Carlos managed to score a point, which is important for the constructors' championship. We knew from the beginning that this would have been a tough race for us, but we are positive for the future and looking forward to the next race in Barcelona. We will be bringing some upgrades there – let's see what the rest of the teams do, but I'm confident we can get back into the fight for the top positions of this intense midfield battle."
Haas
Not a great day for the American team. Grosjean ran into Palmer on the opening lap, with both men retiring in what was deemed a racing incident. Magnussen could then manage no better than 13th, his progress in a very tight midfield hampered by a five-second time penalty for ignoring track limits at the start.
Romain Grosjean, DNF
"We had a great start and I was on the inside of Palmer under braking. I don't know why he turned in. I was there and then he turned in. I tried to get as much as I could on the apex, but he just hit me, spun and came back and hit me again. The car was badly damaged and our race was over. I was full of hope that we could understand what was going on over the weekend, get some more mileage and understand things so we can perform at the next race. Though we were maybe not going to score points today, it's always good to be able to see what we could do."
Kevin Magnussen, 13th
"It's been a bit of an off weekend for us, but we've learned from it. We've had some strong weekends in the first three races, then not so strong this weekend for some reason. I guess you always learn and I don't think this is representative for the rest of the season. It's difficult when you have a midfield that's so tight. It doesn't take a big mistake before you fall back. It's not ideal, but I'm looking forward to the next race and the rest of the season."
Guenther Steiner, team principal
"The weekend ended how it started – badly. I think the best thing we can do is put it behind us and concentrate on Spain. Obviously, Romain had the incident when Palmer ran into him at turn two. That was his race done. With Kevin, he got the five-second penalty and that put us out of the running. We just lost too much time and that was the race. We just tried to bring the car home because there was nothing to be gained or lost. We started 13th, we finished 13th. Now we go to Barcelona."
McLaren
Another difficult afternoon for the Honda-powered team. ERS problems meant a frustrated Alonso didn't even take the start, and Vandoorne picked up an early five-second time penalty for infringing track limits. The Belgian at least made the finish, albeit in 14th place, but at least ahead of the two Saubers - who, it was announced today, will also use Honda engines next season.
Fernando Alonso, DNS
"It's tough, it's frustrating – every weekend is the same.
"My power unit didn't have the usual power during the formation lap, so my engineer told me to change some settings on the steering wheel. Unfortunately, that didn't work and towards the end of the lap the engine shut down. My race was over before it started.
"Not being able to take part in the race today and not being able to finish any race so far this season is extremely tough.
"But Formula 1 is my life, so hopefully we can improve the situation soon."
Stoffel Vandoorne, 14th
"From my side, 14th position was pretty much the best possible result today. I had a decent start but had to avoid a first-corner accident, which meant I got a five-second time penalty for missing the markers at Turn Two.
"However, I don't think that did anything to change today's result. It was a pretty normal race, we ran at our own pace, I did the maximum possible and I think 14th is a fair reflection of where we're at.
"Fernando not being able to start shows that there's still a lot of work to do on the reliability side – that's two races in a row where two McLarens haven't started. That's a shame, but at least we got to the finish – that meant a lot of learning for the team and a lot of learning for myself.
"But, in terms of pace, we're still not quick enough – that's for sure."
Eric Boullier, Racing Director
"You cannot hide behind a result like this: finishing 14th is not why McLaren-Honda goes racing, and, believe me, we are working hard to make sure this level of performance doesn't last for long.
"That said, it's still extremely disappointing to run into reliability and performance issues during a race weekend – we must work together to pull ourselves out of this position.
"Given the performance limitations he had today, Stoffel drove a very measured and efficient race, doing everything that was asked of him to look after his tyres and fuel. As I say, 14th is not a notable result, but it's exactly what we could expect from his car this afternoon. It's pleasing that he was able to make the finish and gain some useful mileage.
"As for Fernando, I share his frustration – it's not acceptable to start the second consecutive grand prix with only one car, and we need to address this shortcoming immediately. He is naturally disappointed, but things will get better."
Yusuke Hasegawa, Honda R&D Co. Ltd Head of F1 Project & Executive Chief Engineer
"We've had an incredibly difficult and ultimately disappointing weekend here in Russia.
"That said, it was a positive that Stoffel finished the race, especially in such tough conditions, starting from the back of the grid. Today his running was impressive and he kept consistent pace in a difficult situation with tyre and fuel management. Stoffel hasn't had an easy start to the season with many issues during each race weekend, so we're happy that he finally took the chequered flag, albeit in P14 which is of course not where we want to be.
"Fernando lost the power from his deployment with the system failure of ERS during the formation lap. Although we tried to fix it by rebooting the system while running, we weren't able to recover it. As a result, we had to stop the car out on the track and were unable to start the race. We'll be investigating the cause of the system failure.
"It's a big disappointment for us that we're not able to complete the race with both drivers, but we will move forwards from this and keep pushing. We're expecting some updates to the PU over the next few races, and we'll continue working on our development in order to be more competitive with better reliability."
Sauber
A weekend to forget for Sauber was capped with seeing their cars fill the final two spots in the finishing order, with both Ericsson and Wehrlein struggling to switch their tyres on around Sochi's super-smooth tarmac.
Marcus Ericsson, 15th
"It was definitely not a satisfying race for us. Especially the first stint after the safety car which was just not good. I was struggling a lot with the balance of the car and the tyres were not working properly so I had difficulties keeping up with the pace of the cars in front of me. The second stint was ok, and I was able to make up some ground to the car in front of me. Overall I felt we took a step back in terms of the car balance in the race compared to the rest of the weekend. We need to analyse what we can improve to be more competitive in the races for the upcoming GP weekends."
Pascal Wehrlein, 16th
"Since the practice sessions on Friday we knew that the race on this track would not be in our favour. During the race I wasn't able to bring the tyres into the optimal working window which resulted in our less competitive lap times. In general I felt uncomfortable in the car this weekend. Now we need to look into the data to understand the reasons. I hope that we can put in a better performance during the upcoming Grand Prix in Barcelona, where car updates are planned."
Monisha Kaltenborn, team principal
"Considering the whole weekend, we unfortunately expected such a result. Despite these circumstances and limitations of our car, Marcus showed his fighting spirit. Once again, he proved his strength and didn't give up in difficult moments – it shows, that Marcus is an important support for the team. It is a shame that he was not able to overtake the car in front of him. Regarding Pascal, we need to analyse why he was having some issues. We have to tick off this result and concentrate on our updates that we will introduce in Barcelona."