Feature
What the teams said - Race day in the United States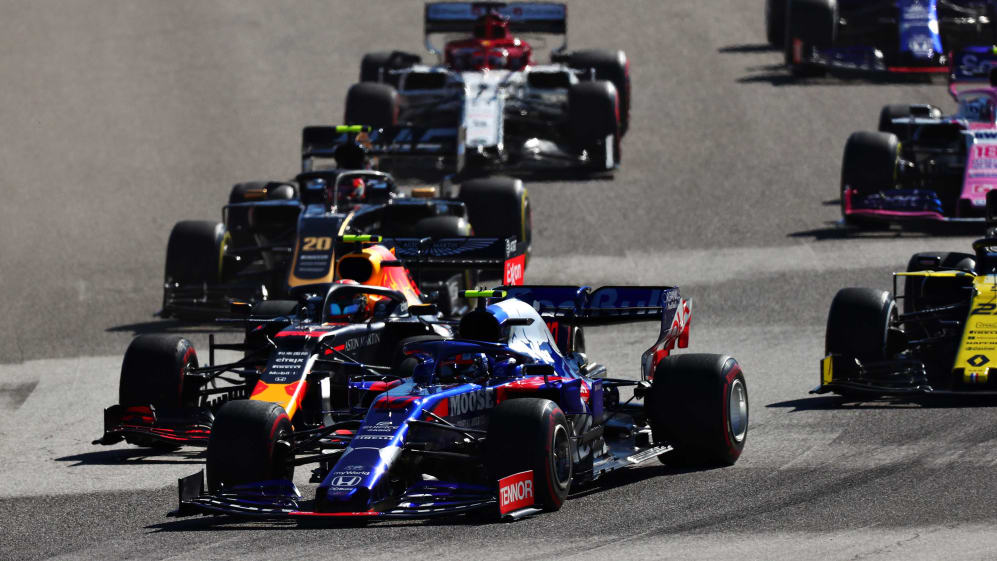 Mercedes
Bottas led from the start and looked to be serenely heading for victory. But running a two-stop strategy in contrast to his team mate's one-stopper, the Finn had to work for the win by passing Hamilton on track, which he did with the help of DRS. It was his fourth victory of the season but, with Hamilton coming home a fantastic second despite starting fifth, it wasn't enough to keep the drivers' championship alive. Instead, it was Hamilton who deservedly won the title for the sixth time.
Lewis Hamilton, 2nd
"It's hard to explain what I'm feeling right now, to be honest. Cloud nine doesn't even get close, it's somewhere far above that. It's been the hardest year I can remember; it's been so challenging, going through the ups and downs, so right now I'm just so full of emotion, it's overwhelming. I feel truly humbled, and really, really grateful to everyone back at the factories, the entire Daimler family and everyone at Petronas - everyone who has worked so hard to enable us to do what we do and achieve this. It's such a privilege and honour to work for this team, to be able to go out there and have the platform to put in performances like today. And Niki, I miss him so much. Today, he'd have taken his cap off. I wouldn't have been able to do this without Niki, he's here with us in spirit. I saw my parents right after the race and seeing my dad's smile, it says it all. My family have supported me since day one, they worked so hard for me to be here today. I'm so glad they could all come out here, together. Yesterday was a difficult day and today I just wanted to recover and deliver a one-two for the team. Valtteri did a fantastic job, so huge congratulations to him."
Valtteri Bottas, 1st
"First of all huge congratulations to Lewis - six championships is an impressive achievement! He had a strong season and he deserves the title, he was better overall. Lewis is a tough opponent, he has very few weaknesses, makes almost no mistakes and drives very consistently. But I've been gaining some good momentum, so I'm looking forward to another close fight with him next year. It's been a really good weekend for me and the team. I struggled at this track in previous years, so it was great to cross the line in first place. It was not an easy race; I had a strong start and a good first stint, but we had to switch to a two-stop to cover Max and I was a bit worried that Lewis on the one-stop might be on the better strategy. It was a proper fight and quite a bit of fun; I had to really push, but my pace was strong and I managed to catch Lewis towards the end. We had a good battle on track and I passed him to secure the win. It feels really good to win the race like that when you have to really fight for it."
James Allison, Technical Director
"The amount of effort it takes to win a championship is huge, so when it all comes to the final fruition, you just swell up with great, great pleasure - and to have the cherry on the cake of standing on that podium looking out on our team and everybody in the crowd was fantastic. It's brilliant to be part of this team - it makes you really keen to work, it takes you way above and beyond what you would normally give because you're surrounded by all these people that you don't want to let down and you enjoy being in an environment that is supporting you, letting you take risks, letting you screw up, but not slapping you in the face for it, just urging you on collectively as you go. It's an exciting place to be and it tends to make people want to be in it. Today, we all think of Niki who was such an important part of our team. Losing him was quite a massive blow, particularly to Toto who spent so much of his working life with him, but for all of us as well, because Niki was someone with such a big personality, such a huge figure in our sport and such a friend to the team. I think he would have appreciated this - doing it in such fine style this year, he would have seen this as a team at the top of its game. He'd probably be telling us to work on next years car now, but I think we've done him proud this season."
Toto Wolff, Head of Mercedes-Benz Motorsport
"I'm so proud of everyone - what an incredible achievement! There's a massive amount of work behind the scenes to secure a result like this, where one driver claims the Championship and the other one wins the race. A massive thank you to everyone who contributed to this - here at the track, back at home in Brackley and Brixworth, at Daimler in Stuttgart and at Petronas in Kuala Lumpur. Taking his sixth drivers' title is a truly remarkable and special achievement. You can see how motivated Lewis still is, he wants to win every race and get the best result possible. It's not been an easy year, with tough competition and the loss of Niki. I'd like to think Niki's looking down on us, tipping his cap after today's result. Valtteri drove an absolutely faultless race today, he has been on incredible form all weekend and he thoroughly deserved the victory. Lewis fought back in style and put in a great drive to go from P5 to P2."
Red Bull
Verstappen made a good start and ran second through the opening stages. He wasn't quick enough to undercut Bottas, and lost a place to Hamilton who ran an alternate strategy. Pushing hard, he nearly caught the Mercedes but was thwarted by yellow flags on the last couple of laps and had to settle for third. As for Albon, he suffered damage in a racing incident on the first lap and after pitting was running a solid last. The Thai driver did a brilliant job to work his way through the field and finished fifth, which earned him the fans' vote for Driver of the Day.
Max Verstappen, 3rd
"For us, it's been a positive weekend and I'm very happy to finish third on a track like this. On the last few laps, the yellow flags hurt me and I couldn't pass after the straight, otherwise I think we could have finished second. After the race I realised I was missing quite a big piece of my floor which is a shame as I think we could have been even more competitive otherwise. I had a good start and then I tried to follow Valtteri but it seemed like they had a bit more pace than us so to finish roughly five seconds behind him is a good achievement, especially considering our car damage. I think the two stop was the right way to go and I don't think we could have done anything differently as it was the fastest strategy for us. I think we've taken a good step forward and we're back in the fight. It's still not going to be easy but we won't give up. It is of course very impressive for Lewis to win his sixth title and you have to be very consistent to achieve that so he deserves it."
Alex Albon, 5th
"I've enjoyed my first weekend in America and I think we did the best job we could with P5. The start was strong but I'm a bit frustrated with Turn 1. I need to watch it back but it felt like I got squeezed and obviously had nowhere to go as three into one is a bit difficult! I don't think it was anyone's fault, it was just racing, but I had to run over the kerb which damaged my floor and front wing. From there we had to pit and I lost a lot of time so our race was pretty compromised, otherwise I think maybe we could have fought Leclerc for P4. In the end it was a strange race but it was fun and I enjoyed some good overtakes to get back to the front. Considering we had no safety cars and had floor damage, I think we did well to make our way back through the field."
Christian Horner, Team Principal
"It was a really strong drive by Max today. He got a good start and then he picked up some front wing damage on the first lap so we elected to go for a two stop strategy versus Lewis' one stop. Max was able to keep Bottas in sight throughout the three stints and closed to within a second of Hamilton towards the end of the race. An unlucky yellow flag over the last couple of laps prevented the chance of a Max overtake but nonetheless P3 here in Austin has been the end to a very strong weekend. For Alex, he was unlucky at the start when he got involved in a pincer type movement up at Turn 1. This meant his front wing needed changing on the first lap and thereafter his recovery was fantastic. He did some great overtaking and showed strong pace to get back into P5 which makes him Driver of the Day and moves him up to P6 in the championship. He is showing solid progress and congratulations also go to Lewis Hamilton on his historic sixth World Championship which is truly quite a feat and well deserved."
Ferrari
Vettel went backwards at the start, struggling heavily with understeer and a loss to explain the feeling in his car given he hadn't sustained any damage. It all became clear a few laps later when he suffered a suspension failure, immediately pulling over and retiring. As for Leclerc, he too struggled for pace on both the hard and medium compounds and couldn't stick with the top three today in a disappointing showing for the team.
Sebastian Vettel, DNF
"I am very disappointed that I had to retire, because I was hoping for a good race. I had very poor grip on the first lap and had to let a lot of cars by. I struggled to get the car to work, especially in right hand corners, maybe something was already broken on the car. Then, after seven laps the suspension failed over the bump in Turn 8. At that time, I hadn't done anything different to the previous laps over the whole weekend. I think today we had the potential for a podium, so it's a shame. Finally, I want to congratulate Lewis for his wonderful achievement."
Charles Leclerc, 4th
"It was a really tough race, especially during the first stint where the front tyres did not feel right. It was difficult to find the grip and we have to look into how exactly that happened. The other two stints were a bit better, but not good enough. Our competitors were just too quick, so it was a rather lonely race for me today. It's a shame for the team that we didn't finish the race with both cars. Congratulations to Lewis for the title. He is a great champion and deserves it."
Mattia Binotto, Team Principal
"First of all I'd like to congratulate Lewis for clinching yet another World Championship title. It is well deserved and was achieved in style.
"As for our race, we were expecting much more from today. Seb had a problem with the right rear suspension, when the upper arm broke at a very early stage of the race. We think this issue was probably there from the first lap, but we need to look into it to understand exactly what happened.
"Charles' race was compromised by his first set of tyres, on which he had no grip at all. We could not understand why he was so slow and off the pace. In the second and third stint he had good pace, but it's difficult to compare it to that of the others, as everyone was in a different tyre situation at that point. In the final stint, he then found the car much more to his liking on soft tyres and set the fastest lap.
"We now have a lot to analyse and to understand. We are deeply disappointed as we don't believe this result mirrors our current performance level. There's something to learn from any bad result and this is what we plan to do now."
Renault
Ricciardo looked fired up for this one and so it proved, as he made a brilliant start and overtook both Vettel and Norris to run as high as fifth for much of the race. On older tyres, he was powerless to hold back the Red Bull of Albon, but sixth is a stellar result. Hulkenberg had to work harder – he was forced to give a place back to Raikkonen when those two were going wheel to wheel after being deemed to have completed the move off-track, but got past next time around with the help of DRS and sneaked past Perez and Kvyat on the last lap as those two tangled to grab a hard-earned ninth-place finish.
Nico Hulkenberg, 9th
"I'm really happy to take two points today especially after losing some ground on lap one. It was a race of two, contrasting halves for us. The first part wasn't great, we lost places at Turn 1 and Turn 2 on the opening lap with some cars coming back onto the track in front of me. That made things difficult, but then the second-half of the race was a lot of fun. We converted to a two-stop strategy, maybe a lap or two too late, which was my decision, but we then started catching others in front. We had good pace, some fun fights, so we can be pleased to score two points today."
Daniel Ricciardo, 6th
"We've had a lot of fun races this year and this one is certainly up there. The one-stop was the plan and it looked like others on the two-stop would get close at the end, which made things a bit nervy. We reached our target of beating both McLarens, so that's really pleasing. It was a strong race and we showed good pace. I enjoyed the battle with Lando [Norris] as I passed him and he passed me back a couple of times at the start and then put some pressure on towards the end. We held on for sixth, so it's solid points for the team with Nico in the Top 10 as well."
Cyril Abiteboul, Team Principal
"We have to first acknowledge it was once again a great race in our pack with very open and exciting strategic options for all. I think our drivers, and the team, enjoyed the race. Daniel made an excellent start and was one of the few drivers who managed to make a one-stop strategy work. When Norris stopped, we decided to be aggressive and not stop to try to beat both McLarens, which worked. On Nico's side, the strategy set before the race was also a one-stop, but we managed to switch it on time and Nico kept his head down when he slipped in the leaderboard. He was then able to regain positions on Soft tyres at the end thanks to clever fuel management at the beginning of the race.
"Today we witnessed a great show, the Formula 1 we like to see, with on-track action. We are satisfied with our American campaign and a nice harvest of points over the last two races. I would also like to congratulate Lewis Hamilton for his sixth title. It is particularly inspiring to see how he and his team are able to make things look easy when this sport is so demanding for everyone involved."
McLaren
Norris made a brilliant start, but Sainz ran wide into Turn 1 after tangling with Albon, and dropped back as a result. But Norris then lost out to Ricciardo and with Sainz undercutting Gasly in the first round of pit stops, the two McLaren boys wound up fighting each other. It looked like Sainz had won the day as he had track position thanks to only one-stopping, but Norris used his fresher tyres to sweep past a few laps from the end and grab a deserved seventh.
Carlos Sainz, 8th
"It was a good day's work for the team. We managed to bring home a couple of points finishes and a good ten points in the bag, so congratulations to everyone. For me, personally, I feel we could've achieved more, but my race was compromised at the start after I got hit into Turn 1.
"Stopping for the hard tyre and going for one-stop meant I did a very long second stint. The pace was decent and we managed to secure an important P8. All in all a positive weekend and we move on to Brazil aiming for more."
Lando Norris, 7th
"A good race for the team and me! I had a really good launch off the line and was up to P5 after the first few corners. We're doing a good job in this respect and it's a good strength of ours. The rest of the race was tough, especially the first stint on the softs. I struggled a lot compared to Daniel [Ricciardo] in the later laps with the tyres, which we kind of expected.
"We then did the hard tyre stint and was close to getting Daniel after the stop. I tried to look after the tyres. He wasn't pushing too much, so I was trying to push, and see if he made any mistake where I could get past him. But he didn't and was just controlling the pace. We decided to box for mediums and go for the two-stop – which turned out to be really good. A fun race, at least in the third stint, with some overtaking. Massive thanks to everyone back at the factory and at the circuit for their hard work."
Andreas Seidl, Team Principal
"Having underperformed last Sunday in Mexico we needed to bounce back here, so it was good to secure another 10 vital points in our fight for P4 in the Constructors' Championship. Our teamwork today was key to our overall performance: from the mechanics, the engineering team here and back at our home base, and from the drivers, who've both put in very strong performances all weekend.
"After two weeks on the road it's good to be going home. We'll recharge and get ourselves ready to end the season strongly in Brazil and Abu Dhabi. Finally, congratulations to Lewis Hamilton. Six Drivers' World Championships is an incredible achievement."
Toro Rosso
A day that promised so much, but delivered so little. Gasly was running strongly in the top 10 all race as he has been all weekend, but was forced into the pits with problems late on after contact and ultimately had to retire. As for Kvyat, he was doing his best to catch his team mate and looked a contender for points until a last-lap move – this time on Perez – earned him a time penalty from the stewards for a second straight race that dropped the Russian to 12th.
Daniil Kvyat, 12th
"It was a tricky race, we were a little bit off the pace today compared to our direct competitors. We used the tyres a bit more than we usually do, so we need to analyse that. Even with those issues, I managed to finish P10 on track on the last lap. I think was a harsh but fair move, it was great racing like we want to see and what we have seen this season without other drivers being penalised. I'm very upset and disappointed about this penalty because I don't think this is what our sport needs."
Pierre Gasly, DNF
"It was a really good race as we were running in the Top 10 for most of it and keeping pace with the McLarens. In the end I started to fight with Sergio and we made contact in Turn 13 which broke the front right suspension, so we had to retire the car. We were fighting, he went down the inside of Turn 13 then we touched with my front right tyre which bent the suspension. I don't think it was anything big, but it was enough to put me out of the points and end our race. It's disappointing to end this way after a strong weekend."
Jody Egginton, Technical Director
"Today's race did not provide the result we wanted, which is disappointing especially given the performance shown up to this point in Austin. Pierre had a reasonably strong race early on but ran out of tyres in the last few laps, which meant he was unable to defend against the cars behind who were on fresher tyres. Ultimately, he was forced to retire due to the damage sustained from contact with Perez. Dany's race started to come together in the last ten laps, but with the yellow flags at Turn 12 in the last two laps of the race, opportunities to make a pass for P10 were limited. The move that he made on Perez was deemed too aggressive and we got a time penalty of five seconds, which puts us out of the points. We unfortunately lost a position in the Constructors' Championship here in the USA, but there are two races to go to recover and we will be working hard to make sure we are well prepared to do this."
Toyoharu Tanabe, Honda F1 Technical Director
"Once again today, Max Verstappen delivered a strong performance to finish on the podium in third place. It's a good result, maybe a bit disappointing, as we felt he had a chance of taking second place at the end, but unfortunately, the yellow flags prevented that. He was quick all weekend. Alex Albon unfortunately dropped to last after the collision at the start, but he drove very well to fight his way up the order to finish fifth. As for Toro Rosso, Pierre was in the points for most of the race, so it was disappointing that both cars failed to score, as for a moment it looked as though Kvyat would get the last point for tenth. Finally, congratulations to Lewis Hamilton on his incredible achievement."
Racing Point
Stroll struggled on his tyres after suffering car damage at the start and an early pit stop cost him track position. Dropping back through the field, he was unable to recover. Perez ran a one-stop strategy and for the second race running became the king of tyre management, as he managed to make his way into the points despite starting in the pit lane. But the Mexican was involved in some late drama, as he collided with Kvyat on the last lap. The subsequent damage dropped him out of the points, but the Russian was penalised post-race which lifted Perez back to P10.
Sergio Perez, 10th
"We had a tremendous race today and we managed to recover well as a team. We used a very aggressive one-stop strategy and had good pace all afternoon. On the final lap, Kvyat crashed into me and damaged my front wing, but he was penalised and we took back the tenth place. One point means we move up to sixth place in the Constructors' Championship, which is important with two races to go. It's only a point today, but every point will count at the end of the season."
Lance Stroll, 13th
"It was a long afternoon and for sure I've had better days. It's a shame because the car felt good and we know we can fight for points, but unfortunately things didn't go our way. I didn't get the best start as I was squeezed and we picked up damage through Turn 1. The track was very bumpy on the outside of Turn 2 and I hit a bump, had a big snap of oversteer and fell down the field. Given our track position, the team tried to roll the dice and switched me to a two-stop strategy: we were showing good pace in the second stint, but we ran out of tyres towards the end of the race. It's a shame, but sometimes you have days like these and we just have to come back fighting in Brazil."
Otmar Szafnauer, Team Principal & CEO
"Seeing Sergio race from the pit lane to a points finish is a satisfying end to a challenging afternoon. It wasn't easy to make the one-stop race work, but Sergio did a fantastic job to look after the hard tyres and maintain good pace for 31 laps. Things got a bit messy on the final lap when Kvyat made contact, but justice prevailed as the stewards reinstated Sergio into a well-deserved tenth place. Lance's race was compromised from the start when his front wing was damaged and he dropped almost to the back of the field. Due to the damage, which affected the car's balance, we converted to a two-stop race but ultimately missed out on points."
Haas
Haas have struggled to fully understand and thus turn on their tyres all season, and their problems continued at their home race. Grosjean never looked a factor and came home towards the back, while Magnussen at least ran as high as P9 in the early stages after a strong start. But what looked like a mechanic failure left the Dane beached in the gravel towards the end of the race, by which time the chance of points had long since departed.
Romain Grosjean, 15th
"It was tricky today. We knew going into the race that it was always going to be a little bit complicated. Unfortunately we didn't have any top speed, so at the beginning of the race I couldn't really pass any of the guys. Plan A was mediums then softs, so we tried to stay long on the mediums. Unfortunately they just died when everyone pitted, everyone was passing me, I lost an awful lot of lap time there. Then we went onto the hards and they were actually pretty good. I was happy with the balance and my lap times. We were just too far at the back with no chance to fight."
Kevin Magnussen, DNF
"I had a brake issue at the end there. It was a tough day at the office. We weren't fast enough today, just lacking grip and pace. We have some problems, that's pretty clear, but I tried to do my best anyway. I got as high as ninth on those first laps – it was good fun, but then it was just so clear that we didn't have the pace and we started to drop down the order. The race then ended with the brake failure."
Guenther Steiner, Team Principal
"Obviously, it's a disappointing result, but it didn't come unexpected. We know where we are at the moment, and it's not where we want to be. We start the race then we just begin to go backwards, we just haven't got enough performance in the car. Kevin (Magnussen) retired with two laps to go, we think it was something with the brake system. We need to investigate but we haven't had the car back yet. There are two more races to go and we just need to keep our heads up. We'll hopefully try and get a little bit out of it."
Alfa Romeo
Raikkonen had the best start of the field, and found himself running 11th after starting P17. Starting on the soft tyres looked to be a masterstroke, but the Finn had to pit early for a set of hards and couldn't make these last the distance. He was on the fringes of the points all race but despite some entertaining battles, came home a dispirited 11th. As for Giovinazzi, he couldn't extract much pace from his C37 and had to settle for 14th.
Kimi Raikkonen, 11th
"There were a lot of positives we can take from this race, even though finishing 11th and out of the points is annoying after a fairly competitive race. I had a really good start, we looked a lot better and we were in the fight from start to finish"
Antonio Giovinazzi, 14th
"As a team we looked stronger this weekend so we can be optimistic for the future, even if we didn't score today. It got better with softs but by then it was too late to make a difference. We're making steps forward and hopefully we will be even better in Brazil"
Williams
A poor day for the team, who always looked off the pace here. Kubica retired with hydraulics problems midway through, and Russell propped up the field after switching to a two-stop strategy late on.
Robert Kubica, DNF
"The pace was not there today, so we tried an alternative strategy by pitting early in the race. I struggled with the grip and the bumps were quite difficult with more fuel in the car. We had a hydraulic leak, so we had to retire the car. I am looking forward to Brazil, it's a nice track and hopefully we will have a better result."
George Russell, 17th
"This race was trickier than normal. I struggled with the tyres overheating before they dropped off, making the car difficult to drive. We decided to make a second stop and struggled with blue flags for the remainder of the race. Congratulations to Lewis Hamilton on his sixth Drivers' World Championship."
Dave Robson, Senior Race Engineer
"Today we simply struggled for pace, not helped by the gusty conditions which made the car difficult to drive, and which were punishing for the tyres. We had hoped to one stop the race, but the high tyre degradation made that almost impossible.
"Both drivers raced hard and fairly at the beginning of the race with George eventually getting the better of Robert with the help of DRS. Unfortunately, we had to retire Robert's car with a hydraulic issue shortly after half distance. This was very disappointing, and we will need to look at the problem and ensure that it doesn't happen again. George drove well in the difficult circumstances, but we couldn't give him the car today to allow him to race. He was able to take a place from Magnussen by managing his car well and taking it to the end. Whilst this feels like a hollow victory now, it is all valuable experience which will stand him and the team in good stead for the future."
Pirelli
Mario Isola, Head of F1 and Car Racing
"The final few laps in particular were extremely tense, as we all waited to see if Lewis Hamilton could make a one-stopper work to win the race, against drivers on much fresher tyres behind him. He didn't quite make it to the top step of the podium but it was still a spectacular fight where strategy was all-important, so big congratulations to Lewis for a very well-deserved sixth title after a thrilling grand prix. Congratulations of course to Valtteri as well for winning the race with a completely different strategy. In the end, the relatively warm conditions, after a very cool start to the weekend, meant that it was a close call between one and two stops using the harder compounds: with two of the three podium finishers eventually opting for a two-stopper. However, we witnessed a wide variety of strategies all the way down the grid with close competition from start to finish, which is exactly what we all want to see."