Feature
What the teams said – Race day in the United States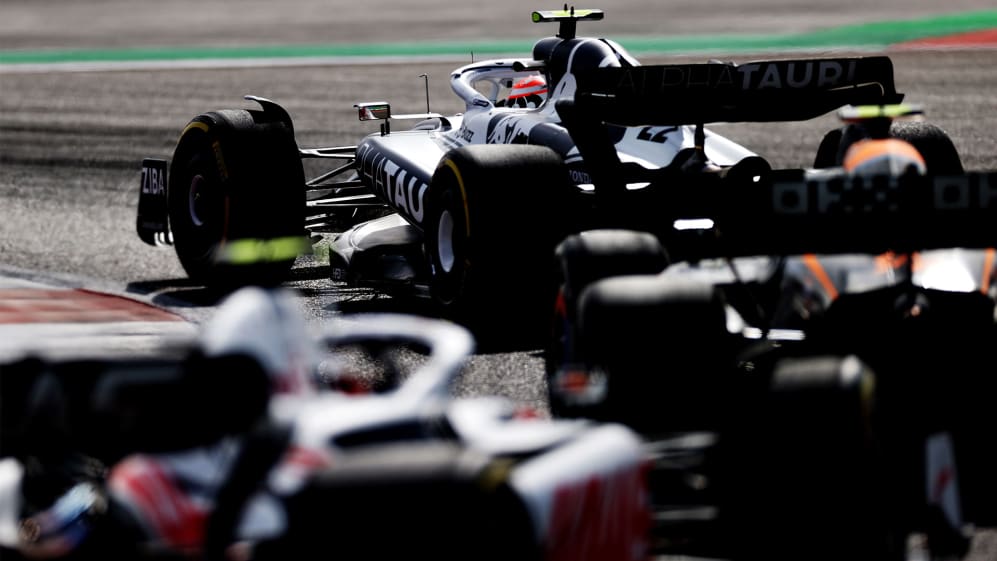 Mercedes
Hamilton's day nearly didn't get started after a brake issue forced a late change on the grid. Fortunately for the team he did manage to start, as on track he was electric. Running second in the early stages, he found himself in the lead after a slow stop for Verstappen. He did everything he could to hold on, but couldn't keep the Red Bull at bay. As for Russell, he tipped Sainz into a spin in the first corner which earned him a five-second time penalty. That allowed Perez ahead, and given Russell was carrying endplate damage, he had to make do with fifth and the bonus point.
READ MORE: Hamilton says 'it felt amazing' to lead US Grand Prix as wait for victory continues
Lewis Hamilton, 2nd
"I'm shattered. It felt amazing to be in the lead, but the car was a handful today. We came here with upgrades, and we closed the gap a little bit. It was so close, and I did everything I could to try and stay ahead, but Red Bull were just a little bit too quick. We've been working so hard as a Team over this year, and there are lots of positives from this race, as a team we showed great pit stop and strategy performance. I'm also happy with my performance and it was showing when we have a competitive car, I can bring it home. So we'll keep pushing and we'll try and give it everything we can over the next three races - it'll come to us at some stage."
George Russell, 5th
"It was a difficult afternoon for me - very unfortunate, how things unfolded at the start as I don't want to be in a position where I contribute to another driver having to retire. It's probably the furthest we've been away from the midfield and the closest we've been to the front for quite a while so a good step forward this weekend. The team back at the factory are doing a great job continuing to update the car, trying to make it a little bit lighter and understanding what we need to work on for next year and that's where most of our focus currently is. Obviously, I want to get back on the podium, because the last time feels like an age ago. We had such a good run of form, but the last couple of races didn't go well in terms of my personal performance. Truly fighting for race wins is still the goal for us. Even if we don't achieve a race win, we want to be in a position where we have a chance to fight for the win."
Toto Wolff, Head of Mercedes-Benz Motorsport
"First, congratulations to Red Bull and to Honda for winning the Constructors' Championship; given the sad news yesterday about Dietrich Mateschitz, it was fitting that they should secure the title today. From our side, this weekend was a step forward for us and we showed encouraging performance. No doubt, Red Bull are still ahead of us, but I think we're getting closer to them and Ferrari - and that's a positive outcome for us. We brought an upgrade to Austin and we've seen that reflected in terms of car performance. Obviously, an unfortunate start for George, colliding with Carlos, which I would classify as a racing incident. Lewis had a strong race today and was giving it everything. He had a tyre deficit on the Hard because he simply didn't have any Mediums to choose and still holding on to a potential win felt feasible at that stage, but once Max was past Charles and he couldn't fight back, it was just a matter of time. Next up is Mexico, which we're looking forward to and hopefully can continue to show our performance. On paper, this should be a track that suits our car, but as we've learned this season, it can be a bit unpredictable where we actually stand in reality."
Andrew Shovlin, Trackside Engineering Director
"Congratulations to Red Bull and Honda on the Constructor's Championship, we know very well how much work it takes to win - they started this year well and improved from there. There were moments in today's race where we thought the win was going to be on and it does feel like we've made some good progress with the latest update, but we've clearly got a bit of work to do. The pace was reasonable, but the car hasn't been easy for the drivers to work with and that's an area that we understand a bit better now compared to a few races ago but something we need to improve for next year. George's race was hurt by the turn one clash with Carlos; that damaged the wing which cost him some pace along with a five second penalty. We felt that the line Carlos took contributed to that contact so in our view it was a racing incident but clearly the stewards had a different view. Lewis had a very strong race, and it was good to remind ourselves what it feels like to fight at the front; we're disappointed that we couldn't convert this into a win, but it's only going to add to our resolve to dig deep and find more lap time. A lot of hard work has gone into bringing this kit to the car and the pace is getting better with every update so we can take some satisfaction from the fact that every step takes us closer to where we want to be. We'd had tough races in Singapore and Suzuka, so it's been good to see stronger performance here and we are still hoping to get that first win before the season is out, so we'll be working very hard over the next few days to prepare for Mexico."
Ferrari
Sainz started from pole but had already lost the lead into the first corner when he was tapped into a spin by Russell. He limped back to the pits but had to retire with a damaged radiator. Leclerc though, had a very decent race. He worked his way forward from P12 on the grid and was able to take advantage of the Safety Car to get a cheap pit stop which put him right in the mix. At one point he was second, but he couldn't keep Verstappen at bay and had to settle for a podium.
READ MORE: Pole-sitter Sainz says he 'paid the price again' after suffering sixth DNF of the season in United States Grand Prix start
Charles Leclerc, 3rd
"It was a fun race and I really enjoyed the battles with Max (Verstappen) and Checo (Perez) on track today.
"I had a solid start and after that, the first few laps were all about practicing patience. Things looked quite good and we even got lucky with the timing of the Safety Car, but unfortunately we had a little too much tyre degradation for the rest of the race and couldn't fight for higher positions.
"It was great to be back in the US and see how much popularity our sport has gained here over the past years."
Carlos Sainz, DNF
"Not much to say today. I got hit by the Mercedes going into turn 1 while battling with Max (Verstappen), I managed to come back to the pits but the car was too badly damaged to continue.
"I feel the pace would have been there and it would have been an interesting race, but I prefer to look ahead and start focusing on Mexico. It's not easy to catch a break this season, but we'll keep going at it until the end."
Mattia Binotto, Team Principal
"Obviously, there are mixed emotions after today's race. Through no fault of his own, Carlos was out after the opening lap. Charles meanwhile staged a great climb up the order, which took him all the way to the podium.
"We know that currently, we are lacking something in the races when compared to Red Bull, who by winning the title today honoured their founder in the best way possible.
"We will continue to work on giving them a hard time, starting right from next week in Mexico and naturally, we are also working hard on our preparation for the challenges that lie ahead next season."
McLaren
Norris was the last of the late brakers in Austin, pulling off multiple overtakes into Turn 1 on the inside and the outside as he climbed back through the field after being baulked by the spinning Sainz at the start. He was outside the points for much of the race before a late charge took him all the way to the 'best of the rest' slot. Ricciardo couldn't make the same progress and came home down the field.
FACTS AND STATS: Verstappen ties Schumacher and Vettel's record 13 wins in a season
Lando Norris, 6th
"A good race! Races like these are more enjoyable compared to just being on your own, even though it's a lot tougher. It was very enjoyable, especially the race with Fernando. I had a tricky start, getting caught behind an incident ahead. We also picked up damage halfway through the race, so I'm very happy to have finished P6 today. We came away with the best result possible and picked up some decent points."
Daniel Ricciardo, 16th
"I hoped today was going to be better. I really thought after yesterday we had a bit more to show but it was really tough today. I could tell from early on in the race that it was going to be tricky. We unfortunately just didn't have the grip. I couldn't really push the car like I could see the others around me doing, so it was just a struggle.
"We'll keep our chin up and try to find a way. Obviously, days like this are pretty painful to try to deal with and understand as we put a lot of effort in but didn't get rewarded. We'll keep going."
Andreas Seidl, Team Principal
"An eventful race here at the Circuit of the Americas, in front of this enormous crowd. The team made some good strategy calls, executed great pit-stops coupled with a stellar drive from Lando, including some great overtaking in the final stage of the race, which secured us an encouraging P6 and gave us good points in our Constructors' Championship battle. On Daniel's side we struggled to extract a similar performance, which didn't allow him to progress in the race. We'll study that in the next few days and work out where we can improve.
"Thanks to the team here, and back home, plus our colleagues at Mercedes HPP for all of their work. Our congratulations go to Red Bull Racing on securing the Constructors' Championship. Five days and we go again in Mexico."
Alpine
Ocon couldn't get involved in the action after a pit lane start for a PU change. But Alonso could, and duly did. He was one of a handful to benefit from the timing of the Safety Car and was solidly in the top 10 when he collided with the rear of Stroll's Aston Martin. The contact launched his car up into the air, and into the barriers. But he managed to limp back to the pits, and then miraculously not only finished the race but was a whisker away from coming home in the best of the rest slot, only losing out to Norris on the penultimate lap.
Esteban Ocon, 11th
"We were very close to finishing in the points after starting from the Pit Lane. We can be pleased to recover from the back to eleventh place with the car showing good pace. I think more was possible – some points would have been fantastic – so we'll review what we could have done to achieve that next time. We'll debrief, learn, and move forward to come back stronger as a team. Mexico is next weekend, so that's a chance for us to go again and score points.. The battle for fourth place is close, and every top ten finish will be valuable for us. Congratulations also to Red Bull Racing for their very much deserved Constructors' title."
Fernando Alonso, 7th
"It was a fantastic race for everybody today. We were lucky with the first Safety Car and we were very fast after that on the Medium tyres. At the restart I tried to overtake Lance [Stroll], he moved towards me and we touched wheels. I thought that I would retire the car after the incident, and it was pretty scary. But the car is made of strong stuff and we were able to carry on after changing the front wing. I'm very proud of our efforts today as a team. It's incredible that we were able to make the tyres last on the final stint and despite losing out to Lando [Norris] on the last few laps, we still come away from this race with some good points."
Otmar Szafnauer, Team Principal
"That was quite the race and we're more than satisfied to come away with six points with Fernando in seventh place. The race was a fitting match for an electric atmosphere in Austin today, and I'm happy that we could put on an exciting show for the fans. After Fernando's unfortunate incident with Lance [Stroll] it looked like we would do well to even reach the chequered flag, so credit to Fernando for driving superbly to score well deserved points. On Esteban's side, it was always going to be a challenging race after starting from the Pit Lane. He did a good job to close in towards the top ten and was very close to sneaking tenth place at the end. Overall, we have some areas to assess as this weekend has been far from our best. We have another race next weekend in Mexico where we're keen to demonstrate our true potential with both cars in order to further consolidate our Championship position. Congratulations to Red Bull Racing on winning the Constructors' Championship. They deserve it after a very dominant year, and it's a fitting tribute to the late Dietrich Mateschitz – the pioneer and visionary of their successful project."
Aston Martin
Both cars made brilliant starts, with Stroll running third and Vettel fifth after the German made up five places on the first lap. Although they both lost out to recovering drivers from the big three teams, a huge points haul was in the offing. But Stroll's race ended when he was involved in a heavy crash with Alonso, while Vettel was dropped out of the points after a painfully slow pit stop. But the German summoned some brilliance in the late stages to climb back to eighth, overtaking Magnussen on the very last lap to boot.
READ MORE: 'I left him plenty of room' – Stroll explains defensive driving after high-speed clash with Alonso at COTA
Sebastian Vettel, 8th
"In the end it was a good recovery drive to score four points today. I really enjoyed the last few laps, especially the final-lap fight with Kevin [Magnussen]. When I crossed the finish line, the adrenaline was really pumping. Without the slow stop, I think we had sixth place easily in the bag so we should focus on the positives of our competitive car pace today. We were strong all race; the start was great and I was up in fifth place early on. It was also nice to lead the race for a while because it has been a while since I was in that position."
Lance Stroll, DNF
"We had a good start to the race; everything was feeling great with the car and we were sitting in third for a little while. Unfortunately, we had contact with Fernando [Alonso] which was a shame. There was a big difference in speed and I was defending. I gave him plenty of room on the left of the track, so it was not as if I squeezed him against the wall. He could have moved earlier or moved more to the left. Thankfully, it was not a big impact with the wall, I did not hit anything hard, and I am OK after the contact."
Mike Krack, Team Principal
"Having been third and fifth on lap one, clearly we are disappointed to have come away with only a DNF and a P8. But that is racing. After the Safety Car that had been triggered by [Valtteri] Bottas's 'off', we were running sixth and seventh, looking set for another good points haul, but then Lance and Fernando made contact, ending Lance's race, and Sebastian was delayed by a problem with his second pit stop, dropping him to P13. Thereafter he launched a great recovery drive that resulted in a fine eighth place, the highlight of which was a tremendous dice with Magnussen on the final lap, which happily went Sebastian's way."
Haas
Magnussen went for an audacious one-stop strategy, the only driver to do so. It came off in the sense that he finished in the points, although he lost out to Vettel on the final lap as his tyres started to fall off the cliff. As for Schumacher, he was running in the points at one stage but was caught up in an incident with Stroll as the Canadian came out the pit lane, and then was forced wide by Latifi late on.
Kevin Magnussen, 9th
"I'm super happy. For us as a team, it's very important to get these points at our home race in the US – and it's very big on the weekend that we announce a great title sponsor with MoneyGram – it couldn't come at a better time. Of course, I'm gutted to lose a position to Sebastian. I have to say it was some driving from him, that's when you realize why he's a four-time World Champion. The strategy that we pulled off was purely by guidance with the team. As such a small team to put on a fight like this, it's great."
Mick Schumacher, 15th
"I think we were on for good points today for sure, but it seems like we picked up a big piece which damaged the car quite a lot and then we couldn't extract the maximum out of it anymore because of that damage. We got it in the second stint and the car didn't feel the same anymore, and I couldn't keep the pace of before which was very promising. It's a shame as it feels like bad luck follows us."
Guenther Steiner, Team Principal
"After two difficult days, a good result. The whole team did a fantastic job, you cannot ask for more as the car was fast and Kevin was sure he could get to the end with his tyres. I wouldn't say we took a gamble, we took a chance, but we had a back-up strategy to go onto the soft tyres and we brought home some points. I'm not really happy about what happened out there with the other cars that are losing bits and pieces and don't get called in like we normally do, so we will follow-up on that one. Mick had very good pace on his first stint, doing a fantastic job and then when the accident happened he must've picked up some debris and lost some downforce. We haven't seen the car yet but I guess the diffuser has got some damage and he just couldn't do the same times with the new set of tyres. Having MoneyGram as our sponsor for the first event, our home race, we are very happy to give them that result - it's a team effort."
AlphaTauri
Gasly was running in the points when he was penalised for lagging behind the Safety Car. Worse was to come as when he served his time penalty, as the stewards deemed he didn't serve it correctly and added a second time penalty to boot. But as that sent him backwards, it released Tsunoda who managed to come home and claim the final point on offer.
WATCH: Racers James Hinchcliffe and Jolyon Palmer treat each other to COTA hot laps
Pierre Gasly, 14th
"I was happy with the car in the race, the pace was strong from the start, and I had a lot of fun driving out there today. It is a shame we had the penalties but for sure I wasn't trying to be smart or gain any advantage. There are referees that decide, it is unfortunate, but there are still plenty of positives to take from today. I was involved in many awesome battles and overtakes, which showed the car can be competitive, with points being possible. I am looking forward to the next few races, to see what we can do."
Yuki Tsunoda, 10th
"It was a really hard, but fun, race today and I'm happy to be back in the Top 10 again after a long gap. I'm glad that I could finish in the points this weekend and to honour the memory of Mr Mateschitz. The pace on the Mediums was really good, which we didn't quite expect, and I was able to get some good overtakes in. We struggled a bit more on the Hards, which was a shame, so we need to go away and understand why this compound doesn't work that well for us. Overall though, I'm pleased to be scoring points again and hope we can carry this on until the end of the season."
Jody Egginton, Technical Director
"Firstly, as a team we'd like to say a big congratulations to Oracle Red Bull Racing for securing the Constructors' Championship this weekend. Now looking at our race, we need to get into the details later, but we have missed an opportunity for more points today. Pierre was leading the midfield pack of cars, fighting for seventh until his second stop, but dropped behind this pack due to the penalty we picked up under the first Safety Car. This issue, and a subsequent further penalty, effectively ended his chance of points. With Yuki, he did well to also get into this pack from 19th on the grid, but he struggled a bit on the Hards, meaning it took too long to get past a couple of cars ahead. Therefore, he ran out of time to get on to the back of Magnussen and put him under some pressure. However, we've got three races to go and there's still a lot to play for!"
Williams
Albon started in the top 10 and ran quite high up for much of the afternoon, before losing out late on in a very tight midfield. Latifi had a more adventurous time of it, spinning early on under his own steam and then being penalised after banging wheels with Schumacher as he got his elbows out fighting with the Haas.
Nicholas Latifi, 17th
"The car was better than I was expecting it to be today, that's not to say it was still tricky to drive. I made a mistake at the beginning of the race with the spin getting caught out with the balance in the high-speed corners. I didn't manage to do any high fuel race running beforehand so I was exploring as I was going along. We got back into the race with the Safety Car but in the end, I was fighting cars that were much quicker behind me to hold them off which was detrimental to my race but beneficial to help the team. The penalty I received was justified and I have no issues with it. It wasn't intentional as I tried to brake as late as I could, but I committed to my braking point, locked up and couldn't get the car to turn."
Alex Albon, 12th
"We really fought today and gave it everything we had. I had a tricky start with a flat spot into Turn 1, nursing the fronts for the first 10 laps with huge vibrations, so we had to pit early but then we were offset. It was a shame, but I don't think we had the pace for points today, but we were very close. It was tricky out there and we tried our best and were aggressive on strategy but with the tyre degradation, I was hoping to try repeat something like in Spa and hold them off but the tyres took another step of degradation and once this happened, I tried to fight but just couldn't hold them off anymore. Points might have been too much to ask for but we gave ourselves a good opportunity."
Dave Robson, Head of Vehicle Performance
"It was a tough race today with both drivers having to pit earlier than planned due to flat-spotting their tyres. Alex locked-up badly at Turn 1 of the first lap and struggled throughout the first stint, but to make the strategy work, we needed to get some laps done before we could pit. He was able to recover later in the race with a well-managed stint on the Prime. As we have seen many times before, he is a very good racer and can defend brilliantly when required. He was able to hold on to a points-scoring position until just a few laps from the end despite suffering with some driveability issues in the final stint. It was a frustrating end to the race but given where we were after the early first stop, it was a good recovery from Alex and his team.
"Nicholas had a more frustrating race and struggled more with his car. However, he was able to race the faster cars that pitted behind him, holding them up from catching Alex. We thought that the FW44 would struggle in these conditions and at this circuit, and it has certainly been a tricky few days. Whilst it was a shame to get this close to the points, the result nonetheless represents a good weekend from the team in Austin and back in Grove. We now turn our attention to Mexico where we will look to build on what we did here in Austin."
Alfa Romeo
Bottas was running in the points early on, but he lost control in the final sector and spun off, beaching himself in the gravel and bringing out the Safety Car. That ended his involvement, and Zhou wasn't able to progress in his place, despite plenty of wheel-to-wheel battles.
Valtteri Bottas, DNF
"We were looking really strong for points, so it's disappointing to finish my race early. At the start, I was going into Turn Nine on the opening lap and saw Perez diving in at the very end: it was very close, and I had to go wide losing momentum and a couple of places, but luckily we just touched. I passed Albon, settled into a rhythm, but when I was trying to close the gap to Gasly to get into DRS range I made a mistake in Turn 19 and lost the rear end. I later found out that, at the same time, there was quite a big gust of wind, so a combination of that and pushing too hard put an end to my race. It was very unfortunate, as our pace was promising, and a points finish could've definitely been possible today. I'm looking forward to turning the tide next week in Mexico and bringing home some points."
Zhou Guanyu, 13th
"We knew today was always going to be difficult, starting from the back: we tried to make something happen, but, towards the end, holding off drivers who were mounting newer tyres compared to ours became almost impossible. We tried to stay out hoping for something to happen that would favour us, but eventually it didn't quite work out. Overall, it's been quite a tricky day for the team, but at least we go again next week in Mexico: as a positive, we showed good performances on track. For sure the upgrades we brought here helped a lot, we've been so much stronger especially in one-lap pace, and we saw both cars had the pace to get into Q3."
Frédéric Vasseur, Team Principal
"It's been quite a difficult day for the team, and it feels like a big opportunity to score points missed. The race held a lot of promise, as we were starting in a good position with Valtteri and both drivers seemed really at ease with the car. We suffered early on, as the contact between Valtteri and Perez meant we dropped places and got caught into a battle we wouldn't have been in, and when Valtteri retired we knew we'd have a really big job ahead of us to bring home some points. Zhou did really well, starting from 18: he kept out of trouble on a day that caught out many, and the race plan helped him make up ground. In the end, however, that was not enough to bring home the points he would have deserved. It feels like an opportunity that got away from us, but the silver lining of the day is that we're still in sixth place in the championship. We know we'll need to fight tooth and nail in the final races to secure this position, but we can rely on our updated package to hopefully be able to score the points we need for this important objective."
Pirelli
Mario Isola, Motorsport Director
"With Max Verstappen winning the race and his team clinching another constructors' championship, we offer our congratulations to Red Bull Racing, obviously along with our condolences for the sad passing of Dietrich Mateschitz. The race today was an intense one, interrupted by two safety cars that helped to reduce tyre degradation – which we nonetheless observed was lower than expected in these warm conditions. Strategy proved to be all-important once again, with Lewis Hamilton attempting to undercut Verstappen, and the race coming down to a breath-taking duel between them. Before, we also saw a great fight between Verstappen and Ferrari's Charles Leclerc. The two drivers on different compounds during the final stint was a real point of interest for the huge American crowd; around 440,000 people were treated to a thrilling battle to the finish. Both drivers were pushing to the maximum, but their tyres were certainly up to the fight."
HIGHLIGHTS: Watch the action unfold from Austin as Verstappen beats Hamilton to victory